15 ideas for DIY summer fun will keep kids busy having a great time all season long! Includes indoor & outdoor activities for one or many.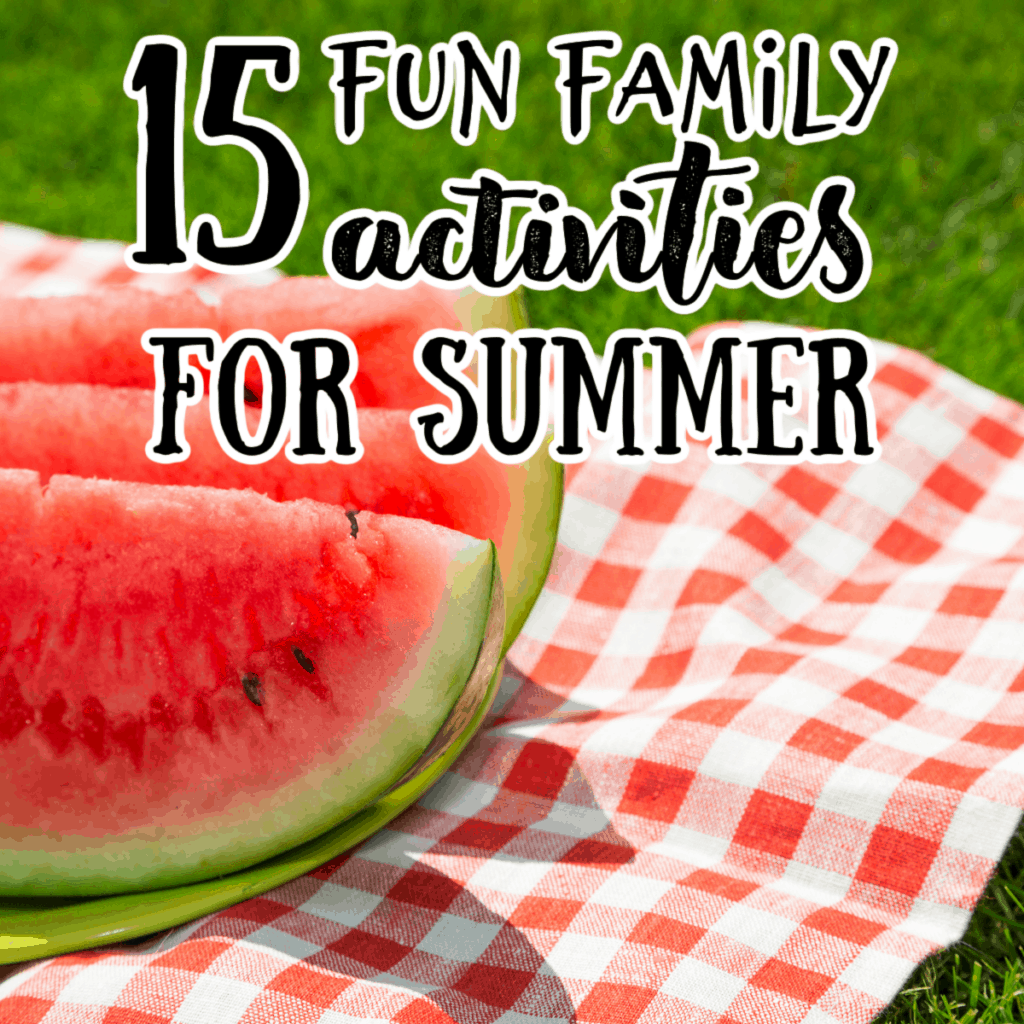 Summer vacation quickly turns moms into activity directors, am I right?
Are your kids bored yet?
Since most kids don't have homework or extracurricular activities to keep them busy, they quickly get bored and need to find fun things to do.
(Side note - I make my kids "do school" all year round which prevents a lot of the day to day boredom, but I know that's not for everyone. We take breaks all through the year in small bites so that we never have a huge expanse of months looming in front of us.)
You can check out my printable Summer Bucket List (or a slightly different summer bucket list for teens) and my Screen-Free Activity Cards for ideas, but in the meantime, here are my top 15 family fun ideas for summer family fun:
15 Fun Things for Kids to Do in Summer
1. Create a Backyard Obstacle Course
Set up an obstacle course in your backyard. Your kids can run and climb through it, or you can set it up for their bikes. (If you don't know what I'm talking about, check out this Pinterest search.)
Get creative and search the garage and even their bedrooms for things to use. Some creative ideas include hula hoops, string or yarn, backyard toys, pool noodles, old tires, or pieces of wood. Your only limit is your imagination.
Let the kids race the adults for some friendly competition.
Or time your kids and have them practice to see if they can beat their records. My kids love to be timed even at 10 and 14. There's something about achieving a personal best that keeps them going all afternoon.
2. Drive Around in a Bike Parade
Gather your art supplies and make your own bike decorations. Use colored paper, streamers, and even foil to decorate your bikes.
Don't forget to keep an eye on the bikes for safety issues and make sure the wheels and brakes aren't obstructed.
After they're all bedazzled, ride your bikes through the neighborhood in a fun bike parade. If there are other kids around, ask them if they want to join in so the neighbors can watch all of the families and their decorated bikes as they pass by.
3. Feed the Birds
Make bird feeders with your kids. You can buy a kit or upcycle things from around the house to use.
You and your kids can learn together about the birds in your area and what to feed them, then actually watch the birds as they visit the bird feeders.
2021 note: In my area of Pennsylvania, we have been asked to refrain from hanging backyard bird feeders as there is a mystery disease afflicting songbirds. Make sure to check your local wildlife office to see if it's okay to feed backyard birds where you live.
4. Cook Outside
Plan to cook an entire meal outside. The whole family can help with meal prep, and older kids can learn how to cook over a fire.
My family likes 2 different backyard meals:
Cheddar sausages & hot dogs, roasted over the fire, with BBQ baked beans (cheat - I make these in the crockpot beforehand.) and macaroni salad and/or potato salad
Pizza pockets and/or grilled cheese mountain pies
Finish with s'mores and/or fruit mountain pies for a delicious treat for everyone.
Supplies: You'll need campfire sticks and a mountain pie maker for this one.
Also, remember when we were kids and actually cut sticks off the trees to cook our hot dogs? It was like the wild west. Apparently, that is not how things are done in the 21st century.
5. Make Homemade Ice Cream
When the weather is hot, make your own ice cream. It just takes a couple of simple ingredients and a little time, and you will be loving better than store bought ice cream with your kids!
Plus, homemade ice cream is summer fun, no question!
Make it from scratch in a baggie, with an ice cream maker, or in the freezer. No matter how you make it, your kids will enjoy this delicious treat!
6. Have a Picnic
I used to think that picnics were more trouble than they were worth, but I was so wrong!
All you have to do for a bonafide picnic is throw a blanket down in the yard or eat outside on the patio.
Let your kids choose their favorite easy to eat foods and then help prepare them, or just move your normal meals outside, or (this is my kids' favorite) get fast food or pizza to enjoy on the picnic.
My kids' favorite picnic spot is the state park that's not far from our house. A few times a year, we drive thru fast food and take our bags there, where we eat at a picnic table and then go on a hike. Just make sure you bring a trash bag along because some parks don't have trash service.
Another of our favorite picnic spots is our pool. We have a membership at a sports club, and they have a dozen gas grills, picnic tables, and pavilions all over the grounds. We can swim for hours and then fire up a grill to eat our supper outside. It's something to look into; most areas have something similar.
7. Show an Outdoor Movie
Movies are so much better outside on a warm summer night!
If you don't have a projector, borrow one from a friend or check your local library. Then project a family favorite onto a white sheet, garage door, or a light colored building.
For more family fun, set up video games and let the kids play video games with the project either before or after the movie plays.
8. Draw with Sidewalk Chalk
If you have a sidewalk or a concrete driveway, the family can create a large mural or individual pictures. Just choose a theme and let everyone draw a picture. Try to do this when rain isn't in the forecast for a few days so the kids can enjoy their art work longer.
More fun things to do with sidewalk chalk:
Make hopscotch boards
Write numbers or letters on the driveway, call out questions or problems, and have the kids hit the answer with the balloon (more summer fun math ideas here)
Make a maze for walking, running, or biking
There are lots more sidewalk chalk ideas in this Pinterest search
9. Make a Homemade Pizza
Everyone loves pizza, and everyone loves it a different way.
Make your own family pizza together. The kids can help knead the dough and spread it out on a pan, then top with sauce, cheese, and your favorite toppings.
Don't forget to add a dessert pizza with cinnamon sugar or a fruit pie filling!
Here are some homemade pizza resources for you:
10. Stage a Backyard Luau
A backyard luau is like the definition of family fun! Set up a backyard tiki area with raised tables and cover tables with bright tablecloths. Grab some tiki torches to set the mood (bonus points for citronella oil that repels the bugs!).
Use your tiki area to serve food and family-friendly drinks like sparkling berry lemonade. Then serve slushies, fruit kabobs, goldfish crackers, and Hawaiian pizzas.
Hit the dollar store for leis and other fun luau decorations. Play some tropical Hawaiian music in the background while your kids learn how to hula dance via YouTube videos and play in a sprinkler or Slip N Slide.
11. Gaze at the Stars
On a clear night, throw a blanket on the ground and look at the stars. Find constellations and look up the stories about them and how they came to be named what they are.
If you're not star savvy, there are several apps for your phone that will help you identify constellations and learn more about them. Our favorite is called SkyView. (Look for it in the Apple app store.)
12. Catch Lightning Bugs
Just after sunset, go outside to look for lightning bugs. If you don't have a bug house, you can make one with a glass or plastic jar with a lid. Use a drill or a hammer and nail to make holes in the top for lots of air flow.
Then help your kids to catch some fireflies and watch them glow in the bug house. Let the kids observe and learn about these amazing bugs for a while, then open the jar to set them free again. (They will die if you keep them in the jar for more than an hour or so.)
Learn more about fireflies here.
13. Build Fairy Houses
Upcycle supplies around the house like plastic containers or buy a fairy house kit. Each kid can decorate her own fairy house using found materials or accessories, and then use the house to build a fairy garden.
My kids have also enjoyed building fairy houses in the woods using all natural materials. It's super easy to go on a hike, collect leaves, acorn tops, pebbles, sticks, and other materials and fashion it into a fairy house from their imaginations. Don't make any rules - just let them build as they see it in their minds' eyes!
14. Go Camping in the Backyard
Kids love camping, even if it's at home. Set up a family-sized tent in a shady area of your yard and enjoy a night or two of camping out back.
To make the camping experience more authentic, pack supplies just like real camping and limit trips into the house. It requires some planning, but your kids will think it's super cool.
For more family fun, have a fire and cook your meals outside, too. See #4 above.
15. Experiment with Science
Summer is a great time to let kids perform messy science experiments, and there are several that you can do at home with common supplies available at most grocery stores.
Plus, since the kids can be outside, you don't need to worry about making a big mess!
Here are some of my kids' favorite experiments:
Dropping Mentos into a 2-liter bottle of Diet Coke (This is super messy and super fun. Get back quickly because it makes a geyser explosion!)
Egg drop from a high window
16. Float in the pool
If you don't have a pool of your own (I don't either), often community pools will allow you to visit for a moderate fee even if you aren't a resident of the community. There are several such pools where I live, and the fee to go in for the day is around $10-15 per person. I doubt you'd want to go every week at that rate, but it's nice for a special treat.
Don't forget to bring a fun pool float when you head out.
If you're wondering how you can work these fun family experiences into the rest of your summer vacation, check out my Intentional Summer Planner. It will help you to come up with a plan so that your summer is packed with fun.
Make this summer a season of memories with these fun family ideas! Your family can spend more time together and have fun without even leaving home. Best of all, most are inexpensive - it's a win win win for everyone!