This easy microwave brownie in a mug is a quick, easy, and delicious dessert that cooks up in just 1 minute with pantry staples. Even small kids can make it in one bowl without a mixer. It's a rich, fudgy, decadent, vegan dessert for one person!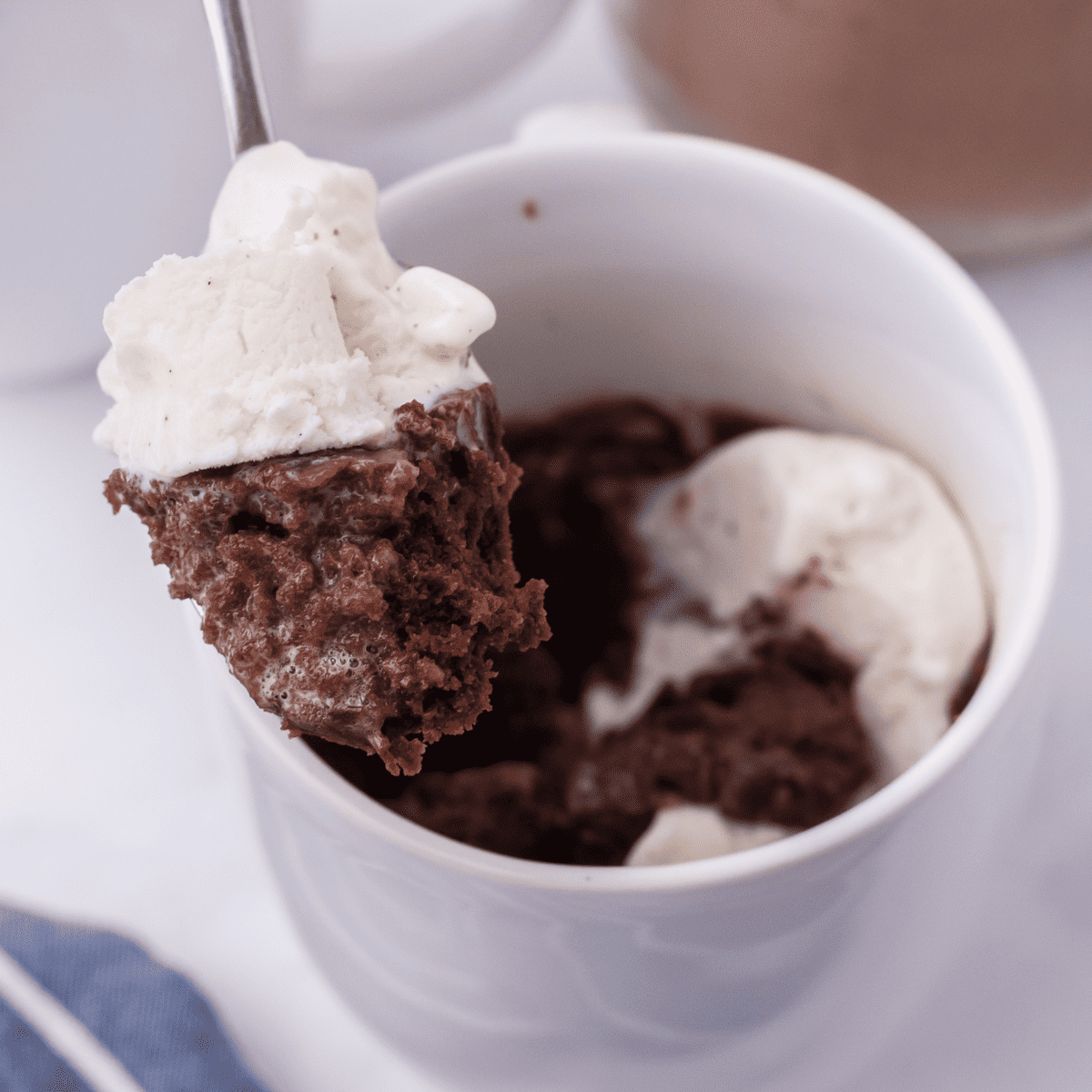 If you have a chocolate craving, but you don't want to make a whole batch of brownies, this is the perfect recipe for you! You can whip up one brownie in under two minutes and have a single serving dessert without having to worry about what to do with a whole pan of goodies.
Why this is the best microwave brownie in a mug recipe
This microwave mug brownie recipe cooks in less than two minutes. No waiting!
The brownie batter is vegan: no egg, no dairy. It's super simple and super easy and requires only a few simple pantry ingredients.
This gooey brownie has a rich chocolate flavor and a fudgy brownie texture that tastes like heaven!
This is a one bowl recipe, and it doesn't even require a small bowl. You measure and mix everything right in the mug.
When you make a single serving brownie, you're not going to have to worry about what to do with a whole pan of goodies. Don't worry about eating the batch - this is an easy mug brownie recipe that makes ONE brownie!
What you'll need to make a microwave chocolate brownie in a mug
EQUIPMENT
16 ounce mug - You have to be careful about your mug. Some fancy mugs contain metal in the glaze and get very, very hot in the microwave. You will want to use a plain old ceramic mug that's about 16 ounces.
INGREDIENTS
See printable recipe card at the bottom of the page for all measurements and nutritional information.
All purpose flour
White sugar - I've never tried this recipe with a different sweetener, so I can't give any recommendations on that. Use plain old white sugar if you can.
Table salt - It may sound weird to add salt to baked goods, but a pinch of salt brings out the sweetness of the cocoa powder and makes your brownie flavor pop.
Cinnamon - Same as the salt. This adds an extra note that makes the brownie delicious. If you don't want to use cinnamon, you could also try a pinch of espresso powder for a similar (but different tasting) effect. Just don't use espresso with cinnamon as that might be weird.
Water - You can also use milk if you prefer. Milk makes the finished brownie a little more creamy.
Vegetable oil - Do not use olive oil! Olive oil has a flavor that will make your brownie weird. Stick to a flavorless oil like canola oil or plain old generic vegetable oil. You can even use melted butter or coconut oil if you like that.
Vanilla extract - I prefer to use vanilla bean paste because it has as stronger and richer vanilla flavor, but I know that most people have vanilla extract on hand. Vanilla bean paste is made from actual crushed vanilla beans whereas vanilla extract is made by soaking vanilla beans in alcohol (and then removing them). It has a stronger and more delicious vanilla flavor that I love.
Vanilla ice cream to serve - This makes the brownie so good.
How to make an easy microwave brownie mug cake
Mix the dry ingredients in the mug: add flour, sugar, cocoa powder, salt, and cinnamon to a microwave safe mug and stir with a fork until well blended.

Make sure there are no clumps.

Add the wet ingredients to the mug: add water, oil, and vanilla to the mug and stir with a fork until well blended.

Make sure there are no clumps. This is the time to add chopped nuts or chocolate chips if you want to (see variations below).

Cook the brownie in the microwave for 60 to 90 seconds, depending on the power of your microwave. Mine is 1600 watts and took about 70 seconds. The finished brownie should be moist but solid. If it gets dry, you cooked it too long.

Let it cool a minute or two and then top with a scoop of vanilla ice cream. Be careful as the brownie will be VERY hot.

Tips for the best microwave mug brownie
As with all baked goods, don't over mix the ingredients once you add the wet to the dry. Mix as little as possible to work out the clumps and mix the brownie batter.
Don't over cook your brownie. Start with one minute and then add more time in 10-15 second intervals. Stop cooking when it is mostly set but still moist on top. If you over cook it, the brownie will be dry.
Let the brownie sit for 4-5 minutes after removing it from the microwave. It will continue to cook on the inside and also will cool slightly. Straight out of the microwave, this brownie will burn your tastebuds right off. Seriously.
Can you double this recipe?
Yes, you can double it. You'll have to prepare the brownie batter in a small bowl, and then spoon it into two mugs. Don't try to cook a double batch in one mug. The cook time will be off, and the brownie won't turn out. You must cook one brownie in each mug.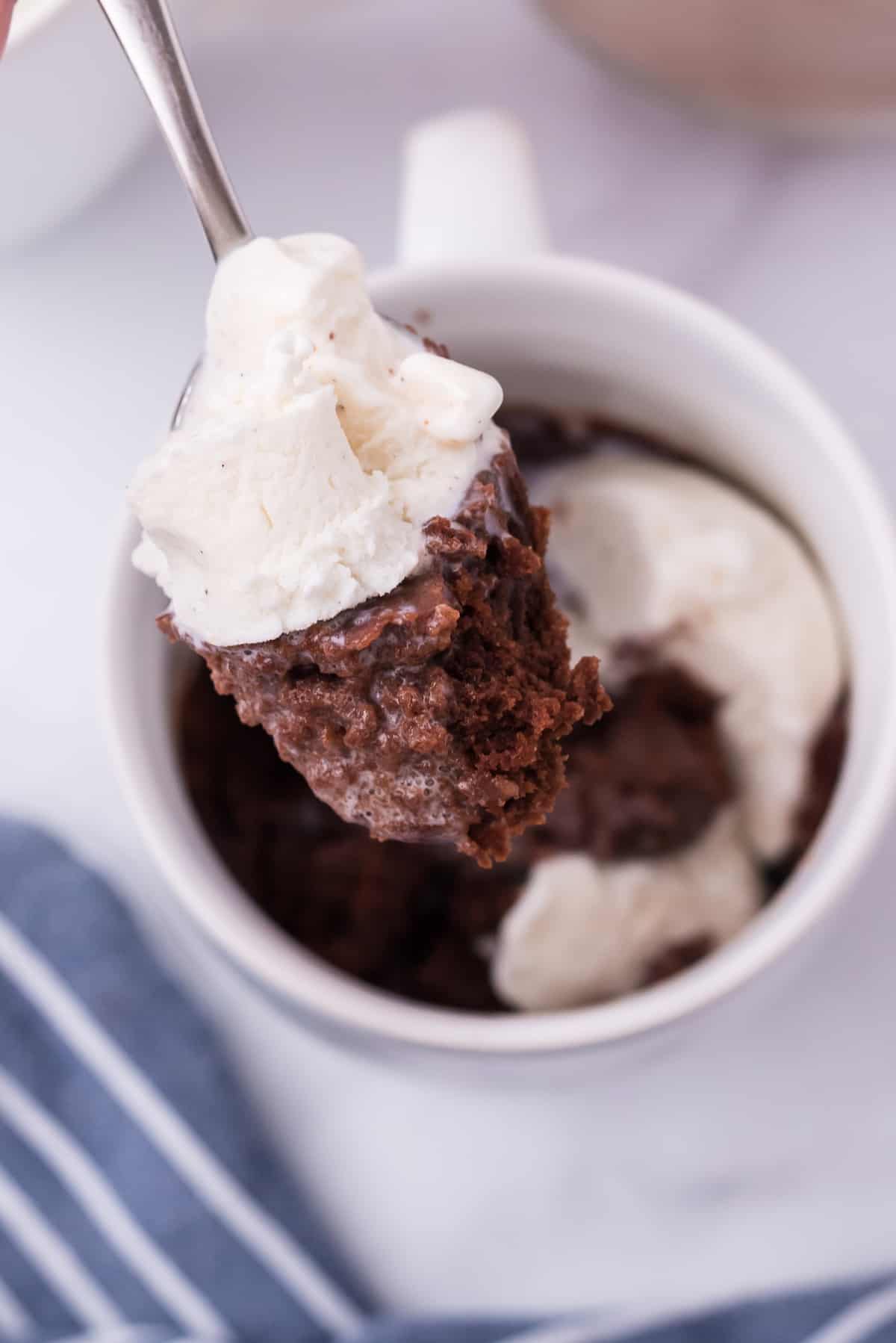 Mug brownie variations
You could add some chopped pecans or walnuts. I don't always add these, but a tablespoon or two of chopped nuts mixed into the brownie elevate it to a whole new level.
You could add a tablespoon or two of semi sweet chocolate chips. Or white chocolate chips. Or peanut butter chips. Use your imagination.
You can add a tablespoon or chopped peanut butter cups, Reese's Pieces, or M&Ms to the batter.
Drizzle with caramel or butterscotch sauce, either before cooking or right after removing from the microwave.
Stir in a scant tablespoon of jam with the wet ingredients.
Stir a tablespoon of peanut butter, hot fudge, or Nutella in with the wet ingredients. Or add it on top as soon as it comes out of the microwave. It will welt and soak in.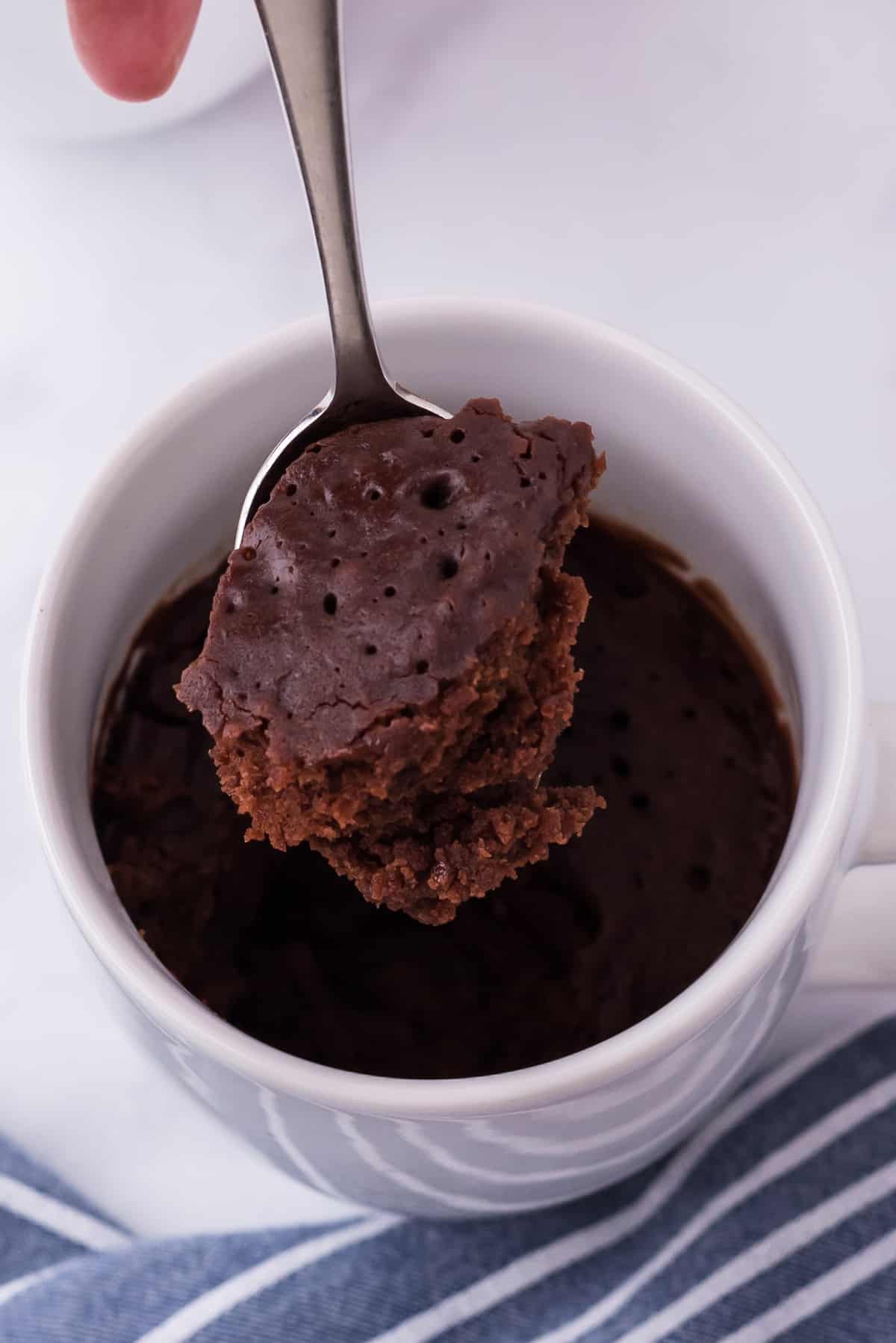 Can you make a microwave brownie in a mug gluten free?
You can. Use a cup-for-cup gluten-free baking mix. I don't recommend substituting plain almond flour for the all purpose flour.
Looking for more single serving microwave recipes? Try pizza in a mug too!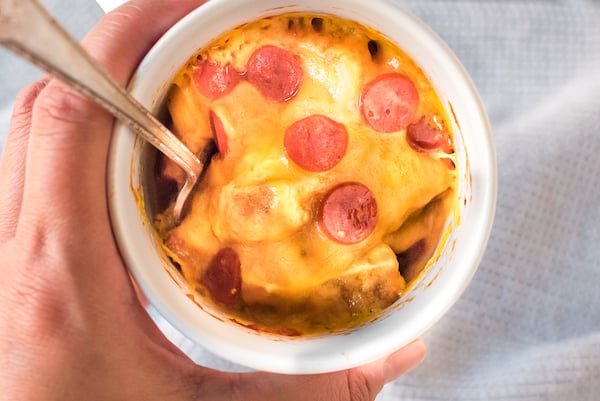 Try these other delicious chocolate and brownie recipes
Recipe