Thick and fudgy Caramel Turtle Brownies are rich brownies layered with caramel and pecans. This easy turtle brownies recipe is a decadent dessert ready in less than an hour. Share this quick brownie recipe with friends and family for Christmas, Easter, summer picnics, or anytime!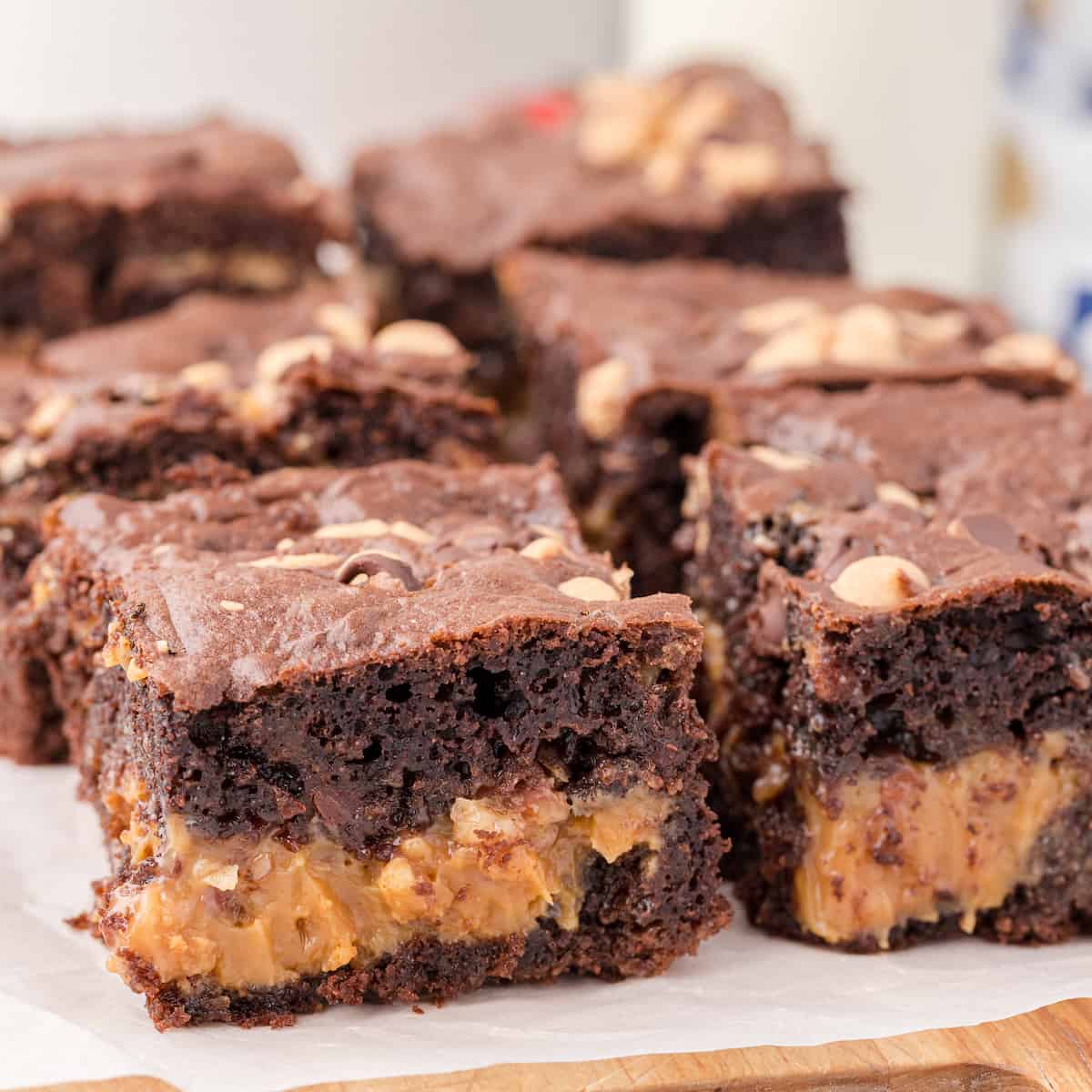 My friends and I get together one Saturday a month to eat visit and catch up. We each bring a dish, assigning courses ahead of time.
I use the word courses loosely. Our courses are things like main dish, fruit, veggies, bread, munchies, breakfast, and dessert.
We've had all sorts of casseroles, breads, brownies, dips, and – comfort food. It's all comfort food.
During the winter, we sit around, talk, and eat. During the summer, we sit around, talk, eat, and swim.
At our last Saturday get together, Jeanne brought these fudgy brownies. I have a voracious sweet tooth; I like brownies very much. Normally, I have a couple of brownies.
I didn't have a couple of these. They are so amazingly sweet that one is really enough.
I never thought I'd say that.
I'm a little disappointed with myself, but it's true. One small turtle brownie is enough.
Why are they called turtle brownies?
The candies that we all love look like turtles because the caramel and chocolate sit on top of whole pecans, which look like little turtle feet sticking out. Because of the combination of ingredients, most items that contain caramel, chocolate, and pecans are called turtles.
Why is this the best turtle brownie recipe?
Salty. Sweet. Crunchy. Gooey. Fudgy. This recipe uses all the best dessert adjectives. These caramel pecan turtle brownies are going to knock your socks off! They are some of the best brownies you will ever eat.
Because this recipe uses a prepared chocolate cake mix, it is super simple. There's no measuring at all! Just open the packages, dump it all in a bowl, and mix.
These brownies are decadent, dense, and rich. You can't imagine just how decadent and rich they are until you eat one.
What you'll need to make the best turtle brownies
EQUIPMENT
INGREDIENTS 
See printable recipe card at the bottom of the page for measurements and nutritional information.
German chocolate cake mix plus ingredients required to prepare - This is a major shortcut to this caramel brownie recipe. Because it's already included in the cake mix, you won't need all purpose flour, unsweetened cocoa powder, granulated sugar, vanilla extract, salt, or baking soda.
Butter - I recommend salted butter, but you could also use unsalted butter and be okay.
Unwrapped caramel candies - This is another shortcut. You could make your own caramel sauce from scratch, but it takes a long time to get it thick enough to make the caramel layer for these brownies.
Sweetened condensed milk - This gives the caramel layer a nice, sweet, smooth consistency and flavor. It really adds to the brownies. It also helps to loosen the caramel layer. If you left it out, the caramel layer of the brownies would be super hard to cut through and would likely crush the brownies when you tried to cut them.
Chopped pecans - Traditional turtle candy has caramel, chocolate, and pecans, so that's what I've used in this recipe. However, if you don't like pecans or have an allergy, you could substitute walnuts, almonds, or macadamia nuts. And, if you're not a fan of nuts, you can leave them out altogether.
Semi-sweet chocolate chips - Feel free to mix and match: a half bag of peanut butter chips and a half bag of chocolate or half caramel chips and half chocolate or half white chocolate and half semi-sweet chocolate. In my first set of photos, we used all chocolate chips. In the second set of photos, we used half chocolate and half caramel. It's all delicious.
How to make the best caramel brownies
Preheat your oven to 350ºF. Spray the bottom of a 9x13 pan with nonstick cooking spray, but be careful not to get the spray on the sides.
Add the German chocolate cake mix with the required ingredients (typically large eggs and oil) in a large bowl according to the package directions.

Stir together and mix well.

Pour half of the batter into the prepared 9x13 pan and bake for 20 minutes.

Melt the stick of butter with the entire bag of unwrapped caramels in a medium saucepan over medium-low heat.

At first, the caramels won't mix with the butter. You will have to whisk it for a few minutes to get them to combine into a smooth, even caramel sauce.

When the mixture is smooth and creamy, add the sweetened condensed milk.

Add the pecans and mix well.

Pour the caramel mixture over the hot cake as soon as it comes out of the oven. Use a wooden spoon or rubber spatula to spread it to the edges to cover the whole cake.

Pour the rest of the cake mix over the caramel mixture. Again, spread it to the edges to cover the whole pan.

Sprinkle the brownie batter with chocolate chips.

Bake for 30 minutes or until a cake tester comes out with moist crumbs.

Allow brownies to cool completely before cutting. It's even better if you can put them in the refrigerator to chill. If you cut them warm, the caramel layer will be too soft and will ooze out everywhere. The brownies are much nicer when served cold.
Tips for the best caramel turtle brownies
These brownies are incredibly rich. You'll want to cut them into small squares. Not even the biggest sweet tooth will be able to eat a big piece.
You can use a piece of parchment paper under your brownies to make them easier to lift out of the pan. Spritz it with cooking spray before you pour the cake mix in.
You can use any chocolate cake mix. I prefer the German chocolate, but a chocolate fudge or any chocolate flavor will be fine. I do not recommend a traditional brownie mix because the finished brownies will be too rich.
Around the holidays, you can sometimes find unwrapped caramels specifically for baking. Look for them. Not having to unwrap the caramels cuts down the time to make turtle brownies significantly.
Be sure to use a cake tester or toothpick to check the doneness of these brownies. If it comes out with moist crumbs, the brownies will be fudgy. If it comes out totally clean, they will be more cake-like.
You can add a scoop of vanilla ice cream for an extra special treat.
You can switch out the regular caramels with salted caramel for a slightly different flavor.
Storing leftover caramel turtle brownies
These brownies can be stored at room temperature. I prefer to transfer them to an airtight container, but you can also cover the 9x13 pan with plastic wrap or Press N Seal.
Try these other delicious dessert recipes while you're here:
Recipe