The best no churn Rocky Road Ice Cream recipe is a rich chocolate ice cream loaded with crunchy pecans, sweet mini marshmallows, and creamy chocolate chips. No ice cream maker needed so it's quick and easy to make with no cooking and no eggs.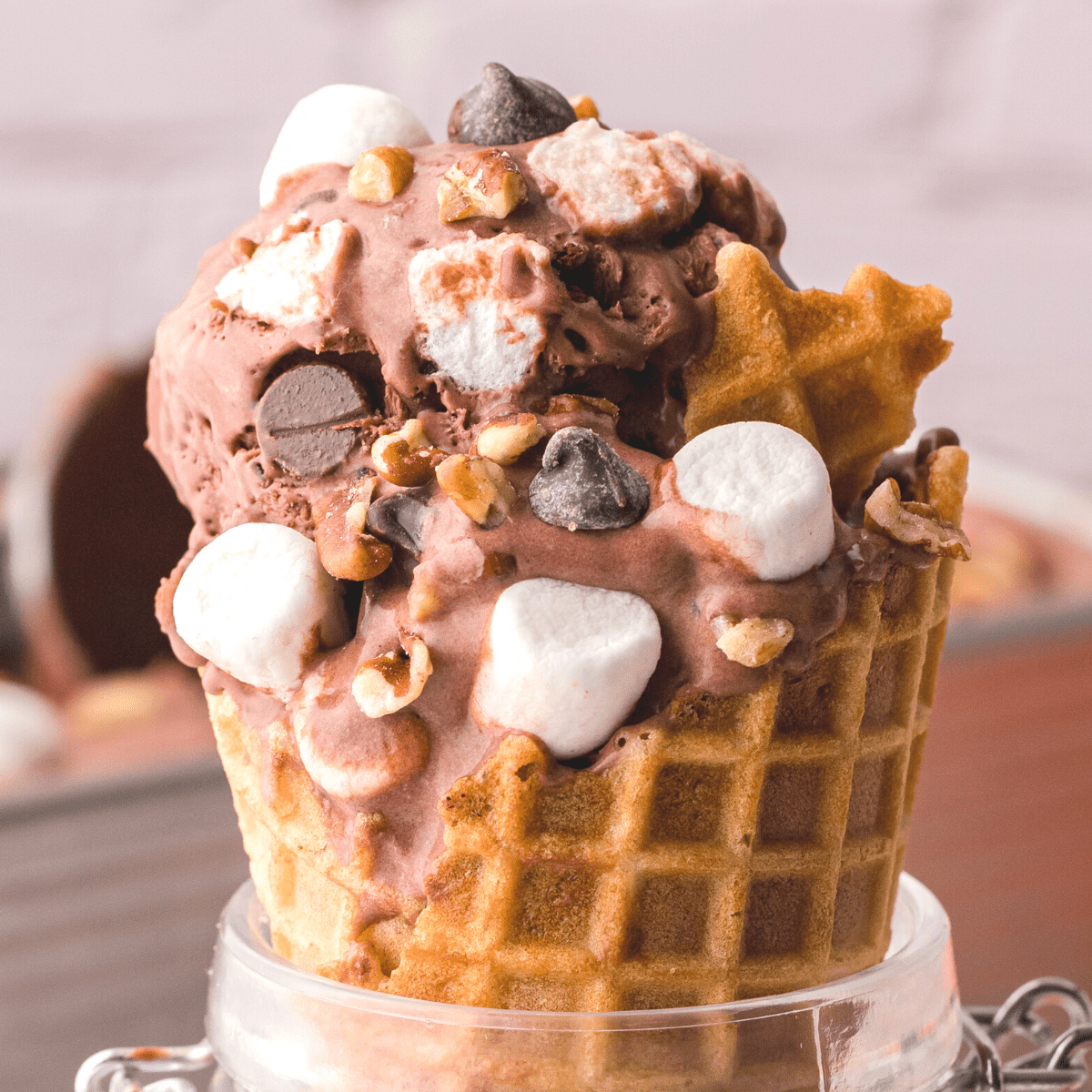 You probably grew up eating rocky road ice cream. Now it's time to learn how to make it. It only takes a few minutes, and it is so easy to throw together. Read on to find out how.
What is rocky road ice cream?
Traditional rocky road ice cream has a chocolate base with marshmallows and nuts mixed in. It first appeared in grocery stores in Oakland, California during the Great Depression (in 1929) but no one knows for sure why it was called Rocky Road.
Rocky Road was one of the very first ice cream flavors with solid mix-ins. The addition of solid pieces made the ice cream difficult to manufacture as it raised the temperature of the ice cream base, and it wasn't until the late twenties that technology had been created to facilitate freezing ice cream with a lot of chunky mix-ins.
Why this is the best homemade rocky road ice cream recipe
Unlike cooked recipes where you have to make a custard with egg yolks on the stove, and then chill in the refrigerator, and then churn in an old fashioned ice cream machine, (exactly who has time for all that?! Not me!) this rocky road ice cream recipe takes 10 minutes to prep. That's it!
The longest part of this recipe is whipping the heavy cream in the beginning and, assuming you have an electric mixer, even that takes less than 5 minutes. After that, you just stir the flavorings together, fold in the whipped cream, and pour the ice cream mixture into a pan to freeze.
That's literally the whole recipe. It could not be any easier.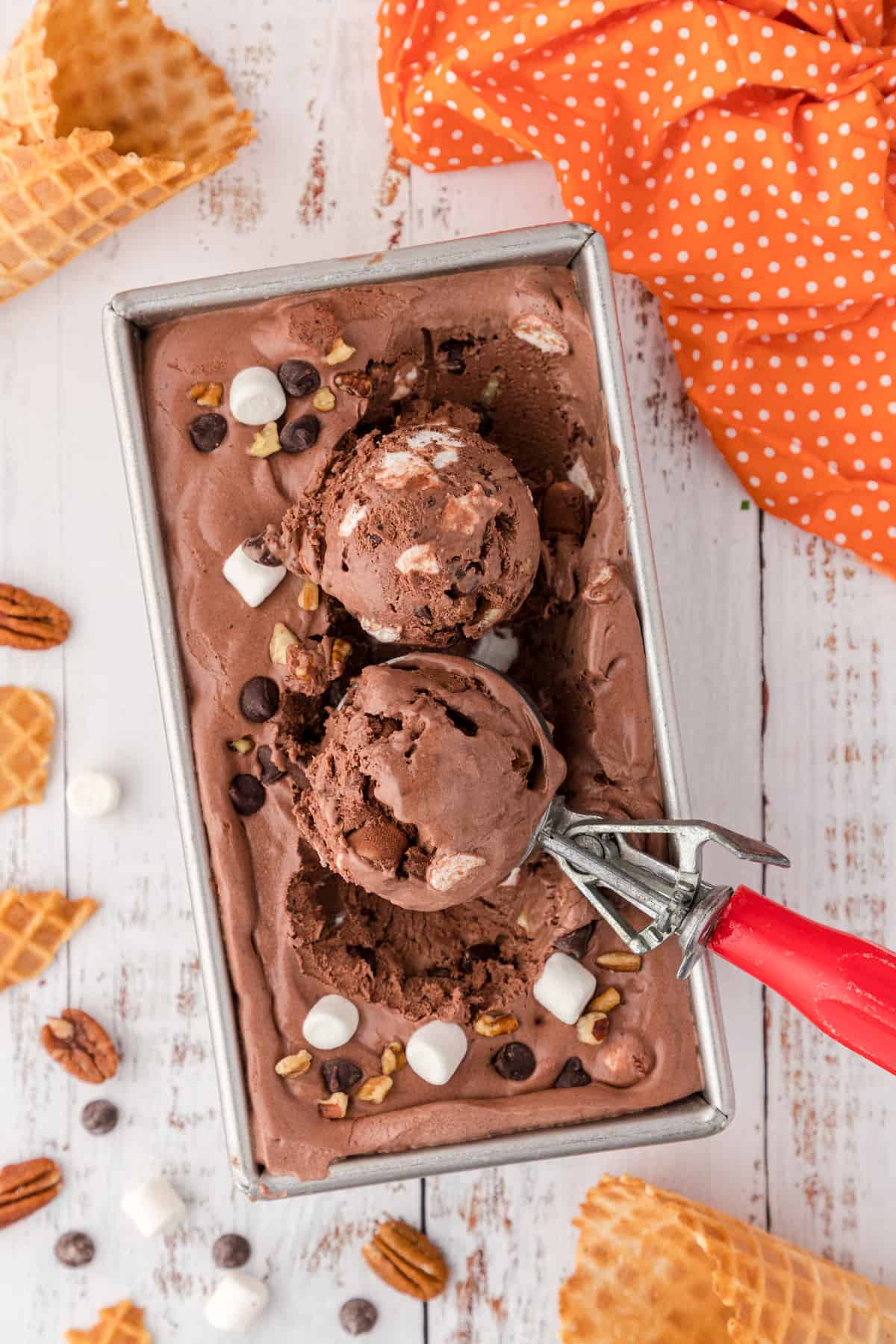 Another thing that's awesome about this recipe is that it is highly customizable. You can use whatever mix-ins you want (more on that below in the ingredients section and near the bottom in a variations section). You will find rocky road in the grocery store with a variety of nuts and mix-ins, and so this recipe can be tailored to your personal preferences and what ingredients you have on hand. And I guarantee that it's going to taste great no matter what you put in!
What you need to make no churn rocky road ice cream
EQUIPMENT
No churn ice cream is really simple and easy to make, but I do recommend that you use a mixer. It doesn't matter whether you have a handheld electric mixer or a stand mixer, but one or the other will make this recipe much simpler. Alternately, you could use a whisk and beat the cream until your arm falls off. It's up to you.
You'll also need an ice cream pan. My photographer uses a loaf pan to make no churn ice cream (which is why you'll see a loaf pan in the photos below), but I prefer the traditional ice cream pan as it has an airtight lid that prevents any leftover ice cream from becoming freezer burnt.
INGREDIENTS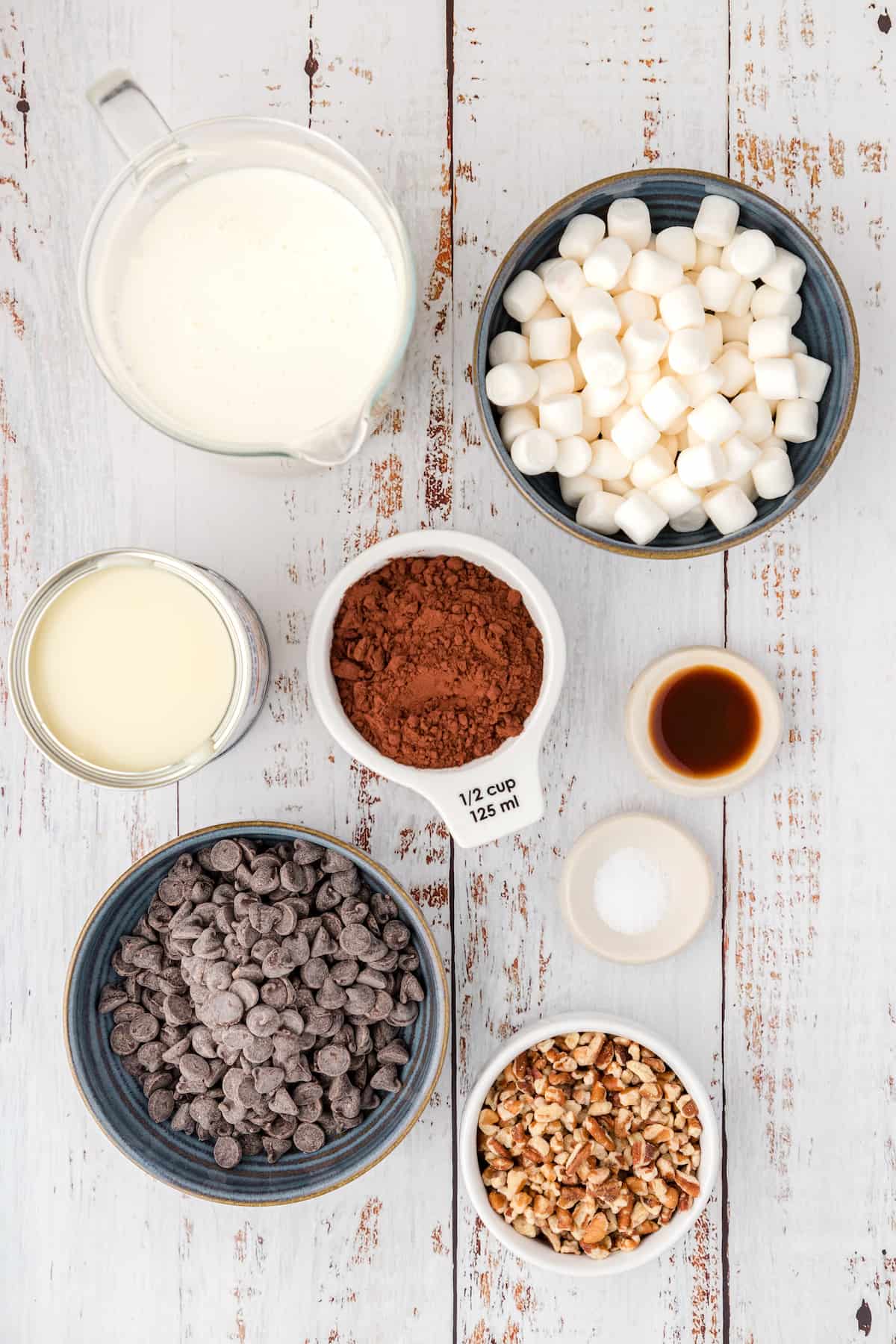 See printable recipe card at the bottom of the page for measurements and nutritional information.
Heavy cream - This is also known as whipping cream or heavy whipping cream. It's the base of the ice cream, and you're going to whip it into soft peaks to make the ice cream. Whipping it adds air and makes it pretty fluffy.
Sweetened condensed milk - This is why you don't need to add any sugar to the recipe. Sweetened condensed milk already has sugar added. It's thick and rich.
Vanilla bean paste or equal amount vanilla extract - Vanilla extract comes from soaking vanilla beans in alcohol and then removing the beans and using the liquid. I prefer to use vanilla bean paste, especially in recipes that aren't cooked, because the paste is made from actual crushed up vanilla beans. The beans are not removed; you can see them in the paste. And it doesn't taste like alcohol. It also imparts a stronger vanilla flavor than does vanilla extract.
Salt - You may think that salt is unnecessary in ice cream, but you would be wrong. This recipe uses the tiniest amount of salt, but it's really necessary to bring out the sweetness in the cream. Don't leave it out.
Unsweetened cocoa powder - This is what makes the ice cream chocolatey. I've seen some Rocky Road ice cream recipes that have a vanilla base which I don't understand at all because all the Rocky Road I've ever eaten was chocolate. But anyway, if you want to make vanilla Rocky Road, just leave the cocoa powder out and double the vanilla.
Chopped pecans - Traditional Rocky Road is made with pecans, but you could use peanuts, walnuts, almonds, or any other kind of nut that floats your boat.
Semi-sweet chocolate chips - As with the nuts, you can use any type of chocolate chips. Milk, dark, semi sweet, mini chocolate chips, whatever. Use what you like. You can even chop up a chocolate bar if you want. The only other thing I will say about the chocolate chips is that I do not recommend using anything bigger than standard chocolate chips. The chocolate chunk you use for cookies will freeze rock hard and be unpleasant in your ice cream.
Mini marshmallows - You need marshmallows to be Rocky Road. If you don't have mini marshmallows, you could use a sharp pair of kitchen shears to cut big marshmallows into quarters. It will make you crazy, but you can do it.
How to make homemade no churn rocky road ice cream
Beat the heavy cream in a large bowl until soft peaks form. Soft peaks means that when you pull the beater up and out of the cream, the point that forms sort of flops over and doesn't hold its shape. Do not over beat or your ice cream will turn into butter. You can't fix it if you make butter.

In a separate smaller bowl, stir together condensed milk, vanilla, salt, and cocoa powder.

Use a rubber spatula to fold the chocolate condensed milk mixture into the heavy cream. 

Add the pecans, chocolate chips, and marshmallows. Gently fold in to distribute.

Pour the mixture in an ice cream pan, cover tightly, and freeze for 6-8 hours or overnight.

Rocky Road mix-ins
As I mentioned in the ingredient section above, you have a lot of options for varying this recipe. Traditional Rocky Road ice cream is made from chocolate ice cream with marshmallows and nuts mixed in and sometimes bits of chocolate.
I prefer pecans, but you can use almonds, walnuts, macadamia nuts, or even peanuts.
You can choose a different kind of chocolate chips, from milk to dark to white to semi sweet (which is my chip of choice). They do get kind of hard when they're frozen, and you can also leave them out altogether if you want to. If the hardness of the chocolate chips bothers you, try mini chocolate chips as they don't get quite as tough to eat when they're frozen.
If you don't want chocolate ice cream, leave out the cocoa powder and make the base vanilla.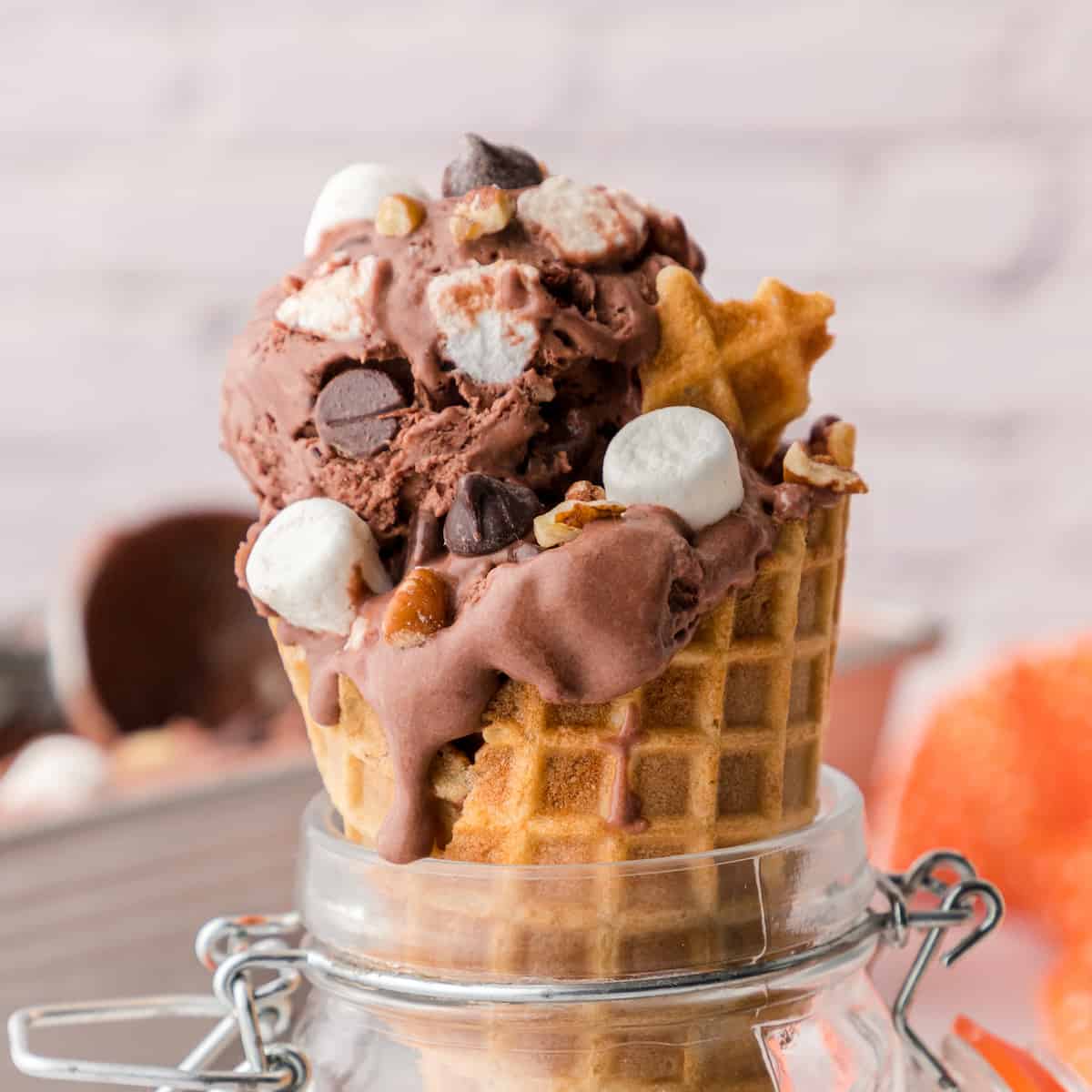 Serving suggestions
Try drizzling some homemade hot fudge over your rocky road, and/or add a scoop to the top of a hot homemade brownie. (This recipe uses cocoa powder, so you probably already have all the ingredients you need in your pantry!) You'll be in heaven.
How to store leftover no churn ice cream
If you freeze this ice cream in a loaf pan and don't cover it, the top is going to get weird and freezer burnt. You'll need to keep any leftovers in an airtight container, such as Tupperware or an ice cream pan. You can keep it in storage in the freezer for a week or two without losing any quality. Any longer than that, and ice crystals will form and it will get kind of weird.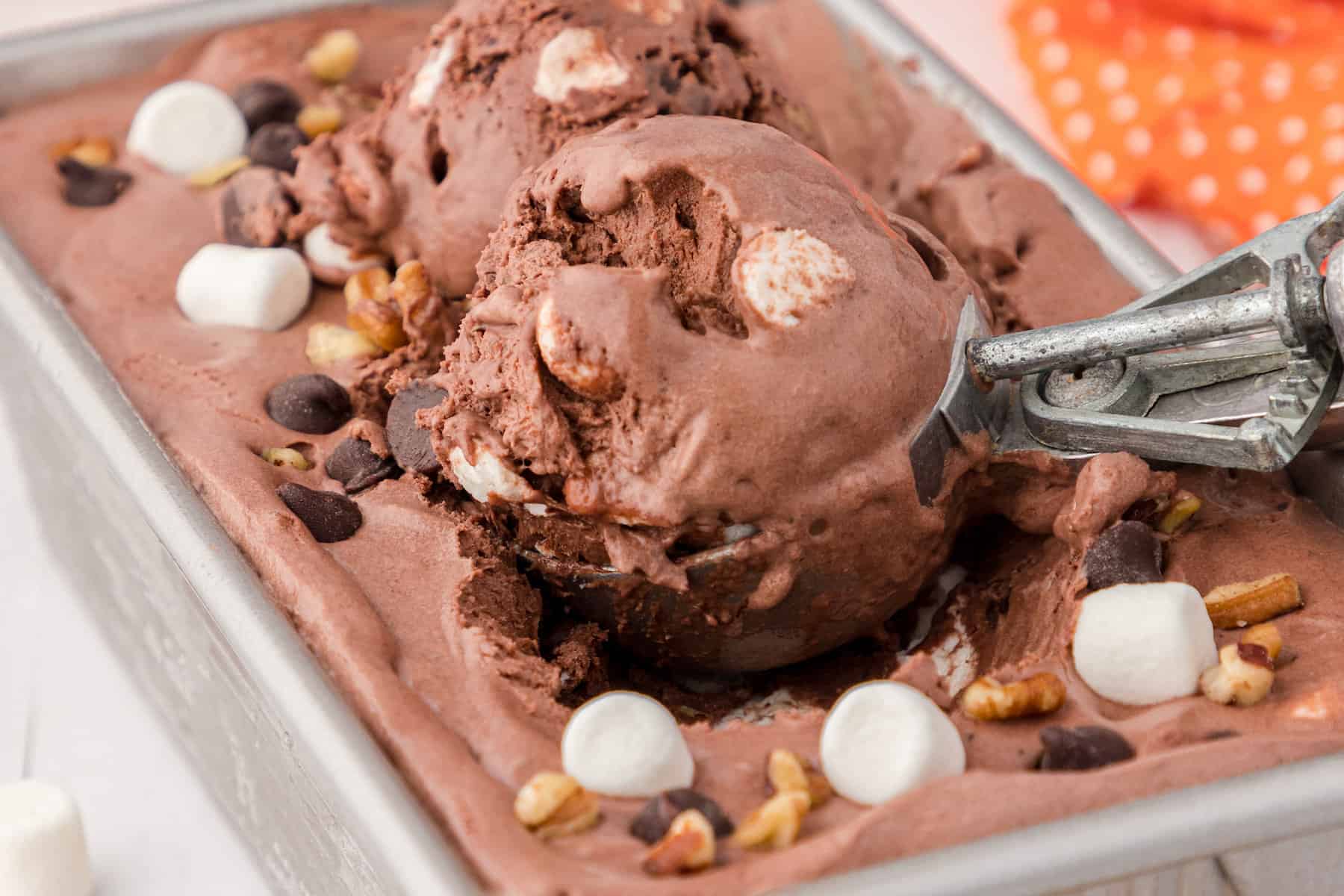 Try these other delicious homemade ice cream flavors while you're here:
And here's an all purpose no cooking required ice cream machine recipe: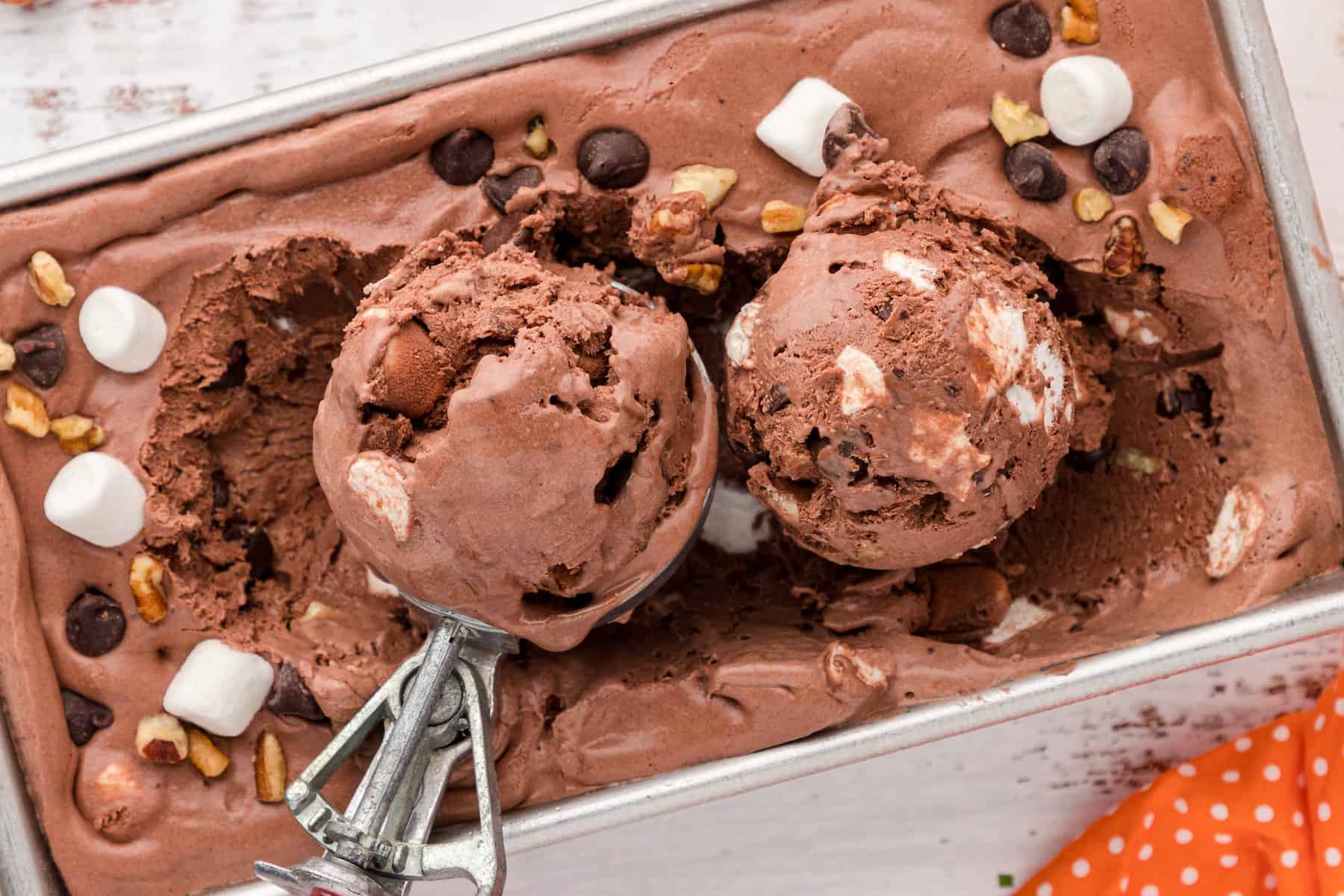 Recipe