How to make a printable Valentines Coupon Book for Kids - Children will love when mom prints these adorable coupons for them! Cute ideas to show them how much you love them. Make great gifts for a DIY Valentines Day. Includes instructions for perforating the coupons to make them easier to tear.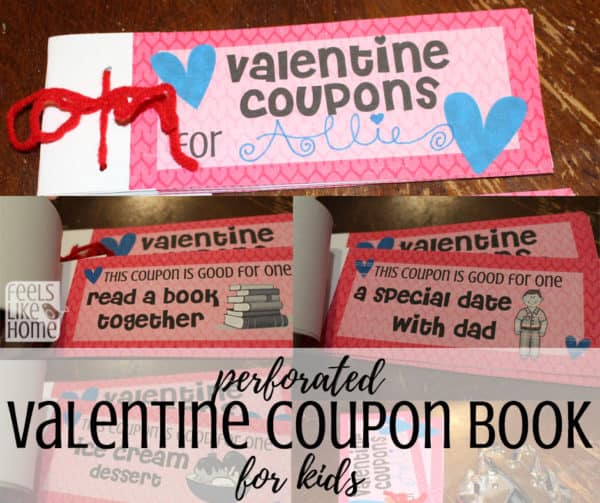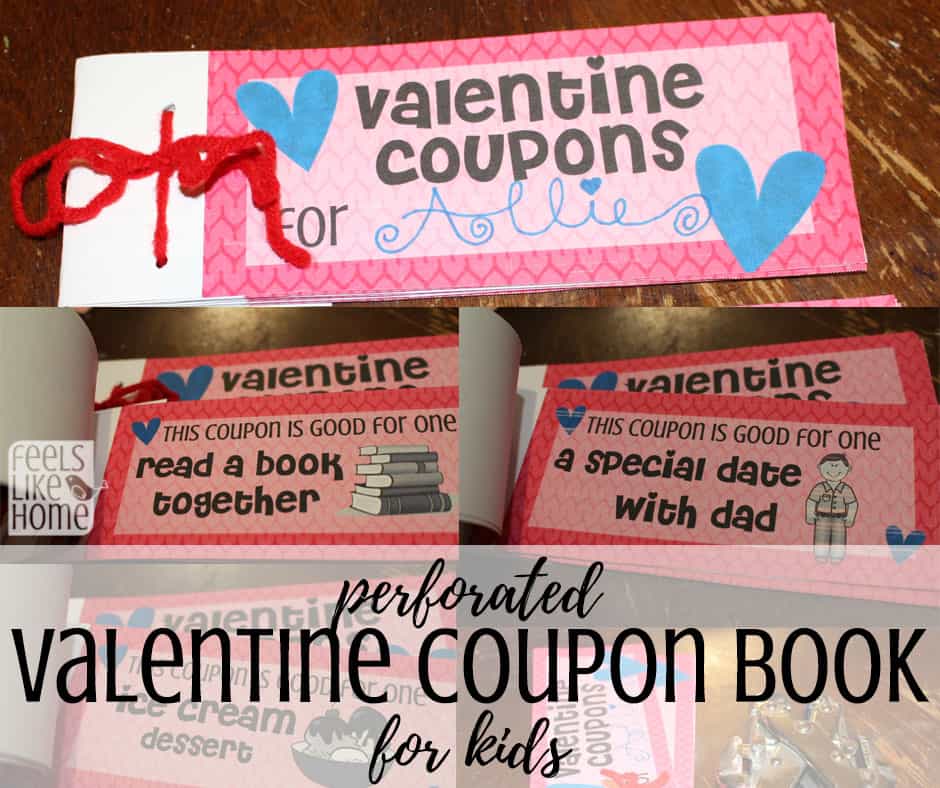 My kids love coupon books, but homemade coupon books can be iffy, you know? Sometimes they're really great, but sometimes they're pretty lame. I searched all over Pinterest to find one that suited me, and I came up with nothing.
With that in mind, I made up these super cute books last year for my own girls, and they LOVED them. Both girls rationed out their coupons, making them last the whole year long. They planned and schemed about when they would use their "special date with Mom" and "special date with Dad" coupons and what we would do on those dates. They also worked together to stay up late and enjoy their pizza dinners and ice cream desserts.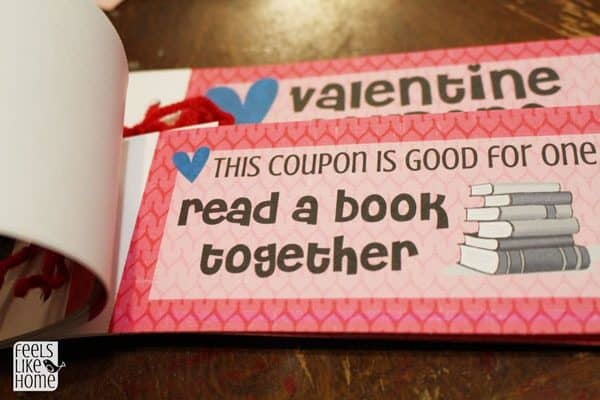 Making these Valentine coupon books was simple, as you will see below, and can easily be accomplished in one evening after the kids are in bed. That's when I made ours last year, and when I plan to make them again this year.
These adorable Valentines coupon books for kids include pictures on each coupon so that non-readers will know what they're looking for.
How to Make Tear-Away Coupon Books
The first step, obviously, is to save the printable.
Print the file on white cardstock. Cardstock is important here; plain old paper won't hold up to a year's worth of handling. Also, you can't perforate plain paper. It will tear.

Cut out the coupons, but don't cut off the white space to the left of the coupon. Leave this whole.
My coupons were perforated, meaning that they had little holes at the edge of the coupons that allowed the coupons to be very easily torn out. To perforate the coupons, take all the thread out of your sewing machine (don't forget the bobbin thread). Sew along the edge of each of the coupons, but don't sew along the cover. You don't want that to be perforated. Now, when your kids fold the coupon back and forth a couple of times, it will tear out easily.

Lay the cover on top of the stack of perforated coupons, and fold it over so that it wraps around to the back.

Wrap the cover around the coupons, and then punch two holes in the whole thing so that you can tie it up with some yarn. I used my Cropadile but you could also use regular hole punch. With a smaller hole punch, you may need to punch in several batches.

Tie a length of red yarn through the two holes and tie in a knot (to hold the coupons securely) then a bow overtop (to look pretty). Alternately, you could use pretty ribbon if you have that. Make sure it's not too big for the holes you've punched.

Write your dear one's name on the front cover and give it to her!

Try these other easy kid-friendly crafts while you're here: