Cool off with this soft serve pineapple ice cream recipe that is a perfect Copycat for Disney Dole Whip with just 3 common ingredients. Whip it up in your food processor or blender for a quick and easy frozen dessert.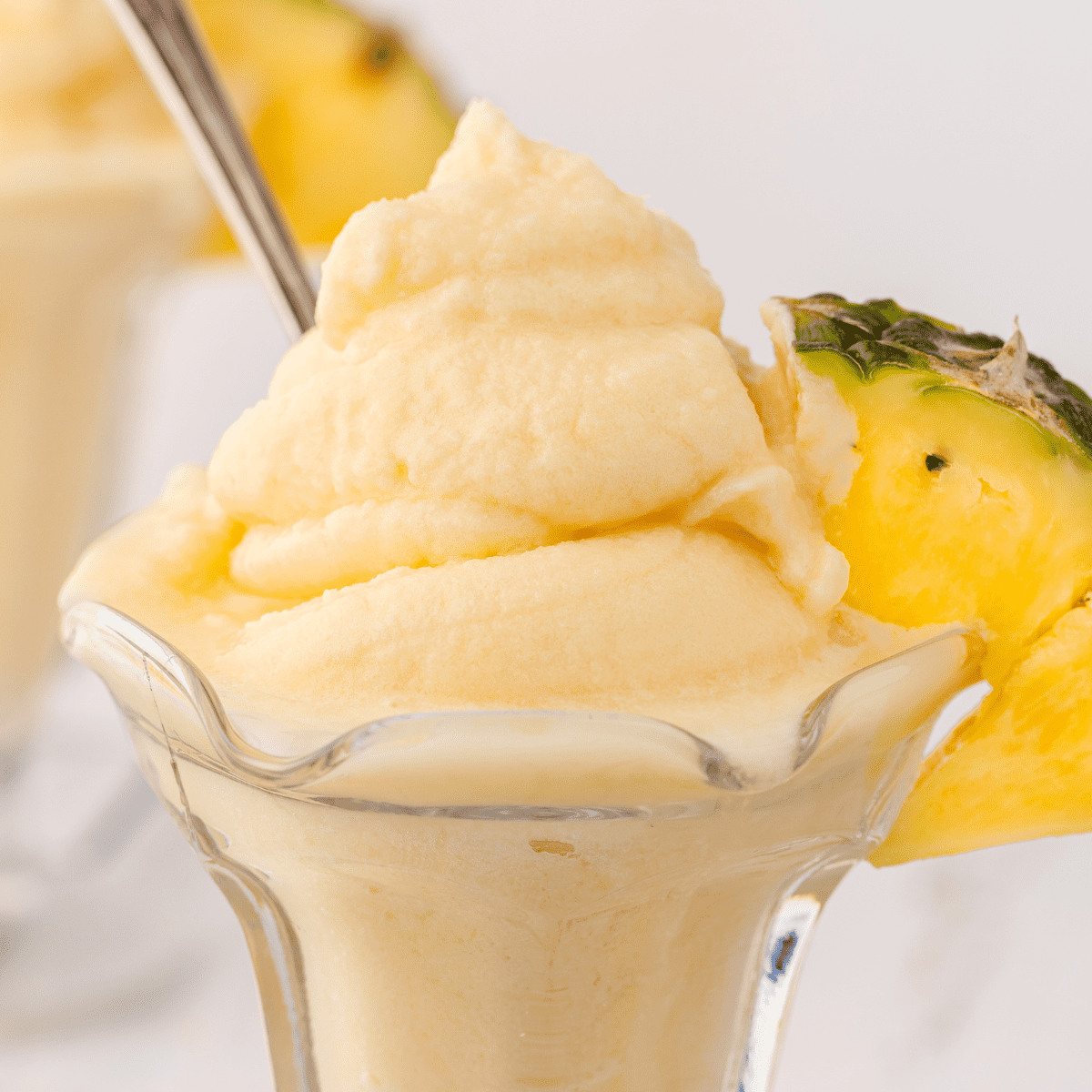 No Churn Pineapple Ice Cream made with just 3 ingredients! It is sweet, creamy, refreshing and bursting with tropical flavors, just like the Dole Whip you can get at Disneyland. Plus, it's made without an ice cream maker, so it's quick and easy. This is one of the easiest creamy and tasty desserts you can make, and you only need a handful of ingredients.
Homemade pineapple ice cream can be made at home and is ready to eat in just a few minutes.
I've read that ice cream and macaroni and cheese were both brought to the United States from Europe by Thomas Jefferson. Both were supposedly served in the White House during his term in office, and they both became popular with the people as a result. I don't know if that's true or not, but it makes a good story.
Regardless of who brought ice cream to the United States, it has become a staple in every area of the country.
In my house, we love to make homemade ice cream because we can make so many more flavors that you can buy in the grocery store. And recently, we've been making pineapple ice cream quite a lot.
What you'll need to make the best pineapple ice cream recipe
EQUIPMENT
You'll need a blender or a food processor for this recipe, but not both. The ice cream, after you've made it, will have a slightly softer than soft serve consistency, so if you want it to firm up a bit, you'll need to pour it into an airtight ice cream pan or a loaf pan and stick it in the freezer for a couple of hours.
INGREDIENTS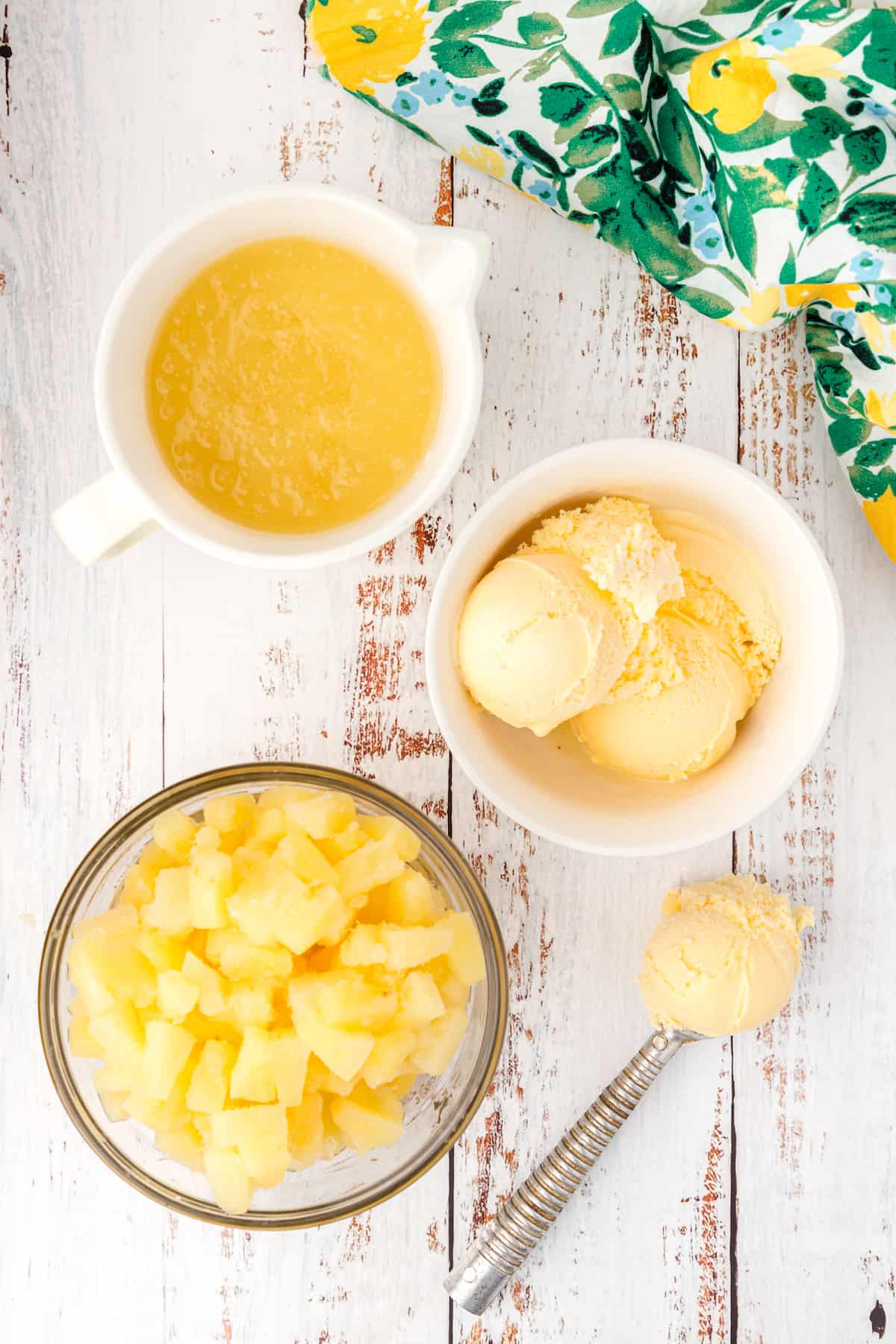 See printable recipe card at the bottom of the page for measurements and nutrtional information.
Vanilla ice cream - This is the base of the recipe. Can you make your ice cream base from scratch? Absolutely, but it will require either an ice cream machine or a no churn vanilla ice cream recipe which will typically include heavy cream, sugar or sweetened condensed milk, and vanilla extract.
Pineapple juice - This
Fresh or canned pineapple chunks - The flavor of your finished ice cream will be significantly different if you use fresh versus canned, but both are tasty. If you're using canned, make sure to drain it well. If you want to use the juice, you can, but reduce the amount of pineapple juice accordingly. Also, it doesn't really matter whether you use chunks, tidbits, or crushed since you're putting it in a food processor or blender anyway.
8 large chunks fresh pineapple for garnish
How to make the best copycat pineapple Dole Whip
Add the ice cream, pineapple juice, and pineapple chunks (reserve 8 large chunks for garnish) to a food processor or blender.

Blend until fully incorporated and taste.

Transfer to an ice cream pan or a gallon freezer bag. You can serve as is, in a slightly softer than soft serve consistency, or freeze for 6 hours and scoop.

Pineapple ice cream variations
You can add additional fruit to enhance the pineapple's flavor in your pineapple ice cream, including strawberry, mango, raspberries, or maraschino cherries. You could also make orange pineapple ice cream by replacing the pineapple juice with orange juice.
If you want some crunch in your ice cream, you could stir in some chopped pecans, almonds, walnuts, or macadamia nuts, or even some mini chocolate chips. Or just sprinkle them over the top in the bowl.
Add toasted coconut to your pineapple ice cream for a pina colada vibe. To toast the coconut, spread sweetened coconut flakes in an even layer on a baking sheet lined with parchment paper. Bake at 350ºF for 10 minutes. Allow to cool completely before adding to your ice cream in the blender.
Replace half of the pineapple juice with a half cup of coconut rum for a sophisticated grown up dessert.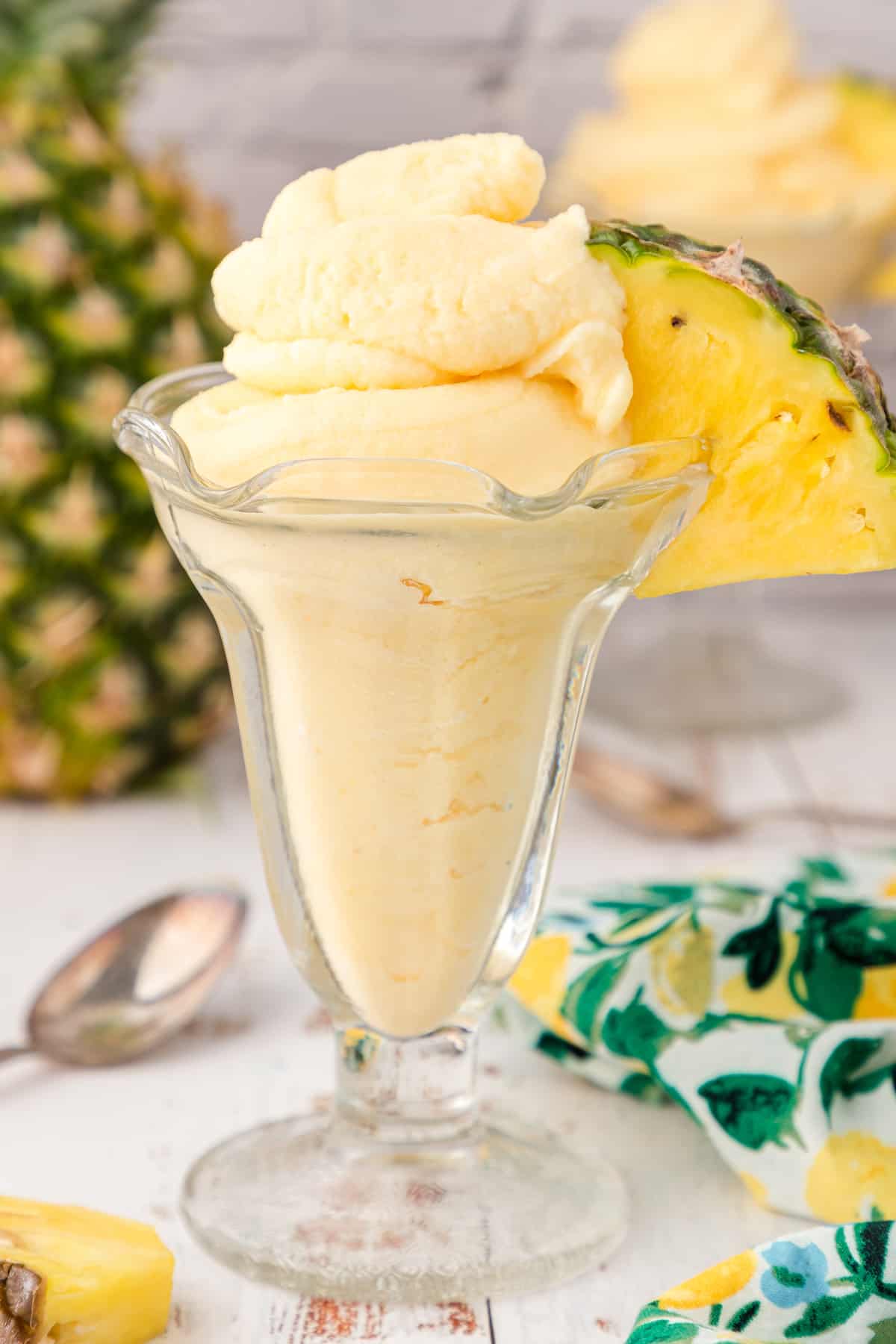 How to store homemade pineapple ice cream
Store this pineapple ice cream in the freezer in an airtight container (I really like these reusable ice cream pans) with a piece of parchment paper or wax paper pressed on top for up to on month.
Tips for making the best homemade Dole Whip recipe
Use the best ingredients - High quality ingredients will make a big difference. Use the best ingredients you can get.
Start with chilled ingredients - Put the pineapple and pineapple juice in the fridge overnight before making the recipe. Or, throw them in the freezer for an hour or two prior to beginning. (Don't let the pineapple juice freeze; you won't be able to put it in the blender if it's frozen solid.)
You can use either fresh or canned pineapple in this homemade pineapple ice cream recipe. Make sure to drain canned pineapple well so that you don't add too much pineapple juice to the recipe.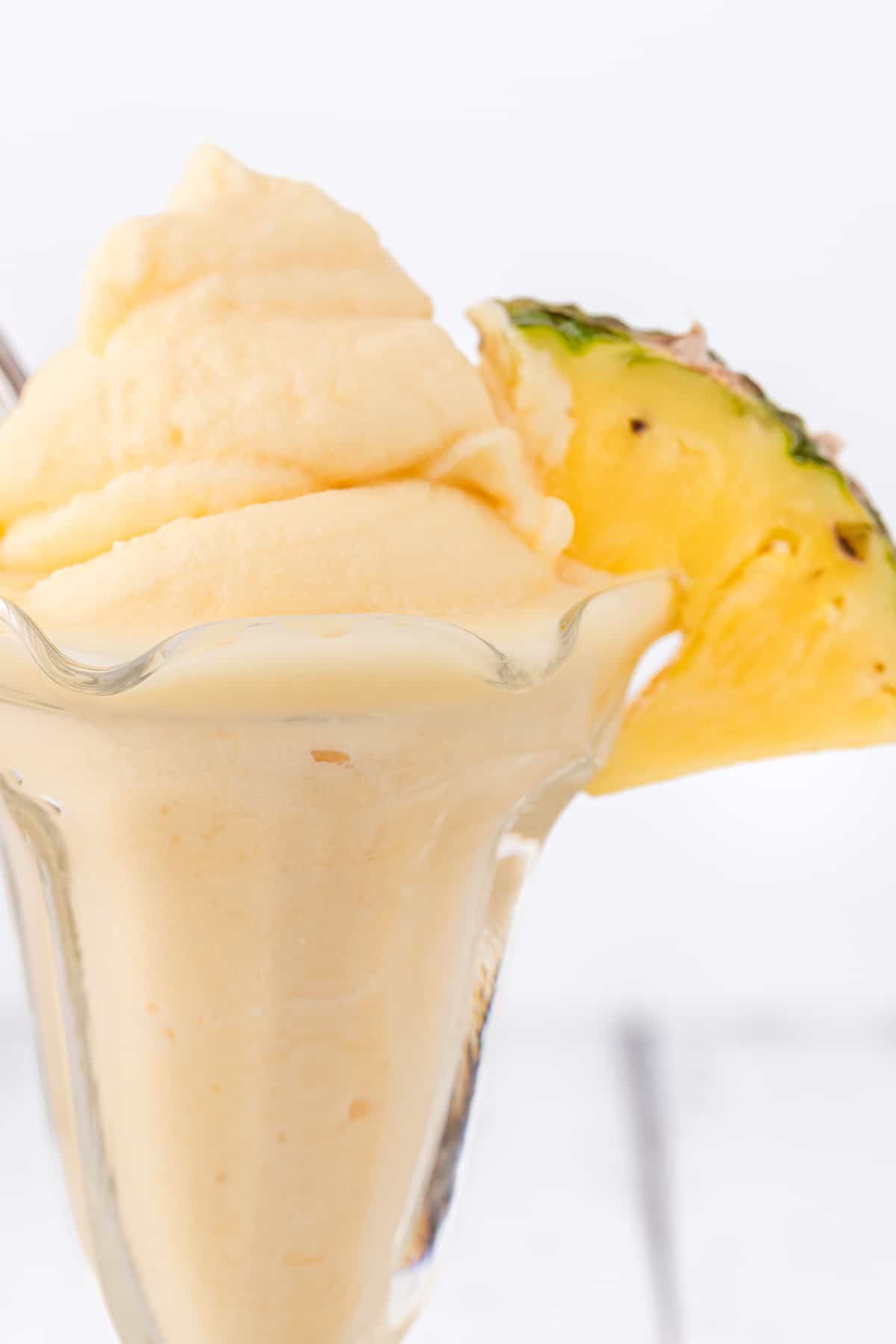 A fun serving suggestion - serve homemade ice cream in a fresh pineapple
For a really fun way to serve this homemade ice cream, get a fresh medium sized pineapple and cut off the top. Core and remove the fruit before freezing the hollowed-out pineapple shell. Spoon the pineapple ice cream mixture into the frozen shell, cover, and freeze for eight hours to overnight. When ready, cut the pineapple in half and then cut the halves into wedges for serving.
Should you use canned or fresh pineapple in homemade pineapple ice cream?
As I've mentioned above, you can use either one. The flavor will be different depending on what you choose.
For canned pineapple, you can use any size chunk or even crushed pineapple since you're putting it into the blender or food processor anyway. The texture will be evenly smooth because of the blender, regardless of what texture your pineapple starts out as.
If using fresh pineapple to make pineapple ice cream, make sure that the pineapple is ripe, then cut it into large chunks and throw them into your blender or food processor. (A ripe pineapple is golden brown on the outside.)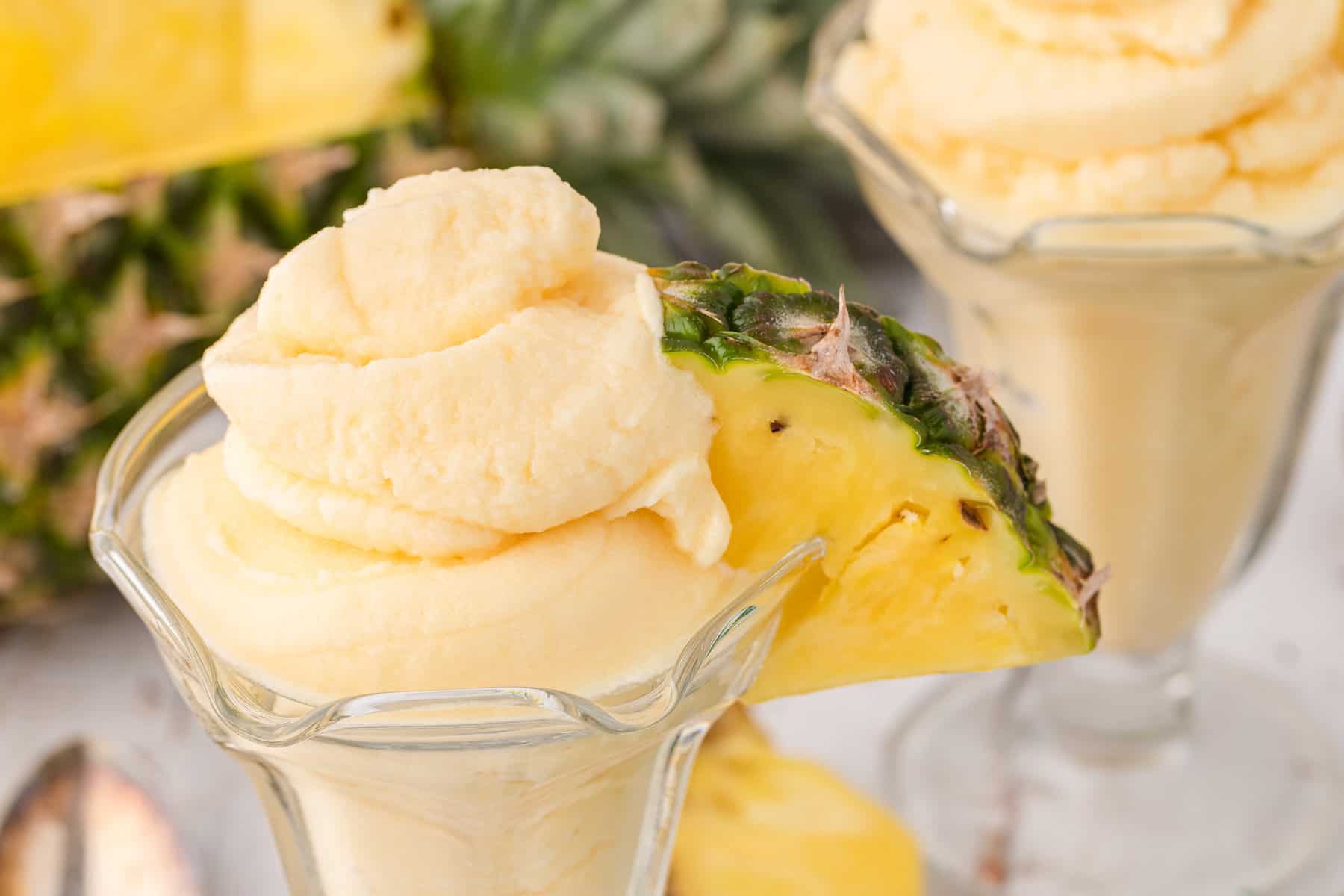 Try these other homemade ice cream recipes too!
Recipe