How to Make Homemade Healthy Instant Oatmeal Packets - This simple, quick, and easy recipe will show you how to make your own instant rolled oats oatmeal packets at a fraction of the cost of store bought packets. If you use gluten-free oats, you will have gluten free oatmeal, too. Perfect for breakfast, in the morning, or any time of day! Makes about 20 packets.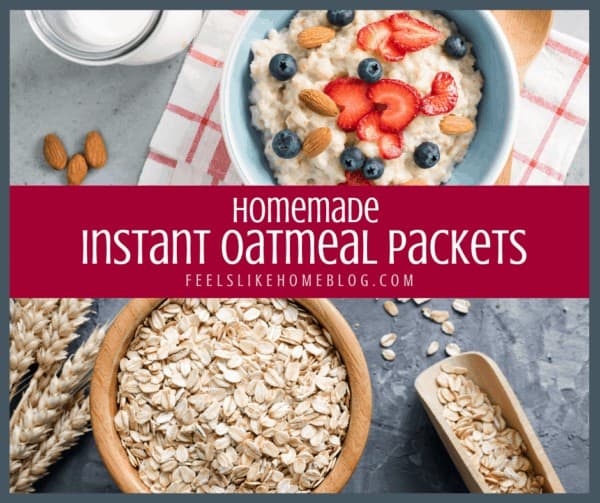 Scroll down for the recipe for my homemade (sort of) healthy oatmeal packets. First, an update on my process towards bariatric surgery:
I have so many fears about my upcoming gastric sleeve surgery, but most of all, I fear that I will fail. I fear that I will not be able to maintain the weight loss and that all my hard work will be for nothing as I balloon back up to my current weight.
I did not do very well in my "physician supervised weight loss" and actually gained weight the first three months. I've been doing better since month three though, and I think I've lost about eight pounds so far.
Cutting out Mountain Dew has been instrumental in the loss, but it has been painful to cut out. I love everything about it - the fizz in my mouth, the tangy fruity taste, the sound when I open a can or bottle for the first time. I am an addict, and I have been craving it every day since I finally told Joe not to buy me any more cases. But it had to go, and so it went.
I am sad about never having it again, but I have been told that it would be painful to drink carbonated drinks after surgery, so there it is no more Mountain Dew ever.
I had to slowly wean myself off of the Mountain Dew. It took about a month as I gradually cut out one serving at a time, about one serving per week. I'm still drinking caffeine - something my nutritionist warned me against since I won't be allowed to have it for the two weeks before and after my surgery - in the form of tea, but it's not the sugary version that I used to drink starting at breakfast. I will work on the caffeine next, but the caloric drink had to go first.
Before I cut out Mountain Dew, I took a look at my breakfast habits. I had been having a bowl of Fruity Pebbles every morning with Silk Vanilla soy milk instead of dairy milk. I loved that, too.
You may have noticed a pattern of sugar followed by sugar, and that would pretty much sum up my eating all day and night. I love sugary foods.
So in order to cut a few calories from my breakfast, I decided to start eating oatmeal. The problem was that oatmeal packets are kind of expensive, and they contain a crap ton of sugar, and one is not enough for breakfast so I would need to eat two at a go.
I decided to make my own oatmeal packets partly for cost and partly for sugar content and partly so that I could up the serving size a bit.
This recipe works really well for me, and it is quite sweet but not as sweet as the boxed packets. It is very inexpensive, especially for subsequent batches after the initial expense of the sugar and creamer and little baggies, and you will only have to spend about a half hour once a month to make new packets, assuming you eat oatmeal about five days a week.
I have been eating these homemade instant oatmeal packets for every weekday breakfast for about three months, and I have gotten a little tired of it sometimes, so I started throwing in a handful of dried or frozen fruit before cooking. It adds a little variety, although I don't love it. I may start experimenting with other flavorings to see what I can do there.
I eat my oatmeal every morning in the car, while driving on the highway, because I am constantly running late. I don't say that to brag (because it's not advisable to drive while eating oatmeal), but only to say that the finished oatmeal is pretty thick and does lend itself well to eating on the run. I hold the steering wheel with three fingers and the bowl with my finger and thumb, if you're wondering about the logistics. But seriously, do as I say and not as I do.
Okay, on to the recipe.
How to Make Homemade Instant Oatmeal Packets
Prepare the packets. This is a really tough one: Mix all ingredients together until well blended, and then measure ½ cup at a time into little plastic zippered baggies.
Prepare the oatmeal. To cook the oatmeal, pour contents of one baggie into a bowl with ¾ cup water or milk. (I prefer milk, but it does add calories.) Feel free to add a handful of dried or frozen fruit. Microwave for 2 minutes on high. You could add a little jam and/or whipped cream after cooking.
Try these other make ahead breakfast recipes while you're here:
Recipe