Joe and I bought our gas grill the day we created our wedding registry at Sears.
We knew we should wait for my bridal shower, but we just couldn't be patient. We wanted to enjoy grilled food out on our deck as soon as the weather warmed up.
We primarily grill hamburgers, chili burgers, hot dogs, chicken breasts, and veggies.
Oh, and kielbasa. I can't forget kielbasa; Joe's dad has worked at a world famous kielbasa shop on and off throughout his retirement.
My mom grills all kinds of adventurous things – pineapple, peaches, corn, and stuff I'd never even think to put on the grill.
Who am I kidding?
I don't grill anything.
I leave that to Joe 100% of the time.
Anyway, I am excited to participate in Sears' Grilling is Happiness program because I love cookouts.
It doesn't matter to me who's doing the cooking or hosting the shindig, but cookouts are a good time all summer long.
When I was little, we had cookouts at Old Grandma's or at one of my uncles' house. The food was cooked in half of a 55-gallon metal drum with grates across the top. Picnic tables were set up across the front yard, and we played lawn darts (the horrors!) and badminton and ran around like nuts.
Oh, to do that again.
The thought makes me a little teary-eyed. It would be wonderful.
When we cook out at our house, Joe usually makes grilled veggies – his favorite is squash – and some kind of meat.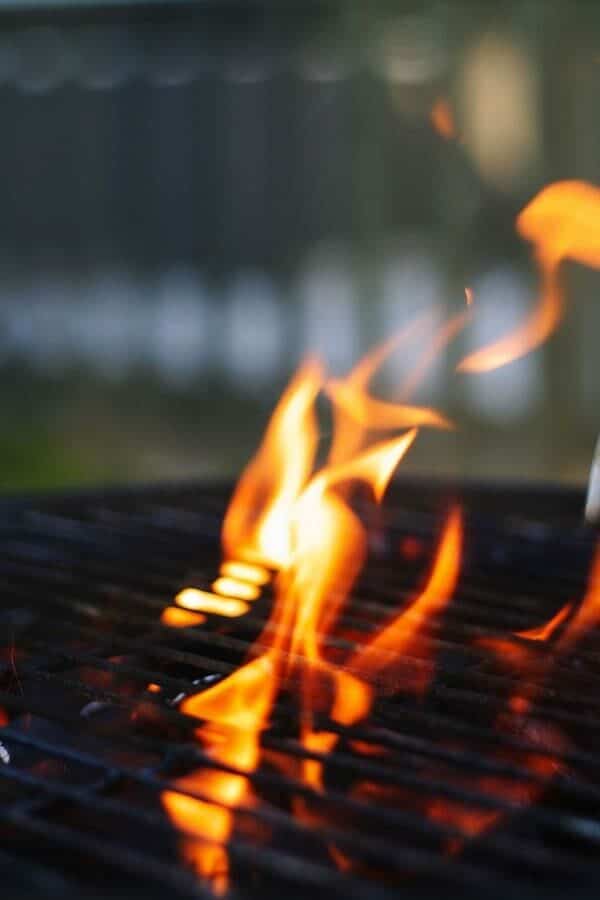 | | |
| --- | --- |
| | |
Chop the squash and peel and chop the onion. Toss in olive oil to coat.

Place all of the chopped veggies into a grill basket. Grill over medium-high heat until onions are crisp-tender.

Let the veggies cool a little, then toss with garlic and spices of your choice. We like just plain garlic, and we also like to sprinkle on Pampered Chef spice rubs.
Alternate method, especially if you want your zucchini to look like mine in the photo:
Slice zucchini and squash into thick slices using a mandoline slicer.
Brush each side of each plank with olive oil, not enough to make it dripping, but enough to make it moist.
Place squash directly on the grill grates over medium-high heat. Aim for 5 minutes on each side.
Win a $25 Sears Gift Card!
Sears is providing me with a $25 Sears gift card to give away to one lucky Feels Like Home reader! To be entered for a chance to win, leave a comment explaining what you love about grilling (besides the food, of course). You may receive two (2) total entries by selecting from the following entry methods:
Leave a comment in response to the sweepstakes prompt on this post.
Tweet about this promotion including @TaraZiegmont and leave the URL to that tweet in a comment on this post.
No duplicate comments. This giveaway is open to US Residents age 18 or older. Winners will be selected via random draw (using a plugin called And the Winner Is) and will be notified by e-mail. Winner will have 72 hours to get back to me, otherwise a new winner will be selected. Good luck! This sweepstakes runs from 5/17/12 – 5/24/12.
This is a sponsored conversation on behalf of Sears and BlogFrog. The opinions are mine along, and the text is written by me. Read the Official Sweepstakes Rules for more info.
© 2012 – 2018, Tara Ziegmont. All rights reserved.