In Things to Write Home About this week, I mentioned that the fabulous (and famous!) scrapbook designer, Becky Higgins, posted a family gratitude activity.
Becky made a poster using a picture frame, a poster board, and some letters. The result is gorgeous - exactly what you'd expect from a designer.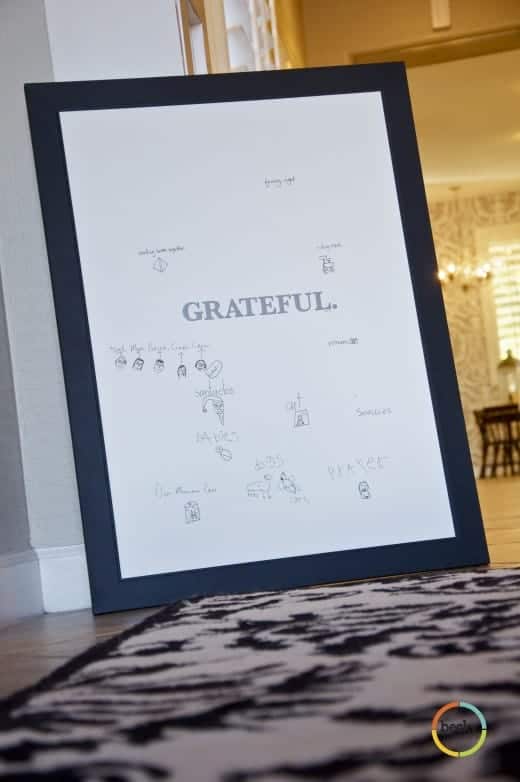 Pin
In her original post, Becky explained the materials she used, how she introduced it to her family, and how her children received the activity.
I was inspired.
First, I made a list of Becky's supplies and located a coupon for the craft store.
Then I thought, "What are you doing? You are trying to save money for an extended maternity leave, and you do not need to go spend money on another project."
I have an cabinet full of scrapbook supplies in my bedroom. A personal die cut machine. All kinds of craft punches and stamps. Scads of markers.
Back to square one.
I asked Joe to cut me a big piece of cardboard (from the car seat box that was delivered yesterday). When I told him what I wanted it for, he offered to cover it for me, too. He used a large piece of paper from a stack of discarded building plans he found in a dumpster at work.
Using the plain white side of the paper, he wrapped the cardboard rectangle like a present.
I wanted to use letter stickers to write on our paper, but I couldn't remember where I'd put them. Instead, Grace and I ran some pretty papers through my die cut machine and sticker maker to made our own letter stickers.
I asked Grace whether our poster should say GRATEFUL or THANKFUL. She thought THANKFUL sounded better, so that's what we used.
After we put the stickers onto our poster, we started filling in things we're thankful for. At least five times, Grace announced, I am thankful for the family! Did you write it yet? I am thankful for the family!
Because she was so excited to record the family, I asked if she'd like to draw the family. She did, of course. It's more of an abstract drawing than this one, but the baby is there anyway -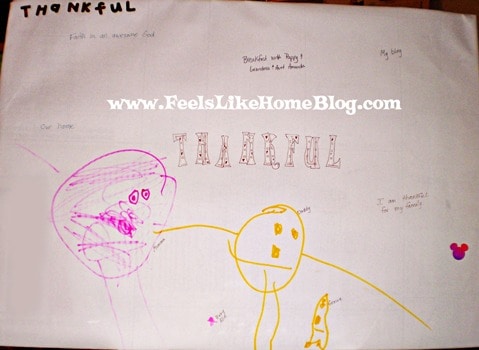 Pin
We all added one or two things: our home, toys, God, each other, my blog, breakfast with Pappy, Grandma, and Aunt Amanda.
You know, it's about priorities.
I'm eager to watch this poster become cluttered over the next three weeks.
I'm also eager to see what your family is thankful for. If you make a poster something like this, please share the link so we can visit!
If you're looking for a more on-going gratitude practice, check out the gratitude jar that we made!