How to make the best easy blueberry cobbler - This simple old fashioned recipe uses fresh or frozen blueberries to make a homemade, made from scratch cobbler with a quick crumble topping.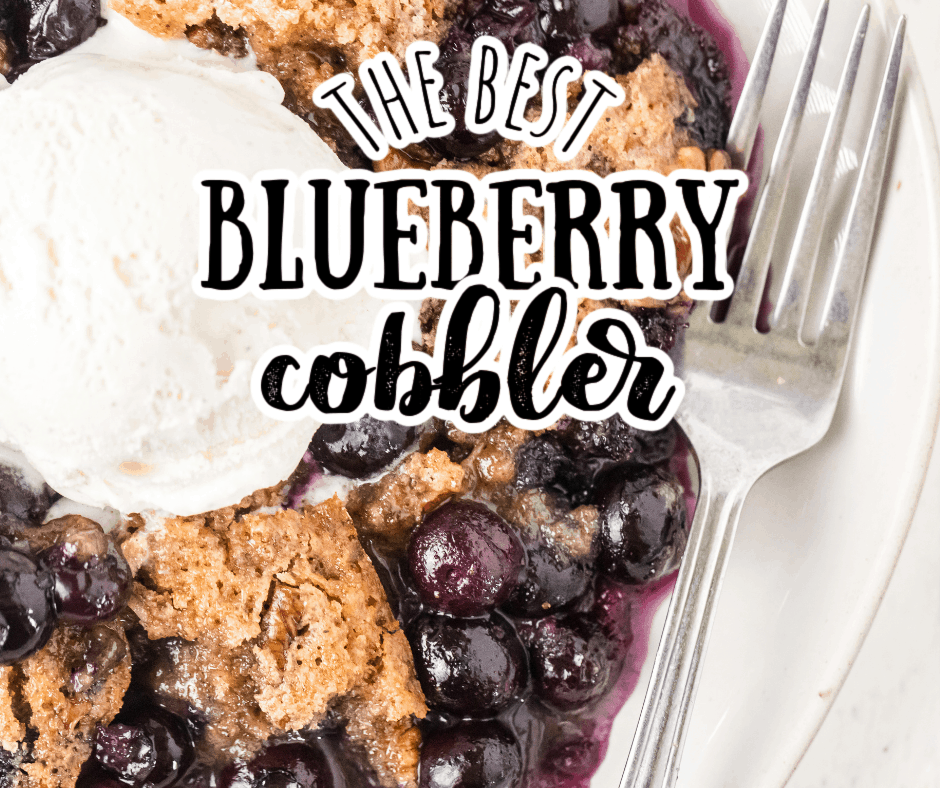 Last week, we went to a local farm to pick cherries and blueberries. We do this every summer, along with picking strawberries which we had done a couple of weeks before.
There were several bee hives in the blueberry patch. It was an odd place to put stackable bee hives I thought, but I'm not the farmer, and maybe the bees like blueberry pollen or it makes their honey taste good. I have no idea.
Anyway, I picked berries right up next to the hives and nary a bee buzzed me. Grace sat ten feet away and got stung three times on her face.
This pretty much ended our day at the farm, although I did finish picking the box full of blueberries that I had started. Grace is not allergic to bees, and while I did want to be sensitive to her plight, I did not intend to pay $9 for a box of blueberries and only half fill it. So she waited for me far from the berries and the bees, wimpering for a half hour or so, and she put ice on the bee sting when we got home.
Perils of picking aside, I have never really loved blueberries. I don't know why; they just aren't my favorite. I'd much rather have strawberries or cherries or even raspberries.
But Allie LOVES blueberries, so I pick them and bring them home.
I've been baking a lot since the quarantine started a few months ago (and my current weight reflects this rediscovered hobby), and I knew I would bake something with some of these blueberries.
I thought about making a blueberry crisp using the super easy cake mix apple crisp recipe I love so much, but I didn't have a cake mix and didn't feel like driving to the store to buy one. So from scratch it had to be. The crust was almost as easy to put together as the cake mix recipe, and I thought it tasted amazing.
How to make the best easy blueberry cobbler
Preheat oven to 375º.

In an 8-inch square baking dish, mix blueberries, 4 tablespoons of brown sugar, and water. Set aside.

In a small bowl, mix 1 cup flour, baking powder, 1 teaspoon of cinnamon, and salt. Set aside.

Use any electric mixer for best results. Cream together ¾ cup of softened butter and white sugar. This means that you beat it until it forms a smooth, creamy consistency. It is possible to do it by hand, but it will take about ten years of beating. Beat in eggs and vanilla. Gradually add flour mixture, beating only until just blended.


Drop the batter mixture on top of the blueberries and smooth out as best you can. This part is a little difficult as the berries will want to lift up while you smooth out the batter. The idea is to cover as much of the blueberries as possible with crust.

Mix together 5 tablespoons of brown sugar, 2 tablespoons flour, 2 tablespoons of butter (melted now), pecans (if using), 1 teaspoon of vanilla, and 1 teaspoon of cinnamon with a fork until it is crumbly. Add extra flour if needed. Spread streusel topping over the batter.

Bake for 30 minutes, until filling is bubbly and crust is golden brown.

Serve warm with a scoop of ice cream. It's almost as good served cold.

Check out these other delectable fruit desserts while you're here:
Recipe