Photo Scavenger hunt for Kids, Tweens, Teens, & Adults - This awesome list includes both indoor and outdoor ideas. Perfect for a birthday party, group, or team building event. Could be done at school, home, Girl Scouts, or homeschool. Great family activity for spring, summer, or fall.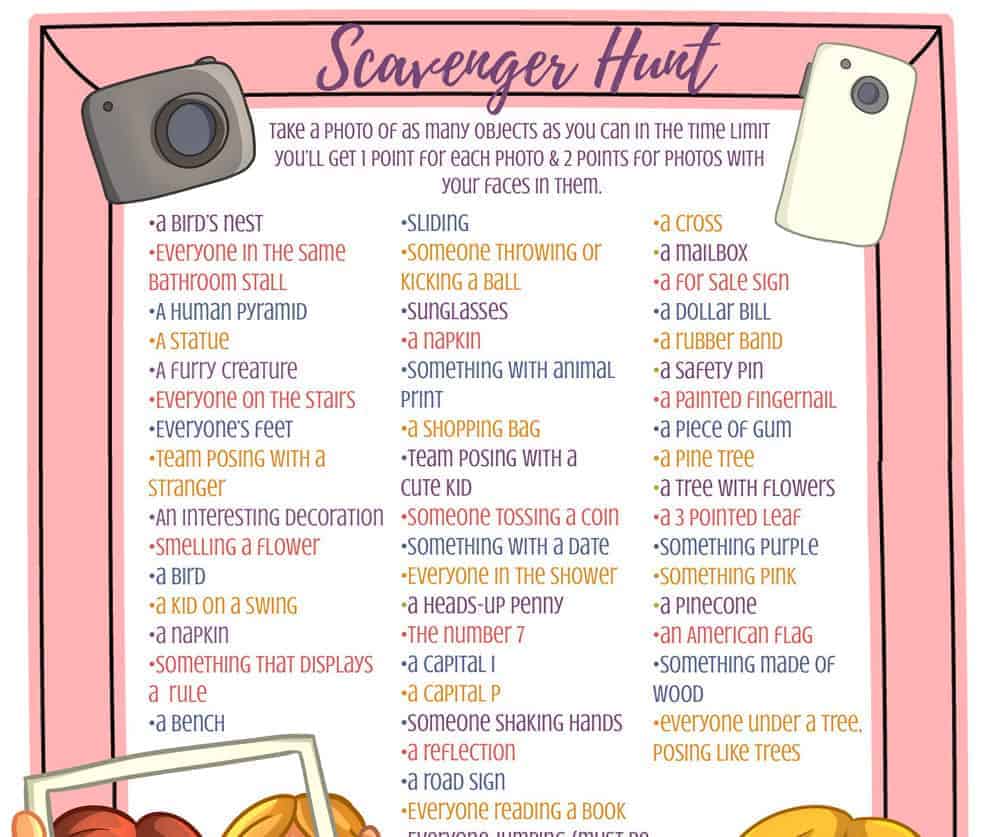 I am a Girl Scout leader for two troops. I'm the leader of Grace's 6th grade Cadette troop, and I'm the assistant leader of Allie's 2nd grade Brownie troop.
I don't do much planning for the Brownies; the main leader does all the work for that one. But for the Cadettes, pretty much everything falls to me.
A lot of Cadettes take responsibility for their troops, but my girls aren't really into girl-led activities. In fact, I let them plan out most of the year this year, and they didn't really follow through on the activities they had planned which was a disappointment to me.
One thing that they did tell me loud and clear was that they wanted to have fun and they didn't really care about earning badges. This is fine with me because badges are expensive and I am happy to save the troop that money so that we can spend it on trips and supplies for cool crafts and activities.
Anyway, all that to say that we spend a lot of our troop meetings on non-Girl Scout-y fun things like playing board games. At our last meeting, I set up a forensic science whodunit activity where they had to do real science experiments to figure out who stole $400 from a fictional charity. They loved it.
Our next meeting is the last one before our end of year picnic, and it's shortened because Grace has her piano recital right before. Grace asked me if the girls could maybe do a scavenger hunt for their meeting which was fine with me.
I'm pretty sure Grace wanted me to create a scavenger hunt like the Easter basket scavenger hunts I've created - a series of rhyming clues and riddles that lead to a prize at the end - but I didn't want to spend money on a prize, and those are really difficult and time consuming to create while only taking a few minutes to complete. Our meeting this time is an hour, and I wanted to make the picture scavenger hunt take up most of the time.
I brainstormed a bit and did some searching on Pinterest, and I decided to create a photo scavenger hunt. All of my girls have either a phone or an iPod with a digital camera that they bring to meetings, so each group member will have the ability to take photos.
How to Set Up the Photo Scavenger Hunt
I only have 4 girls total, and one often misses for cheerleading activities. If all 4 come, we will do the hunt in 2 groups of 2 girls, but if only 3 are there, I'll have them do it all together as a group. They'll have fun with it either way.
I aimed for about half of the fun photo scavenger hunt ideas being outside and half inside. None of the list of clues require the girls to go into the neighborhood around the church, but they will take them out into the property.
It's actually supposed to be raining during our meeting, so they may decide to scrap the outside things and keep it as an indoor scavenger hunt, but if they get brave, there will be a lot to look for outside as well as inside. It'll be an adventure either way.
I intentionally mixed up the items on the list between outside and inside. Girls this age don't tend to read ahead (who am I kidding? I don't either), so I think it will be a fun way to get them running back and forth between rooms in the church and outside. If they read through the whole list, they could group the tasks pretty easily, but... we'll see if they think to do that.
There's no need to approach strangers to photograph the items on this list, and none of the items should require special permission. There's room for lots of interaction between the fellow group members, but it's not necessary to get outside people involved or obtain photo consent or anything like that. There are lots of times when they'll be getting a shot of a team member though - that's part of the fun!
To participate in the picture scavenger hunt, each group will need a clipboard and a pen or pencil. This will allow them to cross the items off, especially if they decide not to go in order down the list.
You'll also want to set up a time frame for the challenge, especially if you want to have the participants create a slideshow after the scavenger hunt is over. (More on that below.) Each group could set a timer on their device and keep track of when they need to return.
Guidelines for successful scavenger hunts
The only real guidelines that you need are to photograph the items on the list in the time you are given and to have fun. I guess you could set a minimum number of items, but I think each group is going to get as many as they can whether you have a minimum or not.
The Photo Challenge is Intended for...
Even though I created this photo scavenger hunt for my 6th graders, I think it would work equally well for attendees with a camera: young kids, like elementary age, older kids, teens and even groups of adults. They don't have to have great photography skills.
This photo scavenger hunt could happen in a classroom, with a scout group like mine, with sports team members, with family members, or even in a work situation. If you have a large group, you'll want to break it down into teams of 3-4 people.
Teammates can find the things on the list whether they're little or big. It's simple but has loads of items, and none of the items are especially baby-ish. They are just fun and interesting and take the team members to several different locations.
The printable photo scavenger hunt list includes drawings of kids, but I don't think that would bother teens or adults.  The list is about have fun, and the graphics are cute.
After a successful photo scavenger hunt...
I think it would be fun to create a slideshow of the digital photos at the end of the game. If you had iPads or another tablet available, you could give the participants an iPad and have them make their own highlights slideshow. The collaboration will be cute and funny whether the team members were kids, college students, or adults.
If you have a better way of creating a slideshow, leave a comment below. I thought of iPads but there's probably a more effective way of doing it right on the phones.
My Girl Scouts had a BLAST doing their photo scavenger hunt. It was a memorable experience for all of them, and they're still talking about it several years later. They got dozens of pictures in the hour they had available, and they created scenarios based on the items on the list. It was a wonderful way to do some team building, get them laughing and active, and wrap up our Girl Scout year. One of the girls even printed her photos and made a collage that she showed off to the rest of the group.
While you're here, check out these other resources: