Banana boats have long been a campfire tradition, but now you can bring all that gooey deliciousness indoors using the microwave! With bananas, chocolate chips, marshmallows, and ice cream, how can you go wrong?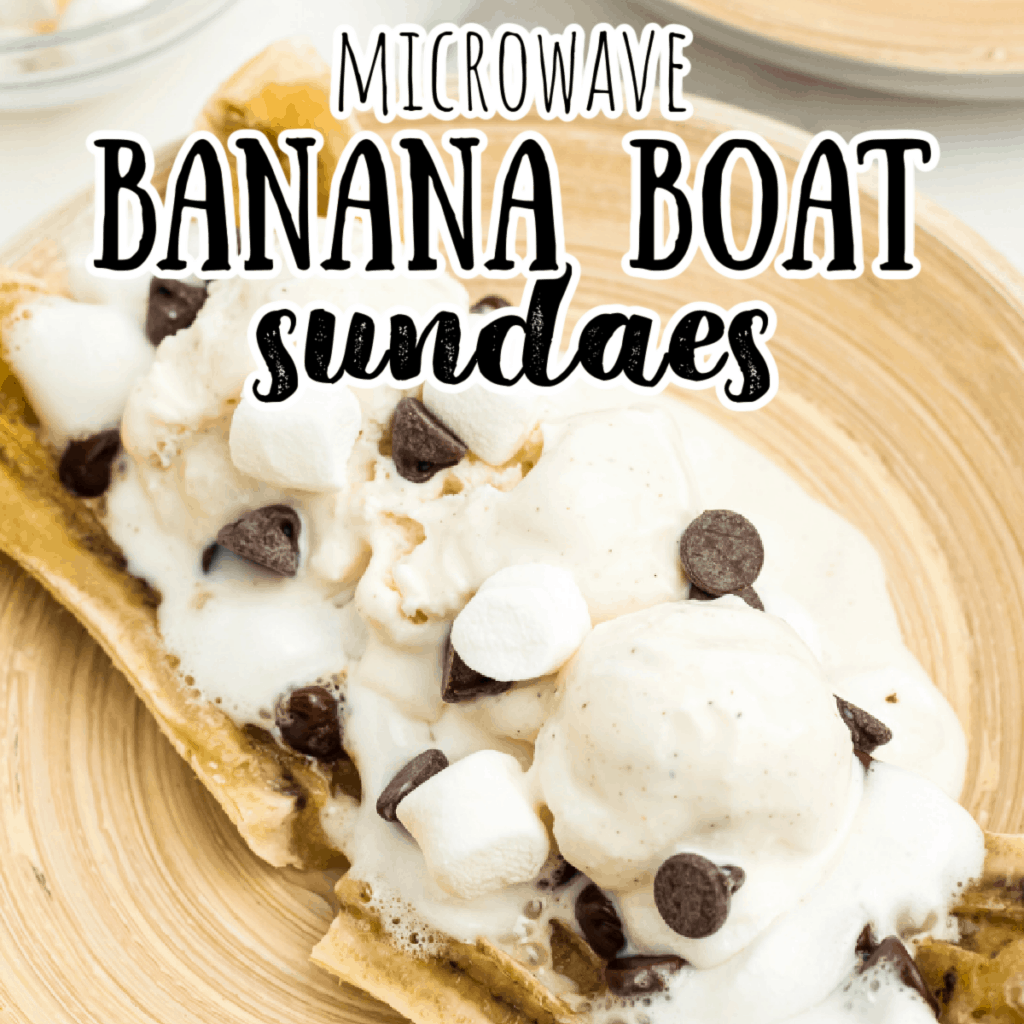 When I was a little girl, we had a lot of cookouts. Someone was always building a fire and cooking something over open flames.
My favorite things to cook in the fire were banana boats. They're quite easy:
Slit a banana, peel attached, open from end to end to form a boat.
Stuff the opening with chocolate chips and marshmallows.
Wrap the banana loosely in aluminum foil.
Seal the aluminum foil and place the package in the campfire, down in the coals.
Wait 5 or 10 minutes, carefully remove the package from the coals, let it cool (which takes forever), and eat with a spoon.
It is one of those foods that instantly makes me feel like a kid again: mushy cooked banana, sweet gooey marshmallows, and creamy melted chocolate.
Every bite is a memory.
Campfire banana boats are not without problems. Because of the foil and the banana peel, they stay hot forever. You have to either set them down or burn your fingers trying to get to the gooey chocobanana mess inside.
Sometimes both.
I digress.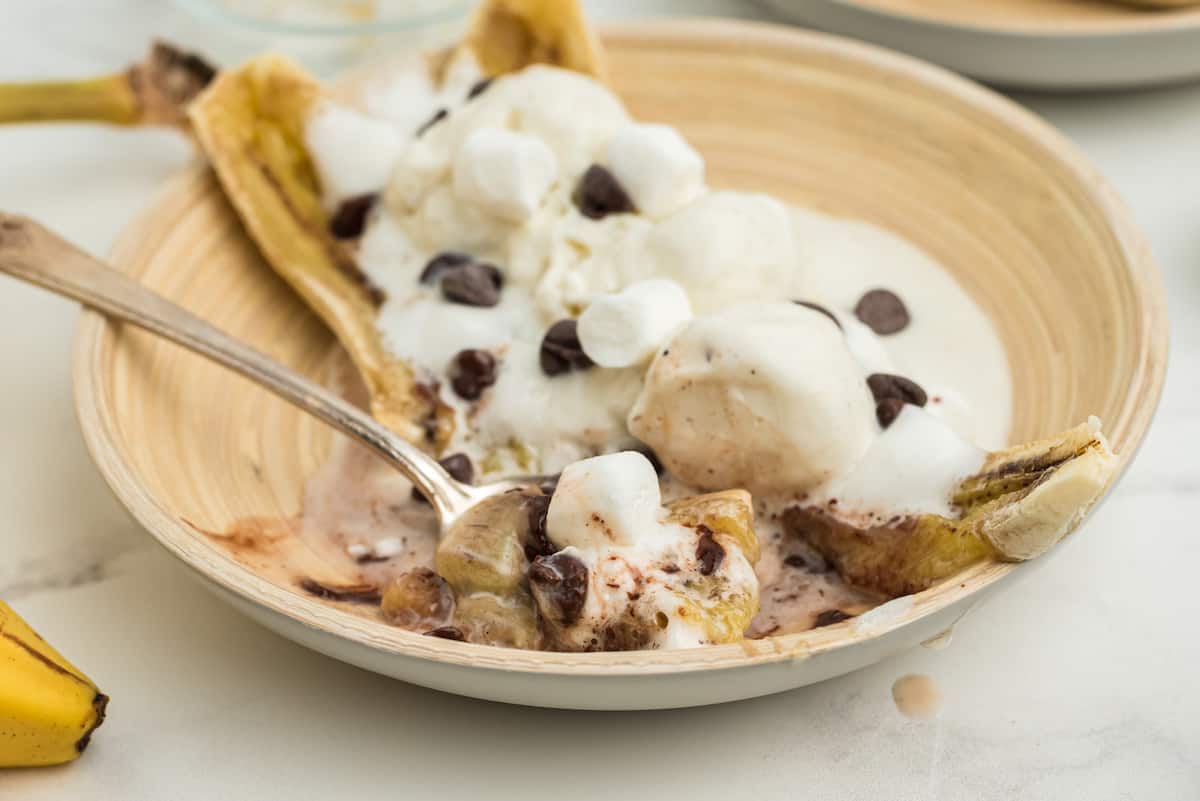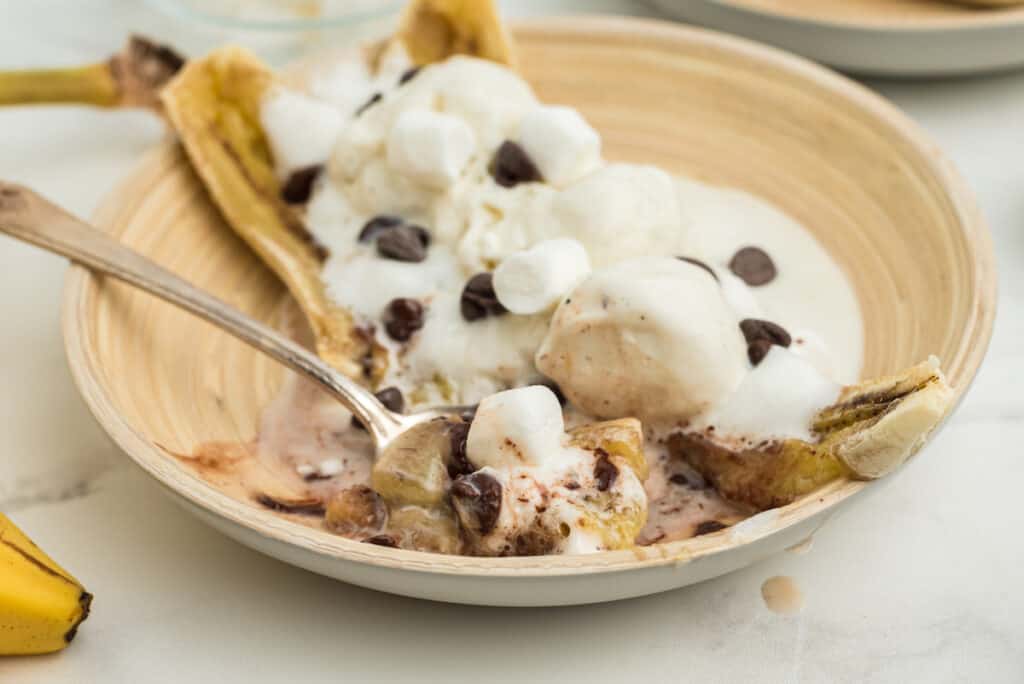 My mom likes these a lot, too, and she figured out an easier way to make them. That's the recipe below.
As I mentioned, the thing that has always bugged me about banana boats is that they take so long to cool. I never wait long enough, and I always burn my tongue on molten banana and chocolate. Always. Sometimes twice.
Turning the banana boats into ice cream sundaes completely negates this problem.
The introduction of ice cream makes the banana cool almost instantly. You'll be eating your banana boat less than a minute after it comes out of the microwave. (Do be careful and check to make sure it's cool enough to eat, and don't sue me if you burn yourself.)
What you need to make a microwave banana boat sundae
This is so simple.
Equipment
All you need to make this recipe is a microwave, a microwave-safe bowl or plate, a knife, and an ice cream scoop.
Ingredients
One banana for each person (half of a banana for each kid)
Chocolate chips
Mini marshmallows
Ice cream
How to make microwave banana boat sundaes
Peel the first banana, place it in a microwave-safe bowl, and slit it down the middle. Try not to cut it the whole way through; you want to make a well more than two pieces of banana.

Fill up the well with a small handful of chocolate chips.

Cover the chocolate chips with a small handful of mini marshmallows.

Cook the banana boat in the microwave for 60 seconds. Very carefully (it will be hot!), take it out and look at it.

Does the banana look mushy?
The chocolate chips melted?
Marshmallows softened?
Then it's done. If it's not done, put it back in for another 30 or 60 seconds.
Top with a scoop or two of vanilla ice cream.


While we're talking about campfire food, check out these other fall recipes that are going to delight your whole family:
Recipe