This list of 40 audiobooks is perfect for any kids. We like to listen on road trips or anytime we're driving together, but you could also use these for family read aloud time. Audio version of many different books suitable for different ages from kids to teens.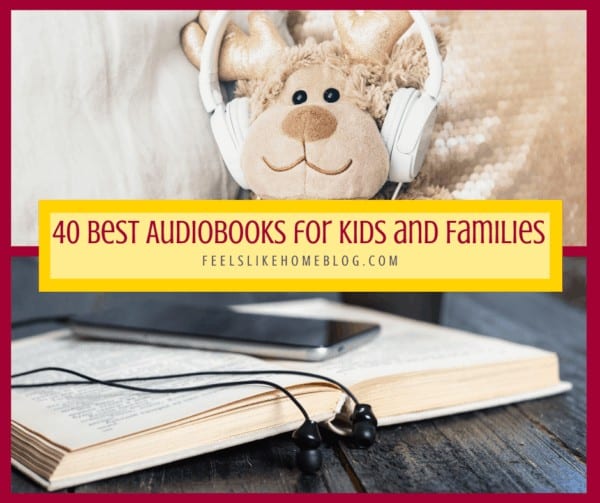 UPDATE: Get 3 months of Audible for FREE!
Have you wanted to try out Audible, but found the $14.95 a month cost prohibitive? You're in luck because I've got the best deal we have ever seen on Audible subscriptions.
Right now all new Prime member subscribers to Audible.com can get three months of Audible.com for free!
That's a savings of $14.95 a month - can you ever go wrong with FREE? I have only seen this offered once before in the last 3 years.
Audiobooks can often cost $17-$25 each for the most popular books, which makes this an incredible deal. If you love audiobooks, or you want to read more but think you don't have the time, this is a can't miss deal on Audible.com.
Go here to get your 3-month Audible subscription for free!
Listening to audiobooks has literally changed my life because they allow me to consume so many more books. Once I started listening to them, I couldn't believe all the opportunities I found for listening – like when I'm driving, during my walks, while doing dishes, and even when getting ready in the morning.
Note: After the 3-month trial is completed, you'll automatically be charged $14.95 per month at the regular rate. If you no longer want to continue your subscription after the trial, go into settings and cancel your subscription (Amazon makes it very easy). This will prevent any automatic charges from showing up on your account. Or, you can call Audible and ask for the silver subscription, which is $14.95 every other month.
You will keep all the books you get during this trial, regardless of whether you continue your subscription or not.
This sale won't last long, so click right now to take advantage of it.
Plus, when you're an Audible member, you have access to the Audible Deal of the Day - a new audiobook every single day, usually either $2.95 or $3.95. You get one credit per month with your membership, and you can use that credit for any audiobook at any price, but if you pay attention to those Deal of the Day emails, you can get some phenomenal extra books for almost nothing. I would say roughly half of the books I've read in the last 6 months have been DotD books, and I haven't found a bad one yet.
Here's the link to get the Audible deal, and I've shared all of my favorite audiobooks for women below. These are the ones I find myself recommending over and over and over, although it's been years since I discovered some of them. They're the best of the best.
Can I get the President's Day deal if I have had Audible before?
Possibly! Audible's algorithm is a mystery, so the only way to know for sure is to click this link and see what is offered.
If you don't see the Audible deal being offered to you, contact customer service to see if you can have the deal applied to your account. Click through to see if the deal is offered to you, and if not, send a chat or call customer service.
Here's the link to get your 3 free months of Audible, and I've shared all of my favorite audiobooks for kids & families below. These are the ones I find myself recommending over and over and over, although it's been years since I discovered some of them. They're the best of the best.
Original post:
Whenever we are in the car, my family is listening to audiobooks. It's just the way we roll. We have listened to dozens of them in the last few years.
I know a lot of people let their kids watch movies in the car, and that is all well and good, but why would you watch a movie when you could listen to the same story in the much richer, more creative, more inspiring form in which it was originally written?
Reading to your kids, and by extension, listening to audio books, builds their vocabulary and helps them to develop reading comprehension skills. Books also inspire imagination. Listening to stories is so good for kids - plus, audiobooks are just plain entertaining for the whole family!
In a couple of weeks, we are going on a 510-mile (each way) car trip. Google maps says it should take 8 hours, but I'm thinking with my crew and all their bathroom and food stops, it will be more like 10-11 at least. We're going to need a lot of listening material.
In the interest of your family car trips this summer, I have put together our favorite audiobooks. My kids are 5 and 9, so these are primarily for the younger crowd. Having said that, we don't listen to babyish books. These are all real literature, and a lot of them are considered classics. (If you're looking for books to read, check out my 101 Chapter Books to Read Before You Grow Up post. It's full of gold.)
If you're wondering where we're going, we are headed to Oak Island, North Carolina.

Our whole family is taking part in a homeschool field trip at the beach - the perfect vacation for this learning-loving family. We're going to hunt for ghost crabs in the sand, go kayaking in an estuary, go crabbing in the bay, do a beach scavenger hunt, tour a lighthouse, and so much more.

It's a disruption in our normal condo in Ocean City, Maryland routine, and some among us are not too happy about it. I am excited for all the cool stuff we'll see and do along the way although I'm a little sad about missing out on our normal spot.
Most of the links below go to Audible audiobooks, because those were the most economical options and what my family uses to listen.
The 40 Best Audio Books for Kids and Families
The Secret Garden - This is my new favorite children's book, and it's a long one. It's about a spoiled little girl who is sent to live with a distant relative when her parents die. She finds a secret garden and a whole new self in the process. I can't recommend it highly enough. I loved the narrator and the story. It's the perfect package.
The Chronicles of Narnia - I remember my mom watching The Lion, The Witch, and The Wardrobe on PBS when I was a kid, and I hated it. (I also hated when she watched The Secret Garden.) I disliked the newer Disney movies when Joe and the girls watched them. So I was very surprised when I really enjoyed these seven books, starting with The Magician's Nephew and ending with The Last Battle. The whole series is 31 hours long, so it will take you quite a long time to listen to.
The Little House on the Prairie series - These books by Laura Ingalls Wilder are lovingly read by Cherry Jones who is amazing. We have listened to every book in the series twice, and it brings one of our favorite book series to life in a way that we hadn't experienced before. I love love love love this series of audio books.
The Penderwicks series - We all fell in love with the Penderwicks, and this series is one of our new favorites. The books start out focused on four sisters, ranging in ages from 4 to 12, who are on vacation with their dad. (Their mom died when the youngest sister was born, but don't hold that against the story.) The first book is all about that vacation, and the way it changes their lives forever (in a really good way). The second book is about their life back at home after the vacation. The third book is about their life after their father marries the widow neighbor. The fourth book is about the girls, their new little brother (who was the widow neighbor's son), and their new baby sister. And finally, the fifth book is about the entire crew when the original girls are all grown up and the baby sister is eleven. I know, it's a lot to take in, but these books are absolutely positively wonderful and will be beloved by your entire family.
The American Girl series - These books are real treasures, and they don't have anything to do with the dolls themselves. Sure, you can buy some of the characters in doll form, but the stories stand alone. Each audiobook is actually an unabridged compilation of the 6 book series written to go with the dolls. The stories are varied and rich, including both light and series topics. (The first one we listened to was Kaya, and in that series, her mentor dies. It was a hard but real life lesson, but shocking for me in a children's book.) I highly recommend this series for girls as young as 5. (Maybe a little older for Kaya and Julie.)

Felicity Merriman - Felicity is from 1774, in the midst of Virginia on the brink of the American Revolution. She was Grace's favorite story.
Samantha Parkington - Samantha is from 1904, an orphan being raised by a wealthy grandmother.
Molly McIntire - Molly is from 1944, and her father is off fighting in World War II.
Kit Kitteredge - Kit is from 1934, in the throes of the Great Depression. This one was hard for me to listen to because it made me really anxious about finances and the future, but it was still a good story and Grace loved it.
Rebecca Rubin - Rebecca is from 1914 in New York City. Her story deals a lot with immigrants who are new to America.
Addy Walker - Addy is a slave in 1864, and she and her mother escape to freedom in the north after her father and brother are sold to another plantation owner.
Josephina Montoya - Josephina ("Hosefina") is from 1824 in what is now New Mexico. I think Josephina was my favorite story.
Kaya - Kaya is from 1764. She is a Native American from the Nez Perce tribe.
Kirsten Larson - Kirsten is from 1854. She is a Swedish immigrant whose family has settled in what is now Minnesota.
Julie Albright - Julie is from 1974. This is the only one of the American Girl sets that we didn't finish. Julie's parents are divorced, and Grace was obsessed with the idea that her father and I would get a divorce every time we had even the slightest argument.

The Ramona books by Beverly Cleary - First of all, these books are all narrated by Stockard Channing who is, of course, amazing. Second, they are pretty short, but the stories are all brilliantly written. They're about a real kid (not as in non-fiction but as in totally relatable) who is part of a family that has real-life hardships. The dad loses his job. The mom becomes unexpectedly pregnant. But despite all this reality, the books are all laugh out loud funny because the little girl is full of one-liners and an unusual way of seeing things. My whole family really, really enjoyed every one of these that we could get our hands on.
The Harry Potter series - It took us a long time to get into these books, and I'm not exactly sure why. Perhaps because fantasy isn't my favorite genre? Anyway, this series is a winner and we have read through the entire set twice, and the story is marvelous and the narrator/actor is amazing. His range of voices is astounding and makes me wonder whether there are secretly other cast members chiming in sometimes (but there aren't!). If you have been under a rock all your life, here's the story: Harry Potter is a kid whose parents were killed by an evil wizard who also tried to kill him but failed. Harry is sent to live with his aunt and uncle who are mean to him, but one day, he discovers the truth about himself and sets off to Hogwart's, a special school for wizards and witches.
Pollyanna - I've always heard the expression, Pollyanna attitude, but I never knew who she was or what she was about until I purchased this classic tale for 99¢. It is a wonderful and rich story about a little girl who is orphaned and goes to live with her very straight-laced and wealthy aunt. Pollyanna finds the best in every single situation, even though she faces great adversity and a lot of bad luck. It's a treasure, and my girls loved it as much as I did.
Winnie the Pooh - I love Winnie the Pooh. My first tattoo, acquired at the ripe old age of 18, is of Winnie the Pooh and Piglet, holding hands. It reminds me of friendship and love and all the special little people in my life. Anyway, the Winnie the Pooh series of books is chock full of wisdom and quotes that will make you all warm and fuzzy feeling, and this particular audiobook is less audiobook and more full cast play. It's really exquisite and not very long, just a few hours.
Ella Enchanted - This modern classic is pretty light reading as far as books go. It's a cute story about a girl who was cursed at birth to always obey every command given to her.
Anne of Green Gables - This is of course the classic book about a tween orphan who is mistakenly sent to a man and his sister to help on their farm in Canada. They end up falling in love with her, and she makes a life with them. Anne is undoubtedly one of the best characters in children's literature, and the audiobooks are very inexpensive. You can't go wrong with these.
Misty of Chincoteague - We picked this up on Assateague Island one year while on vacation in Ocean City, Maryland, and the kids loved it from the start. If you're unfamiliar with the island, it is home to herds of wild ponies. The herd on the Virginia side of the island are annually corralled, provided veterinary care, and the babies are sold at auction to prevent overpopulation. The story is about a horse that a local boy helped to round up and then raised the colt she bore. It's wonderful.
The Story of the World (volume 1, volume 2, volume 3, and volume 4) - These were our very first audiobooks, and we still love them. We have listened to the entire set straight through two and a half times. Together, they make a homeschool history curriculum, but the history part is actually a series of many (many, many, many) stories about historical people and places, told from the very beginning of pre-historic nomads to almost today. These are narrated by the uber-talented Jim Weiss.
Anything else by Jim Weiss - After listening to Jim Weiss during the Story of the World and then running into him at a homeschool convention, we tried a few of his CDs (primarily the ones at the younger end - Just So Stories, Uncle Wiggly, Animal Tales, Tell Me a Story, and Good Luck Duck). We fell in love. His voice is wonderful to listen to, and his range of character voices is nothing short of amazing. You can't go wrong with his readings, and this website has them broken down by age.
Mr. Popper's Penguins - Everyone knows that the book is always better than the move. This is about a man (surprise, his name is Mr. Popper) who inherits a penguin. And then a bunch more. Hilarious.
Stuart Little - Stuart is a shy mouse who loves adventures. I remember reading this when I was little, and I enjoyed sharing it with my kids. I think there's also a movie about this one, but the book is way better.
The Mouse and the Motorcycle (here's a link to the whole Ralph series in one collection) - Ralph is also a mouse who loves adventure. This story is about his friendship with a boy, and the motorcycle that they both love. Once you have wheels, nothing can hold you back!
Pippi Longstocking - This is one of Grace's favorite movies, and she was completely delighted by the audiobook. The story is about a little girl is on her own, completely free to do whatever she wants. No parents on-site, no school, all fun.
Mary Poppins (it's the first in a series of 4 books) - Repeat after me, "the book is always better than the movie." Everyone knows Julie Andrews' Mary Poppins, and you will be surprised to see the differences between her and the original version in the book. It's fun to listen to for that alone!
Peter Pan - This is definitely not the Disney version. In the original book, Peter Pan is flawed: selfish and stubborn. He is a child, with all the positives and negatives that would imply. It's a great story although maybe not for the littlest of listeners.
Charlotte's Web - I first watched this animated movie in the second grade. I even remember where I was sitting in the classroom when I saw "some pig" across the screen. It's about a little girl and a kind spider who save a little piggy from his sad fate. As you might have expected, the book is way better than even the classic movie. And also, I cried so hard during this book that I almost couldn't drive.
The Wonderful Wizard of Oz - Anne Hathaway brings this classic story to life. There are a lot of key differences between the book and the movie (of course!), so if you've not recently read the book, check it out. My family really enjoyed this one, and Anne's portrayal of the characters is really awesome.
The Land of Stories - This is a relatively new book series that is read by the author. I always love books read by the author because they know their creations so well and read with such passion. But anyway, we haven't listened to these yet but did purchase them at the recommendation of a friend. The stories are about twins who get transported into a land of fairy tales and how they try to get back home. I'm excited to listen.
Sarah, Plain and Tall - Sarah, Plain and Tall is a wonderful, wonderful story about a mail-order bride in the midwest in the 1800s. There are actually four or five stories in the series, and they are all narrated by Glenn Close who plays Sarah in the movie by the same name. I remembered both the book and movie very fondly from my own childhood, and it did not disappoint when I listened and watched with my own kids. This is a gem.
James and the Giant Peach - This story is about a little boy whose parents die, and he gets sent to live with his mean aunts. Life is pretty dreary until he finds some magic dust. Fun story from the classic author of whimsy and playfulness, Roald Dahl. (I can't wait to listen to The Witches by Roald Dahl with my kids, but I think they're a little young for it yet.)
Charlie and the Chocolate Factory - Also by Roald Dahl, this is a classic story that almost everyone knows. We first read it aloud when Grace was 3 or 4, and she loved it. She has loved the movies much less, and we have come back to the book a couple of times.
The Indian in the Cupboard - I remembered this story bittersweetly because I read it with my Grandpa shortly before he died. It's about a toy Indian and the boy who brings him to life, and it is a wonderful story.
The Cricket in Times Square - A cricket gets accidentally whisked away to New York City, and he has wild adventures that end up with a singing career. It's a fun story that my kids really liked. This is the first in a series of seven books, but audiobooks are not available for any of them except the first.
Poppy - I remember when this book first came out. I was a teenager, and I read it aloud to my niece who was little at the time. We also read the other 3 books in the series (which are also available as audiobooks). It's about a mouse who has to face an owl to save her family. Written by Avi, who is one of my most favorite children's authors.
The One and Only Ivan - We haven't actually listened to this one yet, but it is on our list. It's a new story, written about a silverback gorilla who lives in a cage in a shopping mall, and how his longings to be free come alive when a baby elephant gets placed in with him. It seems pretty sad, but has amazing reviews on Amazon, so we're going to give it a try.
A Handful of Stars - Another book I haven't listened to yet, but can't wait to get. This one is about two girls - one a migrant worker and the other the granddaughter of shop owners in town. The story is about their friendship, but towards the end deals with issues of belonging and racism. It seems pretty deep for my 5-year-old, but perfect for my 9-year-old who is starting to notice these kinds of issues in the world.
Number the Stars - (added March 2020) The 9-year-old I wrote about when this post was new is now 12, and we have recently read Number the Stars together. It's the story of a young Jewish girl in Copenhagen during the Nazi occupation. She moves in with her best friend and pretends to be a member of her family. It's a beautiful story and easy to read. My 12-year-old and I listened together and discussed the history of the time.
What audiobooks did I miss? We are always on the lookout for new ones to add to our list!
For more book recommendations, check out the Reading & Writing Index.