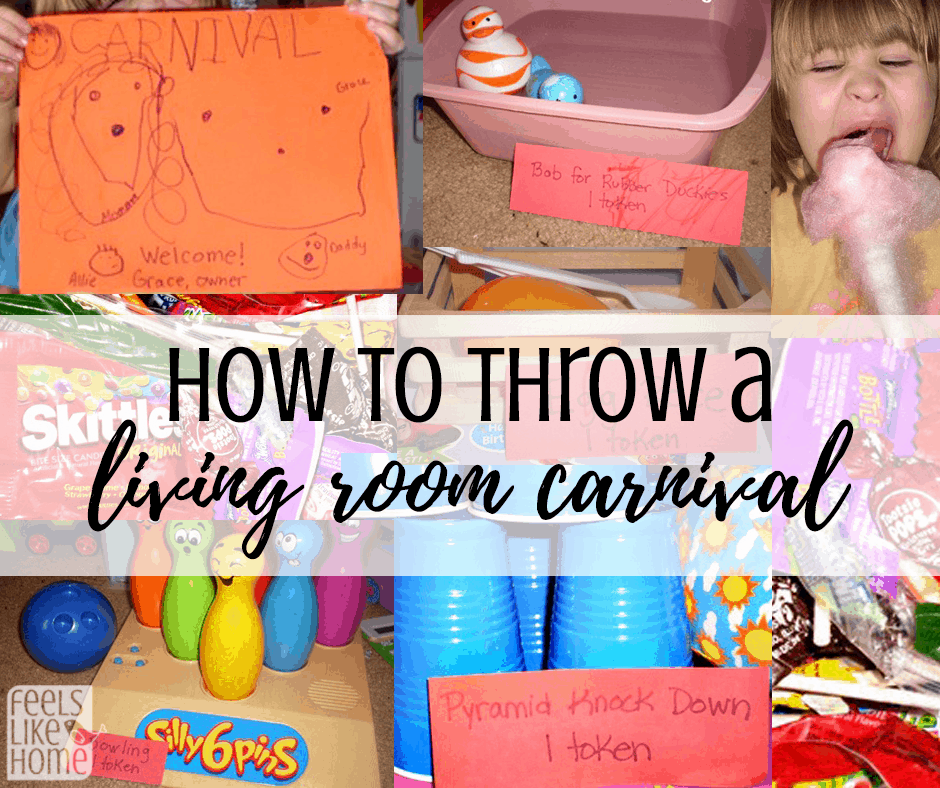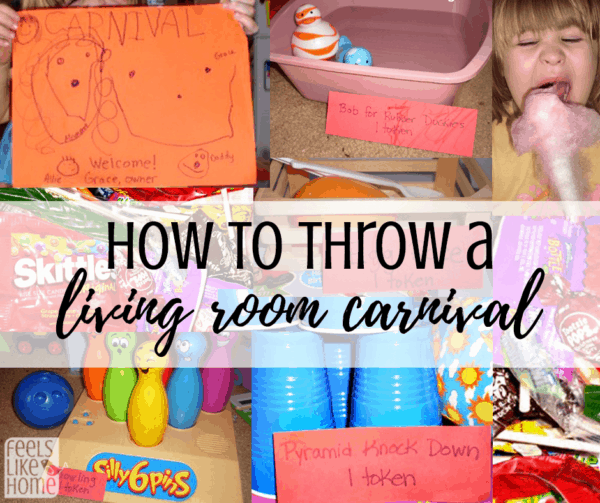 Pin
Grace talks about having a carnival three or four times a week. She is obsessed.
We've been reading some books about carnivals, specifically:
Last Sunday, I asked her if she'd like to have a carnival of our own, in the living room. Of course, she thought that was a fabulous idea.
My goal was to have a super fun carnival for our whole family. We succeeded, and the carnival was an all-day affair.
Decorate!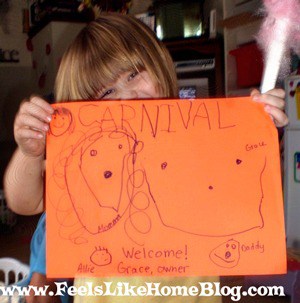 Pin
Grace used her budding writing skills to write the word CARNIVAL, and I filled in the details.
Writing connection: Help your little one to form the letters if she needs help, or ask her to tell you what to write and write the signage for her.
You'll also need some tickets or tokens to use as money for the game. We made ours out of a sheet of construction paper cut into rectangles. Grace wrote "1 token" on each ticket.
Math connection: Help your child to count up the number of people who will be attending and the number of tokens each person will need to play each game. Then you'll know how many tickets or tokens to make. (Make some extra, because some will probably get lost!)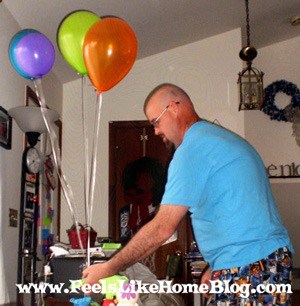 Pin
We also made some helium-filled balloons and tied them around the room.
Set up carnival games.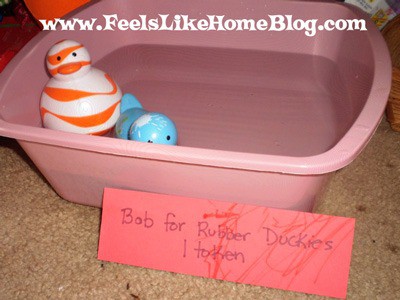 Pin
We didn't have any apples, so we bobbed for rubber duckies in a dish pan. To win a prize, you had to get both duckies out of the water with no hands.
I thought this was the most lame of the games, but it was Grace's favorite. She played it over and over and over.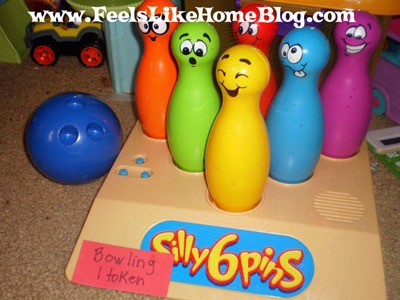 Pin
We had a bowling set put up so our customers could try their luck. To win a prize, you had to get a strike.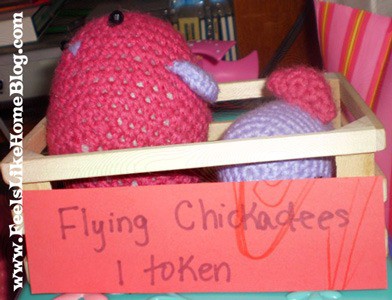 Pin
To win flying chickadees, you had to stand back and toss both of the chickadees into the basket. It was really hard, and no one was ever successful. We needed a bigger basket.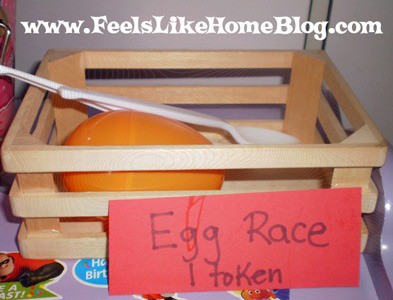 Pin
The egg race set up included one very large Easter egg (empty to make it more floppy) and two small plastic spoons. To win, you had to walk across the room and back without dropping the egg.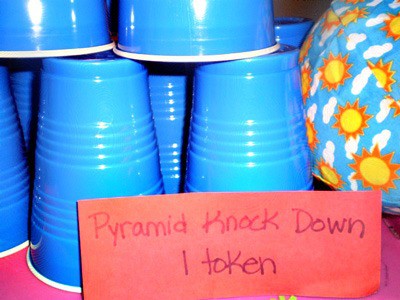 Pin
Pyramid Knock Down (Grace's name, I wanted to call it the ball toss) involved a very light ball and a pyramid of plastic cups. To win, you had to knock down all of the cups.
Find some prizes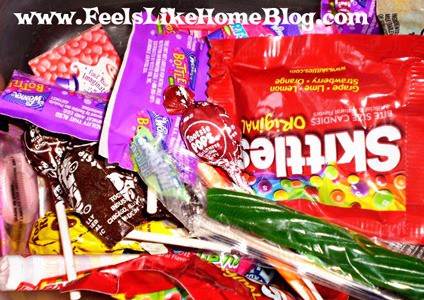 Pin
We used our basket of leftover Halloween and Easter candy for prizes. It was a great idea, but by the end of the carnival, Grace was so wound up that she was practically dancing on the ceiling.
Carnival food
If we had planned this carnival before the day of, I would have purchased some corn dogs at the grocery store. We needed to eat anyway, and corn dogs would have been a fun carnival-themed food.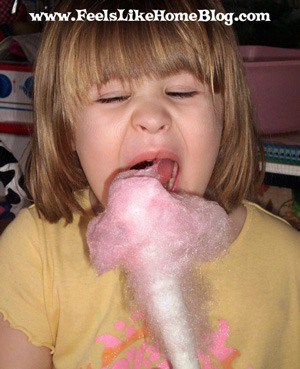 Pin
Instead, Joe made cotton candy (with this cotton candy machine) and popcorn (using this stovetop popcorn popper).
Have fun!
We have a small living room (made smaller by large kids' furniture), so we put the games around the edge of the room and focused on one at a time.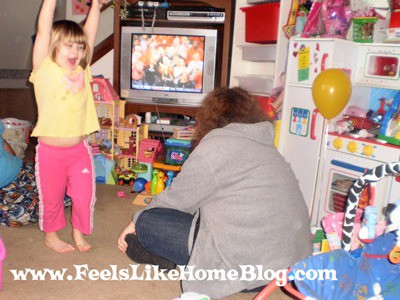 Pin
I don't remember what game she was playing, but clearly, she was having a great time.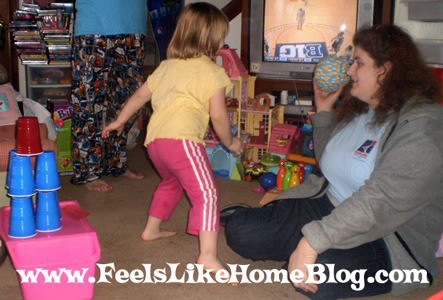 Pin
My sister was playing Pyramid Knock Down.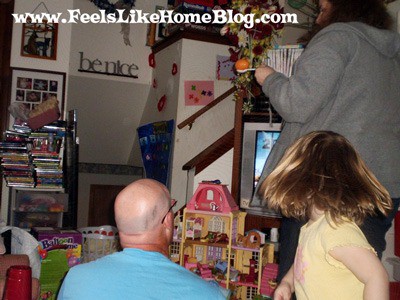 Pin
And the egg race.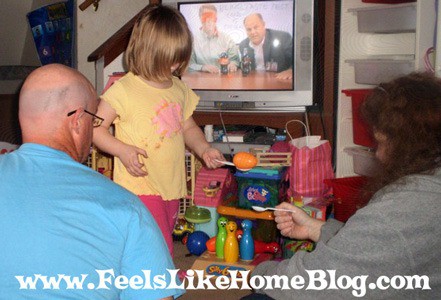 Pin
Another egg race picture.
A Living Room Carnival is the perfect weekend activity.
It's a bonus that it sneaks in a little learning and gross motor skills practice. No one will notice if you don't tell them.
Our living room carnival was a huge success. We had jobs - token taker, prize holder, and customer - and that made the carnival even better for Grace.
Grace wanted to have another carnival on Monday (a little too soon for my taste), but we will definitely have another one. The carnival itself involved a little set up and a little clean up, but we could easily do it again because it didn't cost anything.
Have you ever had a living room carnival?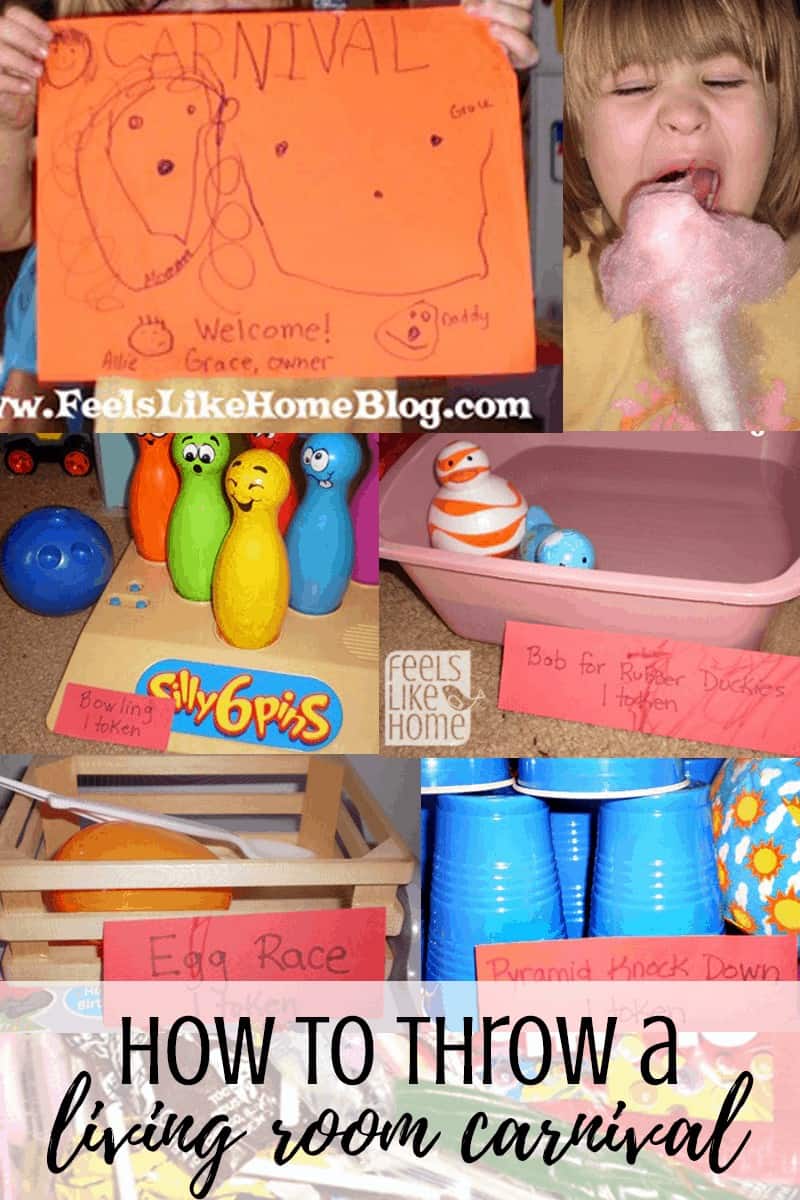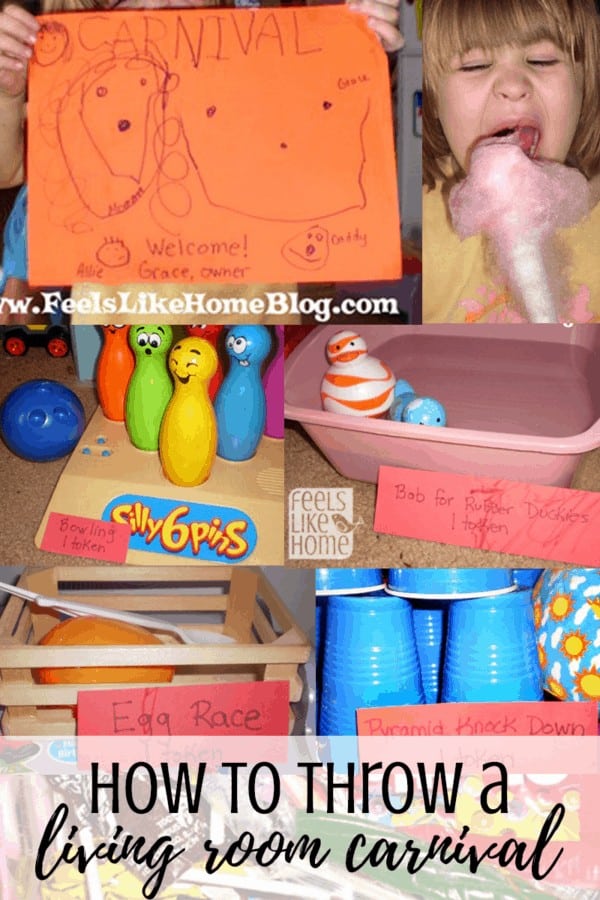 Pin