At the beginning of the summer, I got a box of 100 glow sticks for less than $10 at a big craft store. Grace was overjoyed.
Prior to this purchase, I bought them 3 or 5 for a dollar at the dollar store. What a find!
The first thing we did with our big box o' glow sticks was to have a treasure hunt.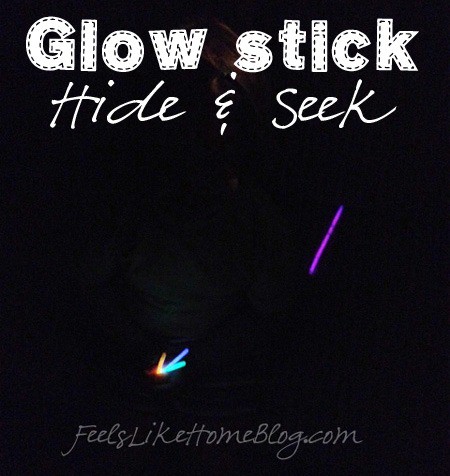 Pin
It's easy to have a glow stick treasure hunt. So easy, in fact, that I hesitate to tell you about it.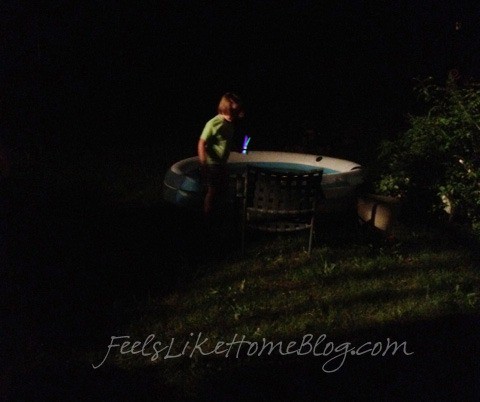 Pin
Step One: Wait until it's dark outside. Glow sticks are much less cool when they sun is out.
Step Two: Agree on a number of glow sticks. We used 5.
Step Three: Make the glow sticks glow. Normally, you have to bend them to break a thin piece of glass that runs lengthwise in the tube, but they're all different, so do whatever you have to do to make them glow.
Step Four: One person should go outside and hide the glow sticks. I use the word hide loosely; it's completely dark, so no hiding is really necessary. We put ours in the seats and backs of lawn chairs, in our little wading pool, in plants, on swings, all over the backyard.
Step Five: Go outside and look for the glow sticks while the hider looks on and gives you hints.
Step Six: Once you've found all the glow sticks (or given up), it's your turn to hide them.
Have fun!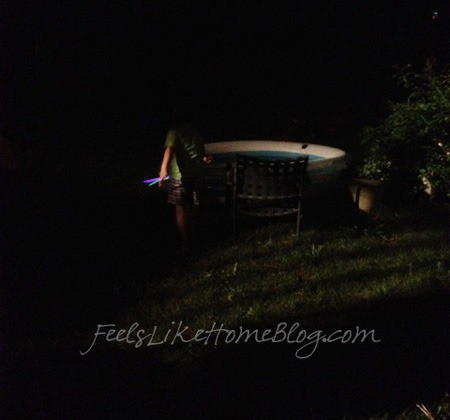 Pin
When we did this, Joe and I set the baby monitor up in Allie's room so that we could stay outside awhile. We also turned the porch light on so we wouldn't break our necks tripping over a lawn chair because Grace is afraid of the dark.
We ended up hiding and seeking for almost 90 minutes. It was a lot of fun, both for us and for Grace. We took turns hiding them and finding them and laughed and laughed and laughed.
Even if you can't find super cheap glow sticks like we did, spend $2 and go buy some at the dollar store and have a glow stick treasure hunt with your kids.
You won't regret it.