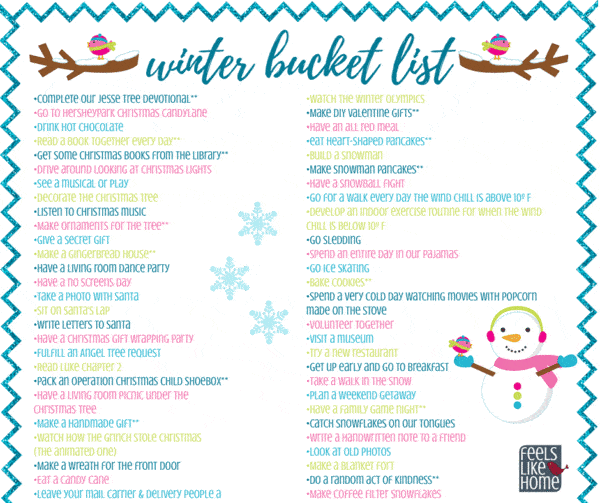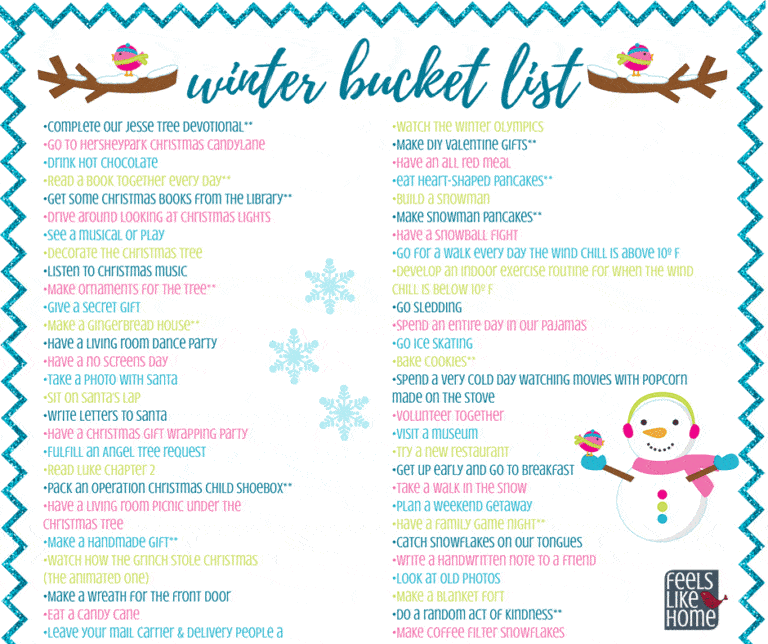 Many years ago, I made a summer bucket list for like five years in a row, except I never ever called it a bucket list. But it was the same thing. This year, I decided to make one for all the seasons starting with winter.
As a full-time working mom and a mom blogger, I have to be really intentional about spending time with my kids. If I'm not intentional, our days and weeks would slip by, and I wouldn't have spent any real time with them.
I mean, we're in the same house, maybe even in the same room, but I'm writing on my blog or talking to their dad or working at my job, and they're watching tv or playing Legos or Barbies or something else. On their own.
If I'm not careful, my kids and I can lead these parallel lives, and I don't take the opportunity to pour into their lives at all. Like I said, I have to be intentional about it.
Hence the need for a bucket list for every season of the year. We can choose from the items on the list when we have little pockets of time or as opportunities come up. It will give us a base, a starting point from which to make our time together fun and rewarding.
As an aside, I am super intentional about scheduling fun. I make sure we do something fun together, all four of us, every single week, no matter what. (Well, unless they go on a weekend trip. Then I plan something fun for just me and Joe.) I have it written into my planner, I save money for it out of every paycheck, and I always make it happen.
I have read studies that say children make incredible memories on vacation. We do take vacations, usually one big one per year with a couple of weekends away.
But what if we can build those incredible memories in little bites sprinkled all throughout the year? Would that not add up in their little memory banks to a childhood well spent? I sure hope so.
Winter Bucket List for Families
Time bound items:
DISNEY CRUISE (Okay, probably not on your list for the winter and not on the printable, but definitely on ours!)
Complete our Jesse Tree devotional
Drink hot chocolate
Read a book together every day (101 Christmas Books 101 Picture Books 101 Chapter Books)
Get some Christmas books from the library
Drive around looking at Christmas lights
See a musical or play (We're going to the Nutcracker in a couple of weeks!)
Decorate the Christmas tree
Listen to Christmas music
Give a secret gift
Make a gingerbread house (Full disclosure - We buy a kit and hot glue the house together. The icing never works right and just makes everyone grumpy. The girls love to decorate after the house has been hot glued together.)
Have a living room dance party
Have a no screens day
Take a photo with Santa
Sit on Santa's lap
Write letters to Santa
Have a Christmas gift wrapping party (just the four of us)
Fulfill an Angel Tree request
Read Luke Chapter 2
Have a living room picnic under the Christmas tree
Watch How the Grinch Stole Christmas (the animated one)
Make a wreath for the front door
Eat a candy cane
Leave your mail carrier & delivery people a special treat
Set up our nativity
Walk through Christmas Magic (I didn't put this on the printable since it's local to the Harrisburg, PA area, but if you are local, GO!)
Hang up Christmas lights
Drink eggnog

Give away some stuff to charity (toys, clothes, books)
Make and spread reindeer food
Leave out cookies & milk for Santa
Write thank you notes for Christmas gifts
Have a living room picnic for New Year's Eve while watching The Sound of Music (This is our tradition, and the girls LOVE IT.)
Eat pork & sauerkraut on New Year's Day
Set family goals for the new year
Watch the Puppy Bowl on Super Bowl Sunday
Watch the Winter Olympics
Make DIY Valentine gifts
Have an all red meal
All winter items:
Build a snowman
Make snowman pancakes
Have a snowball fight
Go for a walk every day the wind chill is above 10º F
Develop an indoor exercise routine for when the wind chill is below 10º F
Go sledding
Spend an entire day in our pajamas
Go ice skating
Spend a very cold day watching movies with popcorn made on the stove
Volunteer together
Visit a museum
Try a new restaurant
Get up early and go to breakfast (hopefully with Pappy like I used to do years ago)
Take a walk in the snow
Plan a weekend getaway
Have a family game night
Catch snowflakes on our tongues
Write a handwritten note to a friend
Look at old photos
Make a blanket fort
Make coffee filter snowflakes
Build a snow fort
Make orange pomanders like Grandma used to make
Make snow angels
Make snow candy like Mary & Laura did
Go to Cracker Barrel and eat by the fire
Make a big pot of cheeseburger soup
Have a bubble bath
Feed the birds
Measure the first big snow every hour
Swim in an indoor pool
Bundle up & take a carriage ride
Go to a paint your own pottery studio
See a hockey game
Grab the free Winter Bucket List printable below.