How to make melted bead suncatchers in the oven or gas grill - Fun, easy activity ideas for DIY gifts made by kids or adults. We used these beautiful projects as Mother's Day gifts but they would also make nice baby mobiles or wind chimes or even Christmas ornaments. Can be made any shape depending on what kind of cake pan or muffin tin you use. Perfect summer craft!
This is an awesome homemade Mother's Day gift that you can make in an afternoon. If you are my mother, mother-in-law, or older sister, you should stop reading now.
Or keep reading and ruin your surprise. It's up to you.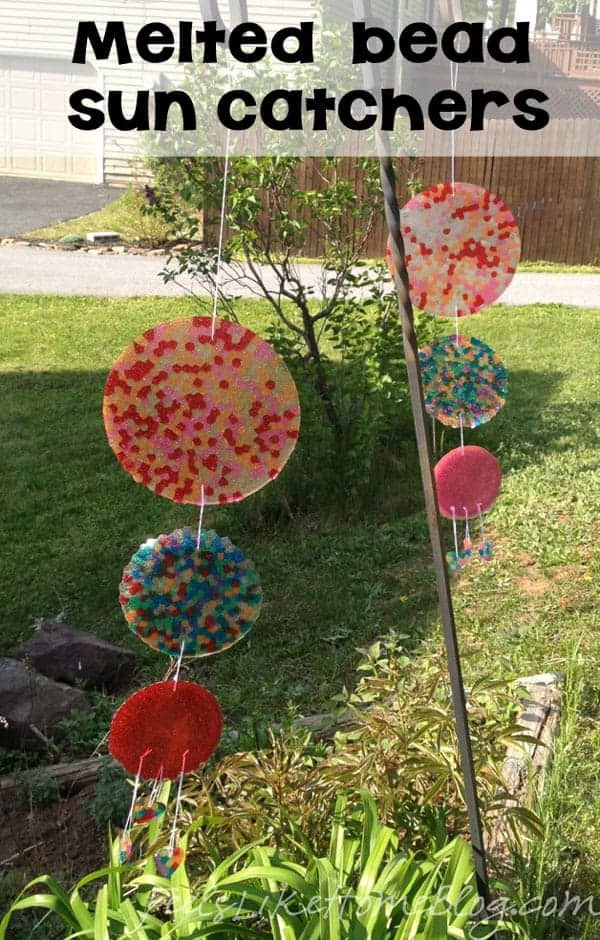 Pin
A few weeks ago, my little sister sent me these two photos on Facebook.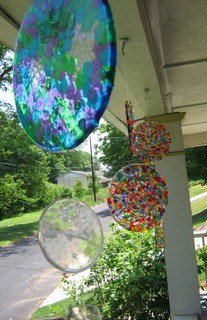 Pin   
Pin
I thought they were really neat, but the link with them was spammy. I scoured the internet to find instructions to make them, trying all kinds of different searches on Swagbucks, Google, and Tineye.
Finally, I found the original crafter's information on Craftster.org (a message board for crafters).
After reading over fifty pages of explanations, warnings, and tips, I decided we could make these melted bead suncatchers.
Melted Bead Suncatchers Materials
Unfortunately, I didn't take a picture of our materials. Sorry.
Here's what you'll need:
Glitter Pony Beads - I bought these same ones at the craft store. Any plastic pony beads will work. If you use opaque pony beads, the light won't go through your suncatchers (there is one opaque bead in one of my pieces below). Plain transparent pony beads are a little cheaper than ones with glitter, but we really liked the glitter look and spent the extra money.
Metal pans - Any metal pans should work, but I wasn't sure I wanted to eat out of a pan that I'd melted plastic beads in. The plastic does leave a ring around the edge that I couldn't get out. We gave ourselves a budget of $15 and hit the Salvation Army Store. We got all shapes and sizes of dishes, including a really neat heart-shaped mini muffin pan. Most of the dishes were 99 cents.
Normal cooking stuff - hot pads, timer, big metal tongs (for turning the pans)
String - You could use fishing line, but I can never get it to tie a nice knot, so I got Classic Crochet Thread in Size 10. It is thin enough to almost disappear in the sunshine, but it's sturdy enough not to fall apart.
How to Make Melted Bead Suncatchers
1. Fill the container with a single layer of beads.
Get as many beads as possible into the container without allowing any to jump up into a second layer.
Grace was really into this part for about five minutes, long enough to fill up the heart tray below.
The hearts below worked pretty well, except for the ones that needed an extra bead. It took a lot of heating to get the two on the right side of the middle row to look like hearts. They didn't have enough beads.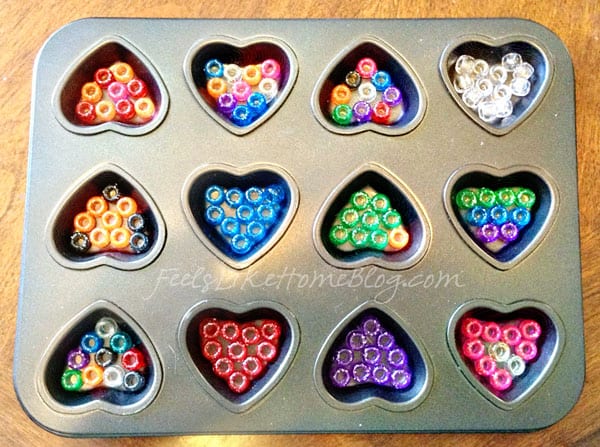 Pin
Another thing to note is that the beads that are flat (with the hole facing you) will melt into a sort of hexagonal shape. The beads that are up on their side will melt into a square or rectangle. A combination of both makes for an interesting pattern.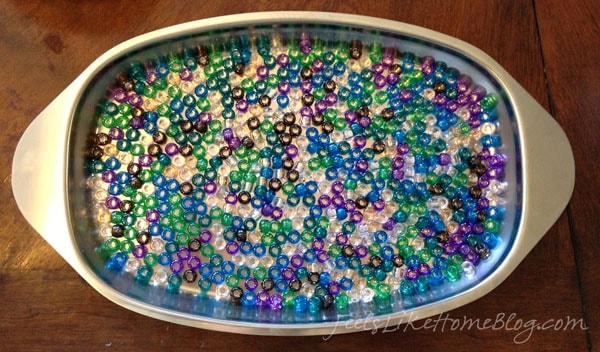 Pin
2. Melt the beads.
After all my craftster.org reading, I decided to melt these in the oven. Preheat to 400, melt for 20-30 minutes, check for adequate melting, heat longer if necessary, remove and cool.
Simple, right?
I also read that the melting plastic produces copious noxious fumes, including possibly cyanide gas (no idea if that's true or not, just retelling what I read on craftster.org). I did this on a beautiful day, opening all the windows in the house, and turning on the ceiling fans. I gathered my three house cats and tossed them outside, and for the first time in ten years, plucked my turtle from his tank and moved him to a semi-enclosed part of the yard under Grace's watchful eye.
Then we waited. I came back into the house to check on the beads after 20 minutes, and they weren't done.
The fumes, however, were nauseating.
After 30 minutes, they still weren't completely done, but I didn't know enough to realize it. The arrows in the photo below show all the holes in my first suncatcher (partly due to not enough beads, but also due to not getting melted enough).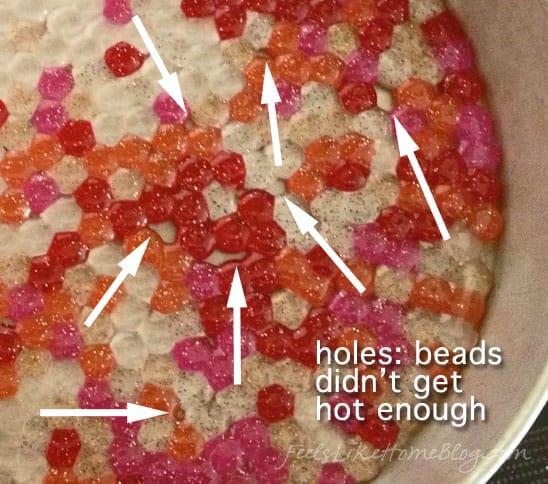 Pin
This one was in the oven at the same time. It melted perfectly, and is still one of my favorites even though I've now made almost twenty of these things.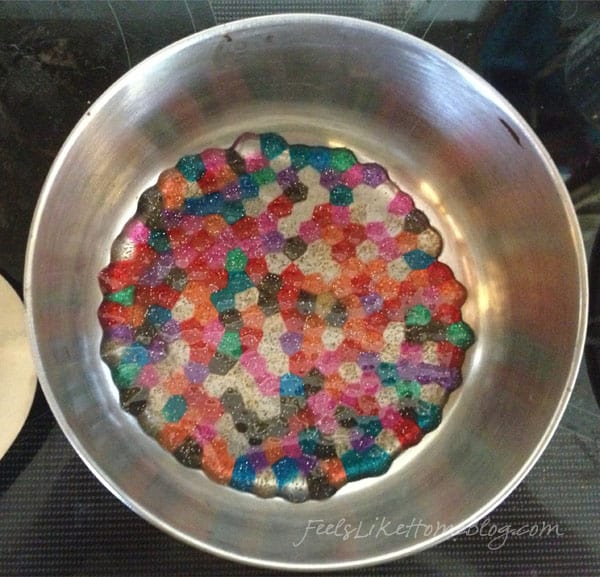 Pin
This one is my most favorite. I just love the colors and the pattern they made. This one took almost a whole bag of beads; it's really big.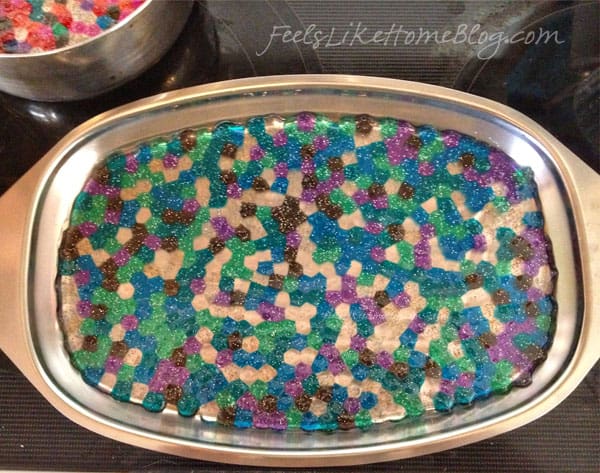 Pin
During this outside siesta, the cats ran around, thrilled to have grass under their feet. The turtle was less thrilled.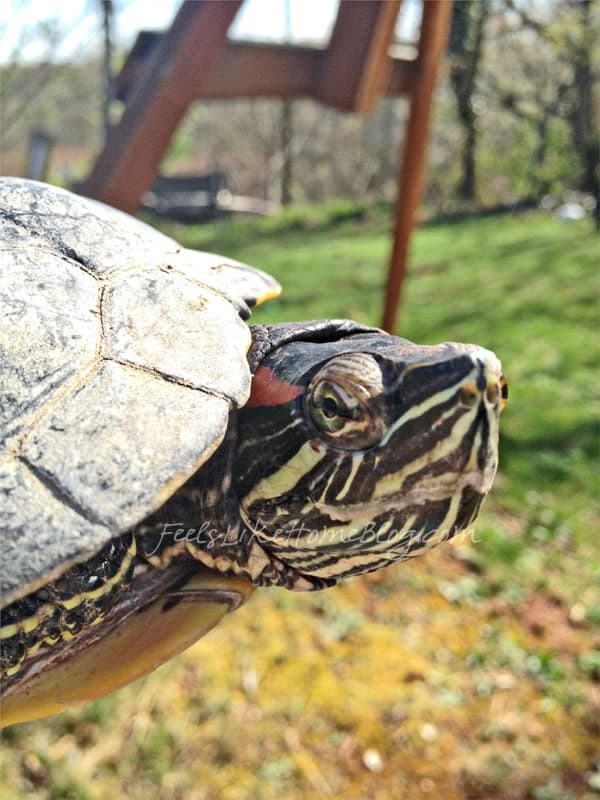 Pin
Obviously.
It took a good three hours from start to finish before our home was re-inhabitable, and I was hesitant to go through all that again. The turtle alone was a lot of work.
Joe suggested that I try melting the beads in our grill outside. It seemed like a good enough idea - temperature controlled, well-ventilated, and required no evacuations.
For the next set of beads, I sorted out colors (making an all-red one, all-pink, all-purple, and all-turquoise, as well as some different color patterns), preheated the grill to 400-ish, and got started.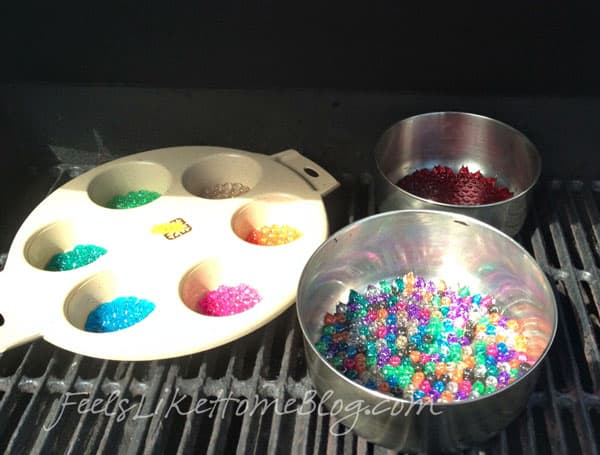 Pin
The grill worked so much better. I highly recommend using a grill if you have one. There were hot spots in the grill that required a little bit of moving and turning, but it was so much easier to deal with the fumes on a small scale (just within the hood of the grill) than throughout my whole house.
A note on that plastic pan - This plastic pan from the Salvation Army said it was oven safe up to 400 degrees. I may have overheated it. Or maybe the melting beads simply fused to it? I don't know. The melted beads wouldn't come out. I ended up breaking the whole dish in half trying to get the pretty melted bead disks out of the pan. Stick with metal pans.
I also found I was better able to control the melting of the beads in the grill, probably because I wasn't trying to hold my breath to avoid breathing in poisonous fumes.
In the grill, the beads took a little less than 20 minutes to melt, and they took less than 5 minutes to cool outside. It was a sunny but very breezy day. I've since melted beads twice more using the grill, and the timing was about the same. My results have been consistently good with the grill.
3. Drill little holes in the plastic.
I knew I wanted to have a large piece, then a medium piece, then a small piece, then 3 hearts on the suncatchers for my mom and mother-in-law, and smaller ones for my sister and Old Grandma. I used a Sharpie to make a dot where each hole should go, and then Joe did the drilling for me using a very small drill bit.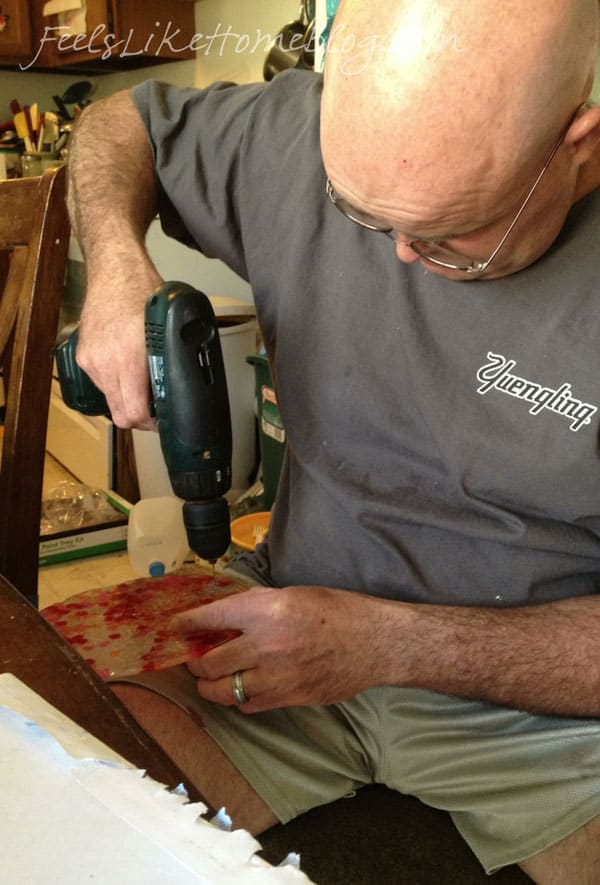 Pin
I do not recommend Joe's drilling method.
In fact, I only took this picture to show the Emergency Room doctor how Joe drilled a hole in his leg. Fortunately, I didn't need it, but that does not mean this is a safe way to drill the holes.. Put the suncatcher on a workbench or something.
Also, don't drill on the kitchen table, counter top, deck, or any other surface you want to remain nice. You have to put something underneath it for the drill to sink into.
4. String the pieces together.
I used the crochet thread (which was exactly the right size to string through the holes Joe made) to connect the pieces together. I played around with spacing, deciding on shorter strings between the bigger pieces and longer strings for the hearts at the bottom.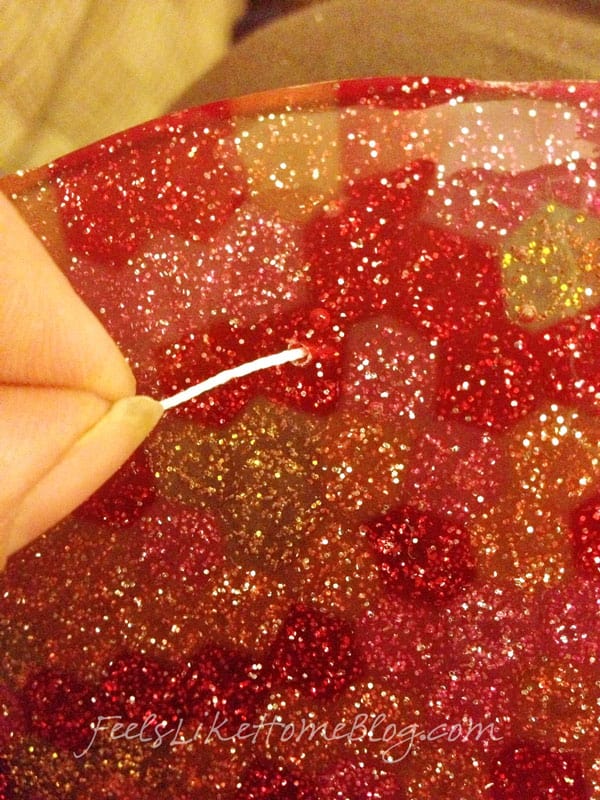 Pin
I just strung the string through all the pieces and tied a plain old knot in the two ends of the string, pulling it tightly and trimming the ends.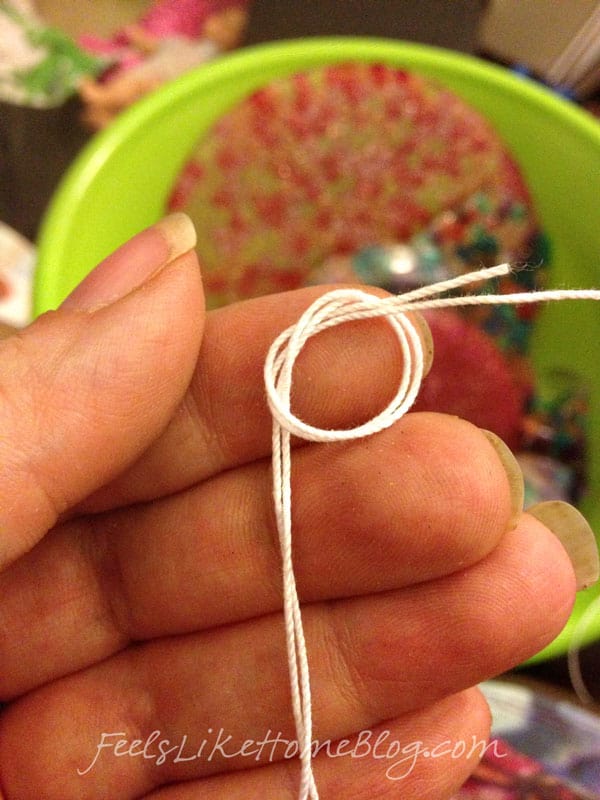 Pin
That's all there is to it! I know it seems like a lot of steps, but it goes really quick once you do it, and once you've made a couple of suncatchers, you'll be melting beads all the time. Watch out!