This simple & easy homemade recipe comes out just like a Dairy Queen ice cream cake at home. So easy and fun, even kids can make it. Great for parties!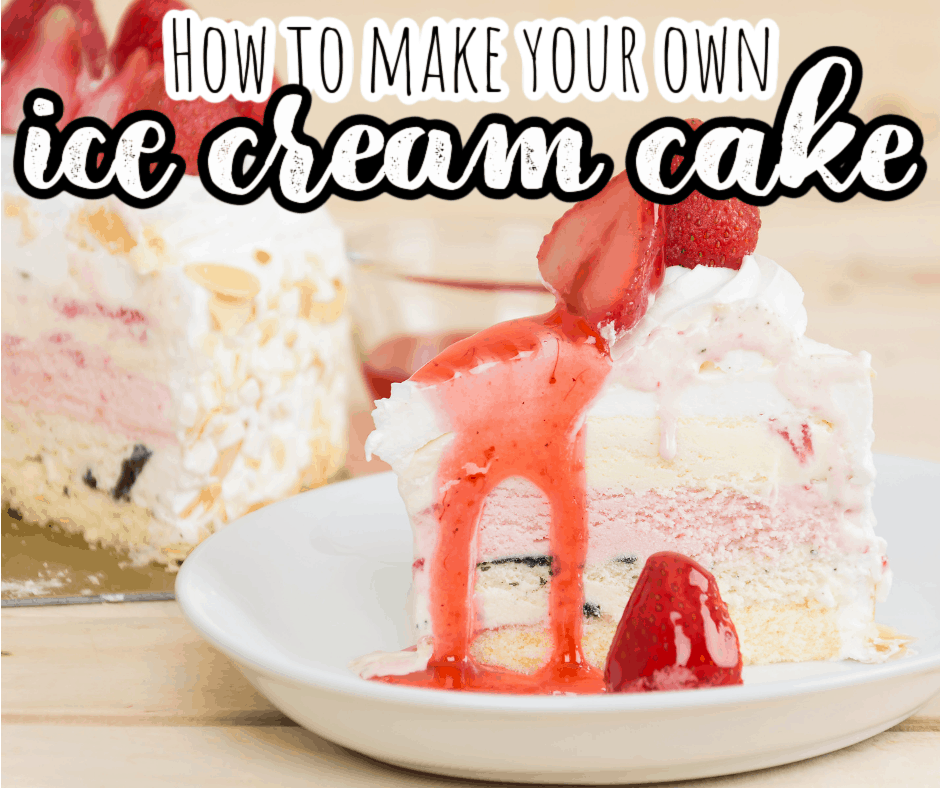 You will not believe how easy it is to use a springform pan to create a perfect ice cream cake: vanilla ice cream, strawberries, and a sweet crunchy filling? YUM!
What you'll need to make a strawberry ice cream cake
Equipment
Ingredients
Vanilla ice cream - This is the base of your ice cream cake, so make sure you use whatever brand you love most.
Strawberry ice cream
Flour
Sugar
Freeze-dried strawberries - These can be hard to find, but normally Target has them. Don't try to make the strawberry crunch layer without them.
Salted butter - If you only have unsalted butter, use it but add a pinch of salt to the crumb.
Vanilla extract - I have switched over from using vanilla extract to using vanilla paste almost exclusively but continue to include vanilla extract in my recipes because that's what most people have.
Vanilla extract is an alcohol-based liquid with the consistency of water. To make it, vanilla beans are soaked in alcohol for a long time (like many months). There are no actual vanilla beans in extract.
Vanilla paste on the other hand is a combination of highly concentrated vanilla extract, vanilla bean powder, and a binder (which can be either xanthum gum or corn syrup, read the label). It is the consistency of Elmer's glue.
The reason I prefer vanilla paste is that, aside from having actual vanilla beans inside, the paste has a richer, more bold flavor, and it has no alcohol taste when it is not cooked. I hate the bitter flavor that traditional vanilla extract gives foods that are not cooked. That bitterness cooks off when heated, but in recipes like popsicles, buttercream, and overnight oats, the alcohol stays in and can taint the flavor if you are heavy handed with it (as I often am).
Heavy cream
Powdered sugar
Red gel food color - You can't use liquid food color in this recipe because it will prevent the whipped cream from whipping up and getting fluffy. Liquid food coloring is made from water, and that water often messes things up. We use gel food color almost exclusively.
How to Make an Ice Cream Cake
Recipe