Simple & easy DIY Disney princess birthday party for preschoolers - My 3-year-old loved this party! Complete with ideas for favors and goodie bags, activities, food, crafts, and games. Because the party was outside, we had only basic decorations. Easy to do on a budget or with toddlers. Served cupcakes instead of a big cake and kids decorated them at the party.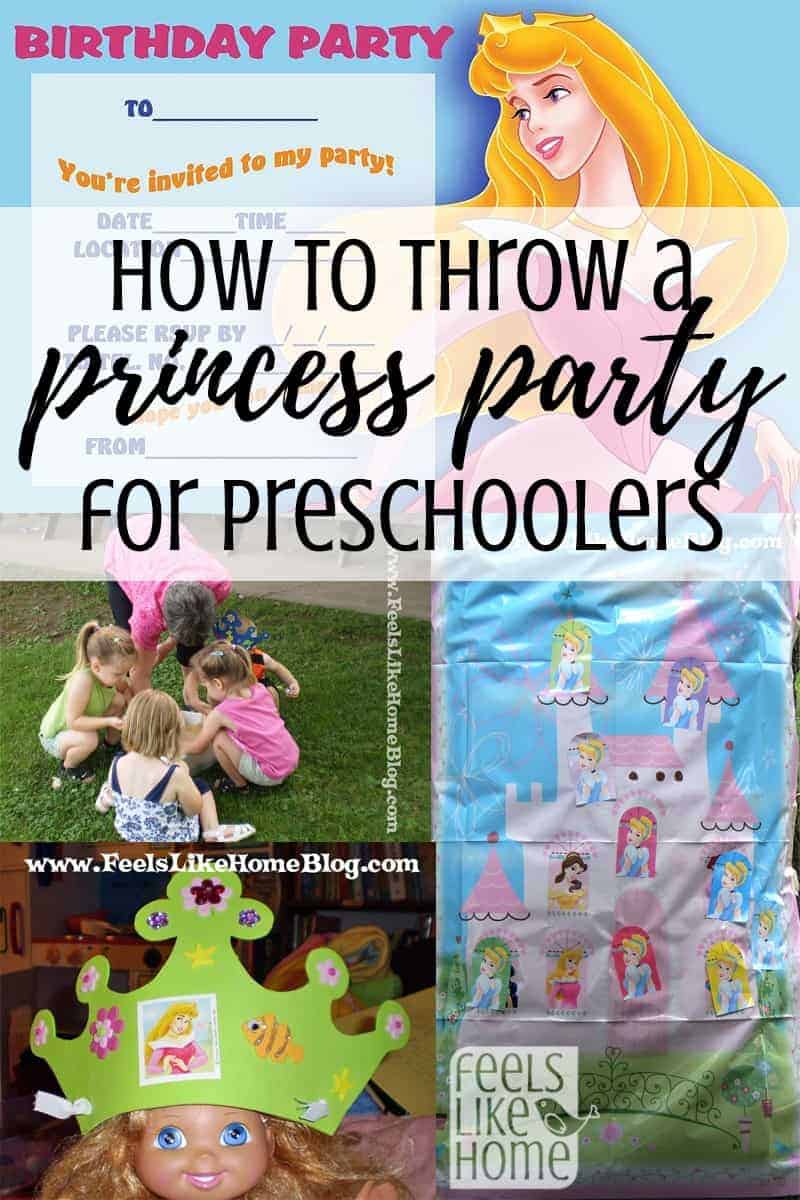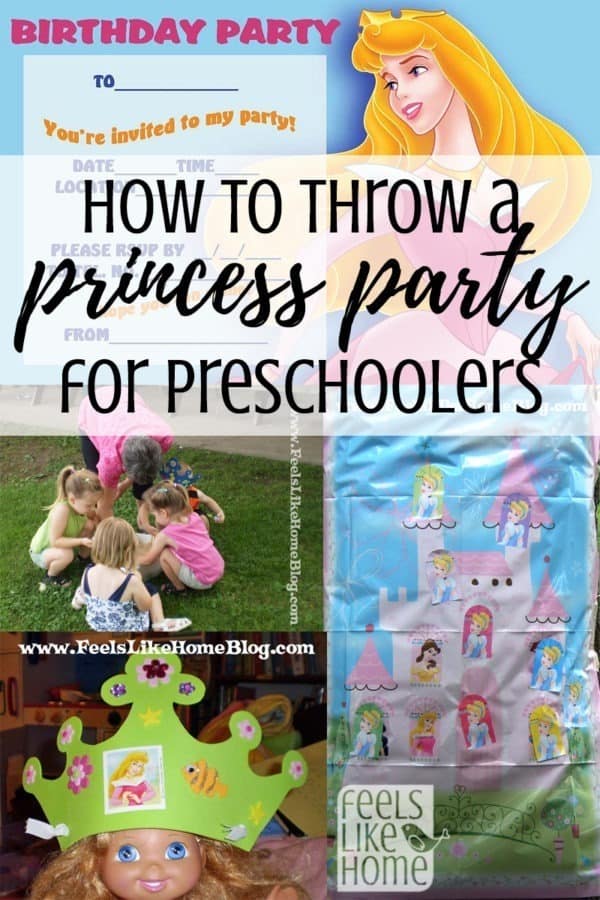 I put a little party together this past weekend for Grace's third birthday.
We'd already had the family party, but Grace asked (for the first time ever) to invite her friends to the party. We invited her whole class - 12 kids - plus a family that we're good friends with.
I was afraid that they'd all show up, and I'd be seriously outmatched, but we ended up with 9 kids.
Perfect!
Princess Party Invitations
The invitations were not fancy. They were a free; I printed them at home and wrote in the relevant info.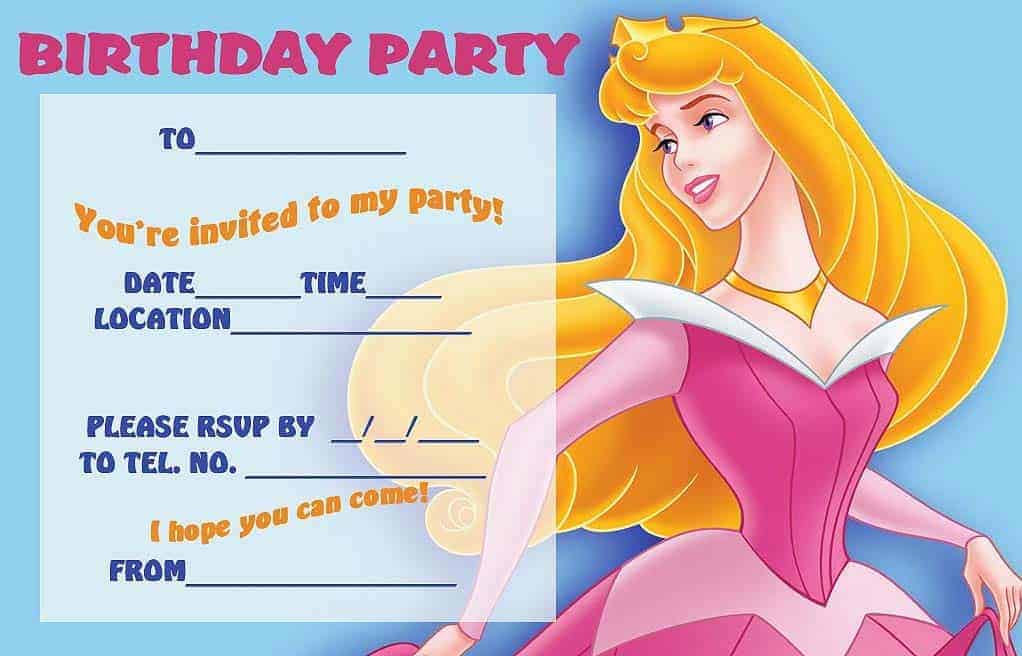 Princess Party Location
The setting was a beautiful public park. It's Grace's favorite park within driving distance.

I considered having the party inside and asking the guests to come dressed up in their best prince or princess garb. I still think that's a great idea for older kids, but it wouldn't have worked for this crowd.
My 3-year-old would much rather run and play and slide than dress up, so I decided to ask guests to wear play clothes and be prepared for a rowdy good time.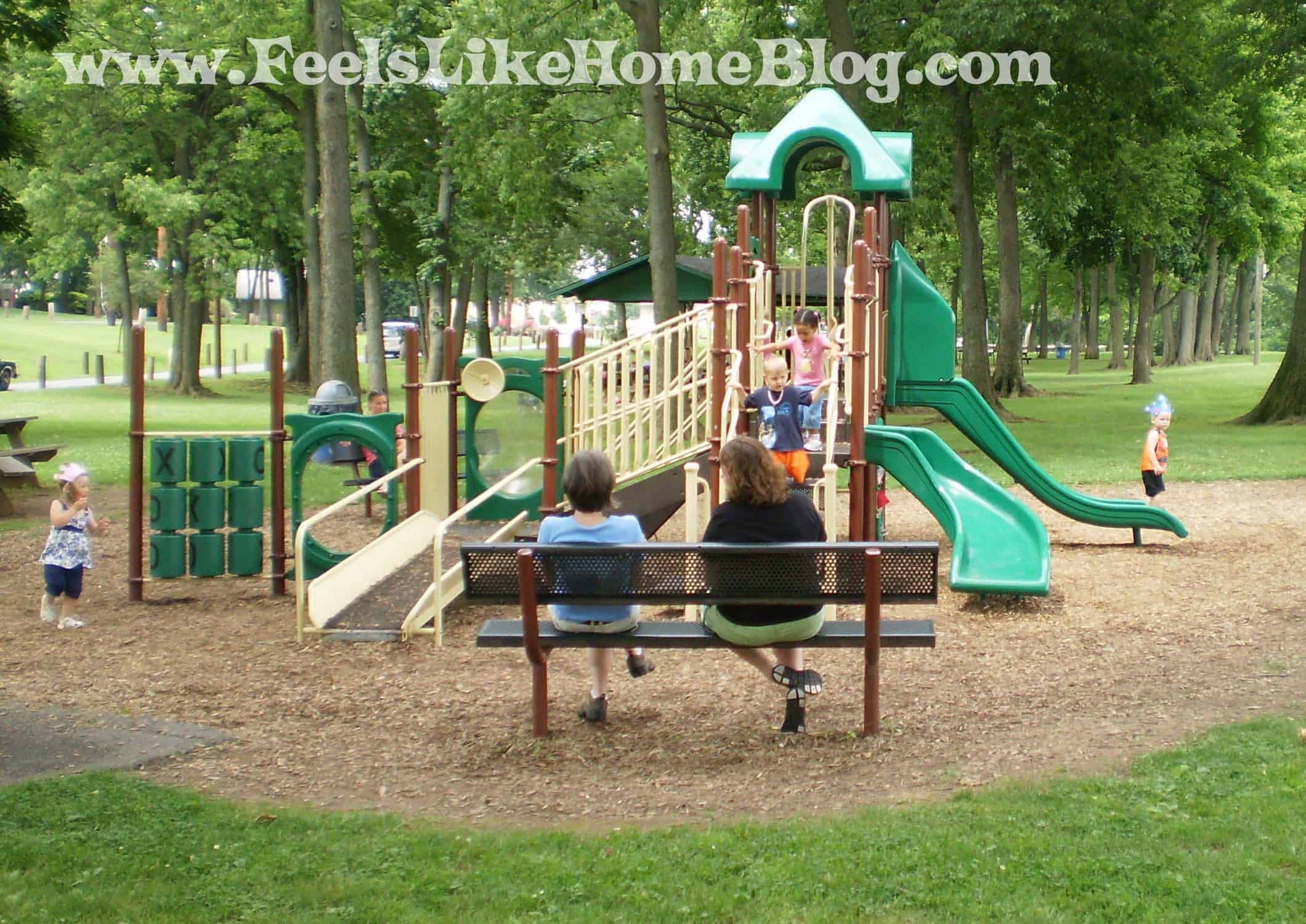 Princess Party Decorations
The decorations were also relatively simple. We used streamers in light and bright pink, loads of latex balloons, and a few mylar balloons shaped like Grace's favorite princesses.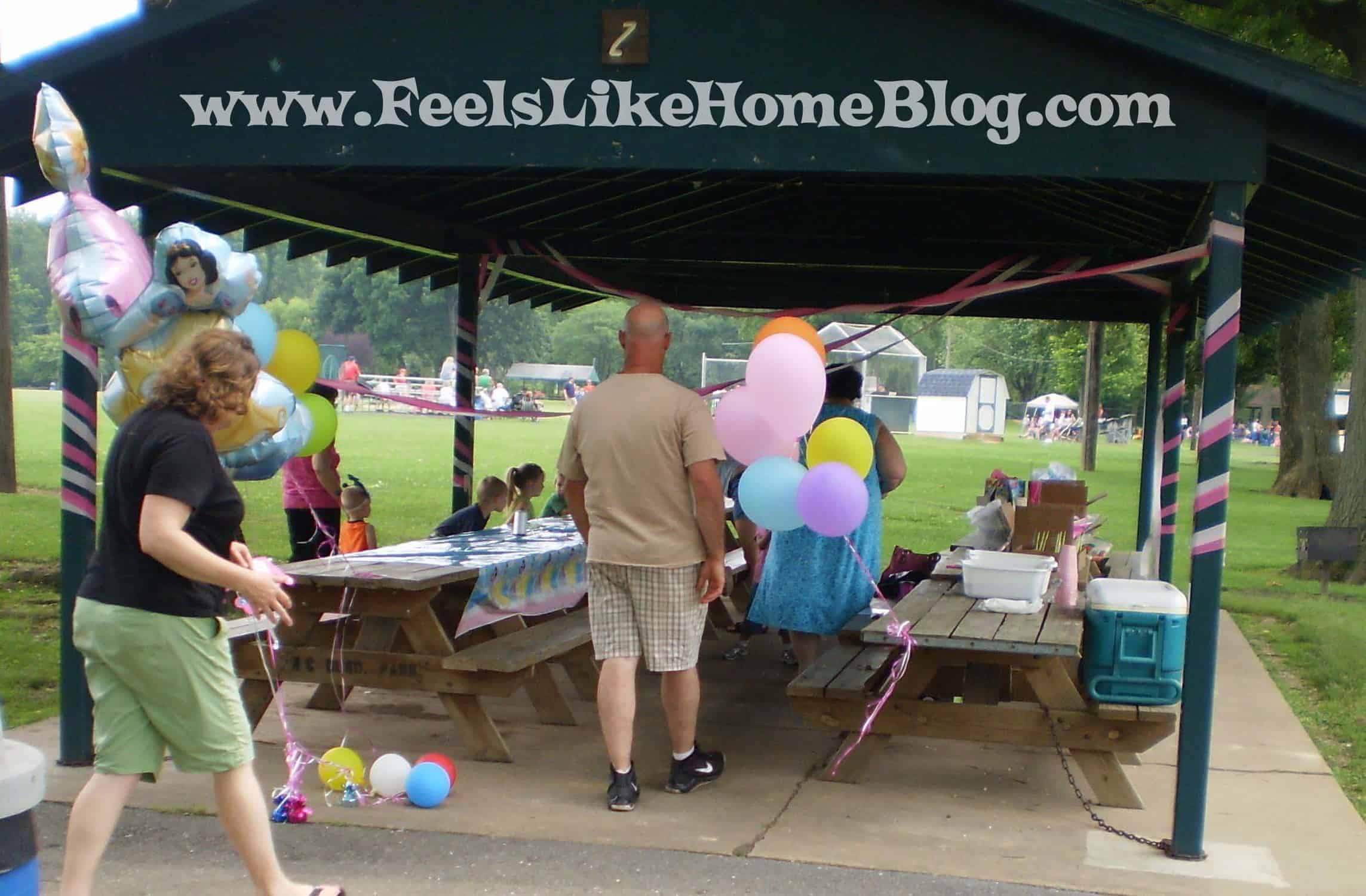 I also got Disney princess table covers that we used to cover the picnic tables.
Princess Party Food
The party was at 2pm, so we didn't serve a full lunch.
I wasn't keen on serving lunch and then telling the kids to run around in the early June heat. That sounded to me like a perfect recipe for barfing preschoolers.
We did serve cupcakes and ice cream. More about that below.
Princess Party Goody Bags
We sent each guest home with a pink goody bag filled with the following:
Princess Party Activities
This was the fun part! I kept the kiddos busy, and when they weren't doing an activity with me, they were playing on the playground you can see in the photos above.
Make Crowns

This was awesome for both the boys and the girls. Joe and I pre-cut foam crowns and had them out for the kids to decorate. Here are detailed instructions for making foam crowns.

Hunt for Gold Coins

Joe hid gold-wrapped chocolate coins all over the playground, and the kids hunted for them.
The only drawback was that the kids' tight grip on their chocolate combined with the heat of the afternoon meant a lot of melted chocolate. Fortunately, we had plenty of baby wipes and a lot of extra chocolate coins waiting in a cooler.

After the big hunt, the kids played on the playground for a long time. They loved that!

Make a Candy Necklace

I found a Make Your Own Candy Necklace kit at Walmart, on clearance, for under a dollar.
The kids liked it, but they had varying degrees of success. Some kids just ate the candy. Some kids threw their candy at other kids. A few kids (mostly the older ones) strung their candy onto the necklaces.

No worries. It was fun.

Decorate Cupcakes

Our party was sponsored by Better Crocker. Grace picked out Rainbow Chip Betty Crocker cake mix, and three tubs of Betty Crocker frosting (chocolate, lemon, and strawberry). Joe made the cupcakes, and the kids used products from my Wilton giveaway to decorate their cupcakes.

I was so busy dashing around helping kids decorate that I didn't get any pictures of this madness, but the cupcake decorating was awesome.

The parents complimented me on the cupcake decorating, so I think it was a hit with them as much as the kids. We made enough cupcakes that the parents could decorate and eat, too, and I think that was an important part of making it a success.

Eat!

Most of the kids ate their cupcakes with a scoop of ice cream. Really, everyone except Grace ate a cupcake with ice cream.

Grace took off when we were eating and played on the playground instead. I'm not sure what she was thinking.

Dig for Treasure

I had originally scheduled this activity earlier in the party, but the sand was super messy and clung to our hands. I wanted the kids to eat before their hands got covered with sand.

At any rate, we split a 50 pound bag of sand between 3 dish pans. In each tub, we buried Disney Princess confetti and sparkly rings. There were 3 rings for each kid to find, and they played in the sand long after the rings had been found.

Stick Cinderella in the Castle

I found this cute Cinderella game at Walmart, and I was imagining a giggling game of Pin the Tail on the Donkey, complete with blindfolds.

It didn't exactly go that way. Not in the least.

The first child was Grace. She pushed the blindfold up so that she could see the castle and put her Cinderella where she wanted it to be.

The next child was Kyle. He moved Grace's Cinderella out of the way so that he could put his Cinderella in the same spot.

After that, I just gave each kid a sticker and let them put it where they wanted it. That's how the castle ended up looking like this -

I'm not sure how Belle managed to escape without being covered up. Just lucky, I guess.

Time on the Playground

I planned this in the schedule, even though the kids snuck off to play between most of the activities. There was a larger, more complex playground a little further away from the pavilion, and my sister and several of the other parents walked the group up there after the last activity.

All of the adults commented on how nicely the kids played together. They enjoyed playing with each other, even after the party was officially over.
Lessons Learned from Our Princess Party
Have a plan. I had a basic outline written on a scrap of paper, and I looked at it in between activities to remind myself what was coming up next.
At the same time, be flexible. I realized just before the kids began to arrive that the sand was going to cling to everyone's hands and make eating cupcakes a nightmare. I changed the schedule on the fly.
Don't be too serious. Most of my activities didn't go the way I pictured, but the kids enjoyed themselves immensely. They're three, after all, and they see the world in a different way.
Do the work ahead of time. We had all of the crowns cut out, cupcakes baked, goody bags prepared, etc well in advance of party day. When it came time to go decorate at the park, we were refreshed and ready to go.
Smile. Even as we were cleaning up and I wanted to collapse from exhaustion, I was able to see the fun in the day. Grace had fun, her friends laughed and carried on. Don't get me wrong - putting this party together was a lot of work, but it was totally worth it to watch Grace and her friends play and giggle and eat.
My DIY princess birthday party was so much fun for me and for the kids. Pinterest wasn't a thing when I planned this party (in 2010), and I know there are a lot more fancy activities that you can do today, but sometimes simple is better for kids this age (3-years-old).