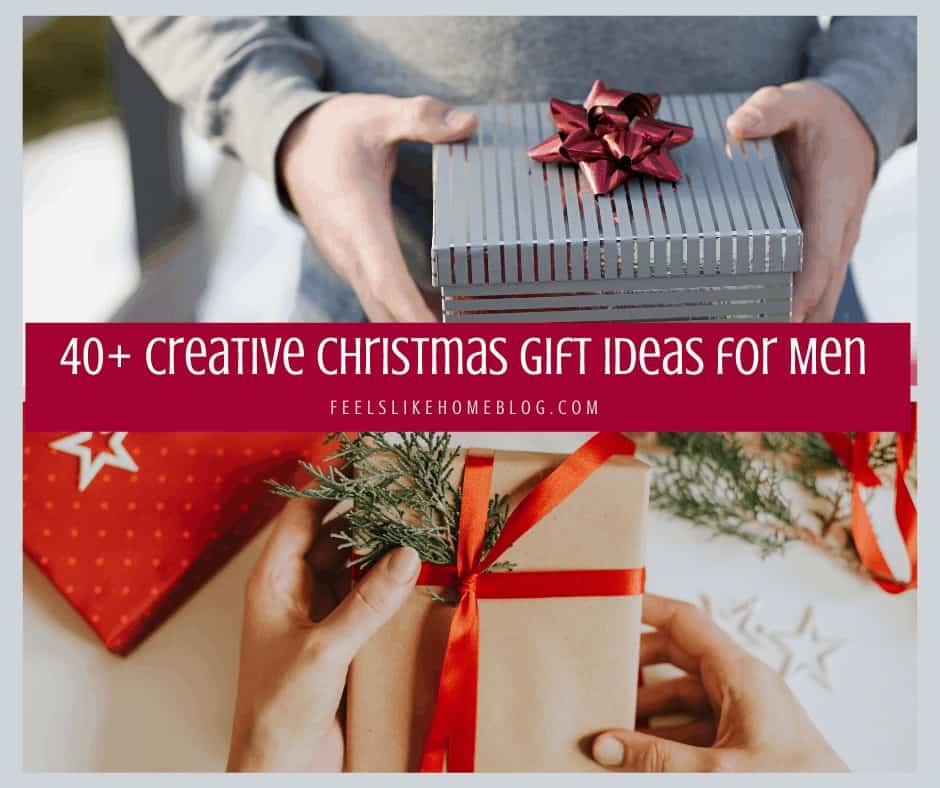 My husband, Joe, is super hard to buy gifts for, and his birthday and Christmas are in the SAME WEEK which I guess could be good in that I only have to think about gifts for him really once a year, but is also bad because, well, gifts. A lot of gifts all at the same time.
I used to buy him Penn State stuff for every holiday, but he has a lot of Penn State stuff already, and I had to eventually move into the kitschy and weird, things like glass Christmas ornaments (got broken the first year on the tree) and a neon sign in the shape of PSU football helmet (also broken on its first time out). I eventually gave up on the Penn State theme and went for a music theme, buying him a new saxophone one year and a music stand and some other stuff subsequently, but that grew tired even more quickly than the PSU gear.
So what was left? After a lot of brainstorming and some Pinterest searching, I came up with the following list of potential gifts. I'm not sharing what I actually got for him this year because he sometimes reads my blog.
Visit the Christmas gift guide for families for hundreds more gift ideas!
Techy Christmas Gifts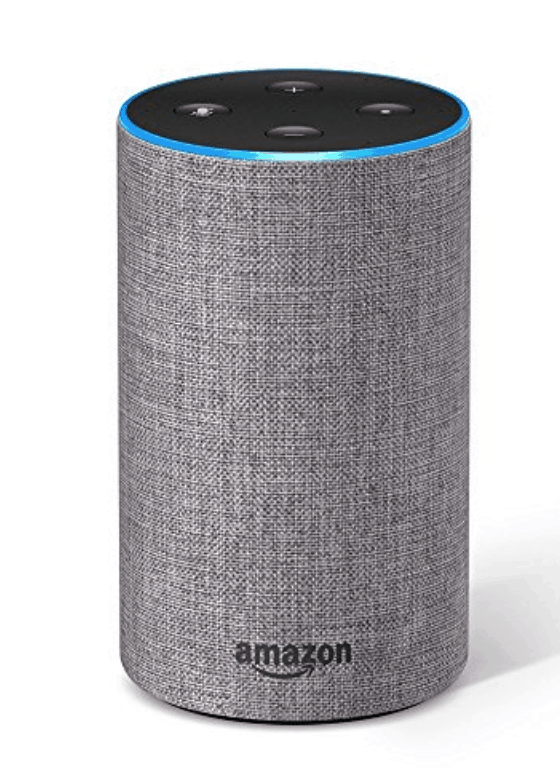 Amazon Echo - We have 3 Echos and love Alexa. We listen to music, ask questions, talk to each other in different rooms, control our tv and lights, get the weather report, and much, much more. You can also order pizza from Domino's, request rides from Uber, find a Chinese restaurant, or lock your front door, all with a simple voice command. It's super easy to set up and use, and any tech-loving woman is going to be completely enamored with it. These were redesigned and rereleased in October 2017; we got ours right after that.
I got a Fitbit Ionic in 2018 and gave my Blaze to Joe. He loved the Blaze, having had an Alta before that. I loved the Ionic even more because it has a fully customizable face and shows me all my stats at one time, plus the weather and about twelve other things. So cool.
Update: I could not get my Fitbit to reliably display alerts when I got a text message or phone call, so I went ahead and bought myself an Apple Watch with cellular service. It is amazing, and I ended up getting one for Joe when his old FitBit broke. We love our watches because they do everything the Fitbits did, plus they give us turn by turn directions, play audiobooks, and allow us to send and receive calls and texts just from the watch. They don't have as robust fitness info though which is why I went ahead and put the FitBit on the list too.
If you want a smart watch specifically for fitness and sleep tracking, go with the FitBit. If you want a more multi-purpose device that will also allow you to send and receive calls and text messages, get notifications, and listen to music and audiobooks, go for the Apple Watch.
I bought myself a pair of authentic Apple Airpods last year, after using the following two sets of wireless headphones for about two years previous. The ones below are great, and if you don't have an iPhone, I would definitely recommend going with those. But if you do have an iPhone, Airpods are A.M.A.Z.I.N.G. They are self-charging, they connect to the phone automatically, you can tap them to play or pause whatever you're listening to, and they automatically pause when you take one out. The new Airpods Pro are pricey, but they are worth every penny. They have adjustable tips for any size ears, and the noise canceling feature is solid gold.
Wireless headphones for winter - It is no secret that I love these headphones. I've written about them before. I bought them a few years ago for my walks, and they are still great. They stay in place, they reduce a lot of background noise, and they have great sound. They also keep my ears warm in cold weather, which I love.
Pin
Wireless earbuds from MPOW - These earbuds have a piece that hooks over my ear so they don't fall out (had that problem with a different brand) and a battery life of about a week given my daily 60-90 minute usage. They also have a built-in mic in case you get a phone call while you're wearing them. Great sound, great battery life, great earbuds. These used to be my warm weather headphones.
Pin
We have a bunch of these bluetooth speakers, and they make awesome sound. We generally keep them in the car. Joe listens to music and talk radio on his; the girls and I listen to audiobooks on ours. The sound is perfect and, while we do listen to them with the volume turned most of the way up, they are plenty loud enough to hear over road noise even on the highway.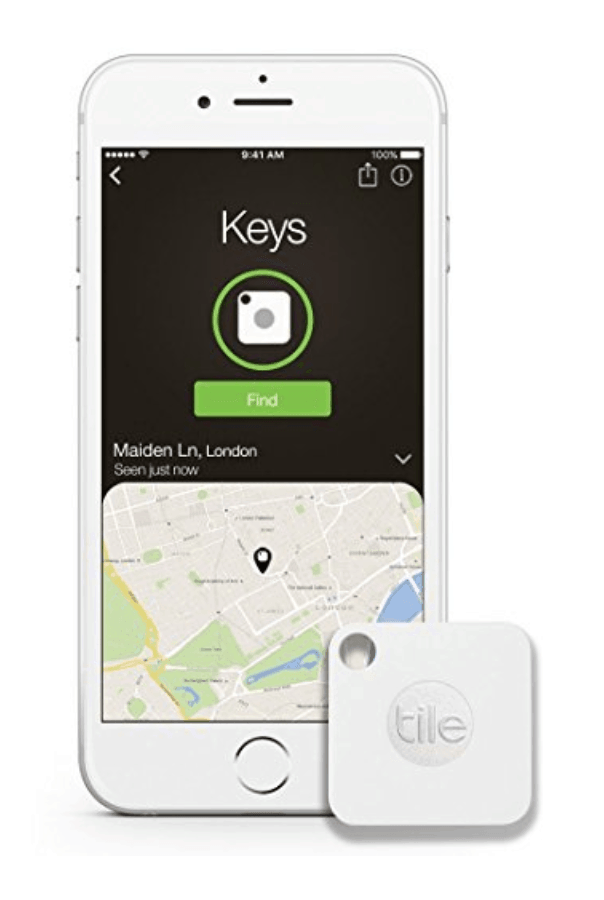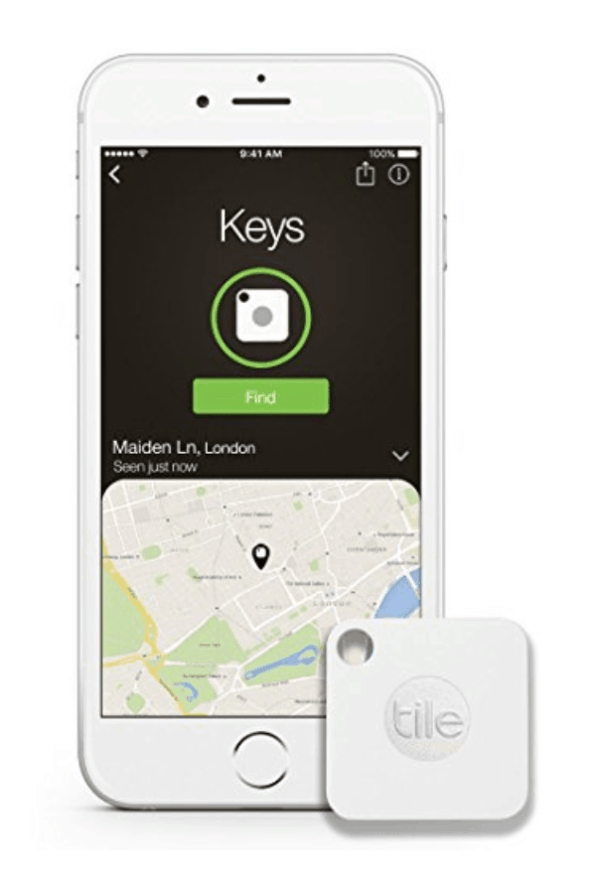 Tile Mate or Tile Mate Slim - Tile Mate is amazing. You attach it to your keys, your wallet, the remote control, or whatever you frequently lose, and when that thing gets lost, you activate the Tile Mate on your phone (via an app) to make the Tile play a sound and play a game of hotter/colder with your stuff until you find it. If it's lost outside your house, you can even enlist the Tile Mate community to help you find it. We have 4 of these.
Pin
This is a super cool little gadget that tells you what's wrong with your car (for most cars since 1996) when the check engine light comes on. I think any husband would happily have one of these little gadgets as it would make him his wife's hero anytime her car had a glitch.
Pin
The Fire TV 4K is perfect for anyone who likes TV but hates paying for cable. He will love you for this tiny box that would give him access to all his favorites like Netflix, Amazon Video, HBO NOW, Hulu, Showtime, Pandora, Amazon Music and much more! With over 7,000 apps, games, and Alexa voice remote, this one is sure to be a major winner!
Pin
This high speed power bank is affordable and reliable. All he needs is a USB cable, and he'll be able to charge his devices anytime, anywhere. Grab this case for him to store and carry it all in. I have this and love it.
Pin
We are all-in with our Alexa, and we use her to control most of our house. She turns on the tv/DVD/Tivo (via Harmony Hub), she turns on the lights and ceiling fans, locks our front door, and I'm hoping that some day, she will control our security system, brains, and cars. (Just kidding on the brains and cars. Maybe.) So we installed these light switches because they allow us to control our lights from our beds, from the grocery store, or from a hotel. That may seem silly, but we can make it look like someone is home even when no one is home, for safety's sake, and it's so nice to be able to say, "Alexa, turn off the dining room lights" and have the lights in another area of the house turn off without ever having to stand up. Welcome to the 21st century, Mrs. Jetson.
Pin
See above about Alexa. These plugs allows us to control the lights that aren't on hardwired switches. We can also control other stuff like the toaster and coffee maker as if they were on hardwired switches, which gives us peace of mind when we're out of the house.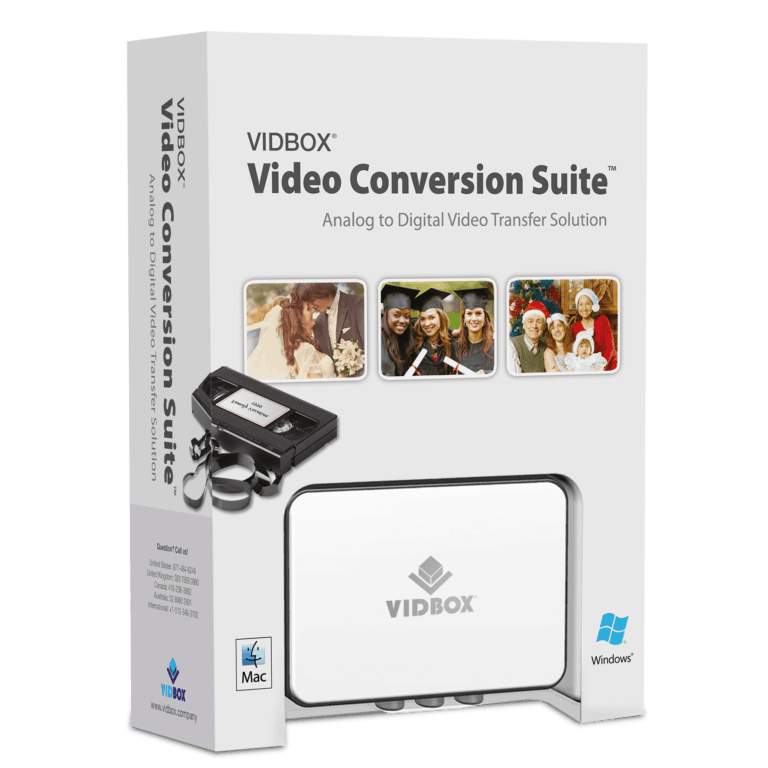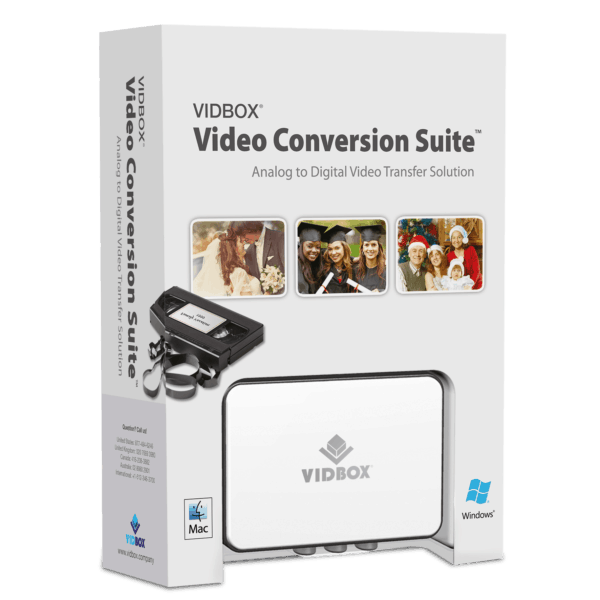 VIDBOX Video Conversion Suite - I think this is the coolest product even though I can't really use it. It is a whole system that transfers your analog (read: VHS) videos to digital forms. If I had VHS home videos, I would absolutely be using this to digitize them. I think it's a great gift for anyone who doesn't want to pay a service to digitize but also doesn't want to lose all those precious memories.
Pin
Men love their gadgets, and this gadget is just plain fun. Joe has a drone, and he and the girls love flying it around our neighborhood.
USB charging station - I have this in my office where I like to charge my phone, Kindle, and other devices. Joe also has one in the bedroom so that we can charge both of our phones at the same time. They are super handy little things even though they may not be the most exciting gift.
Wearable Christmas Gifts
Pin
I got Joe this supple faux leather jacket from Tommy Hilfiger for a sock hop dance that he took the girls to last spring, and he has worn it often since. It's warm but not too warm, and the leather material is soft and looks authentic. He looks really sharp in this jacket, and I'm willing to bet that your sweetheart will, too.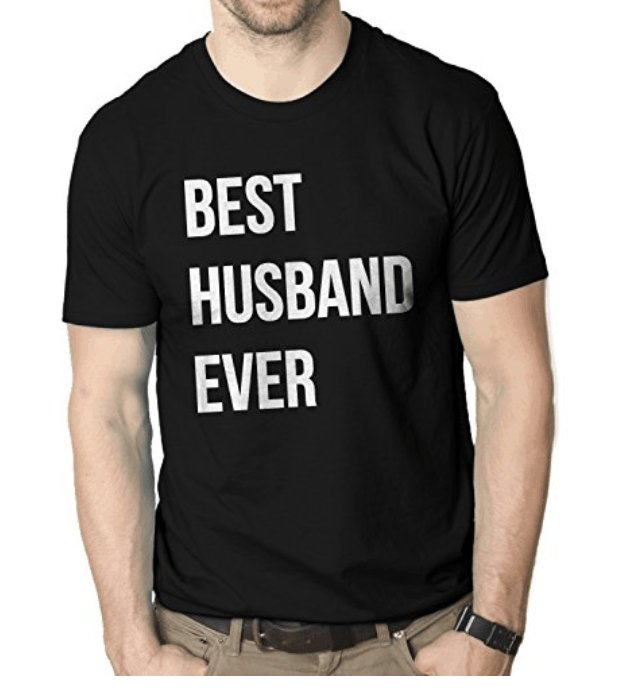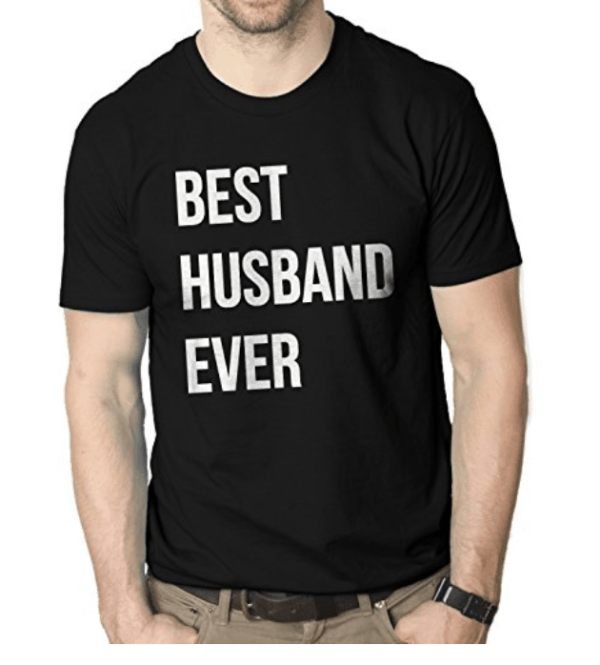 This t-shirt - Because he is, right? So why not let him wear the truth all around town?
Pin
Under Armor has a great reputation, and this quarter zip pullover is perfect for cool weather, whether he's working out or just milling around. It comes in many different colors.
Pin
UGG has a reputation for super high quality footwear, so you can bet these supple slippers are perfectly comfortable and made of premium materials. Joe needs a new pair of slippers, and I think I'm going to get him these.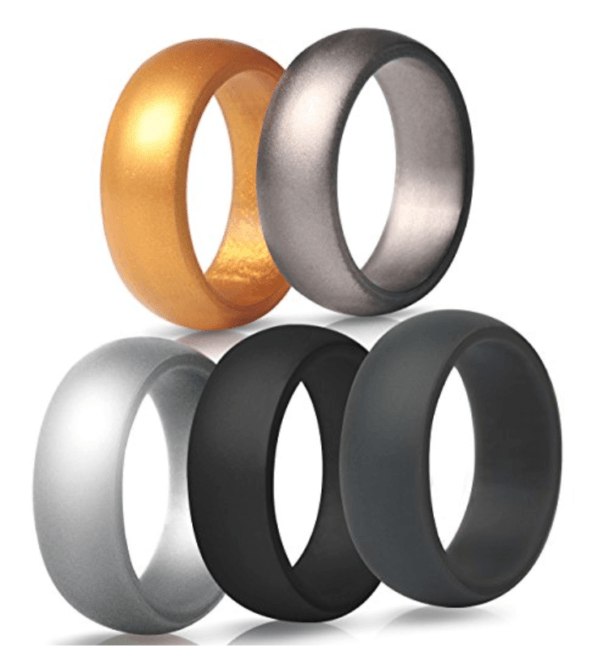 Silicon wedding rings - These are pretty cool. They're lightweight and easy to remove in case of emergency. They're flexible and stretchy. Perhaps best of all, they are super cheap, so if your husband is prone to losing his ring, they would be a great option! I have been shrinking through rings so quickly that I'm going to get some skinnier ones for myself.
Pin
This is the coolest hat ever. It has ultra bright LED lights in the front of the brim (three facing forward and one facing down), so it's like a headlamp but way cooler. I think I may buy these for the girls and myself when we go to Girl Scout camp.
Pin
This gorgeous luxury watch is under $125, and I am certain that any man would love to have it on his wrist. It's water safe to 100m, too, so it's good to wear all the time.
Pin
I suppose a scarf isn't a sexy gift, but sometimes a scarf should be. This one in particular is so soft, it feels like real cashmere for under $20 which is a steal. It comes in many more patterns and colors, so take a look and add one of these on to whatever gift you're giving your fella this year.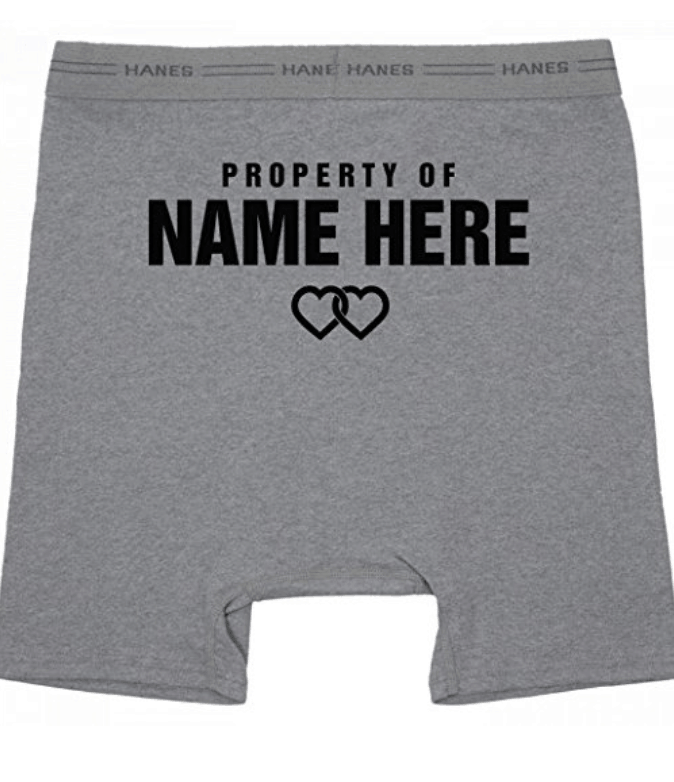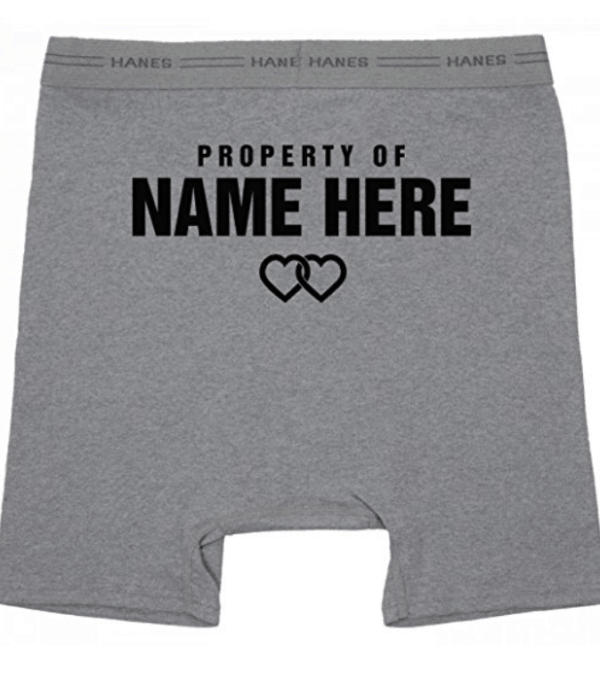 Fun boxers - These are practical and really cute. What man wouldn't want to be claimed by his leading lady?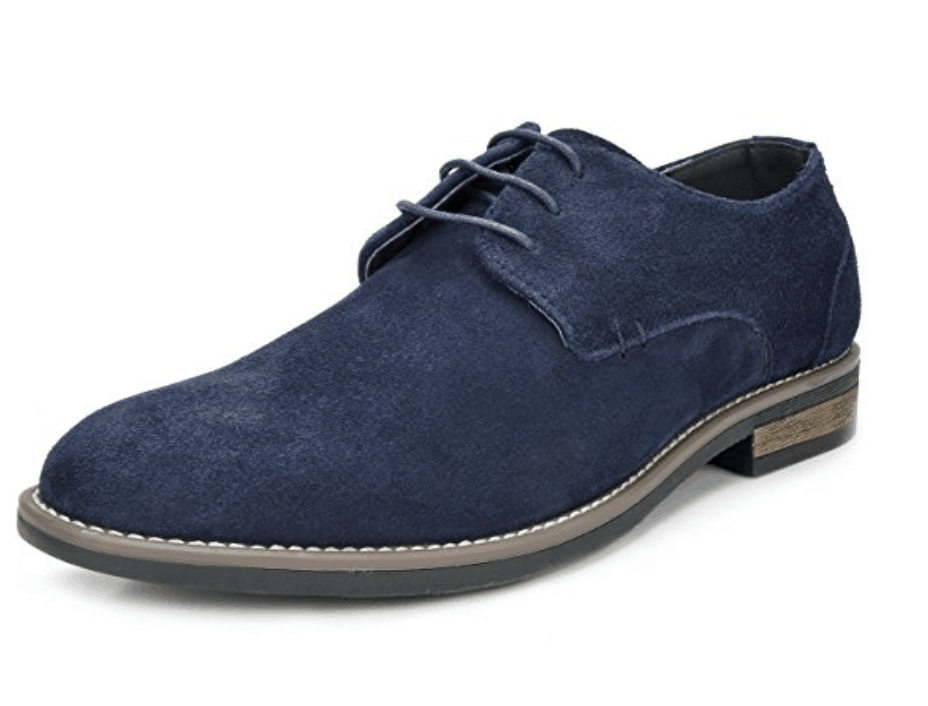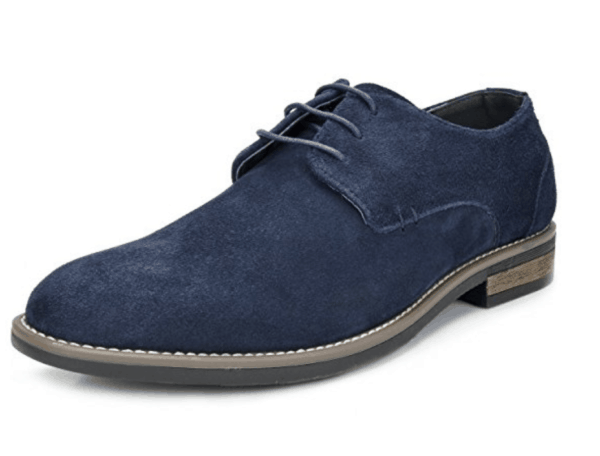 New shoes - I know most guys aren't as excited over shoes as some girls I know, but hear me out on this one. My husband never buys himself shoes. For years, he wore a pair of black sneakers to church every week because he didn't want to invest in a pair of dress shoes. I could never understand that, but he loathes spending money on himself. I think a pair of these would really look nice in his wardrobe, and it would be a treat for him.
Ove Glove - I remember when my mom gave Joe one of these, probably ten years ago. IT IS AWESOME. We ended up buying 4 more over the years because they have gotten lost, not because they wore out because they never wear out. Seriously, everyone who cooks needs a pair of Ove Gloves.
Outdoorsy Christmas Gifts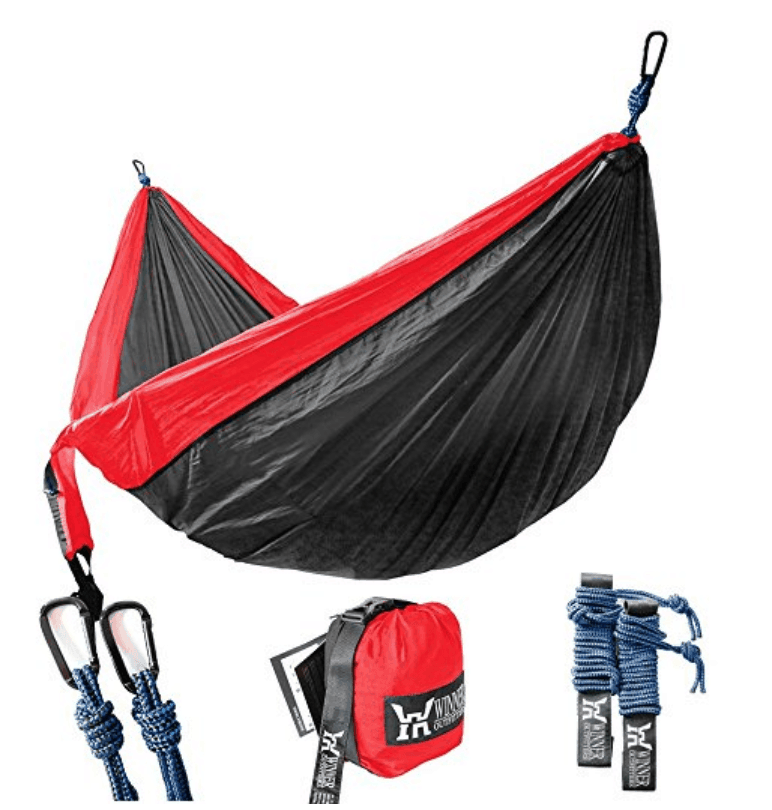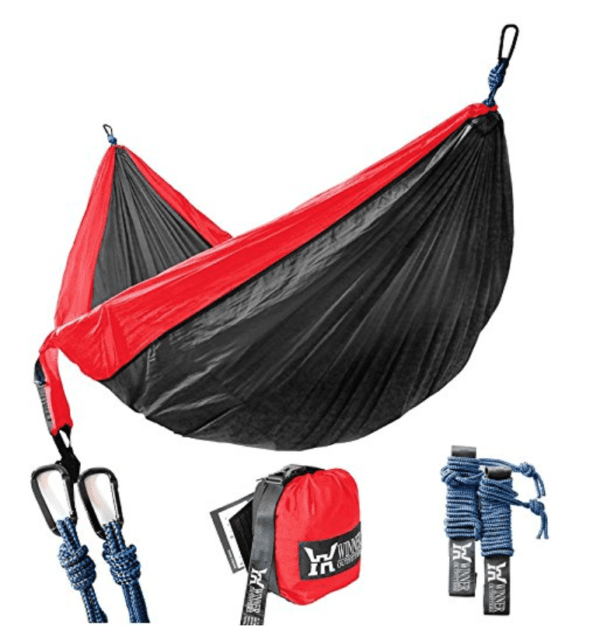 A hammock for two - We have a big hammock stand in our backyard. It used to have a big 3-person-wide hammock on it, but some visiting kids broke it. I never got rid of the stand because it's big and heavy and I thought we might someday use it. Now that I'm lightweight enough to share this with Joe, I ordered one for when the weather gets warmer.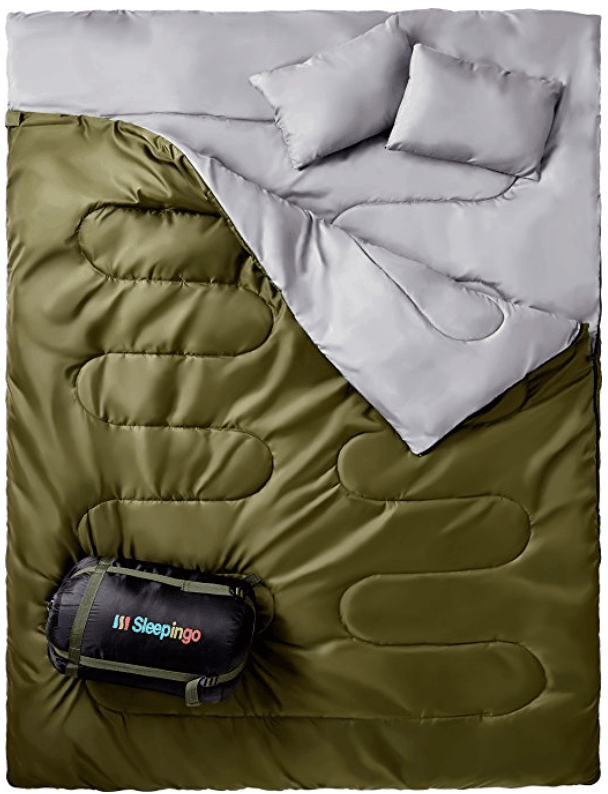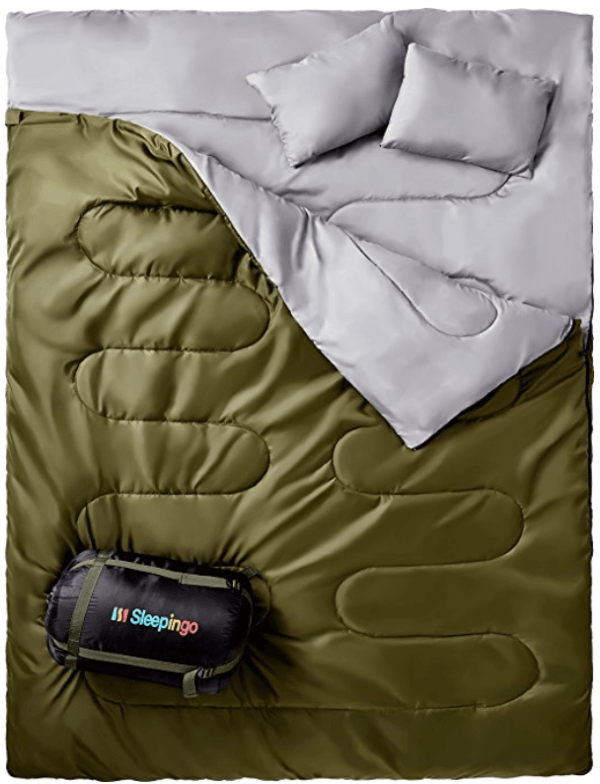 A 2-person Sleeping Bag - I think this would be torture, but I included it because some people like to be close when they sleep and it is a pretty cute idea. (NOT ME - ugh, get away from me. I digress.) If you're big on camping, your sweetie will probably love the novelty of a bed for 2 in the tent.
Tools-Related Christmas Gifts
Pin
I'll admit it. I think handymen are incredibly sexy, so I love it when Joe breaks out his drill. I think every man should have one, even if it's only used for craft projects for his wife.
Pin
Ever have your hot water tank spring a leak? Or any kind of flooding situation? A wet/dry vac like this one is indispensable. We also use ours to clean out the dumpster our kids call the back seat of my car.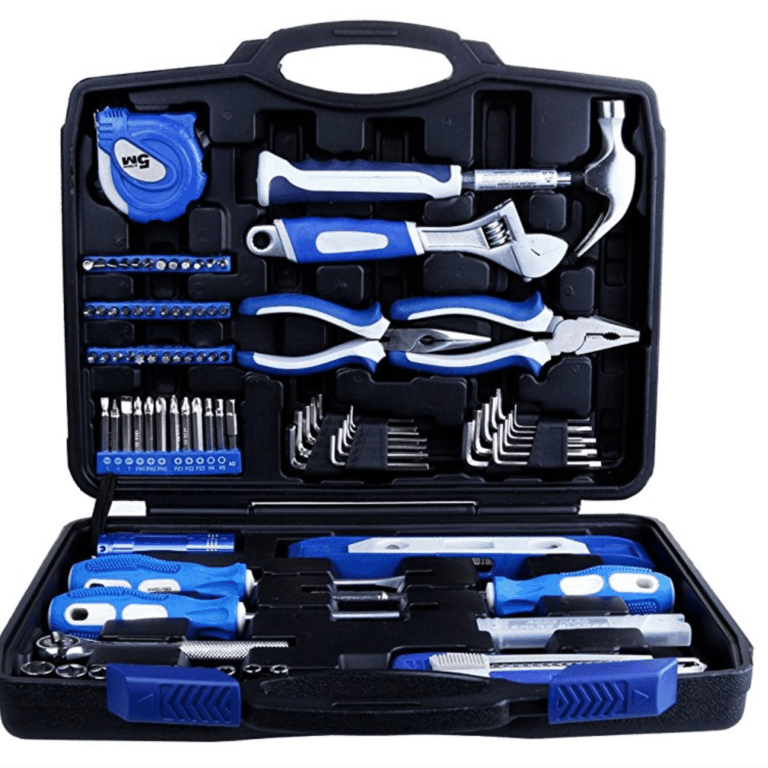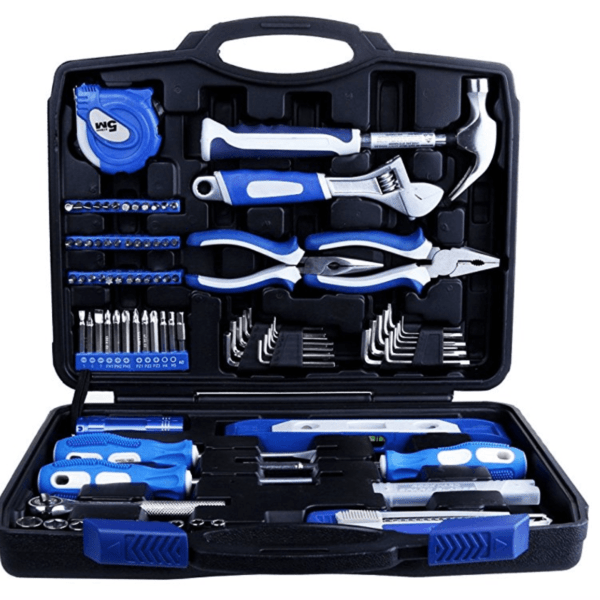 A tool kit - Joe is my handyman, and he loves that title even though he pretends he doesn't. The only problem is that his tools are kind of all over the place and never at hand when he needs them. This case is small enough to be portable and big enough to hold all the essentials. I think he needs this badly.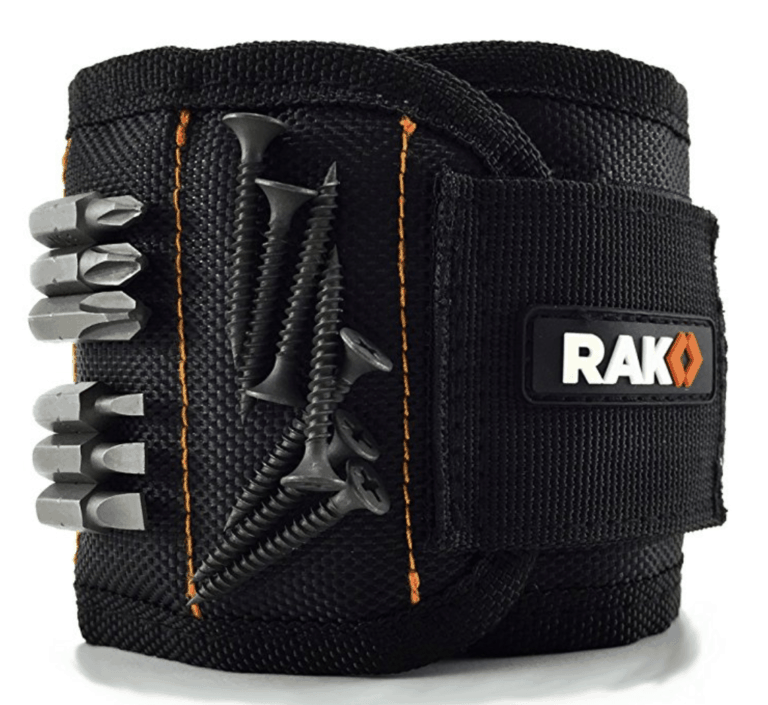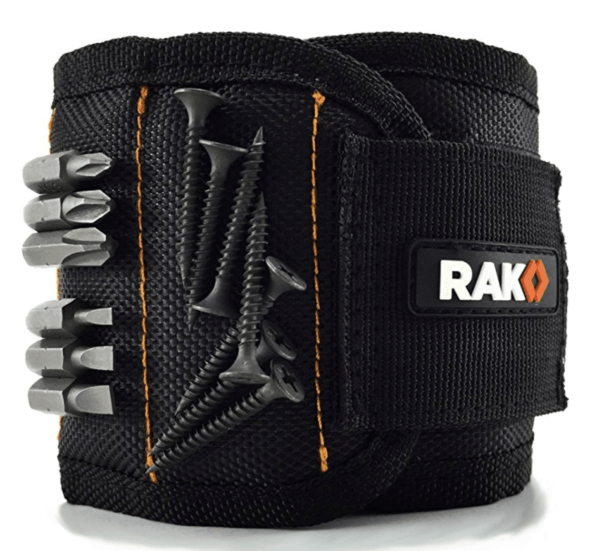 A magnetic wristband - Along the same lines, Joe is always hanging something or nailing something, and I think he would love this little gadget. It's literally what the name implies, a wristband with a magnet in it to hold all those bits that often get dropped.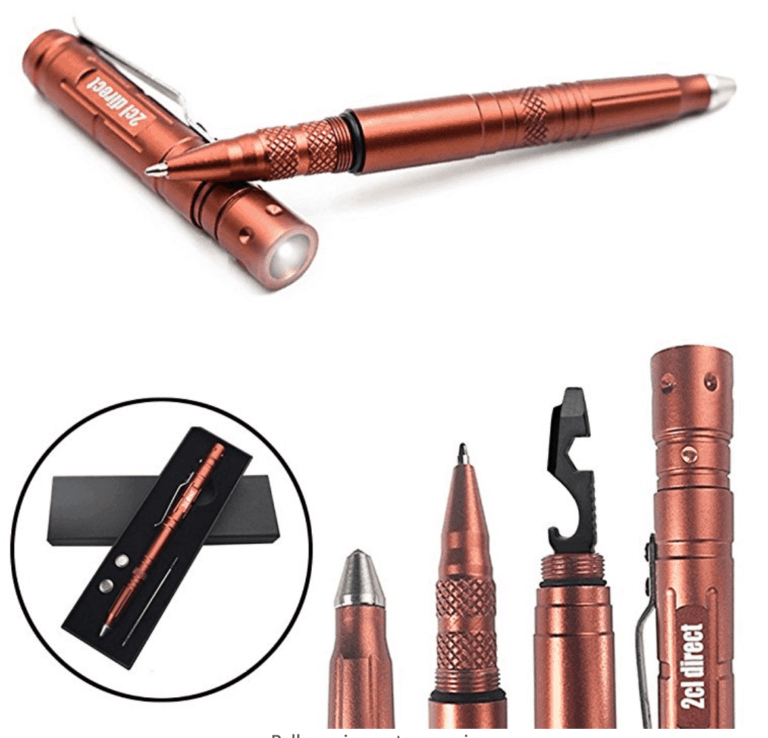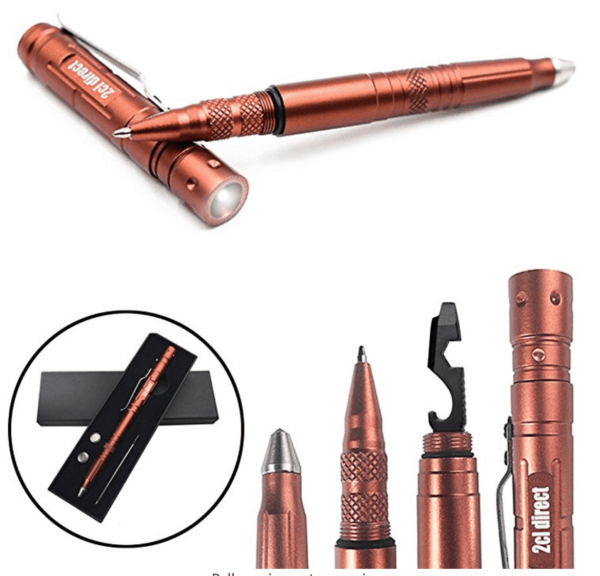 A tactical pen - This pen is super cool. It's an LED flashlight, self-defense weapon, glass breaking tool, wrench, bottle opener, and ink pen in one. It can even go through airport security.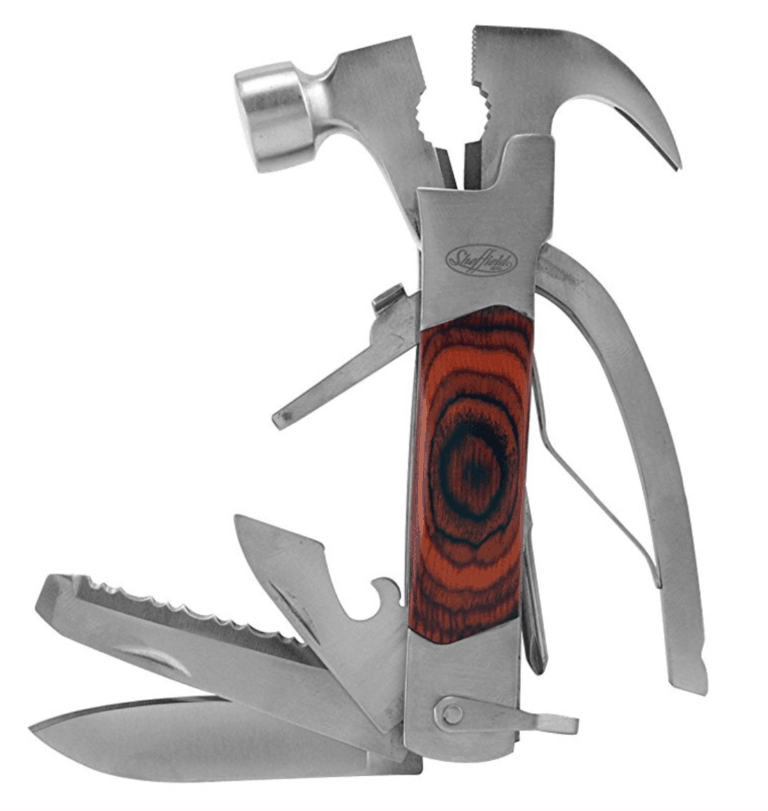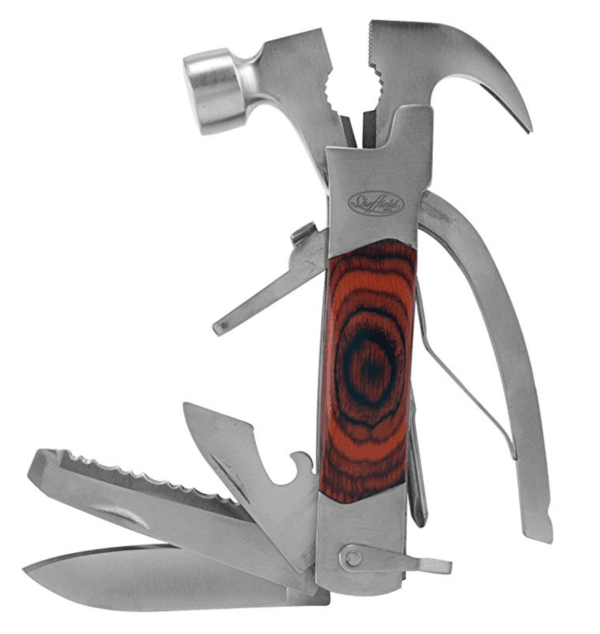 A multi-use hammer tool - I love this and want one for myself. It's a small hammer but also has 13 other gadgets inside including 2 different pliers, a knife, a serrated blade, 3 screwdrivers, a can opener, and more. This would be perfect for any man who camps or who is outside a lot (like my construction inspector husband). I picked this one because it had the most 5-star Amazon reviews, but there is another one with great reviews that also has an ax head on the back of the hammer. I think that might even be a little bit better, although the nail claw on the one pictured would also be quite handy.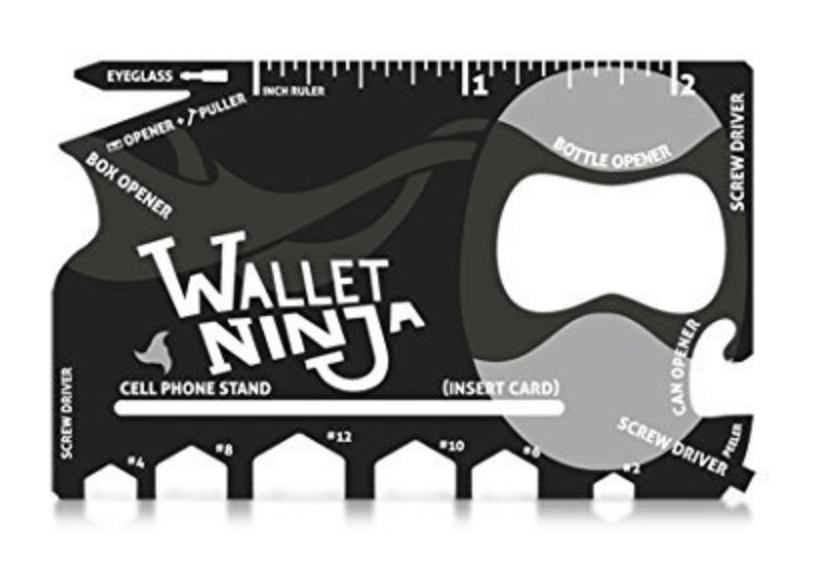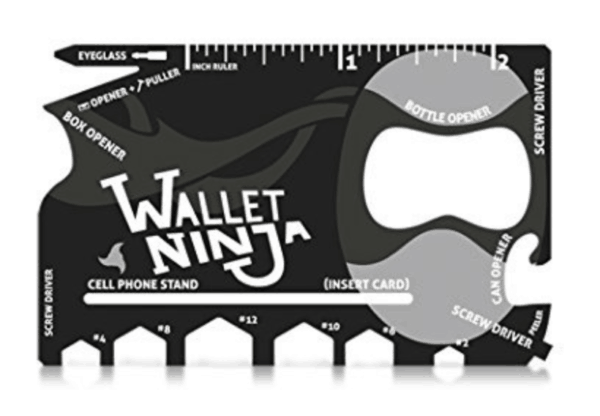 Wallet Ninja - Okay, so this is another multi-use tool item, but I think it's super cool. It is the size of a credit card so it will fit into his wallet, but it is made of high quality steel that will not deform. I love this because it has 4 screwdrivers (including an eyeglasses screwdriver), bottle opener, can opener, nail puller, peeler, 6 standard hex wrenches, cell phone stand, bottle opener, letter opener, and ruler all in this one tiny metal card. It's also TSA approved if your man travels a lot.
Other Practical Christmas Gifts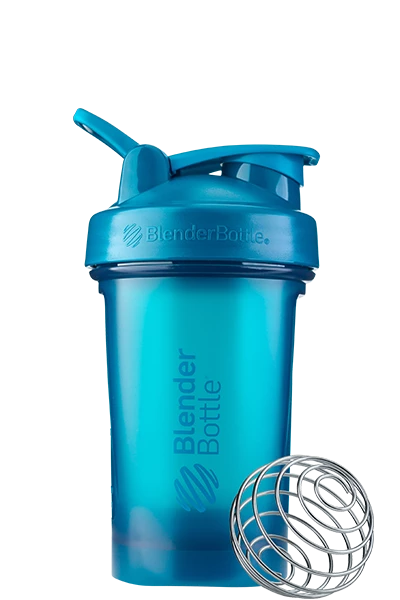 New & improved BlenderBottle - This is another really practical gift from BlenderBottle. I have four BlenderBottles at home of different sizes (including one Wonder Woman bottle!), and I use them because they get my protein powder thoroughly mixed without a lot of froth. Normally, I buy everything on Amazon, but this bottle has recently been redesigned and doesn't appear to be available on Amazon yet. If you decide to get this, order directly from the BlenderBottle website.
Pin
If he spends much time in his car, he's probably wished for a regular outlet at least a time or two. This brilliant little device plugs into the car's power outlet (remember when they were called cigarette lighters?!) and supplies regular AC current to power any electric device, even a laptop.
This is the coolest little safe. It's designed to be used at the beach or the pool or anywhere that you need to lock up your valuables. I am planning to keep my money and phone inside it, locked up to my chair next summer at the pool. Super safe peace of mind.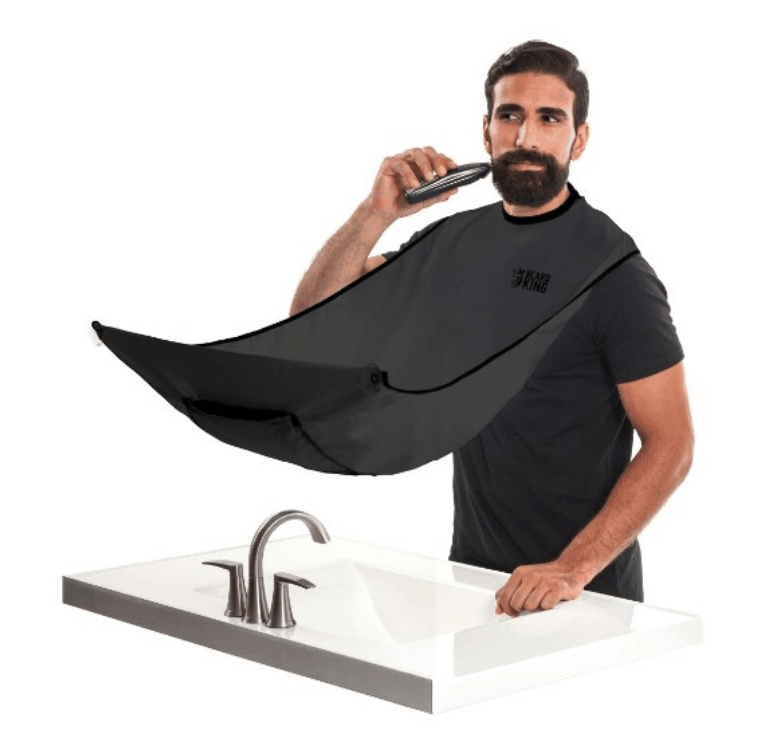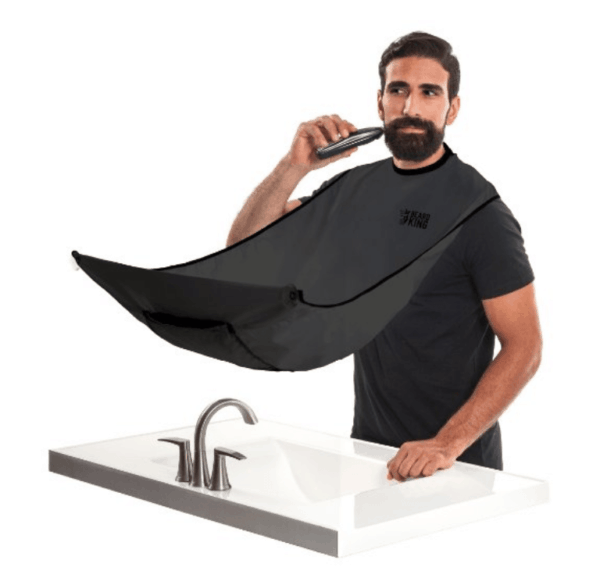 Beard King - I wasn't sure if I should include this as it isn't a very sexy gift, but it is ultimately incredibly practical so I went ahead with it. Unless your husband is one of the Robertsons, he probably shaves and/or trims his facial hair. And hopefully he cleans up after himself by removing all those teeny tiny hairs from the bathroom sink when he's finished. This handy-dandy bib attaches to his neck and the bathroom mirror to catch all that wiry stuff, making clean up take about ten seconds instead of 5 minutes.
Pin
A nice duffel bag is worth its weight in gold. It can be his go-to overnight or weekend bag, it can haul his clothes to the gym, and it can serve as a carry-on during a flight. This one is the perfect size for all three.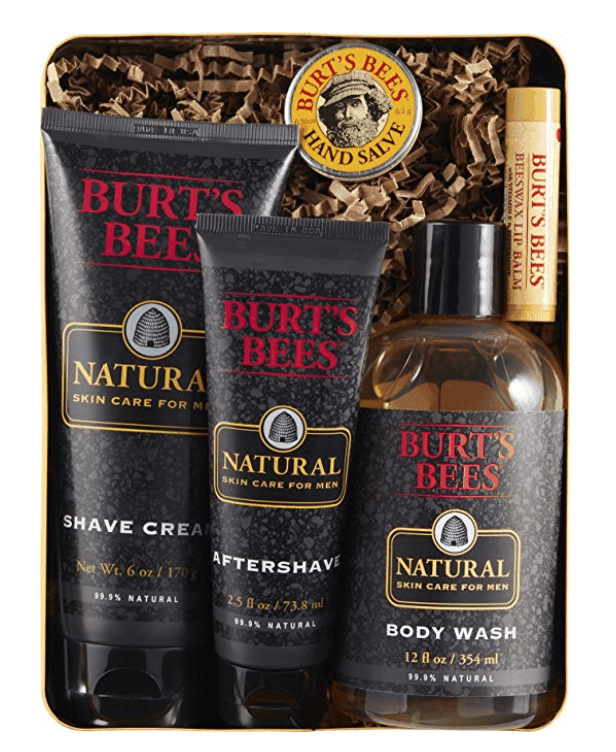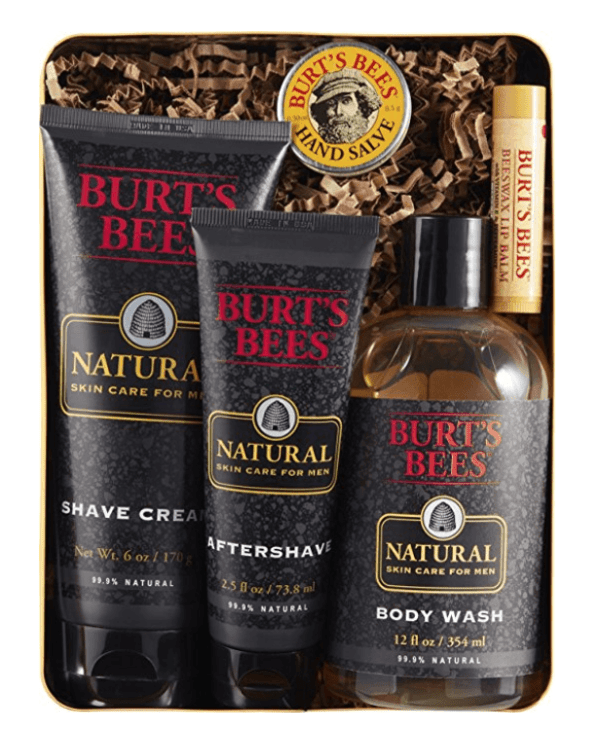 Burt's Bees for Men Gift Set - We all know that Burt's Bees makes amazing organic, cruelty-free products for women, but did you know that they also make products for men? This gift set contains several full-size products including shaving cream (suitable for electric and manual razors) and aftershave, all in a pleasing coconut oil scent that no one will mistake for yours.
Pin
I'm not sure how practical this game is, but it sounds like a lot of fun. Imagine Apples to Apples, except that you write a response to the prompt instead of choosing a card.
Food-Related Christmas Gifts
Pin
Ah, beef jerky. Is there any food more manly? Maybe hot sauce, but I digress. This is a big, black cooler (useful!) stuffed full of dried, seasoned meat. Men everywhere are salivating at the thought.

Pin
I've known a decent number of men over the years who enjoyed home brewing beer. I'm not sure that Joe would get into it (he doesn't drink much beer), but I think any beer aficionado would eagerly gobble up this kit.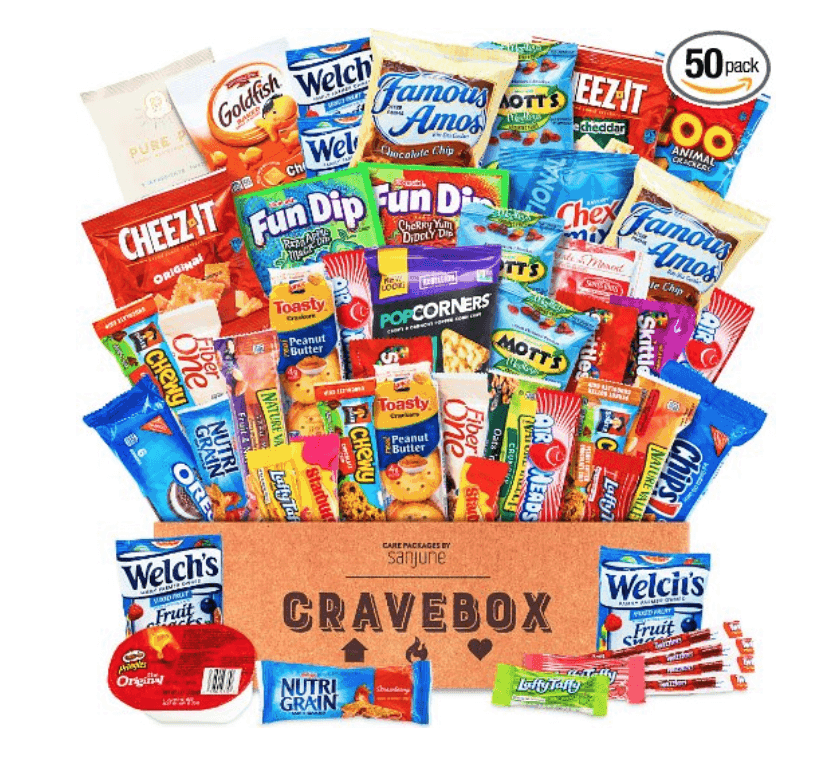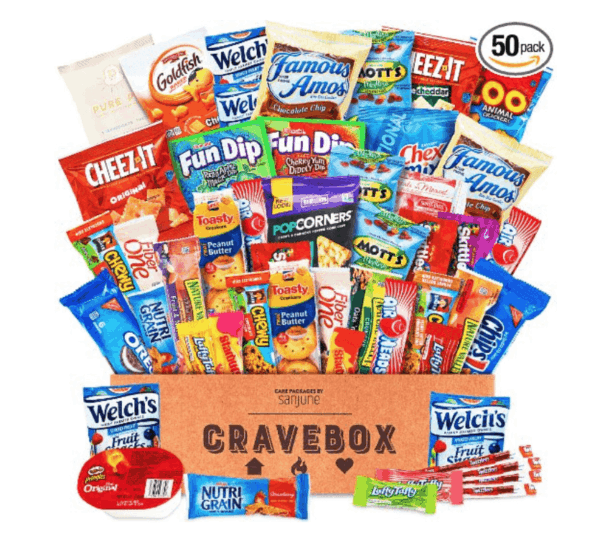 A Crave Box care package - My kids went gaga when they saw me pull up the Crave Box on Amazon. It's a huge box of 50 different snacks, both sweet and salty. Any guy (or kid) would love to get one of these and gorge himself on the sugary and salty goodness inside.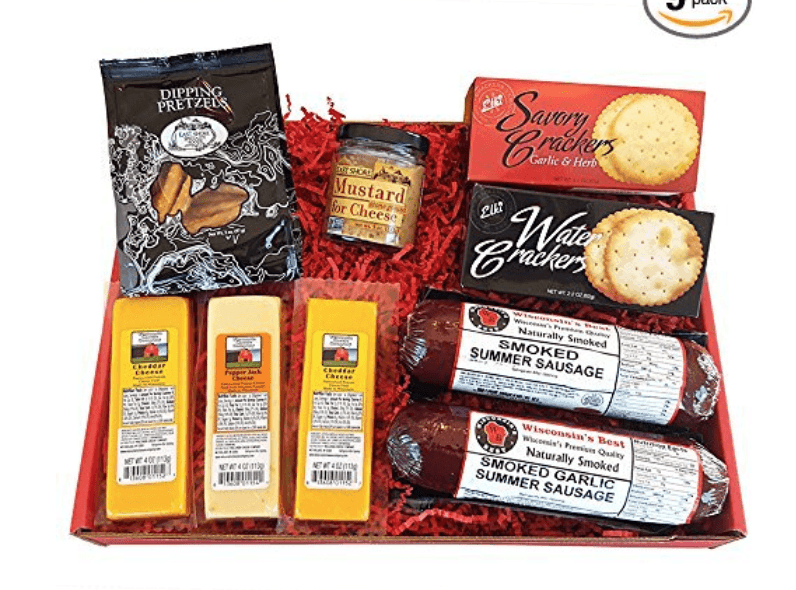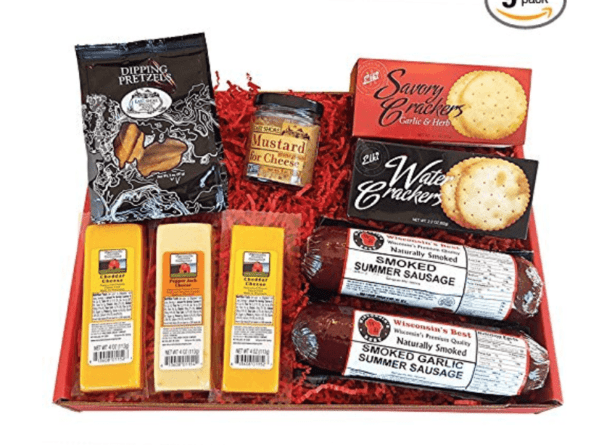 Smoked sausage & cheese gift basket - When I was little, my dad lived on these things. He probably still would if my sister and his doctor would let him have salt. Joe really likes them, too, so I think they're pretty much universal for men.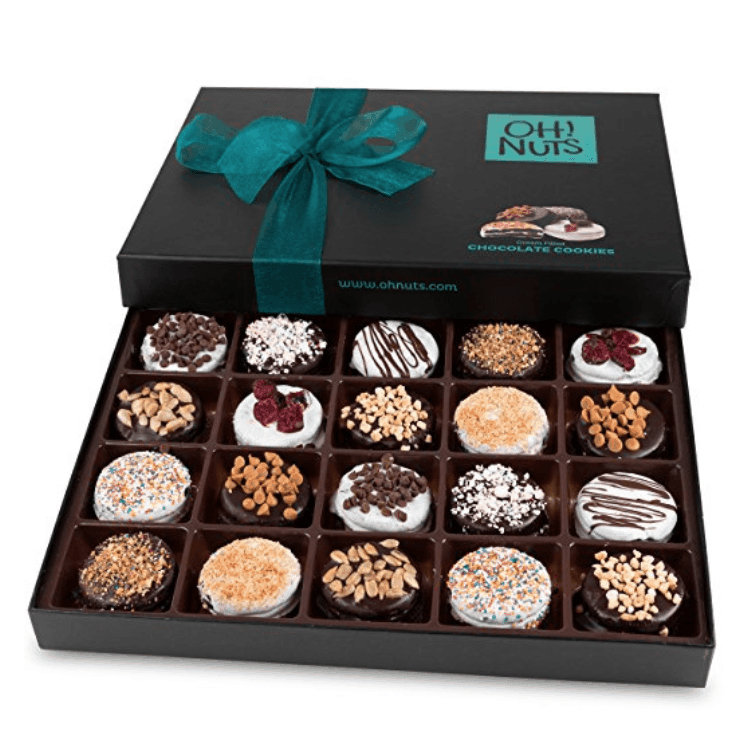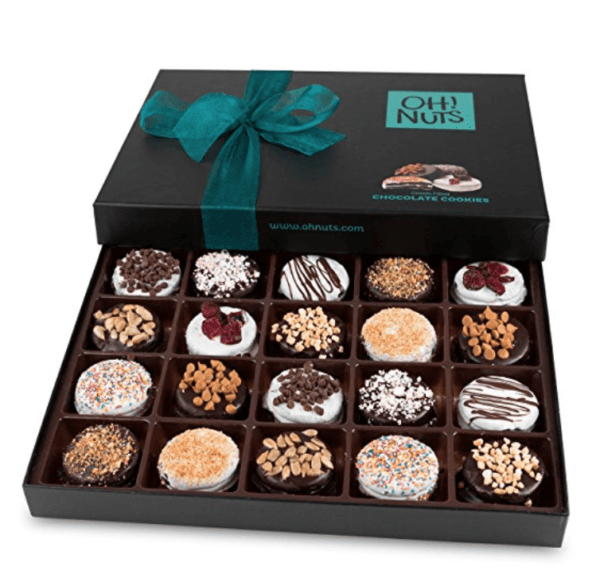 Gourmet chocolate covered Oreos - Joe isn't crazy about Oreos, but I used to be, and I think this gift box would delight any Oreo fan or anyone with a sweet tooth.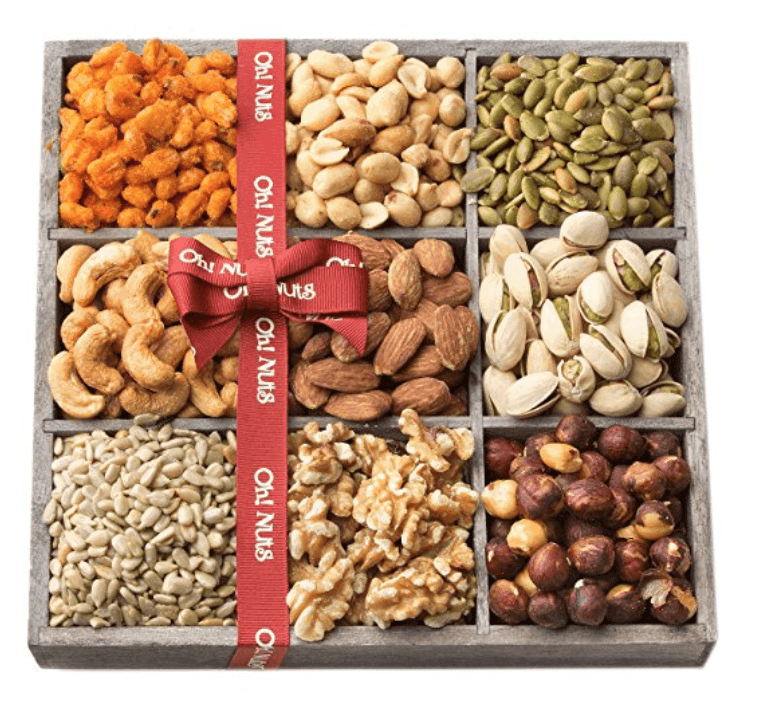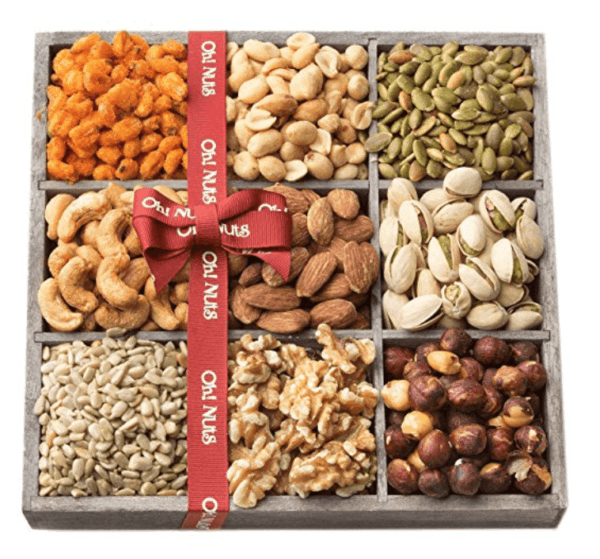 A box of nuts - If your man is more health conscious like me, he might appreciate a box of gourmet roasted nuts from this family owned business. It's got almonds, cashews, walnuts, pistachios, sunflower seeds, pumpkin seeds, and corn nuts in it.
Other great gifts for men
A big time Lego set - Joe saved up for almost a year to buy the Millenium Falcon Lego set for himself. He built it. He left it in a not very secure location, and Allie broke it. It was an accident of course, but the pieces got lost and he couldn't fix it. He never said anything, but I know he was very disappointed. I bought him a new one for this Christmas. Hopefully, you don't have a similar story, but I bet your man will still be interested in a Lego set from Star Wars or Marvel or a scale model of his favorite car. Lego has all kinds of grown up sets to build these days.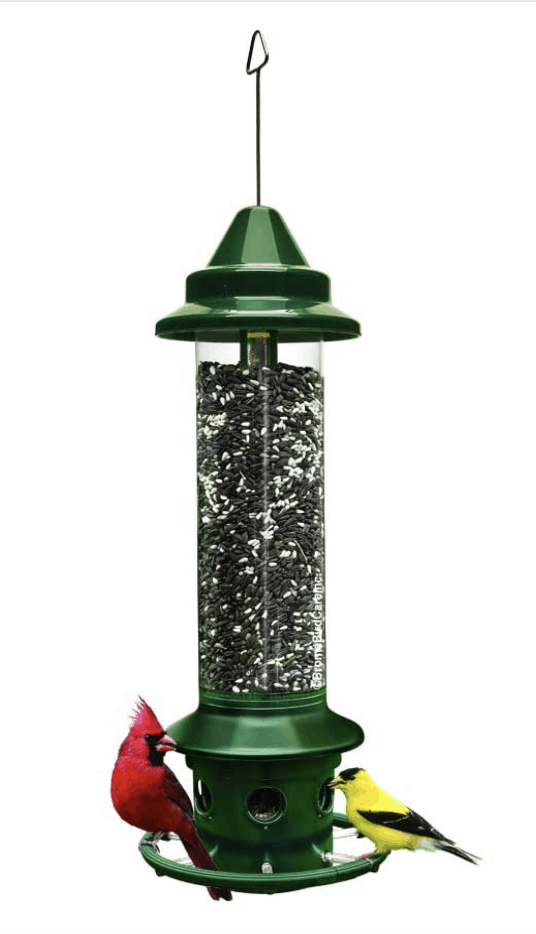 Squirrel Buster bird feeder - We are bird nerds at my house, and Joe erected a twelve-foot high post in front of my living room window so that my bird feeder could hang there and delight me. It does. I have the Squirrel Buster Plus which Amazon won't let me link to, but it is the best. The squirrel haven't figured out a way to breach it, and the feeder has been hanging there for almost ten years. If you don't already have a good field guide, make sure you pick one of those up too. My favorite is the National Geographic guide to North American birds.
So there you have it, 40+ ideas for Christmas and birthday gifts for your husband, boyfriend, brother, or dad. What will you buy this year?