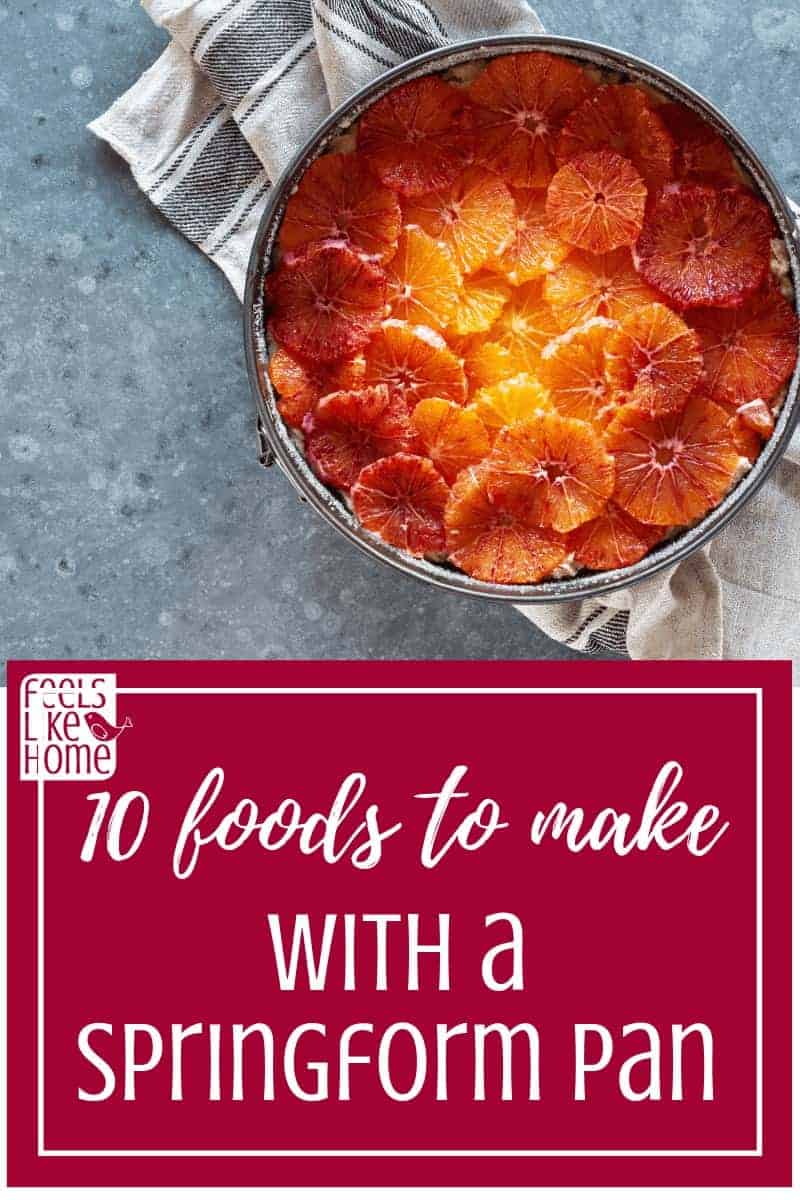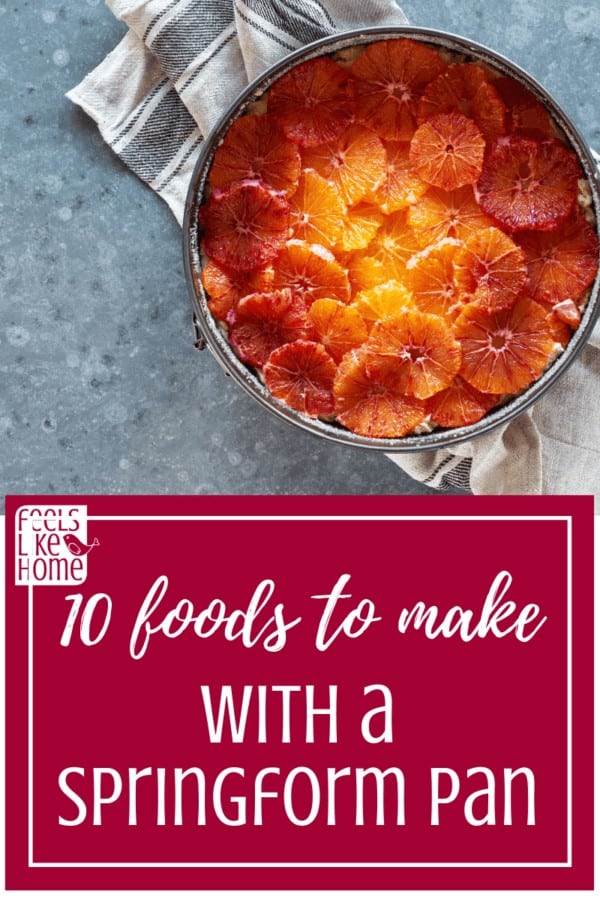 Pin
When I asked on Twitter what kitchen tools people needed help with, Hillary spoke up quickly and said her springform pan.
To be honest, I had to do some research for this post. I don't use my springform pan that often. This is the first time I've written a post for something that is often stuck in the back of my cupboard, but I have a feeling I'll be getting it out a little more often from now on.
10 Recipes to Make with a Springform Pan
Cheesecake. I feel totally lame making this part of my list, but most kinds of cheesecake require a springform pan. Some of my favorites are orange chocolate cheesecake, candy cane cheesecake, and cherry cordial brownie cheesecake.
Cheese pie. This is totally different from cheesecake. It's a savory dish that I saw for the first time on The Today Show nearly 10 years ago. If you've never had a Torta Rustica or a cheese pie, you owe it to yourself to try it out. It's amazing, heavy, and delicious.
Ice cream cake. You can make your own ice cream cake just like the fancy stores do. Soften your ice cream slightly in the refrigerator, smooth it into the springform pan (covered with plastic wrap, just to be safe), and then freeze the pan. Repeat with the next layer and the next, until the cake pan is full. When the whole thing is frozen solid, remove the sides of the pan and serve.
Flourless chocolate cake. I've only ever made this once, but the recipe called for it to cook in a springform pan. The resulting cake is almost like fudge, dense and sweet. It's amazing.
Coffee cake. Any coffee cake recipe will bake nicely in the springform pan. Almost any cake or brownie recipe will (even angel food), too. Having the sides pop off easily means that you don't have to invert your cake as you would with a regular cake pan. The top will stay the top.
Stuffed pizza. I think this is a fabulous idea, using the springform pan to make a deep dish pizza.
Bread pudding. I found a recipe for pumpkin bread pudding on BettyCrocker.com that is made in a springform pan. It sounds so good that I might make it this very weekend. Forget the weekend. Maybe tomorrow.
Fruit tart. Any recipe that uses a crumb crust that's pressed into the pan is perfect for a springform pan. The pan allows the crust to release easily from the sides for serving without mangled. One of my favorites is Banana Cream Supreme.
7 Layer Dip. Layer the following, trying to keep each layer smooth and even: 1 pound of ground beef, cooked with one diced onion and taco seasoning, refried beans, shredded cheese, tomatoes, black olives, guacamole, and sour cream.
Crown of Jewels dessert. This is an old recipe that is really impressive. The day before you need it, prepare one small box each of orange, cherry, lime, and blackberry Jello with 1 cup of boiling water and ½ cup of cold water.
When ready to make the dessert, cut the prepared Jello into ½-inch cubes. Set aside a few of each color for a garnish. Stir 1 cup of boiling water and ¼ cup sugar into one small package of lemon Jello. Allow it to cool for 2-4 minutes, then stir in ½ cup of pineapple or orange juice. Refrigerate for ½ hour. Add 8 ounces of whipped topping and mix well. Very gently, stir in pre-made Jello cubes and pour into springform pan. Chill at least 4 hours or until set. Garnish with additional whipped topping and reserved Jello cubes.
When you're about to remove the sides of a springform pan, you should run a spatula or knife around the pan, between the food and pan edge. This will allow the pan to release more easily.
What do you use your springform pan for?
Have you seen the rest of the series?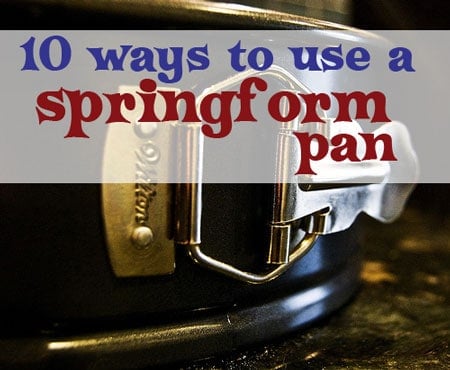 Pin