How to make the best Torta Rustica or savory cheese and onion pie - This authentic Italian recipe uses a refrigerated pie crust to make what is almost like a cheese and onion quiche but much thicker and richer. Great for brunch or dinner. Always a big hit!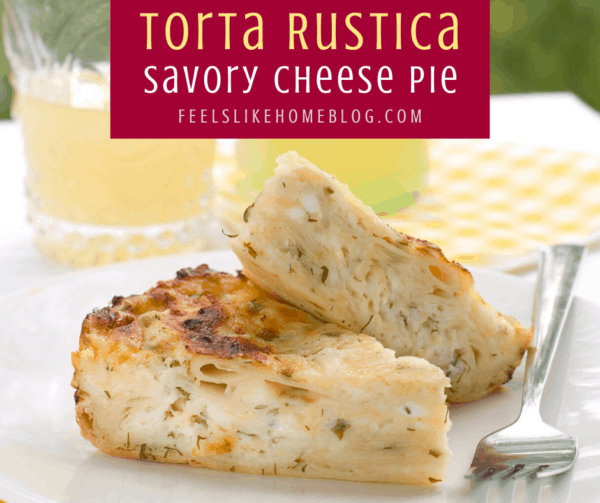 Torta Rustica is a cheese pie that contains sauteed onions. The idea is almost like a quiche, but very different.
Many years ago, I saw the recipe for Torta Rustica on the weekend Today Show, presented by some Italian American immigrants who have a famous restaurant in New York City. I've never been to their restaurant (and don't even remember the name now), but I was super impressed by their cheese pie.
I love cheese, and I was drawn to the complex combination of flavors.
Complex as it is, this is a snap to make. It couldn't be easier.
I have served torta rustica for brunch a number of times. It's very heavy meal, so best served in small portions. To do that, serve it with a salad of mixed baby greens with a zippy balsamic vinaigrette like Chef Tim's and something sweet with apples. That's what I do, and guests always love it.
If you want to experiment with the recipe, you could add diced vegetables (like broccoli or spinach), diced ham, or even diced apples.
How to make Torta Rustica or savory cheese pie
Preheat oven to 350º.
Heat 1 tablespoon of butter in a small skillet over medium heat. Add onion and pepper and sauté until soft.
Combine onions and peppers with cheddar, mozzarella, ricotta, Romano, and black olives in a large bowl, blending until the mixture is smooth.
Press the pie crust into the bottom and sides of a 10-inch springform pan. Add filling and wrap any excess pie crust over the top of the pie.
Bake for one hour or until golden brown.
Here are a few more brunch recipes that you might like:
Recipe