How to make the best slow cooker sweet potato casserole - This simple and easy side dish is perfect for healthy holiday meals because it has no marshmallows! Can use canned or fresh sweet potatoes. Top with pecan streusel topping.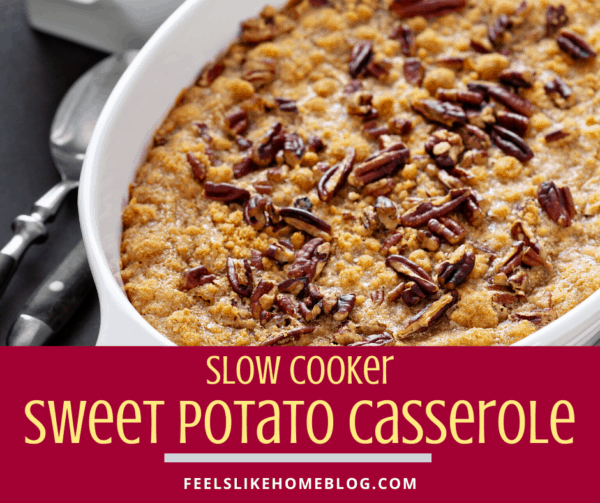 We celebrated the Epiphany today.
When I say we celebrated, I mean we lit a candle for Baby Jesus, cooked a big dinner, cleaned like maniacs, and gave Grace a few presents. Oh, and we talked about the Three Kings and Baby Jesus with Grace.
Officially, the Epiphany is this Wednesday, but it was easier for us to celebrate the holiday on a Sunday, when both sides of our family could come to visit.
So, we tried a new dish today. That is so unwise, really, to serve a brand new dish when the whole family is coming over, but it's what we did. It turned out to be a wonderful and delicious addition to our holiday table. You'll love it, too.
I went ahead and tried this casserole side dish today, even though I'd never made it before, because I love sweet potatoes, and every holiday feast deserves a good sweet potato dish. At least, I think it does.
I've been making candied sweet potatoes for pretty much every holiday ever since the beginning of my cooking journey, and they are delicious, but after having them just 12 days prior (at Christmas dinner), I thought we could maybe use something a little different.
I wanted sweet potatoes, but I didn't want them drowning in melted marshmallows and sweet syrupy sauce. So, that's where this recipe comes from.
How to Make Slow Cooker Sweet Potato Casserole
Cook the sweet potatoes according to your preferred method. We pierced our with a fork, put them in the microwave, and pressed the baked potatoes button. Easy peasy. When they're tender, allow them to cool slightly and then peel them. The peels should come off pretty easily once they're cooked. (Alternate method: Peel before cooking. Cut sweet potatoes in chunks and boil until soft. I think you lose some of the healthy nutrients when you boil them, but they taste just as good this way.)
Mash the cooked potatoes.
Mix together the mashed sweet potatoes, white sugar, ½ cup melted butter, evaporated milk, eggs, and vanilla. Scoop into the crock of your slow cooker.
Mix together ⅓ cup melted butter, pecans, brown sugar, and flour. Spoon on top of the sweet potato mixture in the crock.
Cook on low for 3-4 hours or until the topping is melted and gooey.
THE REST OF OUR THANKSGIVING MENU
We don't get creative with our Thanksgiving menu. We like routines. We like the comfort of the same old food.
And for the leftovers, try one of these delights:
You can read more about my easy and traditional Thanksgiving menu.