Parmesan roasted carrots are crispy and sweet, and the addition of the crunchy Parmesan cheese sends them over the edge to amazing. Your family will devour these carrots at holiday meals and everyday dinners. Always double the recipe if you want leftovers because these carrots disappear quickly.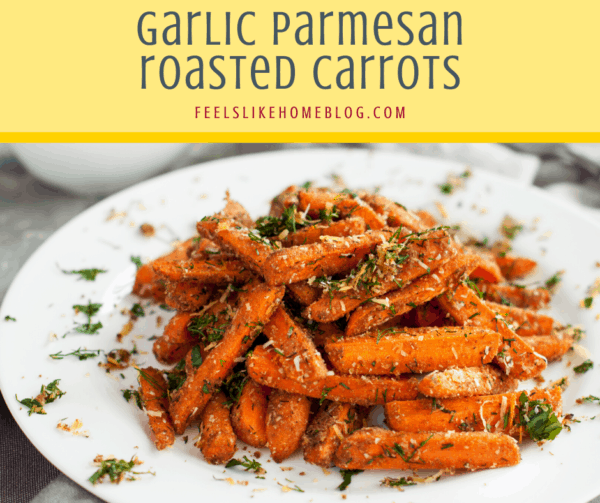 We are always on the lookout for good, low carb vegetable dishes because, on my bariatric diet, I eat about 5 ounces of meat with 3 ounces of vegetables for every lunch and dinner.
That's what I eat, day in and day out, and will for the rest of my life. No sugar, and very few carbs outside of vegetables and limited fruit.
So we need a little variety because plain old steamed veggies get pretty old pretty fast. I have come to hate plain old steamed vegetables.
That desperation is where this recipe came from. I knew I liked roasted vegetables better than steamed, and Joe suggested throwing a bit of Parmesan cheese on top of the carrots. The cheese would melt and then get crispy in the oven, giving a new texture to the carrots.
The Parmesan cheese adds some calories to the carrots, but it's pretty minimal and makes the carrots taste so very good.
The recipe tells you to slice carrots on a mandoline. This is an excellent one that will get your carrot slices much more uniform than all but the best knife skills can. It's important to have uniform slices or else you will have some carrots that are overcooked and mushy and some that are undercooked and crunchy. Uniform slices means they will all be perfectly cooked at the same time. I have had a mandoline for at least 20 years, and I would never cook without it.
In fact, I wrote a whole post about it many years ago - 10 Things to Make with a Mandoline. Check that out to see why you need one of these handy gadgets in your kitchen.
Our favorite carrots
These garlic Parmesan roasted carrots are one of my most favorite vegetable side dishes, and they are the single vegetable that my kids ask for consistently. They won't eat broccoli or cauliflower or peas, but they ask for Parmesan roasted carrots at least once a week!