7 simple & easy activities to keep math alive and fun over the summer. Primarily for elementary school aged kids but can be adjusted for older or younger.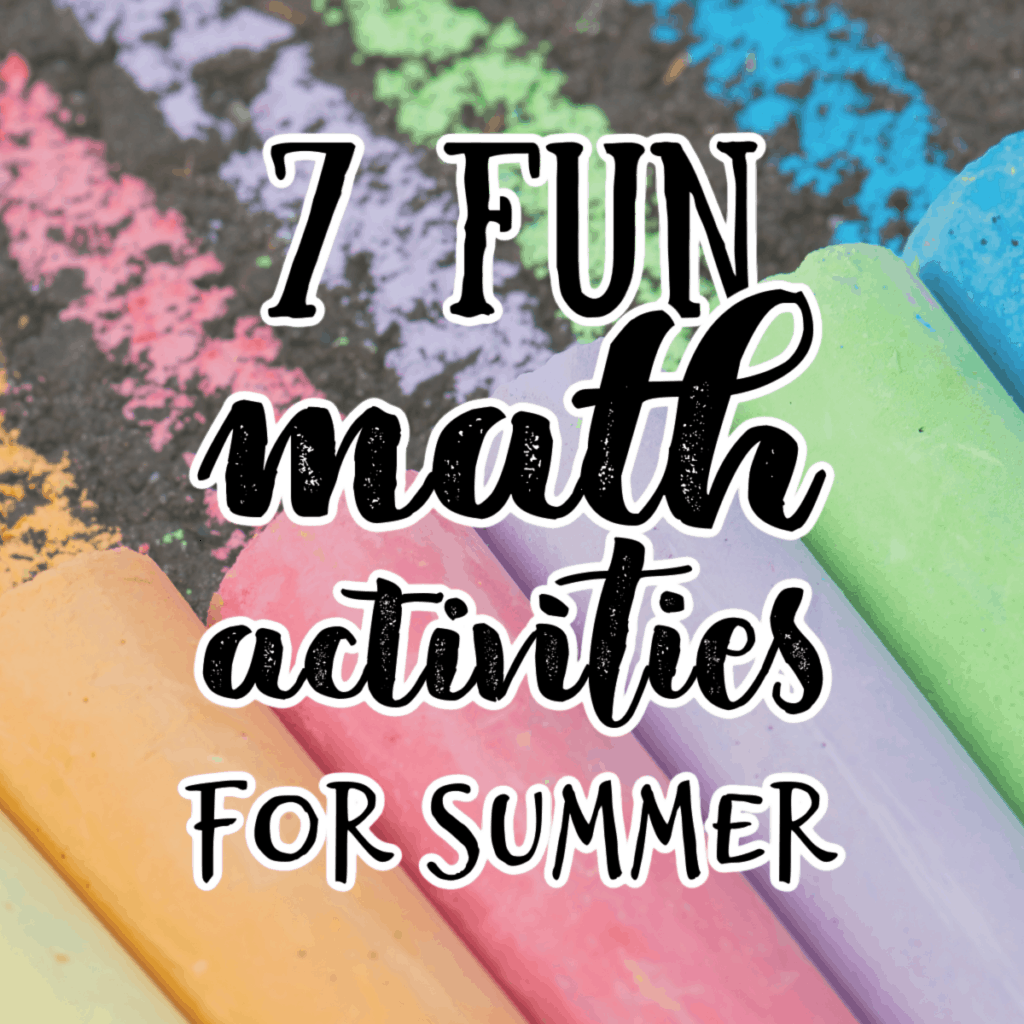 I have written a number of times about making sure your summer is intentional, and I was even interviewed on Good Morning America last year about the same.
What is an intentional summer?
To me, an intentional summer is about choosing how you want to spend your time and planning ahead to make it happen.
Because if you fail to plan ahead, you and your kids will end up doing exactly nothing all summer long, and school will start in the fall, and you'll think, "But what about all those fun things we wanted to do?!"
And it will be too late.
What should be part of your intentional summer plan?
This year, I am being intentional about homeschool work (we slacked off A LOT over the last couple of months), about relaxing at the pool, about having fun with my girls, and about working on my blog.
I know all of this because I worked through the questionnaires and prompts in the Intentional Summer Planner. If you want to be more clear and intentional about how you're going to spend your summer, I strongly suggest you do the same.
Don't misunderstand me: I am not telling you to pack your summer schedule with activities.
DO NOT DO THAT!
Summer should be relaxed and relaxing, not packed with one frenetic activity right after the other.
What I AM telling you is that you should decide what you want your summer to look like - now, before we get any further into it - and then structure your days and weeks around that ideal.
Maybe you want your summer to include lots of relaxation at the pool (like I do). Fine, then make sure you don't have commitments at least a few days a week so that you are free to pack up and go. (We go right after work at least 2-3 times a week!)
Maybe you want your summer to include lots of field trips to museums and science centers. Great! Make a list of all the ones you want to visit, put the dates on your calendar, and be ready to go.
Maybe you want your summer to include lots of hikes and visits to playgrounds at national, state, and local parks. Fun! Gather lots of sunscreen and bug repellant and decide which days of the week will be reserved for those trips.
My point in all this is that your intentional summer can be whatever you want it to be, but in order for it to be so, you will have to decide what you want and put it on the calendar.
It will never just happen on its own, despite your best intentions.
Setting learning goals for the summer
As I said above, one of the essential elements of my intentional summer is learning. Over the last couple of months, my kids and I have neglected schoolwork in favor of more fun and more interesting pursuits.
Sometimes, especially when I had a lot of work calls (which I often do), it was just easier to agree to someone watching Minecraft YouTube videos than to prompt her to practice math facts. Or it was easier to ignore endless hours of Genshin Impact than to hold her to completing her history readings.
You know how it goes. I know you know.
Sometimes, we need peace and quiet, and we just aren't able or willing to fight the fight that we know needs fought. It happens.
I have structured systems around getting schoolwork done this summer. There are rewards for obedience and punishments for failing to achieve learning goals. It's all very realistic, but it will require hard work and perseverance on the part of my children - and myself.
My kids are not at all happy about restarting official school lessons in June, but the way I see it, they had their break in March, April, and May, so it's time to get back to work.
What if you don't want your kids to hate you?
Well then, maybe don't make them do real schoolwork over the summer. Focus instead of fun activities like those below that inspire learning without actual math lessons. I have gathered together a few ideas to help you do this.
Math is an area in which a lot of moms and kids struggle, so I wanted to share with you some very simple, easy, and FUN ways to work on math this summer without making them feel like school never ended.
The ideas that follow are appropriate for school-aged kids. If you have preschoolers or even toddlers, check out the suggestions in this post on fun math activities.
1. Foam numbers in the pool
Foam numbers and letters are great for young kids to play in the bathtub, but they can also be great learning tools for the pool.
Use foam numbers to take turns creating floating math problems on the surface of the water.
Or play games where you call out a math problem, and your kids find the numbers that make up the answer.
Or challenge them to find a certain number when you call out a math problem.
For really young kids, you could just throw the numbers in the pool and have them recognize and find the right number.
2. Sidewalk chalk math
Something about sidewalk chalk is fun and exciting, and when you put water balloons with it, you have instant fun.
For an active way to work on drilling math facts, use chalk to write out numbers on the ground and then call out math problems and have your kids to jump, hop, or skip to the answer.
You could also have your kids throw water balloons at the answer. How much fun would that be?
When children get their full bodies involved in learning, they activate different parts of the brain, helping them to better remember the facts. When you make the whole thing a game, your kids are going to have fun and not care that you are making them practice math facts.
3. Cooking up frozen treats
Cooking is a great way to work on fractions with your child.
In the summertime, it may be too hot to bake (although we do it in my house), but you can take advantage of recipes for your favorite frozen foods. Your kids will be practicing fractions and following directions and making delicious sweet treats at the same time.
Here are some recipes to try: ice cream in a bag, dirt pudding pops, sweet peach tea popsicles, root beer float ice cream, and no churn Oreo ice cream pie
4. Ice cream truck math
You can do this either with a real ice cream truck or a pretend one.
If your neighborhood has an ice cream truck, take a photo of the menu one week and allow your kids to decide what they'll order for the following week. Have them do the math to decide how much you will owe, give them the money, and have them tell you how much change you should get.
Or, if you don't have an ice cream truck, make it a game. Have your kids come up with their own ice cream truck menu, and you can order what you want. They will still have to calculate the total cost and make change.
In either case, you have to follow through and buy the treats! Let them enjoy the fruits of their math labor.
5. Water measurements
Another great way to work with measuring and fractions is to take cups, jugs, and bottles into the pool. Use it as an opportunity to explore volume and measurements.
How many cups fill a quart jug?
How many teaspoons fill a cup?
What does it take to make this bottle half full?
While we can look at charts on these measurements all day long, at the end of the day, actually measuring liquids is what they will remember. (That, and making ice cream! See above.)
6. Math board games
Summertime is the perfect time to have family game nights because the kids don't have to worry about getting up for school.
When it is too hot to play outside or on a day when it rains, you can take advantage of a bunch of board games for a fun way to practice math skills without realizing it.
Prime Climb - This is my #2 favorite board game, right after Scrutineyes (which is no longer available). I love Prime Climb so much that I play it all by myself!
Prime Climb is a brightly colored game that's designed to for the entire family, young and old, with varying math skills. It's perfect for family game night and because it makes basic math less stressful.
Basically, you have to get around the spiral path by adding, subtracting, multiplying, and dividing numbers. It's super fun.
Money Bags - Amazon tells me that I bought this game in 2013, and it has been used consistently ever since. Basically, you have to earn money by doing different things, and then you lose money for other things, and the person with the most money at the end is the winner. It uses real denominations, so it's great practice for kids to get used to using money without actually taking your coins.
Sum Swamp - This is a highly rated game for kids ages 5 and up where you have to race through a swamp by completing math challenges. It's a little more school-y than Prime Climb, but the graphics and silly animals make it fun for kids and adults.
For more family game night fun, check out the best family games that don't involve reading and the best family games for tweens & teens.
7. Online games and apps
I put this last on the list for a reason. I don't want my kids to spend any more time than absolutely necessary in front of a screen (because that's their favorite way to spend their free time, and I don't want to require them to be in front of it any longer).
However.
Their favorite thing is screen time, so I try to meet them where they are.
I have followed Math Geek Mama for years and was one of the earliest members of her membership site (which she no longer offers). I have stayed on her mailing list all these years, and when she released some math apps for iPhone, I jumped.
I have my kids' phones set up to restrict their app usage after a certain number of hours have elapsed per day, but their math apps and music apps are always available (even after the time expires). This way, if they are really desperate to use their phones, they can only listen to music and do math practice.
And, believe it or not, sometimes they actually do choose math!
I am having trouble finding a link to Math Geek Mama's apps on her site, but if you go to the app store for your device and search for her, the apps should come up. That's how I found them. Our favorite right now is multiplication.