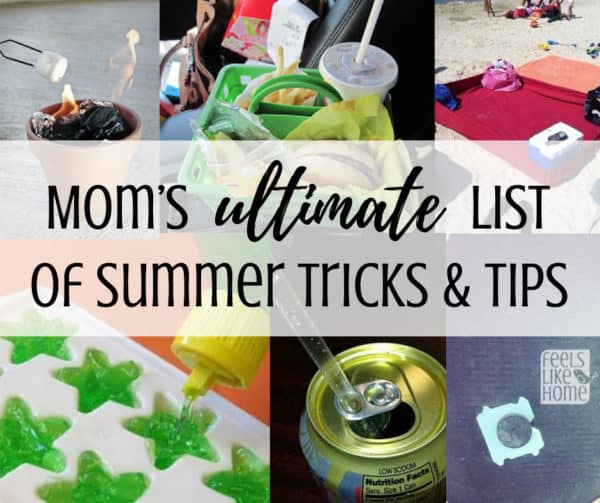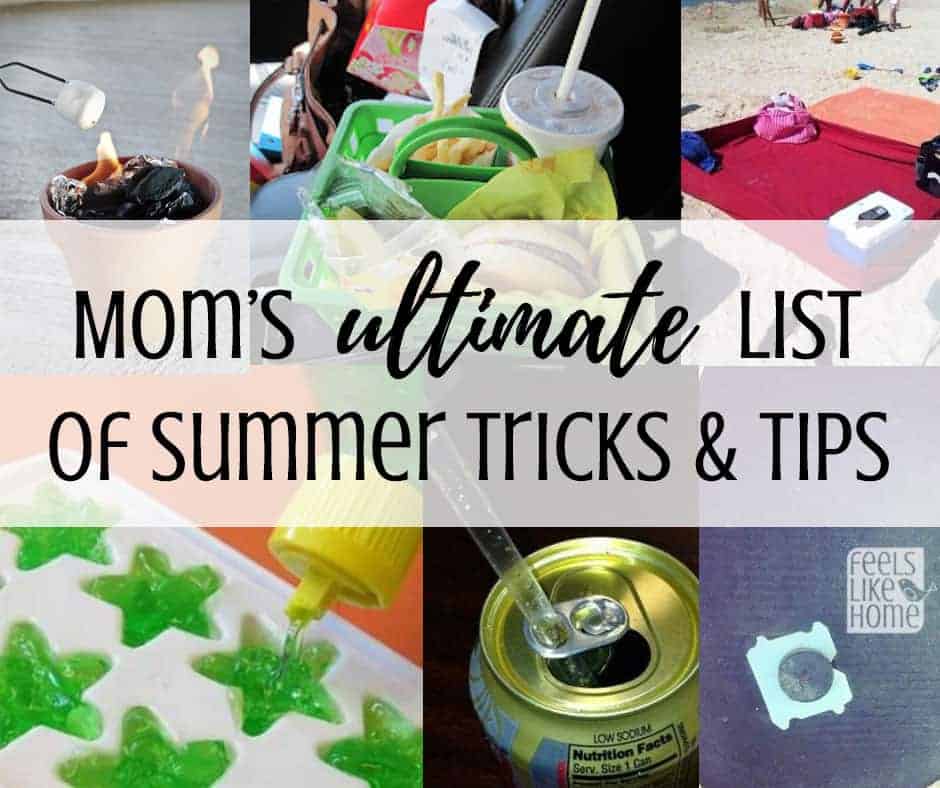 Summer is here! Can you hear me stretching out the heeeeeeere? It is now, and I am so excited.
I am excited because summer for us is simultaneously busy and wide open. I plan a lot of stuff for my girls during the daytime (camps and such), but the weekends and evenings are filled with ice cream and gardening and catching fireflies and lazing poolside. It's the best.
I planned out our summer this year using my Intentional Summer Planner, and I would encourage you to do the same. It gives you the opportunity to choose a heart goal for the season and then use feedback from your husband and kids to figure out how to spend all those many days ahead of you in a way that stays true to your goal.
No matter what you do with your summer, whether it's packed full of organized activities or lazy and uneventful, you will be able to use the hacks below to make your tasks easier and more streamlined. Each title links back to the original article where I found the tip.
Mom's Ultimate List of Summer Hacks, Tips, & Tricks
Plan ahead. I know I mentioned this above, but make sure you set a goal for the summer and use that goal to evaluate all the shiny opportunities that come along. Want a relaxed summer in the air conditioning? Then don't say yes to all the picnics and outdoor opportunities. Want a nature-filled summer spent in the sunshine? Maybe the dollar movies aren't the right thing for you. Establishing a goal is the first step to enjoying the summer with your kids.

Get your kids busy. Bored kids are whiny kids. If you're looking for a way to get your kids to take charge of their own entertainment this summer, click over to this post

where I have created a unique,

card-based list of 150 of the best screen-free activities for elementary kids up through teens.

Make a tabletop fire pit. This is genius! They used a terra cotta pot lined with aluminum foil and filled with charcoal to make a little fire pit that could sit right on the tabletop for s'mores. So simple and yet so creative!

Use bread tags to keep your flip flops together. This is another one that's pure genius. Flip flops in my house are constantly pulling apart, but if you pop a bread tag on the bottom, it will keep them together without adding bulk underneath.

Make a beach bag/pillow/blanket out of a towel. All you need is a sewing machine to create this super cute and super functional bag out of a large beach towel. You sew a pillow into it, and it can fold up to hold your essentials or unfold to make a single-sized beach blanket and towel. I think this would be awesome for the beach or the pool.
Get rid of sand when you leave the beach. My good friend Heather, who lives in Virginia Beach, gave me this trick more than 10 years ago. She told me to bring a travel-sized bottle of baby powder along with us and dust ourselves with it just before getting in the car. It works like magic! The baby powder absorbs the moisture on your skin, and the moisture is what makes the sand stick. Remove the moisture and the sand brushes right off. It really works!

Use toothpaste to take the itch out of bug bites. Full disclosure - I haven't tried this one. But Wikihow says you can rub a dab of toothpaste into your mosquito bites to take the itch out. Sample sizes of cheap toothpaste are a lot cheaper than hydrocortisone itch cream, so this is economical.
Freeze water bottles. I have been talking about this one for years, too, though it only works for non-insulated bottles like glass or those plastic Nalgene ones. If you fill your bottle halfway with water and lay it down in the freezer overnight, the water will freeze. Fill it the rest of the way with cold water when you want to use it and the water will stay icy cold as the ice melts throughout the day. (I started using insulated stainless steel bottles a few years ago, so no longer need to use this trick.)
Keep ice cream soft and servable. The key to this is to store the ice cream in its original container inside a gallon-sized freezer bag. Easy peasy, right? There is some magic that I do not understand at work here, but your ice cream will stay as soft as when you first brought it home.

Quickly chill your drinks. No one wants a warm drink in the summer, especially not a pop or a beer. This YouTuber claims that you can chill any can or bottle in 2 minutes using some salted ice water. Take a look and try it for yourself.


Use the tab when drinking from a can. Allie has been doing this one for years. When you're using a straw in a can, all you have to do to keep the straw down inside (as opposed to being pushed up by the bubbles) is to turn the tab around and run the straw through it. Makes life so much easier!

Make popsicles drip-free. This is another tip that I've been seeing for years, but that's because it's so good. All you have to do to keep your popsicles from dripping all over your hands is to slide a cupcake wrapper up the stick, just under the popsicle itself. The wrapper will catch the drips and leave your (and your kids') hands mess-free.

Freeze aloe gel. No matter how diligent I am about hats and sunscreen, Allie and I always seem to burn at some point in the summer. I am writing this with a blistered sunburn all over my shoulders and back. It just happened. Anyway, I squeeze aloe gel out of the bottle it comes in and into ice cube trays and freeze them. The ice cube will take the heat out of your burn quickly, and the aloe gel will help your skin to heal.
*Note - Follow your skin's guidance here. Too much ice can give you frostbite, so if the icy gel causes additional pain, just apply it normally out of the container.

Highlight your hair. Women have been doing this for decades for a good reason - it works! Squeeze some lemon juice and pour it into a spray bottle. When you're going to be in the sun for a few hours, such as at the beach or pool, spray a liberal amount onto your hair and let the acid and sun work their magic. It's so much safer than chemical treatments, and it will give you natural-looking highlights.
Bag your phone. When you go to the beach, sand gets everywhere. Keep your phone or tablet safe by sticking it in a zippered freezer bag. You'll be able to use the touch screen right through the bag and it will stay clean and dry. Make sure you use a clean and dry bag so that you don't accidentally muck up your phone.

Take a fitted sheet to the beach. Here's another smart tip for going to the beach. When you take a blanket, sand always gets kicked up over the edges and into your stuff. If you take a fitted sheet and turn it upside down, you'll have ready made barriers against the sand. Take a look at the photo below and you'll see what I mean. Just make sure you put tall things like coolers and beach bags inside the corners so that the sheet stands up nicely.

Give yourself a sun tattoo. These are really fun, especially for tweens and teens who are going to be out in the sun for a long time. Apply your sunscreen first, then use white glue to draw a thick design on your exposed skin. The glue will block the sun from reaching those areas, leaving them lighter than the rest of your skin.

Freeze drinks to keep them cold. If you're going to be drinking out in the heat (and you should be!) but don't want your drinks to get watered down by ice, simply make ice cubes with the drink. This would work with milk or chocolate milk, lemonade, iced tea, or coffee, and maybe even with carbonated drinks (but I've never tried that). Plop those cubes into your drink instead of water ice, and your drink will stay cold without getting watered down.

Buy food caddies for your kids. These are great for all year, not just the summer, but summer is the time when a lot of us do road-trips, so I'm including it. All you need is to buy cheapo shower caddies at the dollar store, and give one to each kid. One shower caddy will hold an entire happy meal, including the drink, so that nothing gets spilled in the car.

These hacks will keep your summer organized and mess-free this year! Together with my Intentional Summer Planner, these tips and tricks will make this one your best summer yet!
What other summer tips and tricks do you have in your wheelhouse? Share them below in the comments.