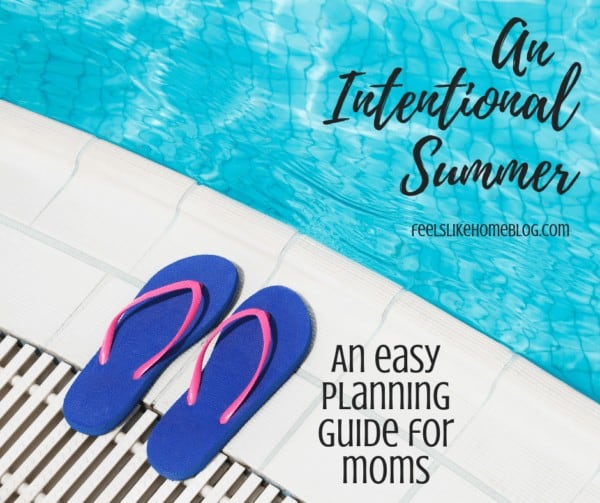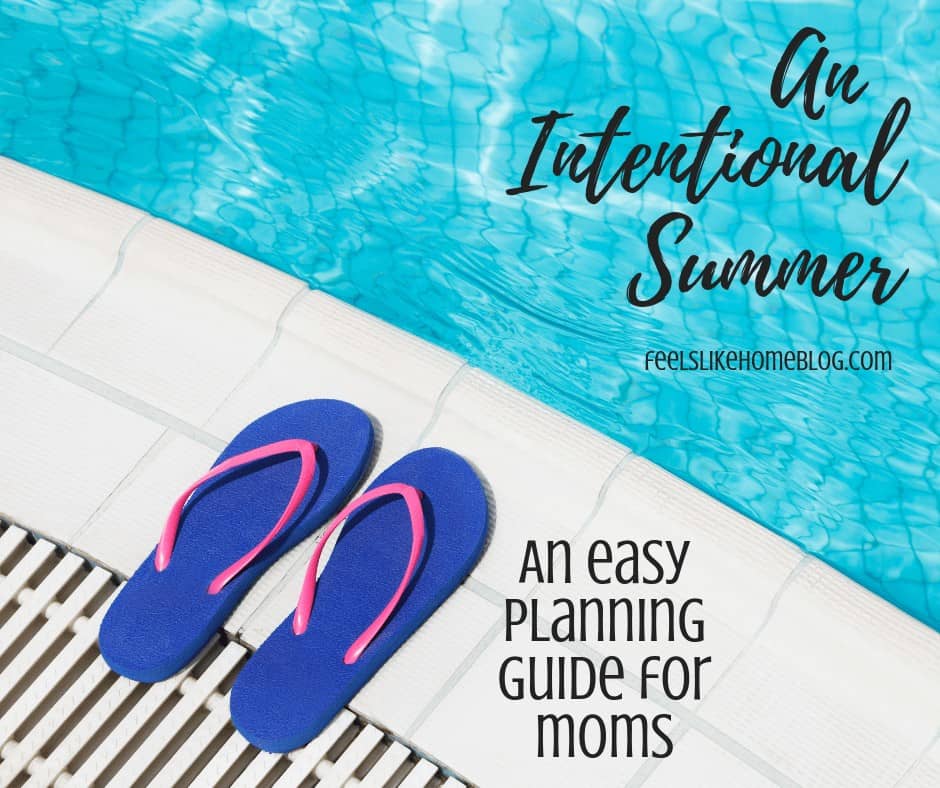 Today is the first unofficial day of summer which means distance learning will be over soon if it's not already.
I don't want my kids to spend their days and weeks staring at YouTube stupidity or watching inane TV shows (although I'm sure they will do plenty of that). I want them to experience the zoo and campfires and nature studies. I want them to read good books and clean the cat boxes and exercise.
Whether you are a working mom whose kids go to daycare or camps (are they even having these this summer?) or a mom whose kids are home all the time, you need a plan to make the most of your summer.
7 Tips for Creating an Intentional Summer
Plan ahead. This is the foundation to an intentional summer where you wind up at the end feeling good about the way you and your kids spent your time.
I've created an awesome planning guide to help you identify your heart goal for the summer and build an awesome structure around that, choosing the activities that fit into your schedule in a purposeful way, letting go of those that don't mesh with your heart goal and fully embracing those that do.
Create a routine. If you work, you probably already have a routine from when school was in session, and it may be working great. If so, skip ahead to the next point. If you don't have a routine, you MUST get one worked out. If everybody gets up in the morning, does their own thing until lunch, snacking here and there and watching screens, eats lunch together, then hangs out making messes all afternoon, you are going to quickly lose your sanity. You will be pestered all day every day by people who want food. You will spend all your time cleaning up messes and mitigating fighting. It will be a disaster; I speak from experience.
Instead, if you set out a simple routine, like this:

Wake up
Breakfast - prepared by kids when they wake up
Chore time
Drawing, coloring
Snack - 10 am
Playing with toys
Clean up
Lunch - noon
Quiet time - rest, read, or do puzzles
Screen time
Snack - 3pm
Outside time
Dinner - 5:30pm
Family time
Get ready for bed - 9pm

I don't personally assign times to most things because timed schedules make me twitchy. They generally don't work out for me because someone gets a stitch about something and wants to do that thing longer and then the schedule gets all messed up.
I used to assign hard times to snack and meal times, but I don't even do that anymore. My kids know where the breakfast, lunch, and snack foods are, and they help themselves as they need. They are independent where food is concerned, and I love not having to be bothered in my workday every time someone wants a snack.

Get up early.

You may be tempted to ditch your alarm clock and just wake up naturally once the summer hits, but trust me - you will be much happier if you keep getting up early, at a minimum 15 minutes before your kids. I get up between 5:45 and 6:00, and when I hit snooze and sleep in, I regret it every. single. time. If my kids get up before me, I regret it even more. I feel harried and behind all day because my kids are peppering me with requests and wanting my time and attention before I've had time to properly start my day.

Keep doing your quiet time. If you've got a good habit of reading The Word and praying in the mornings (or any time), keep up with it. After all, sin and the pressures of the world don't take a vacation just because your kids do. You will feel happier and more centered if you keep up with your quiet time during the summer.
Get your work done early. Notice in my sample routine above that I have chore time right after breakfast? This sets a good habit for you and your kids and ensures that the work gets done first thing before the day gets busy with fun. If laundry needs to be put in the washer, do it early in the day. If the kitchen needs to be cleaned, get it done right after breakfast. Vacuuming, dusting, mopping, whatever. If you get it done early, you won't have to worry about it the rest of the day and you can focus on fun.
Take time to rest. You will also note in the routine above that I left time to rest right after lunch. If you aren't getting enough sleep at night and your kids are old enough to be left alone, take a nap! If you don't need a nap, then at least settle down with a good book or audiobook for a half hour or so. And, if you fall asleep during that reading or listening time, it's a good indication that you're not getting enough rest at night. Just saying.
Check out the Feels Like Home Reading Challenge here and my audiobook reviews for moms here.
Menu plan. Menu planning is always important, and most of us neglect it. If you plan ahead, you will know what you're eating and remove a major decision point on busy summer afternoons. If you've planned, it's much more likely that you'll actually cook and avoid take out or eating in a restaurant. BUT be flexible and know that you may be out too late to get it done or need to shift things around. Treat your plan like a guide and don't worry if you have to move a meal to another night. Check out Meal Planning Made Easy which is the meal planning and recipe binder system that we use at our house.
Summer can be super fun if you have a plan and super draining and exhausting if you don't. Without a plan and heart goal, you'll have no measuring stick to evaluate activities and opportunities and you'll likely say yes to much more than you can handle. My intentional summer planning guide will help you to set all that planning in motion, create a heart goal, and get the most out of your super fun summer.
I'd love to see how you're using your planner, so be sure to share pictures on my Facebook page or tag me on Instagram - it's @feelslikehomeblog there.
You can do this, mama. I've got faith in you!