The best audiobooks for women - Includes romance, Christian lit, historical fiction, memoirs, and non-fiction; both fiction and non-fiction. Great ideas for libraries, including some new books and older ones.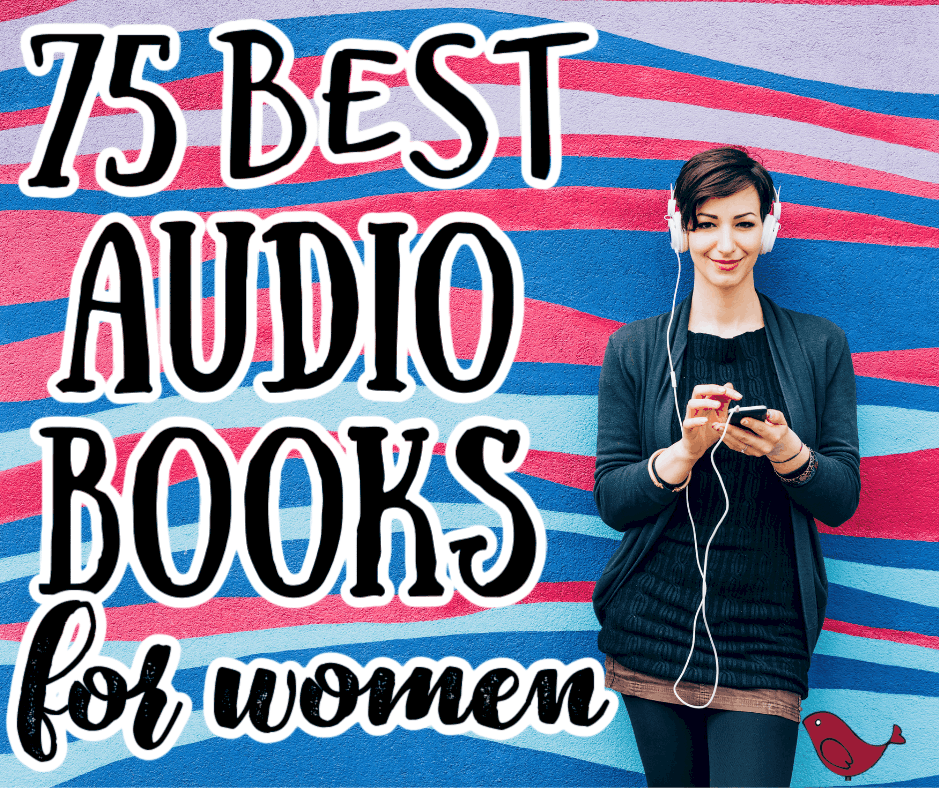 UPDATE: Get 3 months of Audible for FREE!
Have you wanted to try out Audible, but found the $14.95 a month cost prohibitive? You're in luck because I've got the best deal we have ever seen on Audible subscriptions.
Right now all new Prime member subscribers to Audible.com can get three months of Audible.com for free!
That's a savings of $14.95 a month - can you ever go wrong with FREE? I have only seen this offered once before in the last 3 years.
Audiobooks can often cost $17-$25 each for the most popular books, which makes this an incredible deal. If you love audiobooks, or you want to read more but think you don't have the time, this is a can't miss deal on Audible.com.
Go here to get your 3-month Audible subscription for free!
Listening to audiobooks has literally changed my life because they allow me to consume so many more books. Once I started listening to them, I couldn't believe all the opportunities I found for listening – like when I'm driving, during my walks, while doing dishes, and even when getting ready in the morning.
Note: After the 3-month trial is completed, you'll automatically be charged $14.95 per month at the regular rate. If you no longer want to continue your subscription after the trial, go into settings and cancel your subscription (Amazon makes it very easy). This will prevent any automatic charges from showing up on your account. Or, you can call Audible and ask for the silver subscription, which is $14.95 every other month.
You will keep all the books you get during this trial, regardless of whether you continue your subscription or not.
This sale won't last long (just til July 31 as far as I know), so click right now to take advantage of it.
Plus, when you're an Audible member, you have access to the Audible Deal of the Day - a new audiobook every single day, usually either $2.95 or $3.95. You get one credit per month with your membership, and you can use that credit for any audiobook at any price, but if you pay attention to those Deal of the Day emails, you can get some phenomenal extra books for almost nothing. I would say roughly half of the books I've read in the last 6 months have been DotD books, and I haven't found a bad one yet.
Here's the link to get the Audible deal, and I've shared all of my favorite audiobooks for women below. These are the ones I find myself recommending over and over and over, although it's been years since I discovered some of them. They're the best of the best.
Can I get the Prime Day 2023 deal if I have had Audible before?
Possibly! Audible's algorithm is a mystery, so the only way to know for sure is to click this link and see what is offered.
If you don't see the Audible deal being offered to you, contact customer service to see if you can have the deal applied to your account. Click through to see if the deal is offered to you, and if not, send a chat or call customer service.
Here's what I would buy if I were trying out Audible for the first time:
(These are some of the best audiobooks of all time, but they are for adults, specifically women. If you're looking for audiobooks for kids and families, check out this post instead.)
---
Original post:
I listen to audiobooks every single day on my 60 minute walk around the neighborhood, and before that, I used to listen every day on my hourlong commute to work. If you've seen any of my Instagram live videos or Insta stories, you've probably seen me talking about the latest book and how much I love it.
I've been really lucky lately as far as audiobooks go. I've listened to a lot of awesome ones full of insight, and there have only been a couple that I wouldn't recommend.
One thing I also want to mention is that I have sent most of these books to Old Grandma who is 93. She devoured each one in less than a day and enjoyed them all. I share this because I think they are books with appeal to many different ages, but mostly to women.
I get all of my audiobooks through Audible. The rates are easy on the budget ($14.95 per month for 1 regular title plus unlimited titles from the Prime library), and I get to keep the books in my library forever. I upgraded to the 2 books per month plan, and it's still relatively inexpensive.
So, without further ado, here are the books I've been listening to, in order of my listening (newest at the top).
Currently Listening to:
Recent favorites:
Anyway, this is something like #13 out of a series of books about a police detective and her police detective husband and their police detective friends. As one might imagine, they solve crimes. In this particular book, a member of the police department goes missing, and then her lookalike sister turns up drowned, and then more people drown, and bad news surfaces from the family's troubled past, and it goes on and on. I really liked this story, although I didn't love it enough to go back and start the series from the beginning. Maybe someday. 4 stars.
And then in the second book, he follows a girl who's broken his heart in an attempt to get revenge, and he ends up falling in love with someone else and trying to be a better man for her. And he fails a lot. 5 stars for all four.
I also listened to The Unhoneymooners by the same authors, but I didn't love it. I spent ¾ of the book disliking the main character which wasn't pleasant. I loved the ending, but the whole of the book wasn't good enough to recommend.
This series is loosely based on real events in the years between 406 and 396 BC between Rome and Veii, but still, I would not have listened to Call to Juno if I had known how it would turn out ahead of time. So do yourself a favor and read only the first two and email me if you want to know how the author intended the series to end.
I also want to say that I saw the major plot twist in this book coming, and I think the author intended me to. It's pretty predictable in that sense, but the story that got to that point was well worth listening to. I never would have imagined what happened and how this person died and what happened to that person. The story left me reeling. 5 stars.
Also, this is the newest from Kate Quinn who also wrote The Alice Network (also below), and the main character (Eve) appeared in The Huntress for about three minutes which was a nice touch. The Huntress is also narrated by the same actress who narrated The Alice Network. 5 stars.
Oh, one more thing. This book has A LOT of colorful language, so if you are upset or offended by that, or if you can only listen in earshot of your kids, you may not want to listen. 5 stars.
The audiobook is read by M.O. herself which makes it even richer and more wonderful. Get this one. You won't regret it. But be warned - it is LONG. I ended up listening to it in bits and pieces, like 10 hours here and then fiction and then another 10 hours and then more fiction. I prefer fiction to non-fiction and needed to break up the reality, even though this was a really really excellent book. 4 stars.
Have you listened to any good audiobooks recently? I'd love to hear about them in the comments below.
For more self care recommendations (including book reviews), check out the Self Care Index.