My kids love to play with dough. They don't care if it's commercial Play-Doh or homemade play dough or salt dough or flour dough or cloud dough or something else. They just love dough.
I wanted to make them a different kind of dough since we make salt/flour dough all the time. (I've seen this recipe called Salt Dough and seen it called Flour Dough in different places, but I'm going to call it salt dough for the sake of this blog post.)
I decided the different element would be color.
Coloring salt dough is a tricky proposition (at least, it is for me). If you color it before mixing, it is all the same color. If you color it after mixing, it can change the consistency.
I have found that liquid color (liquid watercolors and liquid food coloring) dilute the dough and require more flour which, in turn, dilutes the color. That is a frustrating cycle for me.
I haven't experimented with gel food color, but I think it might work better.
This time, I tried powdered tempera paint, and I found that it worked quite well.
In this case, it made my dough a little too crumbly, but that was easy to remedy with just a little extra water. (Allie poured in too much water, requiring me to add more flour, leaving my purple a little less purple than intended. It still worked.)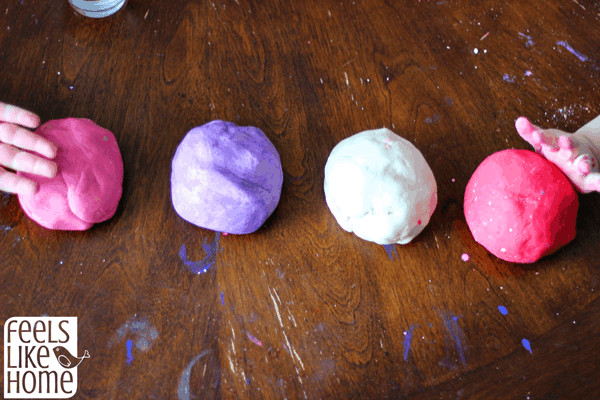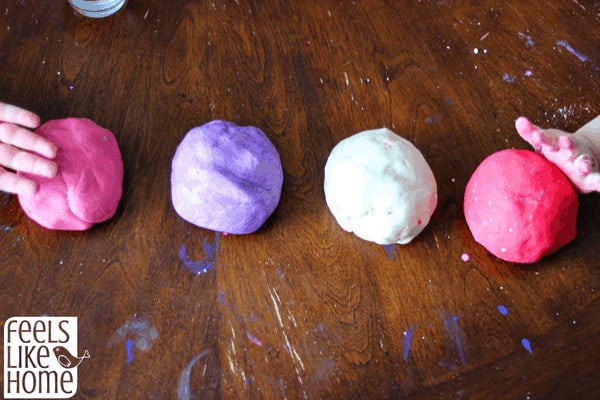 When you first mix the colors, it has a pretty marbled appearance like this: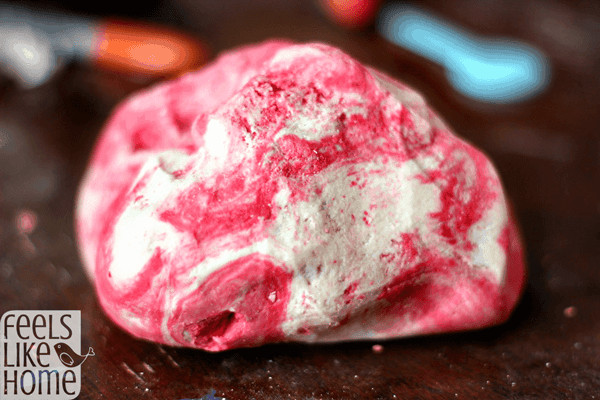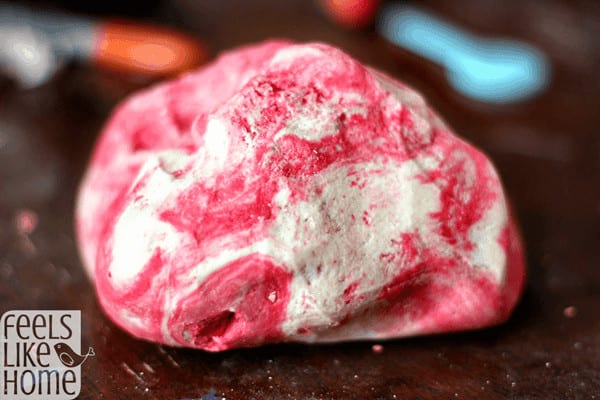 Allie made herself a bracelet using the marbled dough.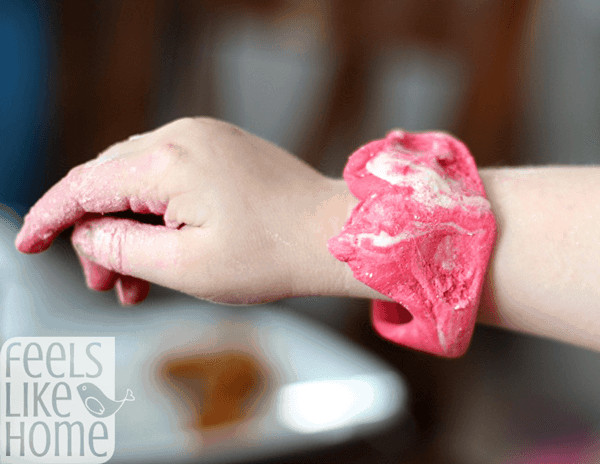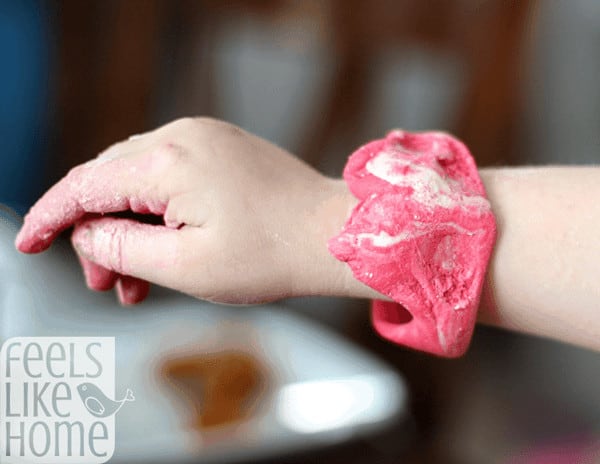 Grace used her pink and purple to make a cupcake.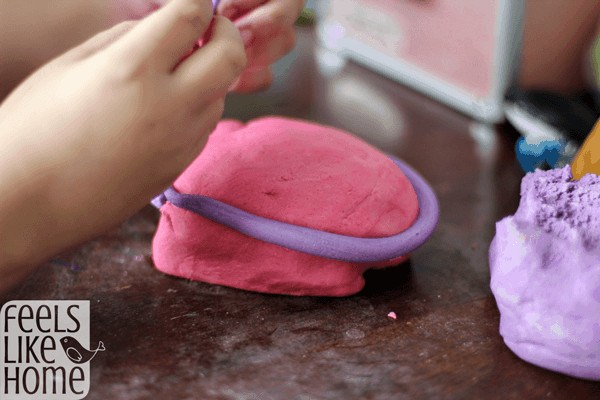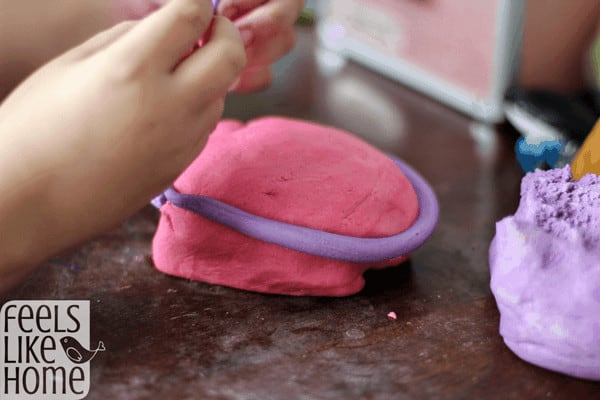 Then they asked if they could make footprints, which I thought was a terrific idea. They wanted to do it so they could say they stood on the table, which I pretended was okay for a few minutes.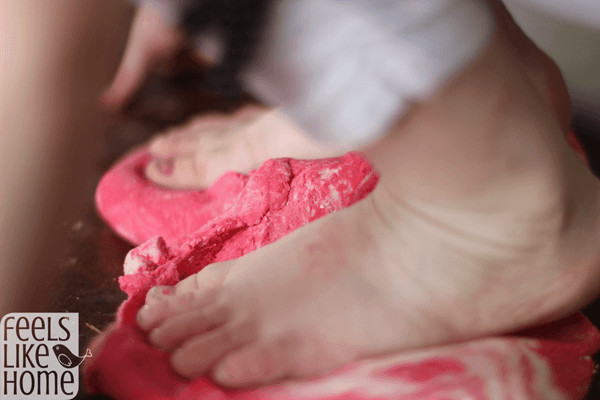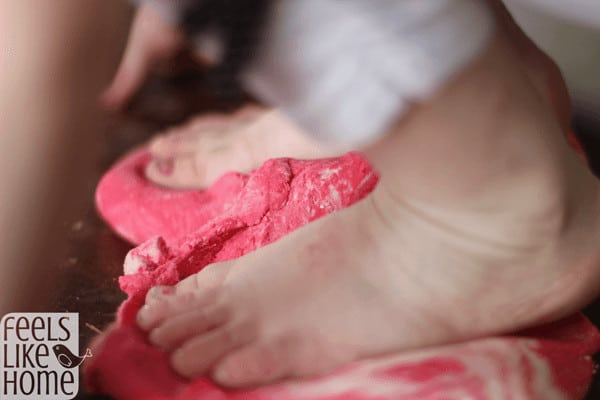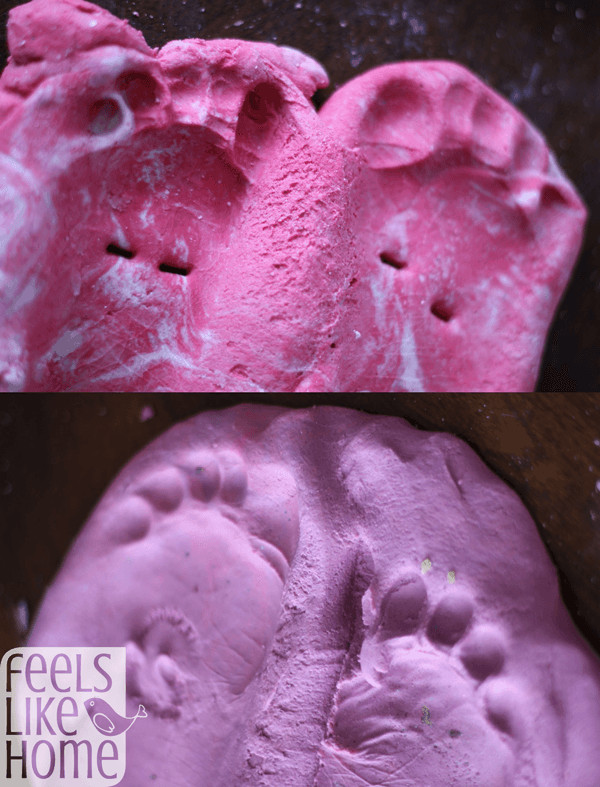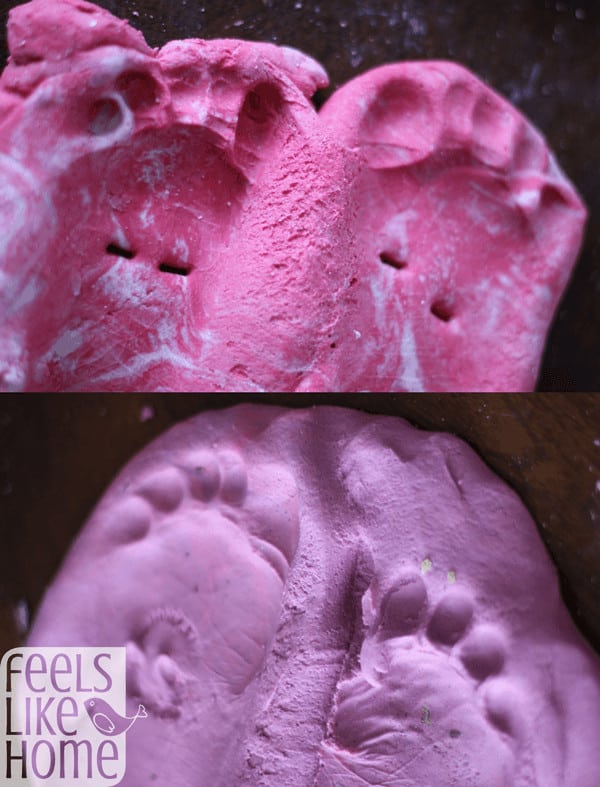 See in this photo how the colors are starting to blend together, looking more like a single color and less like a marbled dough.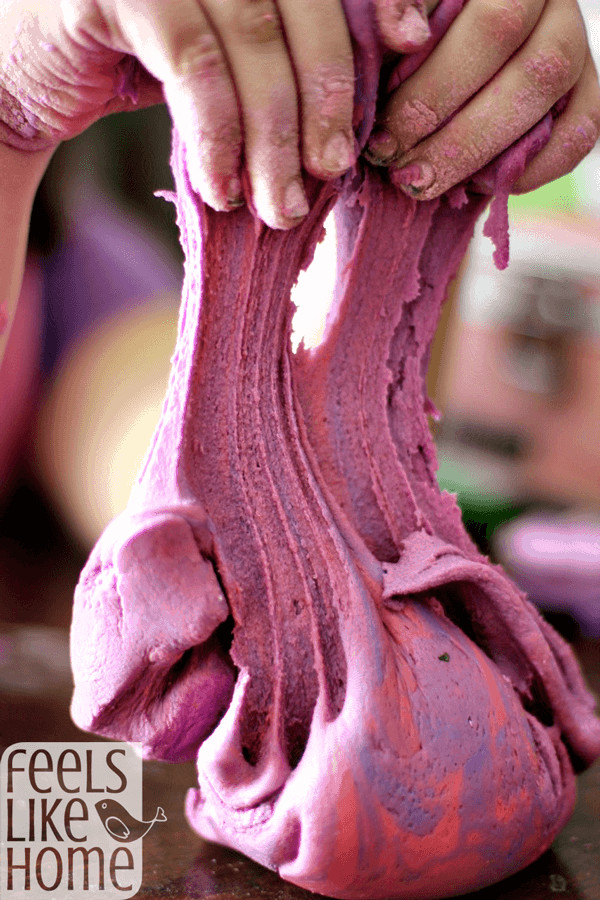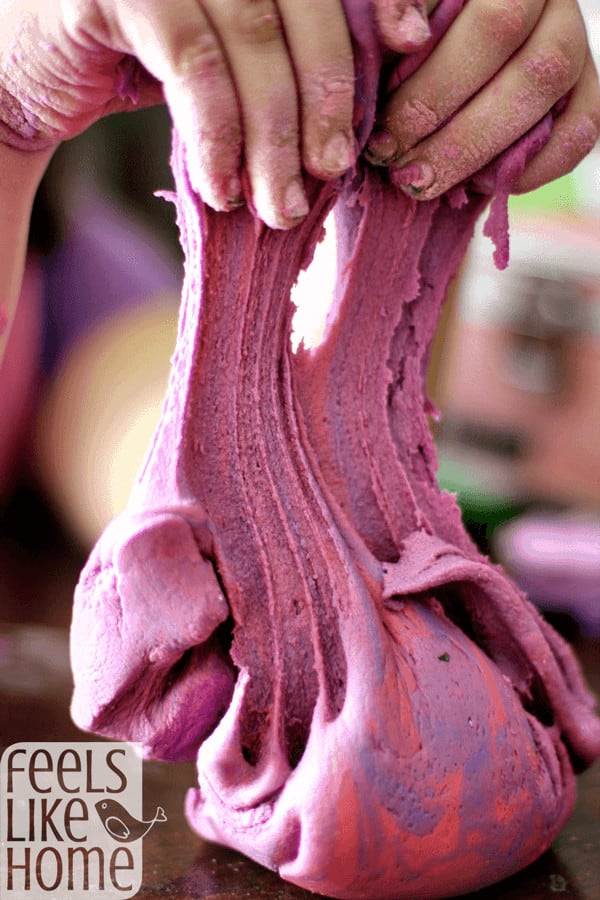 After baking, the dough gets hard. We picked out some of the prettiest cooked hearts for special projects.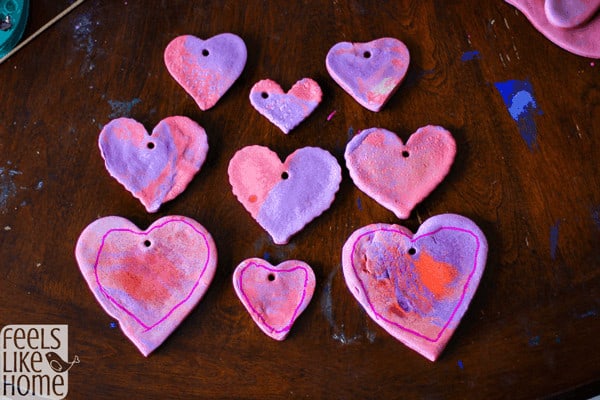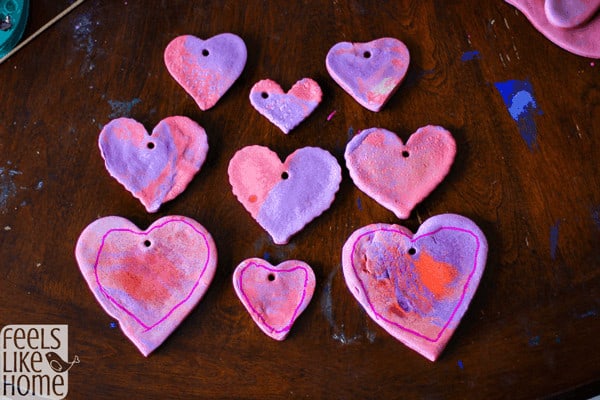 Like this necklace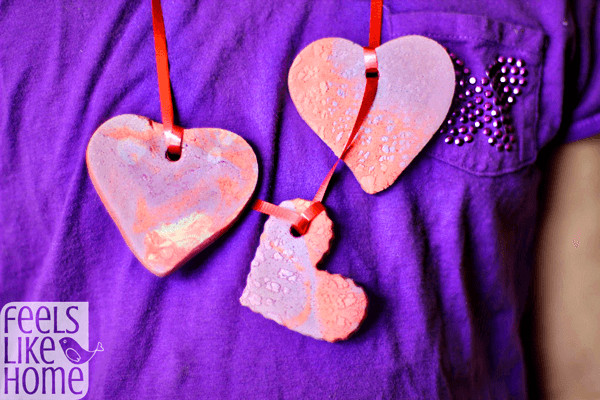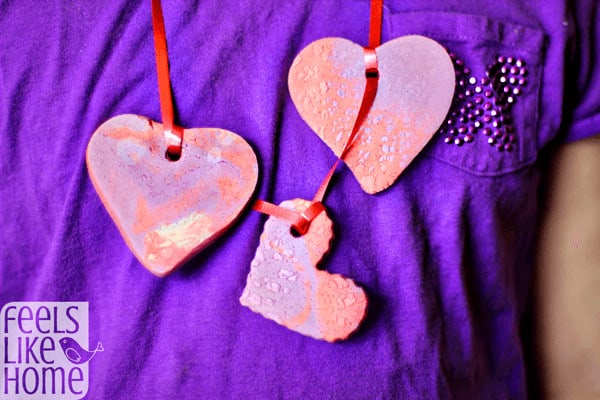 Most of the hearts were solid pink (because of lots of playing and kneading after we mixed the colors). We took a bunch of these hearts and colored them with Sharpie markers to make a garland to pretty up the turtle's tank.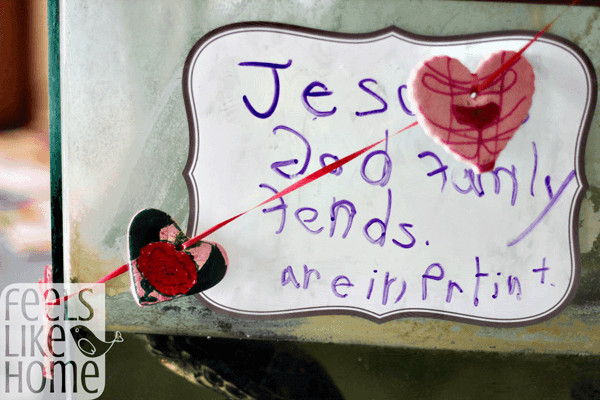 Nothing is going to make his tank pretty, but the hearts are a festive addition. These are all colored with Sharpies.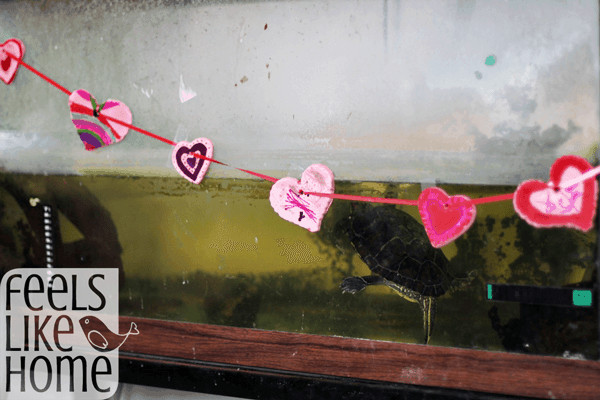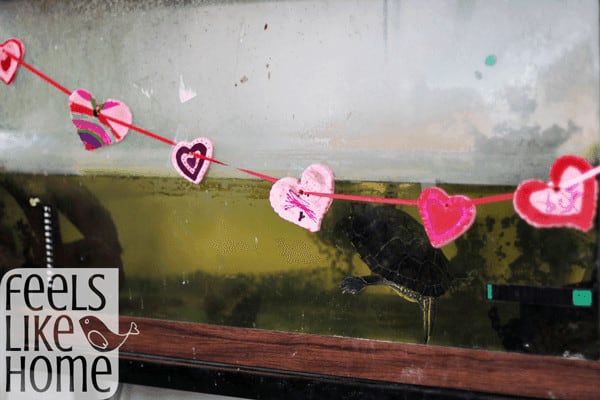 Do your kids like to play with salt dough? Have you ever colored it?