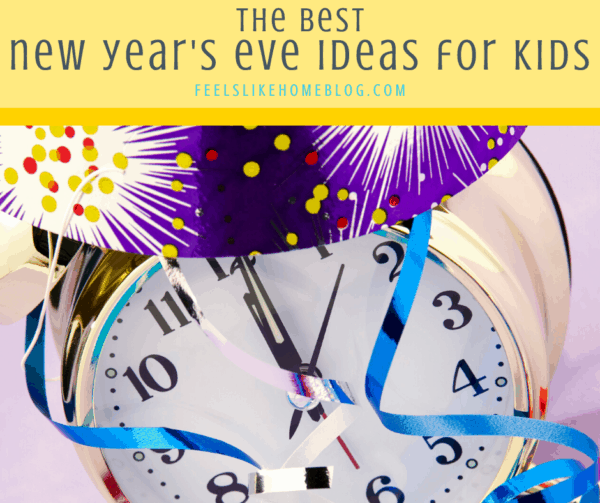 Joe and I like to celebrate New Year's Eve with our kids. In fact, we haven't celebrated like single people since we were actually single people.
I was pregnant and puking daily during our first New Year's Eve as a married couple, so I am absolutely certain that we just went to bed early that year.
Every year since that (except maybe not the year we had a 3-day old baby), we've watched movies, played games, and enjoyed a family party in the living room.
14 tips for throwing your own family New Year's Eve bash
First and foremost, you need to prepare the night before New Year's Eve. After your kids go to bed, set your clocks ahead 3 hours. Any clocks that your kids can see should be addressed. I know it's a pain in the neck, and you will have to turn them back to normal the next night, but it is essential to tricking your kids into going to bed at a halfways normal hour and avoiding the overtired meltdown that would otherwise occur on the afternoon of January 1 after they have stayed up until the real midnight the night before. (Obviously, this only works if they're under about age 8... Past that and they will probably need to stay up until the real midnight.)
Have a New Year's Eve countdown all day. When New Year's Eve falls on a weekday, I have had to work and couldn't start our countdown until the evening, but it is a lot more fun when we can start around noon. We have been doing this balloon countdown for five years, and it is always awesome. We do fun stuff all afternoon and then throw a "real" party around supper time.
Complete a New Year's interview. This is a fun way to remember what your kids liked and were like at the new year. We started this a few years ago, and it quickly became one of my favorite traditions!


Dress up to celebrate. It's fun to have a party in your finest clothes, so dress up for your evening bash! Put on your sequins and get ready to have a great time.
Decorate your party scene with lots of sparkles. Go for glittery streamers, sequined ribbons, and as much glitz as you can find.
Make party hats or buy them. Hats are tough because half of my crowd inevitably takes them off, but I think party hats make the event more fun.
Make noisemakers or buy them. Midnight is more fun if you have noisemakers.
Get out your stemware. If you're afraid to give stemware to your kids, either pick up some for 50¢ at the thrift store or go for disposable stemware. I personally love sparkling cider and drink it anytime people are drinking wine or champagne, so I would recommend stocking up on that for a big "midnight" toast.
Have a late night scavenger hunt. My kids love scavenger hunts and will eagerly do one anytime of the year.


Serve party food... Some of our favorites are buffalo chicken dip with crackers or mini rice cakes, hot pizza dip with Scoops, homemade hummus with pita chips, naan, or veggie sticks, and hoagie dip with bread. We also love a lot of different frozen appetizers like mozzarella sticks and pot stickers, all laid out on fancy plates.
...on festive party plates and napkins. I know it's another expense, but I think it really ratchets up the fun factor when you eat on plates that say HAPPY NEW YEAR!
Make a photo booth using a sheet as a backdrop. You can buy props for your photo booth, but if you have a Silhouette machine, you can make them with that and some glitter cardstock. I made my own last year, and we had a great time taking silly photos.
Do a video interview with each kid right before "midnight." You could ask the questions from my kids interview printable. You could write their answers or have them write the answers, but I think it would be so much more interesting in ten years if the answers were on a video.
Finally, you have to count down to "midnight." I keep putting midnight in quotes because this is the midnight that results from your turning the clocks ahead the night before, so it's really only 9pm, but your kids will be convinced that it's midnight especially if they are on the younger side. I have done this for years (since Grace learned how to tell time), and she has never been any the wiser. It's dark early, they are tired because they're up past their bedtime, and they believe that it's really midnight. Do a big countdown from 10 to 0, and have a toast and make lots of noise after, and then take them to bed where they will be asleep by 10 at the latest.
Would it really matter if you tell your kids that they're not allowed to stay up until midnight and that is that? No, it wouldn't matter at all. You could still count down to whatever time you choose.
How do you celebrate New Years Eve with your kids?