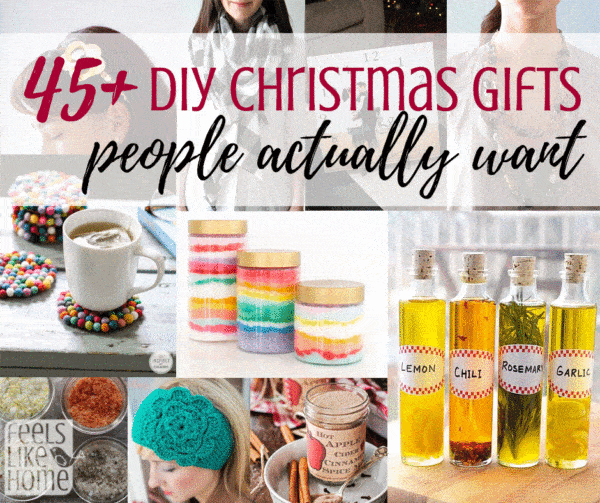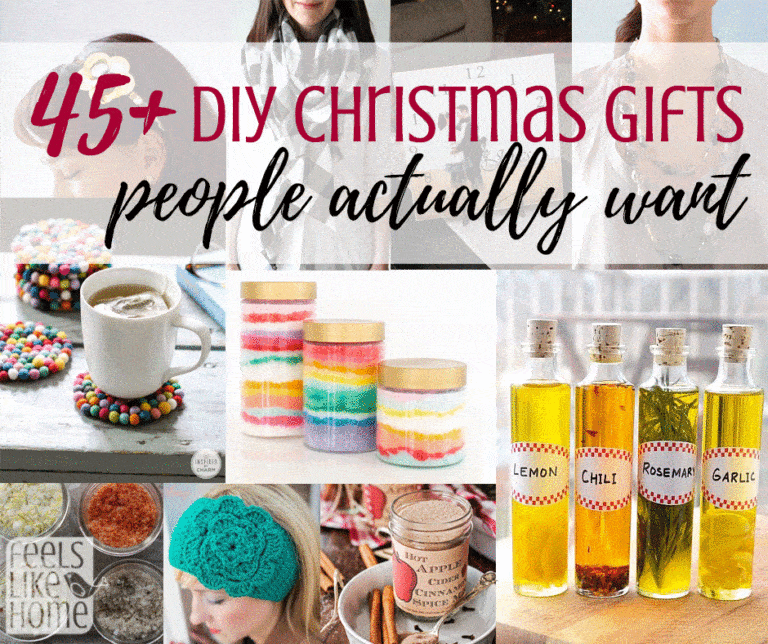 In case you hadn't noticed, Christmas is my favorite holiday. I LOVE spending money searching for just the right gift for everyone on my list, and I LOVE Christmas decorations, and I LOVE Christmas music.
My mom loved Christmas, too, and instilled in me early on its importance to our family culture. Christmas was always a really big deal to her, and it is subsequently a really big deal to me.
And of course, Christmas is a HUGE deal to children, so my kids are on board.
My husband, not so much. Actually, if he knew what I spent on Christmas and all its accoutrements, he might go apoplectic. Don't tell him, m'kay?
I digress. This post is about handmade DIY gifts that you can work on now, in early November, that your recipients will actually like and use and keep. After all, you don't want to waste your time making something just for the sake of giving a gift. You want it to be something your loved one will appreciate and actually use.
I remember someone once giving my mother (or was it Old Grandma?) a mouse made out of a Clorox bottle, wearing a dress. She may have had a mister alongside her. They were obviously handmade because, come on. You can't buy mice like that in the store. But what was the point? They sat on the floor as a decoration out of kindness, but eventually got thrown away. Who really needs a mouse made out of a Clorox bottle anyway? Seriously, no one.
Don't be that gift giver.
I've written before about 18 homemade gifts you can make ahead of time and 40+ homemade gifts specifically for women, so if you haven't seen those posts, go take a look. They are also full of wonderful gifts, and there are no duplicates between this post and those two.
If you're looking for homemade gifts for Mother's Day or Father's Day, check out these links. They contain dozen more DIY ideas!
Visit the Christmas gift guide for families for hundreds more gift ideas!
I've compiled here a list of 45 gifts that I would like to receive, so I assume everyone would like to receive them. If you know of a good tutorial that I haven't included but should have, kindly leave it in the comments below.
45+ Amazing DIY Christmas Gifts That People Actually Want

String art - This super simple and super easy string art project is really impressive. I prefer the rainbow look, but you could just as easily do the project in your recipient's favorite color or use their initial instead of a star or heart. This tutorial breaks the process down into really basic steps with tips and mistakes to avoid.

Double zippered pouch - This cute little pouch is super easy to whip together with a sewing machine and some very basic sewing skills. The baby Yoda fabric (source linked in the post) is perfect for my teen who is obsessed, but you could use any woven (non-stretchy) cotton fabric. All fabric stores have loads of this, both in the quilting section and on the main floor.

Paper star lanterns - I really want a large paper lantern just like these. In fact, we were in a little boutique on the square in Gettysburg not too long ago, and I seriously considered buying one. The only reason I didn't is that they were $35 and came flat; you had to assemble them yourself. So I didn't buy one, but I would love to make one with this free and easy pattern.

DIY chalkboard - Chalkboards have been all the rage for years now, and this one is pretty in addition to being super cheap and easy to put together.

Pretty zippered pouch - I love little bags like this because I use them for pens, craft supplies, makeup, crochet hooks, and all kinds of other stuff. They're not hard to make if you have a sewing machine with a zipper foot.

Jewelry holder - I love this jewelry holder so much, I might make one for myself. It's so simple; all you have to do is paint the picture frame, buy the piece of radiator grill and have it cut, and assemble with tacks! Sounds like a one-hour project to me!

Handmade glycerin soaps - Soap is so versatile; you could make any color, scent, and shape, depending on what supplies you buy. The blog post I linked to includes recipe for chamomile, aloe vera, and honey oatmeal soaps. Whether your recipient would use the soap or not, I don't know, but I personally would use it. Unless I thought it smelled bad, then I would not use it.

Braided leather belt - I don't wear belts generally, liking to hide my ample midsection under blousy shirts, but for skinny women, I think this belt would be amazing. It's so pretty and feminine. Also? It's very inexpensive and would take less than an hour to make.

Semiprecious stone necklace - I love jewelry, so I'm really excited about this necklace. I don't think it would be really cheap given what the stones are, but if you made it nice and long like this one is (55 inches), it would be very versatile. I'm seriously considering making this for myself. You know, because I need it. The only hesitation I have is that the bead website linked in the article is very expensive, so if I make it, I will be looking for a different supplier of beads and maybe even use glass beads rather than genuine semiprecious stones.

Sequin flower headband - I think women and little girls alike would appreciate this pretty headband, made entirely from large and small sequins. You have to first assemble the flower (looks easy) and then attach it to a headband (also looks easy).

Lavender tub tea - I never heard of tub tea before reading about it on Martha Stewart's website. This could be my own ignorance, lack of bath loving, or maybe it just became a thing recently. At any rate, lavender is very relaxing and would make a very nice bath if you were into that sort of thing. Martha recommends a certain brand of lavender, but I can vouch for this very pungent lavender from Amazon (free shipping!) which is I have ordered in the past.

Embroidered tea towels - I think these tea towels are just lovely. They're the kind that you would not actually use but just hang somewhere to look nice. I used to have towels like that, back in the days when my house was nice and not a junk heap.

Photo pillows - My mind is blown by the fact that these can be made at home. We bought a photo pillow for my mother-in-law last year for Christmas, but I would much rather make them at home. Martha says all you need is special linen that can go through your printer. I guess that means that the biggest pillow you could make is 8.5 inches wide, but that would be okay.

Homemade watermelon jam - Homemade food gifts are wonderful to give and to receive, and I think this watermelon jam is the tippy top of the best.

Jersey knit bracelet - I am a little obsessed with these pretty bracelets, though I'm obsessed with pretty much all bracelets. They take about five minutes to make and would be super cheap if you used old t-shirts or thrift store knit shirts for material instead of buying jersey knit fabric. Imagine the pretty patterns you could find!

Photo clocks - Like a lot of the projects here, these photo clocks are cheap, easy, and pack a nice punch. I have a clock in every room of my house (doesn't everyone?), and I would love to have some with important family photos on them.

DIY heat packs - These are like the Granny's Little Helper bags we had when I was a teenager. Those things were like gold: we lightly spritzed them with water and heated in the microwave for a heat pack for sore muscles, and we froze them in the freezer for injuries. The fabric in mine eventually wore thin and fell apart, but they would be easy enough to make. The tutorial says to add in essential oils, and you certainly could, but it would be a lot cheaper to throw in a couple handfuls of lavender buds.

Beadboard photo display - At first, I thought this was a picture frame with a cutout in the wood, but it actually isn't. You mount the photo on foam board and stick it on the front of the beadboard, but that doesn't make it any less pretty. As long as you really adhered the photo well, it wouldn't curl and the display would stay nice for a long time.

Peppermint candy cane sugar scrub - I love scrubs, both sugar scrubs and salt scrubs. Typically, I put more oil in mine; this one has a drier consistency but I'm sure that would be fine. The author uses DoTerra essential oils, but that's also not a big deal. I would use Young Living oils or you could use oils from Amazon or even the grocery store. Peppermint oil is not hard to find.

Homemade spice rubs - Homemade spice rubs are so much better than commercial ones. If you make some, I promise you'll be sold. These cute little spice containers are magnetic, so they could be mounted on the stove or a small metal plate or just about anywhere. I've previously shared great recipes for homemade taco seasoning, homemade ranch dressing, homemade Cajun seasoning, homemade BBQ seasoning, and homemade hot & spicy BBQ rub.

Infused olive oils - It is really simple to make infused olive oils, but it does take some time. These pretty oils will make any home cook very happy, especially if you include a few recipes for dishes to make with them. The only downside to some of the oils is that they have to be used within 10 to 14 days of making, so if you want to make them now, just go for the garlic and chili oils which can be stored longer.

Mint chocolate body butter - Okay, if you haven't noticed, I'm not all that much into soaps, lotions, and potions. They just aren't my thing, although I do enjoy a nice exfoliating scrub. But anyway, I believe that a lot of people are into such body products, and I have included a few here. This one in particular is made with a lot of cocoa and coconut products and would this smell amazing. I'm actually interested in making it which says something huge.

No sew plaid blanket - Plaid is really big right now, and a no sew blanket is always a nice idea. Who wouldn't want a pretty blanket to throw over the back of the couch or chair for cool winter nights? Plus, because you're making it from fabric, you can choose whatever color or pattern you want. I love fabric projects which leads me to the next crafty gift.

No-sew plaid blanket scarf - I said plaid is big right now, and part of that plaid trend is the blanket scarf. It's a huge square scarf made out of flannel or another soft, woven fabric, and you can wear it about thirty different ways but most often folded into a large triangle and tied around the neck. They are perfect for cold weather because they are warm and soft and beautiful. I have one that I wear pretty much every time I go outside, but I think I'll use this tutorial to make more for everyday wear.

Homemade vanilla extract - Vanilla extract is so easy to make (though it needs to steep for 4 weeks, so start early), and the homemade stuff is worlds better than what is available in the grocery store. Once your recipient uses it, she will beg you for the recipe, which you won't want to give her because it's embarrassingly simple. I didn't know this before I read the post, but there are apparently widely different flavors of vanilla beans depending on the source. I thought that was interesting, and I'm going to look for Madagascan vanilla for our project. I found another post with a recipe for orange, lemon, lime, and mint extracts too.

Dip dyed hot pad - I have about thirty hot pads, so this isn't a good gift for me personally, but most people did not go overboard on the Pampered Chef silicone trivets and would thus appreciate these pretty coils. They are simple to make because they start with thick upholstery cord and plain old acrylic paint.

Sand art sugar scrubs - This project will require quite a few tubs of gel food coloring, but the result is so pretty! Basically, you just mix up plain white sugar with some coconut oil and food coloring, and you layer it in jars. It couldn't be easier, aside from needing a dozen bowls for all the different colors. I think this would be a perfect gift for tween or teen girls.

Kate Spade Inspired Bow Purse - This is by far the most complicated project on the list, but look at it! It's gorgeous and 100% handmade. The black stuff is all leather, including the piping on the edges and top, and the bow and main body are fabric with heavy weight interfacing inside. Even though there are a lot of steps to the project, none of the seams are particularly difficult being mostly straight and no zippers. If you have a sewing machine, you could definitely make this pretty purse.

Bow tote bag - If the purse above is a little too complicated for you, give this gorgeous tote bag a try. It has fewer steps because there's no piping and

Wooden tablet stand - I have a cheapo plastic stand for my phone which does make it more convenient when I'm watching a show, but a larger wooden one like this would be amazing. Joe just got a saw from his dad's estate, so I might see if he can make me a couple of these for Christmas gifts for the girls' Kindle Fire tablets.

Teacup succulent garden - You know how I love my succulents, and I think these mini gardens are super cute and perfect for any sunny windowsill. I would get my succulents from Etsy since those tend to be healthy and better cared for than the ones in the home improvement stores, and they're cheaper too ($1.99 for a 2" pot which would be perfect for this project).

Rope statement necklace - This necklace is very simple: you just have to braid a few lengths of natural-looking rope to make the chain, and then you pin on some vintage brooches. The nicest brooches I found were on Etsy, but you could try ebay or even the thrift store.

Felted wool ball coasters - I love these, and I think I'm going to get some for myself because I am so annoyed with the coasters I have on my desk right now. Mine are beaded and very pretty, but they have absolutely zero absorbency, so when my glass sweats, the water puddles on the coaster and ends up dripping all over my shirt. I think these wool balls would absorb the condensation and prevent the drippage. You will need 1 cm felted wool balls and cork coasters unless you plan to sew the balls together as they did in this tutorial.

Hot apple cider cinnamon spice mix - This is a sugar-based drink mix, but I'm sure it is wonderful. (I wonder what it would be like with Splenda or stevia... something to try in a very small batch!) The author suggests adding it to red wine or apple juice for a wonderful sweet holiday drink.

Anthropologie-inspired floral necklace - This statement necklace is so pretty, and it doesn't look like it would be difficult to make. The author used an old thrift-store shirt to make the flowers, so it is super cheap, too!

Giant Jenga game - This is so cool! All you have to do to make it is cut the boards down to the right length and sand them a bit. I think this would be an awesome gift for a family with kids, or even for a couple who likes to hold picnics or barbecues in their backyard.

DIY Infinity scarf - This is a super easy sewing project with just three rectangular pieces and a few straight seams. I love the look of the lace with the knit fabric, and I think any lady would love to wear this!

Bird nest necklaces - I had an expensive bird nest necklace from a big-name jewelry designer, and I loved it, but it fell apart. I would like to make myself a new one someday, and I think any proud mama would love one too.

Anthropologie-inspired knot bracelets - You will not believe how easy it is to make these knotted bracelets! The Anthro bracelets they're patterned after were made from hemp cord which is stiff and a bit scratchy and not my favorite, but you could use any thin cord for the knots or maybe even a crochet thread or lightweight yarn.

Homemade mittens - Mittens are small and work up really quickly. Here's a great pattern for knit mittens (the white ones on the left) and here's one for crocheted mittens (the herringbone ones on the right). I personally love mittens, so I'm going to make myself a couple of pairs to wear on my daily walks.

Pretty headbands - I love these crochet headbands and plan to make a few for myself as well as for gifts. You can find the free patterns for the green flowered headband, the braided headbands, and the shell headband at these blogs. I don't think any of the three would take much more than an hour or two at the most, even for a beginner, and you can always find videos on YouTube to learn the basic stitches. That's how I learned.

Crocheted water bottle holder - These are perhaps a wee bit cheesy, but I walk a lot, and I would love to have one so that I can have my hands free. I think they would be great for anyone who likes to walk or hike or even bikers.

Flavored salts - I think any foodie would love to use these interesting flavored salts. The author includes recipes for chili lime salt, vanilla salt, sriracha salt, and rosemary lemon salt.

Car trash can - I need this, but in a size about triple what is given in the tutorial! It's an ingenious little trash can that you can probably whip up in an hour with your sewing machine.

Pearl earrings - I love all things pearl, and these simple and pretty pearl earrings fit the bill! I think any woman who likes understated jewelry would like to wear these.

Resin pressed flower jewelry - I think these are absolutely beautiful. You can buy pressed flowers on Etsy or you can press your own using the traditional 2 weeks in a flower press method or the newer microwave method that takes minutes. I personally have both of the flower presses that I linked and like them both.

Burlap firewood carrier - I think this is the best idea. Joe often carries firewood for our fire pit in the backyard and occasionally for the wood stove in our basement. It's a messy job, full of prickles and bark and splinters. He would love to have a sack like this to carry the wood in.

Pinecone fire starters - I think these are amazing. I like them so much that I might make a batch to give to Joe for Christmas this year, being that he's our chief fire maker. They are cute, and if they work to start the fire, that would be a huge help to our campfire process.

Etched glass trifle bowl - I have seen this photo around the internet and loved it and wanted to include it but had trouble locating the original source. The author does an awesome tutorial for how to do etched glass, but she doesn't actually provide the template or even a link to the birdie design she used. She says it was a template she cut out with her Cricut machine, which I do not have. So if you want to know how to etch glass, go ahead and click through, but you won't find the template for the design. Bummer.
You have plenty of time to make homemade gifts if you start now, and since homemade gifts are almost always both nicer and less expensive than pre-made or commercially purchased ones, you can rest assured that you're giving a wonderful gift for less cost. It's a win-win.
What Christmas gifts will you be making this year?