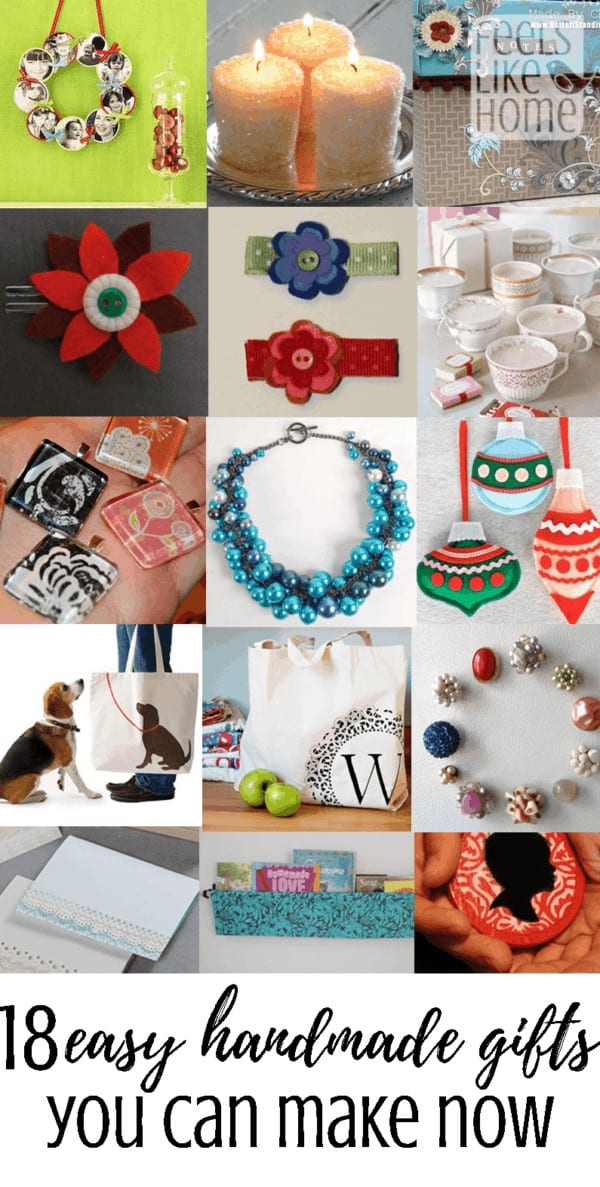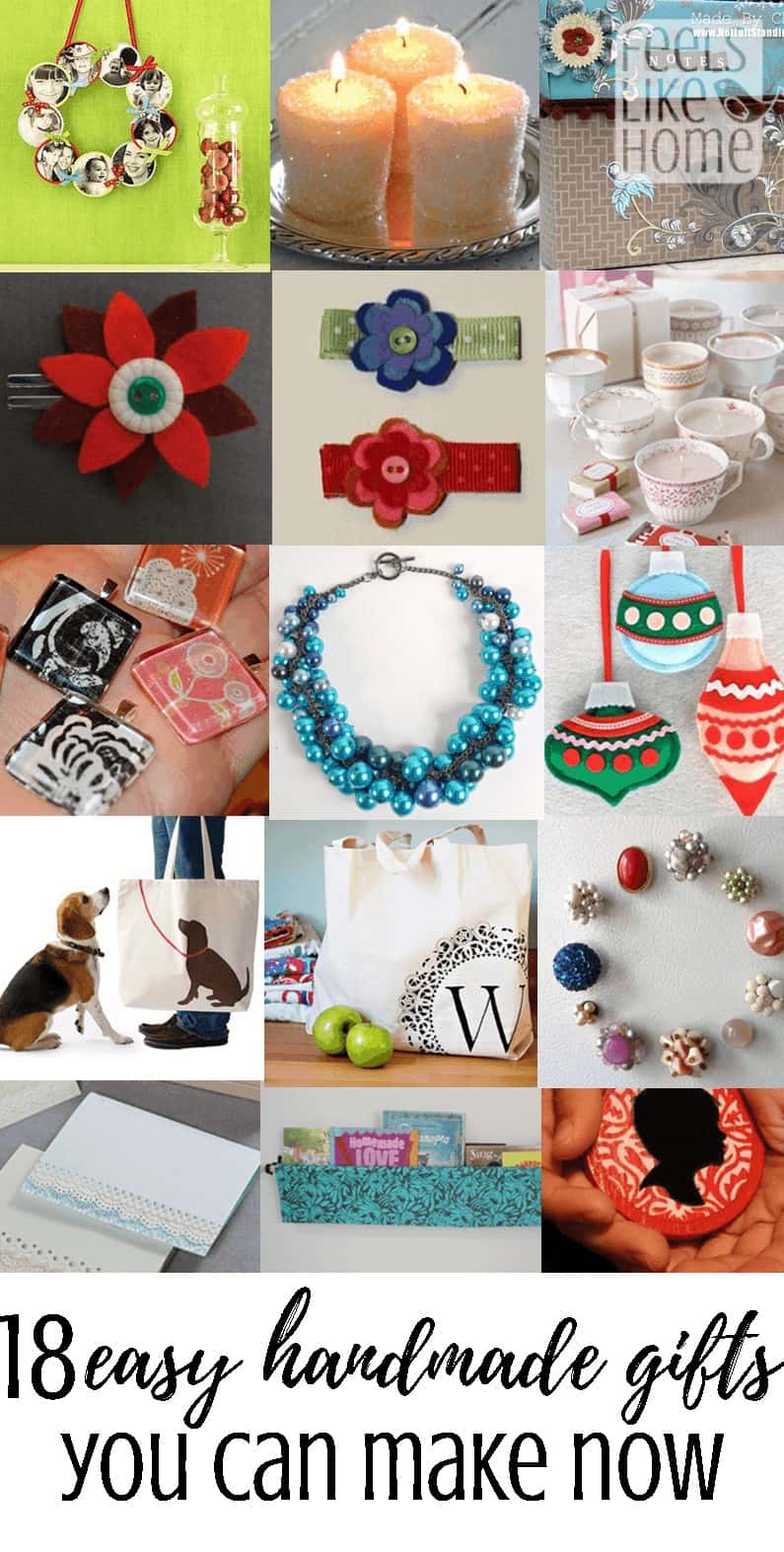 When Christmas rolls around this year, I'm going to be 39 weeks pregnant. Or else I'll already have a newborn.
In either case, I won't be doing much crafting. I probably won't be doing much at all at that point (aside from complaining and writing on my blog).
So I've already started making Christmas gifts for this year.
You don't need to be hugely pregnant to start your homemade Christmas gifts now. If you're hoping to save some money or give more personal gifts, make them.
Here are some ideas I've found. They're all relatively inexpensive, and you have plenty of time to make them for everyone on your list.
Visit the Christmas gift guide for families for hundreds more gift ideas!
Photo Wreaths. I saw this photo on another blog (with no credit or link given) and scoured the internet for an hour trying to find the original. I did!

This photo wreath is made very simply, by cutting out circles of scrapbook paper and black and white photos and adhering them to a styrofoam wreath. I wonder if you could also use a cardboard circle that you'd painted. I found this at Parents.com, but their tutorial has been removed.
Stationery. I'm a paper hound. I love fancy note cards, homemade or commercial. When you make it yourself, you can choose the colors, textures, and even add a monogram.

My first suggestion is a homemade stationery box. It could be combined any cards to make a beautiful handmade gift.

These note cards are simple to make using Martha Stewart's Punch Around the Page series of craft punches. Here's another set using the same punches.
Hair accessories. Grace loves fancy accessories, and so do a lot of little (and big) girls.

This felt flower is so cute! Depending on the colors you used, you could make it appropriate for any season. I know a little girl who would love one in pink and purple or hot pink and light pink.

I just think these clips are cute. They're tiny, so they might not be as appropriate for an adult, but they are cute nonetheless. You could adapt the pattern pretty easily for adults, just by making the flower bigger. (Tutorial has been removed since I published this post.)
Jewelry. As with hair accessories, lots of girls and women love jewelry. Many wonderful styles are easy to make with relatively few tools.

I can't believe how easy it is to make these adorable glass pendants. The original tutorial uses scrapbook paper, but I think they'd also be wonderful made with photos. I found several other tutorials for glass pendants. This one is really good, too.

Is this necklace fabulous or what? Beads Unlimited has a full tutorial and also sells a full kit of supplies for making this particular necklace. (Tutorial has been removed since I published this post.)
Bed warmers. This idea is brilliant. The only place I know of in this whole world where the sheets aren't cold in the evening is my Old Grandma's house. That's only because her coal heat keeps the house around 90 degrees.

I'd never heard of a bed warmer before I found this tutorial. The author says that her grandmother makes them for all of the grandchildren, and that they line up at the microwave in the evenings to warm them. I love that mental picture!
Tote bags. Tote bags are one of my personal favorite gifts to give and to receive. Here are some wonderful ones that I found.

This idea, from Martha Stewart, would work for a beloved pet or a photo of a person. I think it's adorable.

This tote bag is very simple, but striking. All you need is some paint and a paper doily.
The original post give suggestions for making the bag into a gift by stuffing it with themed items.
Christmas ornaments. Stores are already starting to put out their Christmas supplies, and you should be able to find a variety of glass balls and other ornament-making supplies.

I really like silhouette projects; can you tell? This ornament is different from the traditional glass ball. I'd like to see a whole bunch on the tree (maybe one for each year?).

These ornaments are made of paper, and they are simple to make.

I love these ornaments, too. Felt is really easy to work with if you have some felt glue, and these ornaments remind me of ones made of less fragile glass. (Tutorial has been removed since I published this post, but I think these would be relatively easy to recreate if you just cut out the felt in ornament shapes and stripes, got some ricrac or beaded trim, and glue them together with felt glue or sew with the sewing machine.)
Book folders. Who wouldn't love to have one of these hanging book shelves to hang next to their bed or in a favorite reading spot? Because you make it yourself, you can use kid-friendly or adult-friendly fabrics and tie it into the decor in the room where it will hang.

The original tutorial shows a bunch of different examples of the finished project.
Magnets. Everyone uses magnets, right? We have a wild collection of magnets from our travels as a family (beginning with our honeymoon), but some people like to keep their magnets neat and organized.

These magnets are made with thrift store jewelry. They're quick and easy - and ridiculously cheap to make. (Tutorial has been removed since I published this post, but easy to make. Just remove the backing of the jewelry and glue with E6000 or the hot glue gun to a small but strong magnet.)

Aren't these magnets pretty? I love the way they sparkle. Made with fancy paper or photos and glass marbles, they are also simple to make.
Candles.

The tutorial for these tea cup candles is available in a lot of places, but I like this version. Find pretty tea cups at estate sales or thrift stores and fill them with candle wax. It could be tricky to find enough cups, so start looking soon!

You won't believe how easy it is to make these little votive candles. According to the original tutorial, you just roll them in Elmer's glue and Diamond Dust. What an easy project!
I think this goes without saying, but don't start on the food gifts just yet. The brownies, cookies, and chocolate candies should probably wait until December.