Tech has its place in our lives - and our kids' lives - but all parents want their kids to stretch their imaginations and play with some tech free toys once in a while. These 24 awesome toys and gifts will have your kids excited to put their screens away and play. Outside and inside toys for toddlers through tweens.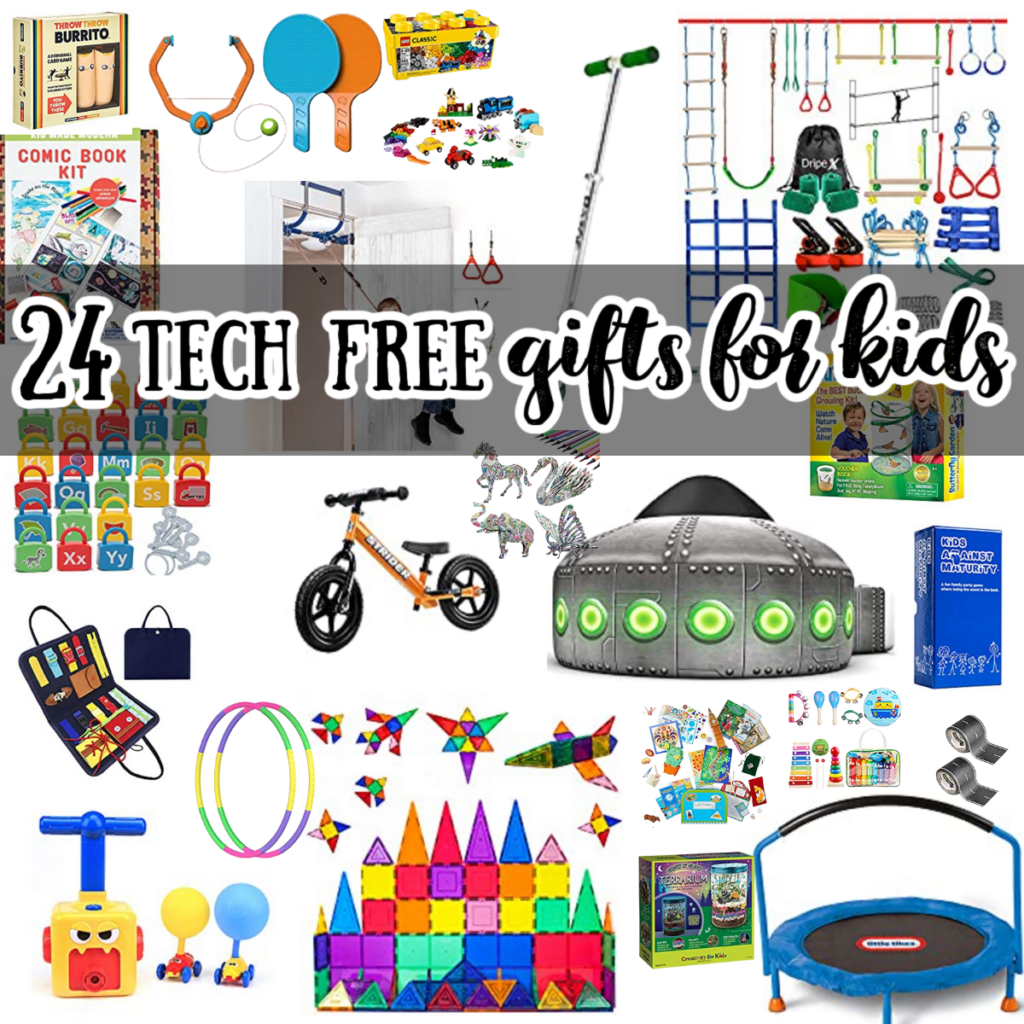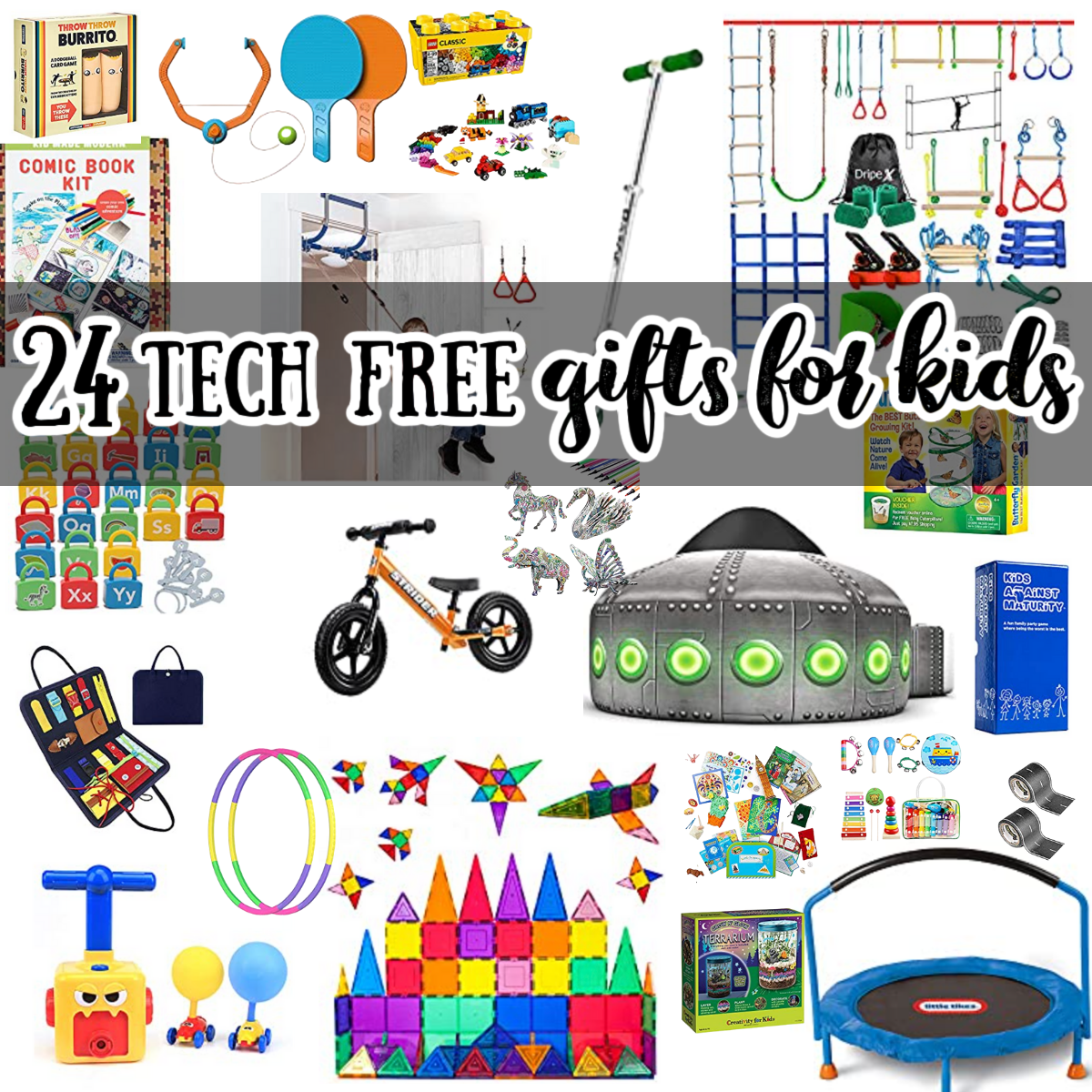 As our family looks ahead to the holidays this year, I've found myself wondering what it would be like to spend Christmas morning together absent of phones, tablets, and all of the technology that seems to invade our everyday lives.
Don't get me wrong — my iPhone and laptop are wonderful, and I couldn't do what I do without them. However, there are times when it feels like our screens are taking over the quality time we used to spend together.
This year, I'm on a mission to find more authentic, non-tech gifts for my girls that we can play with as a family, that encourage their imaginations, and that don't require a single battery. There might be one or two of those in the mix, but definitely not a majority of them.
You might be nodding your head right now and suffering from information overload just like me, or you could be searching for a balance of more traditional kids toys along with popular techy ones as well.
Regardless of what brought you here, I'm happy to help you with this list of the best non-tech gifts for kids this Christmas season. Whether you have toddlers or tweens, there are educational and engaging toys on the list for everyone to enjoy.
Visit the main Christmas gift guide for families to get hundreds more gift ideas!
Thinking about doing Elf on the Shelf for your kids this year? He's a fun and tech-free addition to any family's holiday season. Here's a great way to introduce the elf plus 26 unique elf ideas!
Non-Tech Gifts that Kids Will Love
For: Ages 1 year and up
We have had magnet tiles of various sizes and shapes for most of a decade. If you haven't heard of magnet tiles, you're missing out on one of the best tech-free toys for kids on the market. Picasso Magnetic Tiles are a less expensive alternative to the name brand, and they're just as good (in my opinion). Your child will immediately be drawn in, and one kit contains endless building possibilities.
For: Ages 2 and up
I remember using painter's tape to make race car tracks on our kitchen floor, but this Race Car Tape is so much better! Help your kids create the perfect course for their toy cars. Each roll of tape is easy to pull up and adjust direction, and it doesn't take paint off or leave any sticky residue.
For: Ages 1-3
Montessori toys are some of my favorite non-tech gifts for toddlers and young children. This cute busy board is full of buckles, clasps, and other hands-on activities to keep little ones occupied for hours. You'll love how lightweight and portable this Montessori board is, and it's the perfect size for traveling as well.
For: Ages 3 and up
Okay, so obviously noisy toys don't bother me. I kind of like them, actually, because I have always gotten into playing them with my kids. It's fun to see how much racket you can make together.
Children of all ages enjoy making music, and the Childom Kids Musical Instruments offer a wide selection at a very reasonable price. Each colorful wooden instrument is brightly illustrated, and kids will be moving, shaking, and tapping out their own rhythms all day long. Encourage them to put on a performance for the whole family to appreciate.
For: Ages 3 and up
My girls loved playing with keys when they were young, especially when they could unlock something with them. These alphabet learning locks are an excellent way for kids to learn their letters by matching the letter on the key with the one on the matching lock. We all know how easily small toys get lost, so all the keys come attached to their own ring.
For: Ages 18 months - 5 years
Bikes are one of the best tech-free toys, especially when they grow along with your child. The Striker bike is perfect for kids who are just learning how to ride independently, and both the seat and handlebars adjust to fit each age. It's available in several colors for boys and girls and teaches balance first instead of including foot pedals.
I have been writing about Strider Balance Bikes since my oldest (who's now 16) was a year old. I got her a pink one for her first birthday, and she rode that thing until she was old enough for a big girl bike with training wheels. Strider bikes are gold, and they last forever.
For: Ages 3 and up
Kids can learn about aerodynamics and not even realize it with these fun balloon cars. Each set of race cars comes with a colorful hand pump that's perfect for little hands. Once they learn the basics, every room in the house will become a racetrack. Grab that black race car tape above, and see if you can keep the cars on the roads!
For: Ages 6 and up
If you're looking for a tech-free toy that doesn't take up much space, door pong is fun, energy-burning, and won't break your favorite lamp. Simply attach the clamp to any doorway in your home, adjust the length of the string, and play! It's brilliant because the ball is attached to the clamp - it can't get lost, and it can't go flying through your house!
For: Ages 3 and up
Do you want to build a fort with your kids but don't like the mess it makes? You can inflate the Air Fort in seconds with a regular household fan, and it takes seconds to deflate and put away. Multiple children can play inside the breathable interior, and it's also a fun option for living room sleepovers.
For: Ages 3-6 years
The Little Tikes mini-trampoline is another one of those classic tech-free kids toys that keep them entertained for hours. They're also a perfect addition to an indoor obstacle course!
For: Ages 4 and up
Hula hooping is making a comeback these days, and I couldn't be happier. They're perfect for both indoor and outdoor play, and these colorful hoops are adjustable depending on your child's size. They're sure to get the wiggles out of active kids.
For: Ages 6 and up
Boys and girls who love to draw and create their own stories will love this comic book kit. It comes with everything they need to write and illustrate multiple entertaining tales, and everything fits neatly into a storage box when not in use. Wouldn't it be awesome to help her make a comic book with this kit, and then scan it into the computer and send it off to Shutterfly or Snapfish to be printed into a real book? My daughter would have loved that when she was little.
For: Ages 6-10
Kids' subscription boxes are becoming increasingly popular, and I think they're a fabulous tech-free gift idea. Each one helps your child learn about a different country with books, crafts, activities, and souvenirs. You can just purchase one or have them delivered monthly.
For: Ages 7 and up
Throw Throw Burrito is a one-of-a-kind, hilarious dodgeball card game where players have to collect matching sets of cards while avoiding being hit with plush burritos. It's as whacky as it sounds, but that just makes it more entertaining.
For: Ages 4-99 years
I don't think I can say enough positive things about Legos. They're a tech-free kids toy as old as time, and there are so many different sets to fit all age groups and budgets. You could even just start with the Lego Classic Brick Box and build your collection from there.
For: Ages 4-15 years
Give your child the gift of watching a caterpillar grow into a beautiful butterfly with a butterfly garden. Each mesh habitat comes with everything you need to properly care for caterpillars throughout their transformation. We have done these at least 5 times, along with the lady bug and praying mantis kits. They are all superb.
For: Ages 4 and up
It's becoming more and more common for kids to spend too much time indoors, so why not get them outside and having fun with this Ninja Warrior Obstacle Course? The durable slackline can hold up to 450 pounds, so everyone in the family can test out their endurance skills. Make it a family contest!
For: Ages 5 and up
Riding around on a scooter is good old-fashioned fun in my book, and it gets your child up and moving without even realizing they're exercising! This lightweight foldable scooter is suitable for a wide age range and is perfect for your child to ride on sidewalks or paved driveways and walking paths.
Don't forget a helmet with this one.
For: Ages 6 and up
Introduce your child to the beauty of nature with this Grow 'N Glow Terrarium Kit for Kids. They can create their own mini-ecosystem, and the best part is it glows in the dark! Each kit contains organic chia and wheatgrass seeds kids can plant and care for, along with glow-in-the-dark sand and stickers.
For: Ages 5 and up
Inspire your child's creativity with these magical Animal 3D Coloring Puzzles. These are a fun twist on regular puzzles because each one can be colored before being put together. These kids puzzles are excellent for relaxation and brain engagement, and they're ideal for children of all ages.
For: Ages 4 and up
Christmas is usually the time where kids start going stir-crazy due to shorter days and colder weather. That's when many frazzled mamas begin searching for energy busters for their overly energetic little ones. This Indoor Doorway Gym is the answer to more than one parent's prayers!
For: Ages 4-15 years
The builder in your family will love putting their skills to the test with the Block Buddies Block Game for Kids. Each game has colorful blocks and three levels of cards that challenge your child to build animals, vehicles, and people. I know it's a game for kids, but I think it would be super fun to have a mom versus kids contest.
For: Ages 5 and up
Who needs techy toys when you have this auto-resetting target practice game? You can set the targets up anywhere in your home or outdoors, and the foam darts won't damage windows or furniture. The darts are also compatible with most Nerf guns so that multiple people can join in the fun. It's just like a carnival game at home. Who wouldn't like that?
Ages 10-110 years
Kids Against Maturity is the perfect family game if you want everyone rolling in laughter by the end of the night. It's packed with question-and-answer cards full of age-appropriate jokes and innuendos, and kids of all ages will want to play again and again.
As you can see, taking some of the "tech" out of your Christmas gifts doesn't mean skimping out on the fun. There are so many educational, exciting, and active play toys that your child will love that they won't miss the electronic gadgets!