How to make the best Reuben sandwich casserole - This quick & easy recipe is baked in the oven with noodles, rye or pumpernickel bread, corned beef, sauerkraut, and over course, thousand island dressing!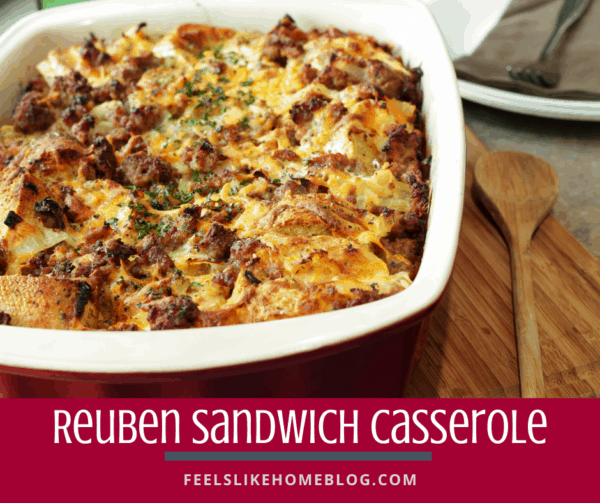 I like Reuben sandwiches. When I was growing up, my mom made Reubens a lot, and we always looked forward to eating them.
I'm not sure why, but my mom always used potato pancakes instead of rye bread. She used a pouch mix to make the potato pancakes, and they were so tasty.
While I loved my mom's potato pancake reubens, making the pancakes is one extra step between me and getting dinner on the table, so we typically just use bread.
But then, we discovered this casserole recipe, and it was a total game changer. Reuben casserole is a lot easier to make than regular Reuben sandwiches for four people, and it tastes just as good. Maybe even better.
So there you have it. We have reuben casserole now instead of sandwiches. Try it. I think you'll love it too.
How to make the best reuben sandwich casserole
First of all, your ingredients matter. I like reubens the way my mom always made them which was using canned corned beef and canned sauerkraut (either home canned or bought in a can at the grocery store). Some people swear by sliced corned beef and bagged sauerkraut. Which you choose will dramatically alter the taste and texture of your finished casserole, so choose carefully. And, if you make this dish and don't like it, you could always go back and try the opposite ingredients and see if you like it better that way.
Preheat oven to 350º.
Combine mayo and Thousand Island dressing in a small bowl. Set aside.
Cook the noodles according to package directions.
Stir together sauerkraut, corned beef and noodles. Add the dressing mixture and mix well.
Spritz a 9x13 casserole dish with cooking spray and dump the corned beef mixture into it, smoothing it out evenly in the pan. Cover with bread cubes and Swiss cheese.
Cover with foil. Bake for 30 to 40 minutes, until cheese is melted and casserole is bubbly.
Remove foil and broil for 2-3 minutes to toast bread and brown cheese.
Here are a few other recipes you might like:
Recipe