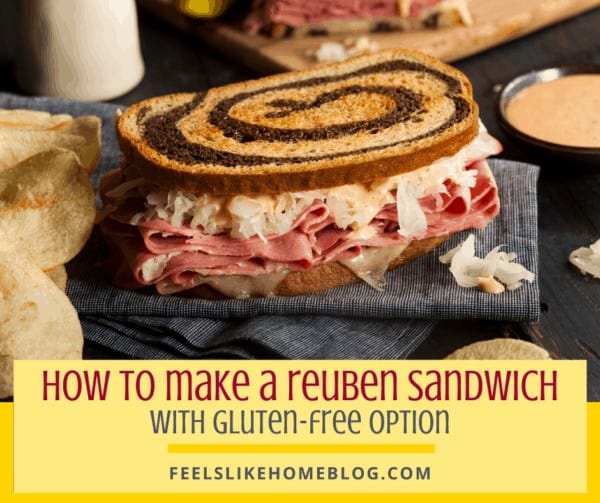 This Reuben sandwich is filled with corned beef, sauerkraut, and lots of cheese on rye or pumpernickel bread. It's a great way to use up leftover corned beef from St. Patrick's Day!
When I was a kid, my mom made Potato Pancake Reuben Sandwiches. I don't know how she made the potato pancakes, but we always had potato pancakes instead of bread in our reubens. I remember eating them often; they're a favorite of both my sisters, too.
After helping her father to prepare reubens one day last week, Grace came downstairs and announced, "I can just taste that reuben sandwich in my belly! I LOVE reuben sandwiches!"
I was delighted, especially since she's grown quite picky in her old age.
Approximately ¼ of Grace's reuben sandwich ended up in her belly, which is a decent amount for her bird-like appetite.
Allie picked the guts of out her reuben, leaving her bread uneaten, but made up for it by eating part of my corned beef.
What's on a classic Reuben sandwich?
A classic Reuben has just a few key ingredients, so go for the best that you can afford. Quality matters!
Rye bread - Marble rye is always nice because it looks fancy, but pumpernickel is just as good.
Corned beef - You can use leftover corned beef from St. Patrick's Day or from a corned beef roast. You can also buy sliced corned beef in the deli (this is a good option and the one we use most often). Finally, you can buy canned corned beef. This is what my mom used for years and years and years, and it is serviceable if not the preferred method.
Swiss cheese
Sauerkraut - You must have sauerkraut or you aren't making a reuben. The end. Just put it on.
Thousand Island salad dressing - You can also use Russian salad dressing or you can make your own by combining ½ cup mayonnaise, 2 tablespoons of ketchup, 2 tablespoons of sweet pickle relish, ¼ teaspoon onion powder, and a dash of Worcestershire sauce.
Butter - You only need this if you are making your sandwich grilled cheese style which is better than my way but beyond my grasp.
How to Make It
Toast the bread. Classic reuben sandwiches are made with rye or pumpernickel bread, and those are the best options in my opinion. However, if you are gluten-free, there aren't many options in either variety, so use whatever bread you have on hand.
As I write in the recipe notes below, I think this sandwich would probably taste the best with the bread toasted lightly on a griddle with some butter. However, I am incapable of making a grilled cheese sandwich without burning it, so I do not trust my griddle-toasting abilities. I put the bread in the toaster.
Heat the corned beef. If you are using canned corn beef, as we used to do, dump it out into a skillet, break it up in little pieces, and brown over medium heat. If you're using sliced corned beef (as leftovers from St. Patrick's Day or because you purchased it sliced), lightly brown each slice in a skillet over medium heat.
Assemble the sandwich. Start with a piece of toasted bread, then add a a couple of slices or corned beef (or a scoop if canned), a scoop of sauerkraut, a slice of Swiss cheese, and a dollop of Thousand Island salad dressing. Top with a second piece of toasted bread.
Melt the cheese. Again, this would be easier if you made the sandwich like a grilled cheese, but I don't, so I put my finished sandwich in the microwave for 30 seconds to heat the sauerkraut and melt the cheese. It comes out perfect.
Recipe
I want to thank Udi's Gluten-Free for sending me a care package of gluten-free goodies. When they heard I was trying a gluten-free diet, they sent me two loaves of gluten-free bread, some gluten-free bagels, gluten-free brownie bites, and gluten-free chocolate chip cookies.
You have to store most gluten-free baked goods in the freezer; they don't last very long on the shelf. The bagels are still in the freezer, but I've really enjoyed both of the loaves of bread.
Before I was gluten-free (like more than a year ago), I sampled some Udi's Gluten-Free products. I thought they were awful.
I'm being totally honest here. Gluten-free bread is much heavier and has a completely different texture than regular bread.
If you're eating them side by side, you probably will not be pleased.
In January, after being gluten-free for well over a month, I had a sandwich on gluten-free bread, and I was really happy with it. It was close enough to the old stuff, and that's all that really mattered to me.
Being gluten-free is something I need to do for my health, and Udi's Gluten-Free products allow me to do that without sacrificing foods I used to love.
Udi's Gluten-Free bread (My favorite so far is the ancient grain millet chia, because I like bread that's full of seeds and such. I also tried the white sandwich bread, and it was good.) allows me to have grilled cheese, reuben sandwiches, meatball sandwiches, even a plain old ham and cheese sandwich with pickles. I am thankful for the normalcy.