These homemade oven baked spicy jalapeno poppers are wrapped in prosciutto and stuffed with a cream cheese and cheddar filling. This easy & healthy recipe is low carb & keto. One of the best simple appetizers, no frying needed.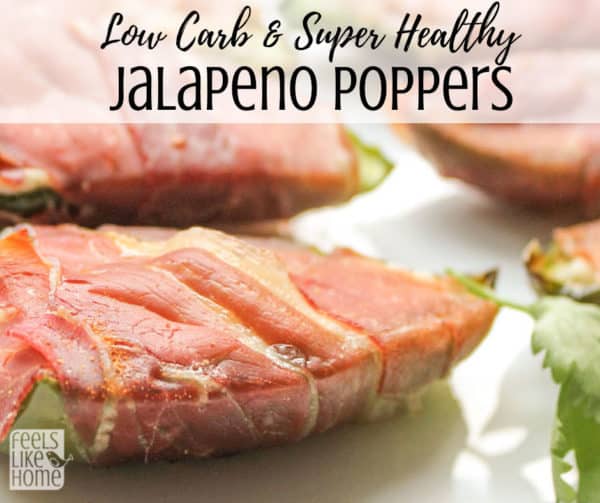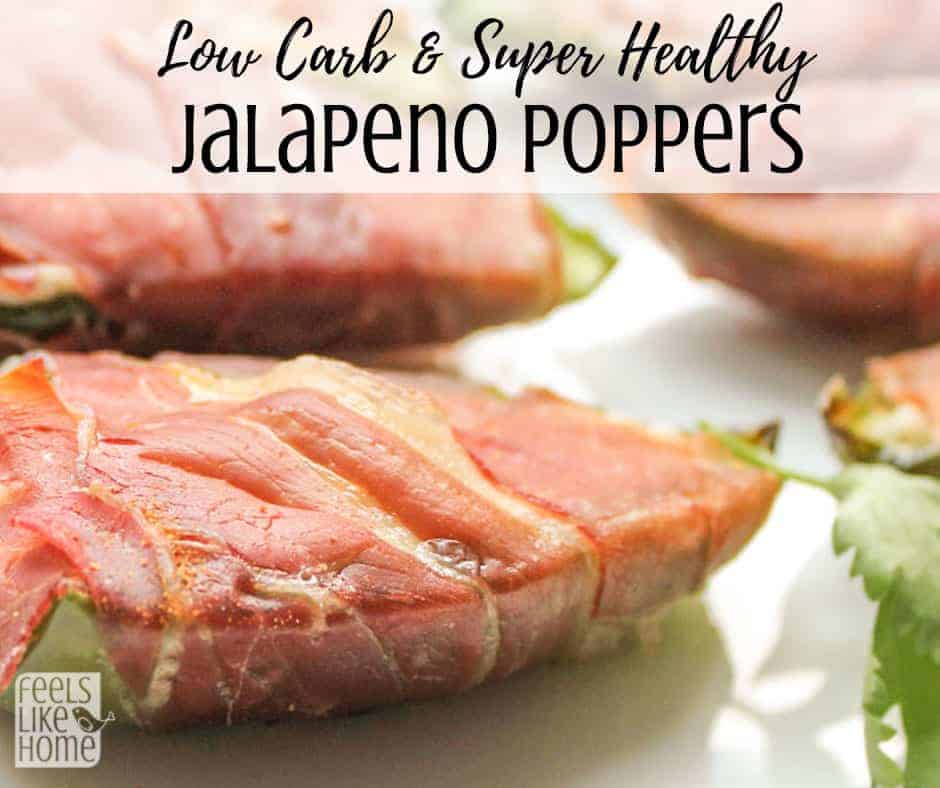 I love jalapeño poppers. Seriously, they could be my favorite food, especially the ones from Arby's; I think Arby's are the best.
Unfortunately, Arby's (and most other commercial pepper poppers) are breaded and deep fried, leaving them laden with carbs, fat, and calories. Since I eat a very low calorie, low carb diet as as a bariatric surgery patient, I can't manage eating for the rest of the day if I indulge in even a couple of Arby's pepper poppers.
Fortunately for me, this simple and easy recipe comes to the rescue with super healthy pepper poppers that have virtually no carbs and lots of the flavor I love.
How to Make Homemade Low Carb Jalapeno Poppers
Preheat the oven to 350°F. Line a baking sheet with parchment paper and set aside.
Prepare the filling. Mince the Italian parsley and sage (or alternately, you could just chop it with scissors into very small pieces). Mix herbs throughly with cheddar cheese; blend into cream cheese.
Prepare the peppers. Use disposable gloves. Cut top of each jalapeño off and cut peppers in half from top to bottom to make long, thin boats. Remove the seeds and veins to reduce the spiciness. Fill halves with cream cheese, but don't overfill as the cheese will expand when heated.
Prepare the prosciutto. Cut each slice of prosciutto in half lengthwise so that there are two thin strips each. Wrap a prosciutto strip around the cream cheese filled jalapeños. When wrapping, cover the pepper top to prevent cheese from spilling out when it expands during baking.
Bake the jalapeno poppers. Place the wrapped jalapeños on the lined baking sheet lined. Bake at 350°F degrees for 15-20 minutes. Remove from oven and allow to cool for 2-5 minutes. The filling will be very hot.
Check out these other spicy recipes while you're here:
Recipe