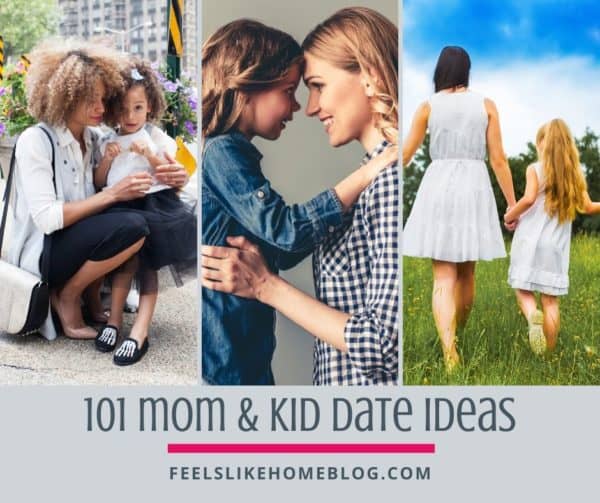 Spending one-on-one time with your kids is so very important to your development of a strong, healthy relationship. It builds trust and creates shared memories and develops a bond that will help you when times get tough and discipline is required.
My husband complains constantly about our special dates (too expensive, unnecessary, why can't we spend time all together as a family?), but I insist on them. Kids need focused one-on-one attention with each parent.
Unfortunately, special dates can get in a big old rut when you have them frequently. We do ours once a month with each kid (so one Momma-Gracie date and one Momma-Allie date per month), and over the last year or so, we've gotten stuck in the lunch out with mom trap. That's almost all we've done.
With that in mind, I decided to do some brainstorming and come up with a long list of activities that we could do together, to give us some inspiration next month when we want to do something a little different.
Your mileage my vary with this list. Not everything is available year-round, and some things may not be available in your area at all.
If you're looking for more fool-proof ideas that you can do at home, check out these printable one on one time cards that are almost all free and done in and around your house!
But, if you use this list as a starting point to get some momma-kiddo dates going, it will give you just the jump start you need to build a habit that will pay off greatly in the months and years to come.
Have fun!
101 Mommy-Daughter or Mommy-Son One on One Date Ideas
Cook or bake together. Prepare a nice meal for the family or bake a cake. Here are 10 tips for working with small kids in the kitchen.
Photo booth. Get some inexpensive props at the party store and stage a photo booth at home, then send a few of the photos to be printed. Frame them for your wee one as a momento of the fun you had together.
Dance. Find a Pandora or Amazon Music station that she likes (my kids are gaga over Kids Bop Kids) and dance in the kitchen until you're both wheezing and giggling.
Perform. Use your one-on-one time to perfect a performance for the rest of the family. Make it like a talent show where you and your babe put on skits or acts for everyone else. Rehearse together and then do it!
Craft. Every kid I know loves art projects and crafts. Get some supplies and put something together. Here are lots of ideas for art and craft projects from my archives.
Build a fort. Spend some time under it reading to her or playing games together.
Cuddle. Hold her on your lap or cuddle together under the covers and read or tell each other stories. My kids always especially liked stories featuring them, like Gracie-locks and the 3 Bears.
Play board games. We're huge games people, and I have shared many lists of games like best games for non-readers and best preschool games and best elementary games and even best games for older kids if you're looking for something to do with tweens or teens.
Build LEGO. Get out the LEGO bricks and build something amazing together. Your kids have lots and lots of building ideas, so take a back seat and let her decide what you will put together.
Play with Play-Doh. Both of my kids love sensory activities and especially Play-Doh, so a special date where we make our own and then play with it for what feels like forever will make them very happy.
Draw with sidewalk chalk. Sidewalk chalk is just plain fun, even for big kids, teens, and adults. Ask her what she wants to draw, and make a big scene together or a bunch of separate small pictures.
Do origami. Buy some origami paper and then find some online tutorials to do some paper folding. Probably best for older kids.
Make a puzzle together. Whether she's big or small, chances are good that she's at least a little interested in puzzles. Grab one and work it out with her.
Scrapbook together. I'm totally in love with the Project Life app from Becky Higgins, but you could also do real life paper-based scrapbooking. Get your photos printed out, make a little trip to the craft store, and put together a scrapbook of something that's important to her.
Tell stories. All kids want to hear about their parents' lives when they were little, so dust off your memories and tell her all the stories you can remember.
Look at old photos. This goes along with the stories date above, but how much fun would it be to look at old photos together? They could be photos of you as a kid or photos of her as a baby. In fact, maybe you should look at both!
Make homemade pizza. Almost every kid loves pizza, so grab a homemade pizza recipe and go to town together.
Make homemade ice cream. Two words: ice cream. Do I need to say more? Making it at home is super easy, whether you use the salt and bags/cans method or an ice cream maker. My recipes are all egg-free, so you don't need to do any cooking. Just mix and freeze.
Interview each other. Print out some kid interview questions - one for each of you - and record each other's answers.
Make slime. I cringe even as I type these words because I abhor slime. I hate it with every morsel of my being, and I mourn for all the towels, blankets, and clothing at my house that has been ruined thanks to wayward slime. But the fact remains that my Gracie loves slime and would be over the moon delighted if I took an interest in it and made a batch alongside her. I bet your kids would be, too.
Have a squirt gun fight. Decent squirt guns are pretty cheap on Amazon and in stores, so grab a couple and surprise your little one with a watery battle in the backyard.
Play in the sprinkler. Every kid I know squeals with delight at playing in the sprinkler, even the big kids. Throw caution to the wind, put on your bathing suit, and set up the sprinkler in the backyard. We have had this sprinkler for 10 years and still love it.
Play bocce ball. If you've never played, bocce ball is a little like bowling (you roll a sort of heavy ball, but it's not too heavy for preschoolers). You roll or toss your ball into an area, attempting to get the closest to the target ball. You can knock your competitors away, and while there is some skill involved in getting your ball close, there is a lot of luck involved too. I'm not particularly athletic or coordinated, so my kids have just as much of a chance to win as I do.
Play lawn darts. The new lawn darts are not what you remember from the 1970s and 1980s. Out are the sharp points and in are weighted sticks with the same purpose. You try to get your darts into the circle, and you score a point for each one that makes it. It's pretty similar to horseshoes, but much lighter and easier for kids to do. The set I linked lights up for night play.
Play badminton. I love badminton and remember playing it with my sister and cousins all through my childhood. I just got some racquets for my family so that we can play this summer. You can get sets complete with a net or just some racquets and birdies on Amazon.
Play Yardzee (yard Yahtzee). I love Yahtzee, and I think playing it in the backyard with giant dice would be super fun. You could help your kiddo with the strategy of the game, and it is mostly luck anyway, so you wouldn't necessarily have an advantage.
Plant a tree. What a wonderful memory of your special time together, right? If you dug a hole in the yard (which is not a small job) and planted a tree together, the two of you could watch that tree grow for the next fifty years and think back on all the fun you had together.
Have a movie night. Pop some popcorn and watch her favorite tv show or movie on the couch while you cuddle together.
Drive go-karts. I've never done this, and I'm not sure either of my daughters would be into it (they tend to be fraidy cats), but I bet some kids would love driving a super fast go-kart around a track. It's a little pricey, but it would be worth it to spend some time racing with your kiddo.
Do a science experiment together. Kids love the wonder and awe of science, so if you find an experiment that you can do together, you can both be amazed.
Teach her something. Maybe she's been wanting to learn to braid her hair or use a curling iron. Maybe she wants to learn how to make her favorite baked treat. Maybe she would love to try out your fancy DSLR camera. Show her.
Have her teach you something. Allie has been wanting to teach me how to play Minecraft for weeks now. She's super into it, and she wants to share it with me, which is wonderful and humbling even though I have absolutely no desire to play Minecraft whatsoever. Maybe your girl likes to make friendship bracelets or your boy is into bugs. Whatever they like, encourage them to teach you about it.
Pitch a tent in the backyard. You could camp together in the backyard (not my thing) or you could just use the tent to play games or read books together.
Do some yoga. There are tons of yoga videos on YouTube, so fire one up and do it together.
Watch sports. If your favorite team is on tv, watch it together and explain all the rules to her.
Living room picnic. Spread out a blanket in the living room and move your lunch there. It's super fun for kids to eat in a forbidden spot, and you can sit on the blanket together and watch a movie or just talk.
Work in the garden together. This may not sound exciting at first, but if you go to the home improvement store and let her pick out a few plants, and you give her a corner of your garden or flower bed as her very own, she will lovingly tend those plants for about a week and then you'll have to remind her and help her weed and deadhead them for the rest of the summer. While this may at first sound like a pain, it will help her develop valuable skills and give her a sense of pride that she created something beautiful (even if you do end up doing most of the tending).
Create a scavenger hunt. There are about seven million scavenger hunts on Pinterest, so find one you like, print it out, and get hunting. You could do a nature scavenger hunt that takes you on a hike in the state park, or you could do a neighborhood scavenger hunt that takes you on a walk along familiar streets, or you could even do a household scavenger hunt that will have you running around in familiar territory.
Eat in the backyard. Whether you have a picnic table on your back porch, like we do, or you eat on a blanket in the middle of the lawn, moving your shared meal outdoors will make a fun and memorable occasion.
Play dress up. Even big girls like to wear mom's clothes, jewelry, and make up. Let her.
Talk. It may sound simple, but a real, deep conversation with your kiddo will be balm to her soul. Make some treats and tea, and sit down at the table together. Look into her eyes and share your secrets.
Go to the zoo. My girls and I are gaga over animals. We love them in every habitat and circumstance, so a trip to even a small zoo is super fun for us.
Go to an aquarium. See above. We live relatively close to the National Aquarium in Baltimore, and that is like a visit to heaven for my family. We've also been to the Adventure Aquarium in Philly, and that was also a big hit.
Go to a sporting event in person. I have to admit that I hate baseball. I think it's the most boring sport on the planet. Well, maybe golf, too. I once took two foreign exchange students to see a baseball game, and it was a no hitter which was pretty much torture for all of us and we left in the sixth inning. Anyway, most sports are interesting to watch and your kiddo will enjoy it all the more if you explain to her what's happening.
Go on a picnic. Kids love parks. They love playing on playgrounds and running in the grass and exploring flowers they don't normally see. Take a picnic to your favorite park or even to a brand new park and spend some time there, eating and catching up and then play together after.
Ride bikes. Strap on your helmets and go for a spin together. You may be able to rent a bike if you don't have a grown up one.
Go mini golfing. This is hit or miss for us. Sometimes my kids love mini golf, and sometimes they hate it. But if they were up for a game, I would definitely take one of them to the local putt putt course and have at it. It's good for a laugh if nothing else.
Go out for ice cream. When I was a little girl, my dad took us out for ice cream all the time. Well, maybe it wasn't all the time, but I remember it happening a lot.
Go out for breakfast. Another thing I did with my dad all the time was to go out for breakfast. These dates continued until I was a young adult, living on my own. Eventually, the whole family joined in and even my husband and kids. We went out for breakfast for many, many years, and I loved every time.
Play with water balloons. What kid doesn't love water balloons? Make a date of it by filling up as many as you can ahead of time and then playing games with them, just the two of you. Make the blowing up super simple by getting some of those Bunch of Balloons kits ahead of time; they're not as expensive as they once were.
Go fly a kite. There are thousands of beautiful kites available on Amazon, and it would be super fun to build one and then go fly it in an empty field. Even if you've never done it before, flying a kite is pretty easy, provided there's a breeze. Here's a good video explaining it, made by a store that we like to visit in Ocean City, Maryland.
Get a donut. This maybe goes along with breakfast, but when I was a stay-at-home-mom, I took my kids to the donut shop once in a while for a special date. We would each get one donut and one napkin and sit at a booth and savor our special treats.
Take a hike. Pack a backpack with some water bottles, grab your phone, and hit the trails. We have a state park nearby that is a perfect spot, but there is someplace to hike almost everywhere if you look hard enough.
Go swimming. A whole day at the pool with all mom's attention? Sounds dreamy.
Go to an amusement park. Grace saved up her special date with mom coupon from her Valentine's Day coupon book last year to go to Hersheypark with just me for her birthday. It was a very special day for both of us, because she got to choose everything we did all day long.
Find a geocache. This goes along with hiking, I guess, but my kids are really into geocaching. It makes the whole act of walking much more interesting and bearable to search for something.
Jump in puddles. If it's a rainy day, put on a raincoat and go splash in the puddles. Your little one will think you're the coolest mom ever.
Go camping together. I personally hate camping, but my kids love it.
Go to a farm. In my area, there are a couple of farms where you can pay a few dollars, feed and pet their animals, and play in their fields. It's super fun and my big kid likes it just as much as my little kid. Maybe more.
Take pictures. Ask your kiddo to help you make a photo scavenger hunt. What kinds of things should you look for? When Grace was really little, we did a rainbow scavenger hunt, but you could look for anything. Let her take the pictures.
Let her choose something from my seasonal bucket list. I've posted winter, spring, summer, and fall, plus a generic kids bucket list.
Go stargazing. Take a blanket to lie on and find a quiet place where you can look at the stars. Bonus if you get an app (We really like Skyview, and not just because it's the name of my favorite ride at Hersheypark.) or bring a glow-in-the-dark star chart so you know what you're looking at.
Visit a garden. Most towns have a beautiful garden where you can stroll through field after field of wonderful, fragrant flowers. In our area, we can go to Hershey Gardens which is amazing and has an entire field dedicated to Catherine Hershey's famous roses.
Visit butterflies. Also at Hershey Gardens, there's a butterfly house where you can go year-round to feed and observe butterflies. If your kiddo isn't afraid, you should wear bright colors because these attract the butterflies. They may even land on you!
Find a carnival or festival. There are always lots and lots of things to do at local block parties, carnivals, and festivals, and a lot of it is often free. If you search your local parent sites, you're bound to find something throughout the spring, summer, and fall. If you're in the Harrisburg area, check out Wildwood Lake's Wetland Day and Mechanicsburg's Jubilee Day. They're both wonderful and packed with free kid activities.
Rent a boat. Your local state park, if it has a lake, probably rents canoes and rowboats. I know ours (Gifford Pinchot State Park) does, and we have rented a rowboat before. We paddled all around the lake, seeing turtles and fish and birds, and generally having a wonderful time. I would like someday to rent a kayak and go down the Susquehanna River, but that is probably pretty far in the future for us.
See a movie. Kids love going to the movies, so pick a kid-friendly flick, buy some popcorn, and head out. Bonus if you can find a theater with recliners, like the one at the West Manchester Mall in York. (That's the only place we go to watch movies now that we've discovered it!)
Go out for lunch. My kids both love Red Robin (because I allow them to get bottomless root beer floats for $1.99) and Friendly's (because ice cream is included in all kids meals), but any special meal would be a big hit with your kids, especially if you don't eat out often.
Head out to the science center. Science centers are hands-on meccas for kids. We have, on and off through the last 10 years, had a yearlong membership to our local science center, and my kids adore it.
Go to a children's museum. The only real children's museum I know if that's in driving distance to me is the Please Touch Museum near Philadelphia, but every time we've ever made the trip, both of my kids have had the time of their lives. These museums are all about exciting and delighting kids, so you can't go wrong here.
Go to the Renaissance Faire. Most areas have a Renaissance Faire at some point in the year, and kids love it. Dress up in costumes, pack lots of cash, and head out.
Take a class. You can find pottery classes, art classes, stained glass classes, and much much more. Find something that's age appropriate for your kiddo, and learn a new skill.
Go bowling. Everybody loves bowling, am I right? Make sure you get bumpers, and if your little one is on the littler side, get one of those cool ramps that make it easy to get the ball down the lane. If one of you breaks 100, celebrate with a hot dog or an ice cream cone.
Kids' choice. Let her decide what you'll do for your date. Be prepared with a list of options in case she can't think of anything.
Make a new friend. There is one thing that Allie requests for every. single. special. date. she ever gets, and that is to go to Build-A-Bear Workshop and make a new stufftie. We don't do it every time (because who needs a new stuffed animal every month? Not us!), but I do try to let her do this a couple times a year. She lives for Build-A-Bear Workshop.
Go to the library. Most libraries nowadays have extensive kids rooms with toys, computers, and fun spots to curl up with a good book. Go, play, have fun, and make sure you spend at least a few minutes actually reading before you check out some things to bring home.
Go to a large pet store. Grace and I did this on her last date. There is a place in Lancaster called That Fish Place/That Pet Place that claims to be the largest pet store in America. I don't know whether it's true, but it is a magnificent place. They have a large reptile room with (of course) lots of snakes, lizards, and turtles, but there are also insects (yuck), frogs, small mammals (including the biggest rabbit I've ever seen), every kind of fish you could imagine, and even a few cats for adoption. The pièce de résistance at That Fish Place is a huge touch tank full of sting rays. We lucked out and got there for the feeding show and Grace squealed with delight as she caressed the slimy creatures over and over again. Best of all? The whole thing cost me less than $5 because the only thing we purchased was a container of cat grass.
Go out for a fancy dinner. Find an upscale restaurant, dress up in your finest clothes, and head out for a chic meal. Grace loves getting a nice, medium-rare steak, and she is giddy over a fancy meal.
Try something from my extensive staycation list. A lot of the ideas on that list are specific to winter, but you are bound to find something to do during any season of the year.
Go to the theater. We have an amazing local theater group called the Popcorn Hat Players, and they totally cater to kids. All their shows have audience participation, and kids love it, even Grace who is 10. If your kids are on the older side, they may even enjoy a traditional play or musical. A couple of years ago, Grace won tickets to see Anne of Green Gables at a local theater, and that was a highlight of the year for her.
Go to a coffee shop. Coffee shops are so grown up and mysterious to kids, so if you went to one, she would feel grown up, too. Get her a cup of tea or a glass of apple juice and a pastry, and sit and read together or bring a board game to play or just people watch.
Go for a train ride. Whether you have an antique train ride near you (we have the historic Strasburg Railroad which is super cool) or you simply take a ride on an Amtrak train, a train ride makes for a fun afternoon.
Go to a nature center. For about five years, Grace was absolutely obsessed with the nature center at Wildwood Park in Harrisburg. She asked to go there every chance she got, and we would take a short walk with Allie in the stroller, and we would visit the children's area at the nature center building. It was super fun, and we still go there from time to time.
Paint a canvas. There are painting studios popping up all over the place. Find a Mommy & Me class at one and take your kiddo there for some painting fun.
Paint pottery. Also popping up everywhere are paint your own pottery studios. These can be fun and interesting even if you have zero painting skills (like me).
Get a mani/pedi. Girls love being fancy, am I right? I have been taking my girls for manis or pedis ever since they were old enough to leave the polish alone.
Go shopping. If there's a birthday coming up, it's super fun to go hunt for a present. It's also fun to go shopping just because. Give her a budget and let her choose what she wants.
Go to a farmer's market. Farmer's markets are fun because there are so many different kinds of produce available. Go and let her choose whatever she wants. Come home and cook it together.
Go to a bookstore. If your child loves books, it would be a huge thrill to go and pick out a new book from among all the amazing shelves full. The LifeWay store is great for Christian books, so don't overlook that too.
Go to a drive-in movie. I'll be honest and admit that I've never, ever been to a drive-in movie even though there are a couple within a half hour of my house. My friends tell me that I must go and take my kids though, and I do plan to one of these days. We have been to outdoor movies in the summer though, and that is always super fun.
Get a hotel room and have a special overnight with your special kid. Bonus if there's a jacuzzi or other special amenity that she's never experienced before.
Go to a high tea. If you live near an American Girl store (we don't), they have special and fancy lunches and teas. But there is bound to be a tea room nearby that you could visit. I know of several in my area, and Grace even had her birthday party at one a few years ago. That was very special for all the girls.
Go to a waterpark. I guess this is similar to the pool and the amusement park, but it has a different flavor. Laugh in the splash pad, swim together in the pool, and squeal on the waterslides. It will be a great time.
Go to the beach. Oh how I wish we had a beach nearby. We do have a mini beach at Pinchot Lake, but it's not the same as the big beach at the ocean. The beach is a very special place, and if you're close enough to take just one of your kids at a time, you are very, very lucky.
Do a random act of kindness together. Serving others makes everyone better, and this shared experience will be great for both of you.
Go skating. If you're up for a physical challenge, take her ice skating or roller skating! You'll both get a workout and more than a few laughs as you fall, get back up, and fall again.
Go to an art museum or gallery. Learning to appreciate art is a skill that not many kids have. Give your girl or boy a leg up by wrapping her in the culture of visual art. Make sure you talk about the pieces you see, what you like or don't like about each one, and how they make you feel.
Go jumping. Find an indoor trampoline center where the two of you can jump for an hour. Not only is jumping super fun, it is great exercise that will leave both of you exhausted!
Go picking. Whether you pick blueberries, strawberries, raspberries, apples, pumpkins, or something else (what else is there???), going to a farm and picking your own food is a fun way to explore the relationship between the earth and your table. Be sure to let her sneak a few berries while you're not looking.
Make something. Home Depot, Lowe's, Michael's, and AC Moore all have free project days, usually on Saturdays. At the home improvement stores, you can build something, usually with hammers and wood. At the craft stores, you will get a wide variety of different crafty projects. (Sometimes you have to buy supplies at the craft store, but they're not usually more than $5-10.)
Hunt for Pokemon. Did you know that people still do this? My kids especially love it, partly because I don't let them do it very often. It's a special treat that is bonus exercise.
Remember, what matters most is not what you do for your date. What matters is that you are having fun with your child, focused on him or her (NOT on your phone, please!), and having quality conversations about what really matters to her. These moments will be cemented in her memory for the rest of your life, and I promise you that they will make your parenting life easier in every way.
What is your favorite way to spend a date with your child?