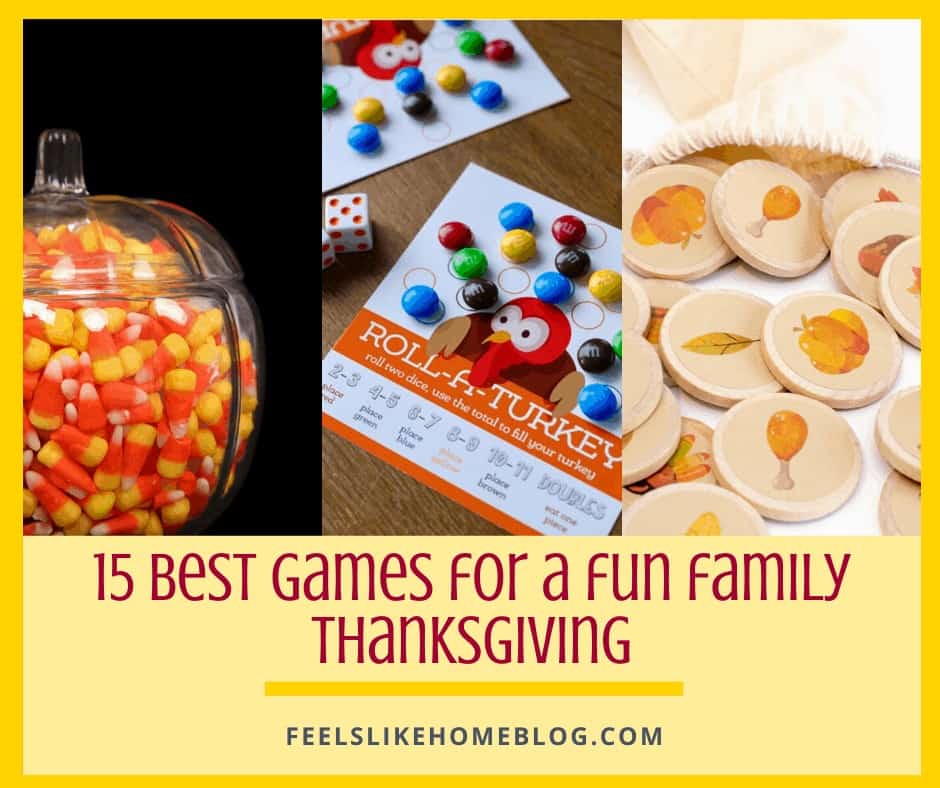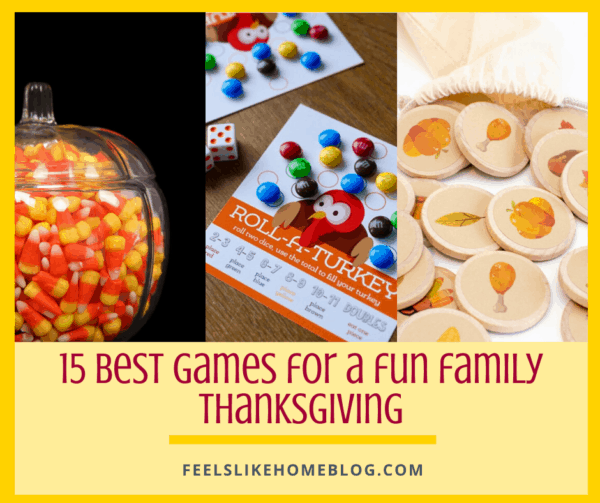 Pin
Thanksgiving and Christmas mean one thing to me - a family game night. Usually, my sister stays after dinner and we all play games together. It gives us a chance to play games that we don't normally get to play because we don't have enough people, and it is just plain fun.
If you're hosting Thanksgiving this year, you should also check out my step by step plans for a stress-free holiday meal over here.
15 Awesome Thanksgiving Games for the Whole Family
Thanksgiving Taboo - I love love love Taboo. It makes both the describer and the guesser think in a new way which is so good for your brains. Basically, the describer has to get the guesser to guess a certain word without saying any of the taboo words on the card. This one isn't good for a non-reader (although you can get around that by reading the words in secret to her), but it is awesome if everyone reads well.
Thanksgiving memory - This is the classic memory game we've all played but with a Thanksgiving twist. The game pieces are beautiful wood slices, and each one has a Thanksgiving picture on it, like a turkey, a gravy boat, or a fall leaf. Great for non-readers and readers to play together.
Thanksgiving bunco - I love bunco, and this beautiful set of cards is perfect for after your Thanksgiving meal. If you're going to play by the real rules, you'll need 12 people, but if you don't mind adjusting them, you can play with as few as two. My kids and I play bunco sometimes just for fun. If you've never played before (you are missing out), all you do is try to roll the number that corresponds to the round. So during the first round, everyone tries to roll a 1. Then during the second round, everyone tries to roll a 2. The person or team with the most of the given number wins the round. Don't forget to buy some dice to play with.
DIY Thanksgiving escape room - Escape rooms are all the rage with the tween and teen set these days (and even many adults), so set up your own with this kit. Of course, there's not an actual room to escape from, but the idea is the same. You have a series of puzzles to solve in order to "escape" the game. There's usually a time limit too. Kids and adults will love doing this one together. I am thinking about using it this year for my crew.
Roll a Turkey - This is another fun game for non-readers and readers together. Basically, you roll a die, and when you get a certain number, you get to add a game piece to your card. Whoever gets her card filled up first is the winner. As you can see in the photo, M&Ms or Skittles make fun game pieces for this one.
Pin the Tail Feather on the Turkey - This is just like Pin the Tail on the Donkey except with a turkey. It would be fun for both kids and adults. Don't forget a sleeping mask to cover the player's eyes.
Thanksgiving turkey bowling - I once attended a turkey bowling game where they used real bowling pins and real frozen turkeys. It was a mess, and I felt like they were wasting food that could have gone to the homeless or a food pantry. My own hangups aside, the people who were playing had a great time. This particular turkey bowling game is a lot more conscience-friendly in my opinion. All you have to do is make some turkeys out of plastic cups and paper, and use a tennis ball to knock them over.
For Thanksgiving dinner, I had... - This is a very simple game, and you don't even need any supplies. You go around the table and say what you had for dinner, but there's a catch. You have to say what everyone said before you. So the first person says, "For Thanksgiving dinner, I had stuffing." and then the next person says, "For Thanksgiving dinner, I had stuffing and turkey." and the next person repeats the first two things and adds her own. It keeps going on until someone forgets something, and then you start over.
This year, I'm thankful for... - Similar to the Thanksgiving dinner game above, this one is a word game. You go around the table and each person says something that begins with a certain letter of the alphabet. The first person says, "This year, I'm thankful for (A-word)." The next person says, "This year, I'm thankful for (A-word) and (B-word)." The next person adds a C-word, and you go around until someone misses something.
Thanksgiving Mad Libs - Mad Libs are fun for everyone, and even non-readers can play along. Basically, what you do is to write down a bunch of words in a certain order. The instructions will say, noun, adjective, proper name, etc. Then after you have your list, you will go back and fill in your words in blanks in a story. It's super fun and always makes a riotously silly story, and that's the point. This one is a free printable.
Guess How Many - All you have to do for this one is fill a jar with candies and provide slips of paper for the guests to guess how many candies are in the jar. My crowd gets mathematical with this and tries to estimate how many are in one row and how many rows there are in the jar, and it gets quite heated, but that makes it even more fun. The only downside is that you have to actually count all the candies as you put them into the jar. I would get a jar at the thrift store since typically, the winner gets to take the jar home.
Thanksgiving charades or Pictionary - These games use a simple word list to provide hours of entertainment. All you have to do for charades is act out the word without talking. For Pictionary, you draw the idea without letters or talking. The link has a free list of words if you need some help.
Thanksgiving Would You Rather? - We recently went to a tea party at a local tea room, and it was amazing. Beyond the food though, one of the things that made it amazing was the huge stack of Would You Rather? cards in a pretty box on the table. We got through the entire stack in the time it took us to eat our five course meal and drink all our tea.
Thanksgiving pumpkin hunt - This is basically an Easter egg hunt but with mini pumpkins. I know you don't need one more thing to do before dinner, so hide the pumpkins the night before. Hide them all over the house (or wherever you've cleaned up and readied for company) and challenge your guests to find them. Give an extra slice of pie to whomever can find the most.
Play a board game - I have written extensive lists of my favorite board games for families with non-readers, with preschoolers, and with tweens and teens. Here are some of my favorites:
These are all wholesome family games, but they have an older audience than the ones below, either because of math skills, reading skills, or strategy needed.
All the games in this list can be played by non-readers but are fun for the whole family.
These games are definitely aimed toward a younger audience, but I have played and enjoyed them with my own daughters.
With even a few of these games in your pocket (or your closet), you are sure to have lots to entertain your crowd before, during, and after Thanksgiving dinner.
I don't have any statistics or anything, but I know from personal experience that games provide an easy way to visit with family and enjoy each others' company without awkward silences or "um, okay" moments. You won't regret playing games with your family this year at Thanksgiving.