Homemade Steak Tostadas are so quick and simple to make. This easy dinner recipe is loaded with seasoned steak, fresh veggies, and a delicious avocado lime dressing making them the perfect taco Tuesday alternative! 15 minute meal.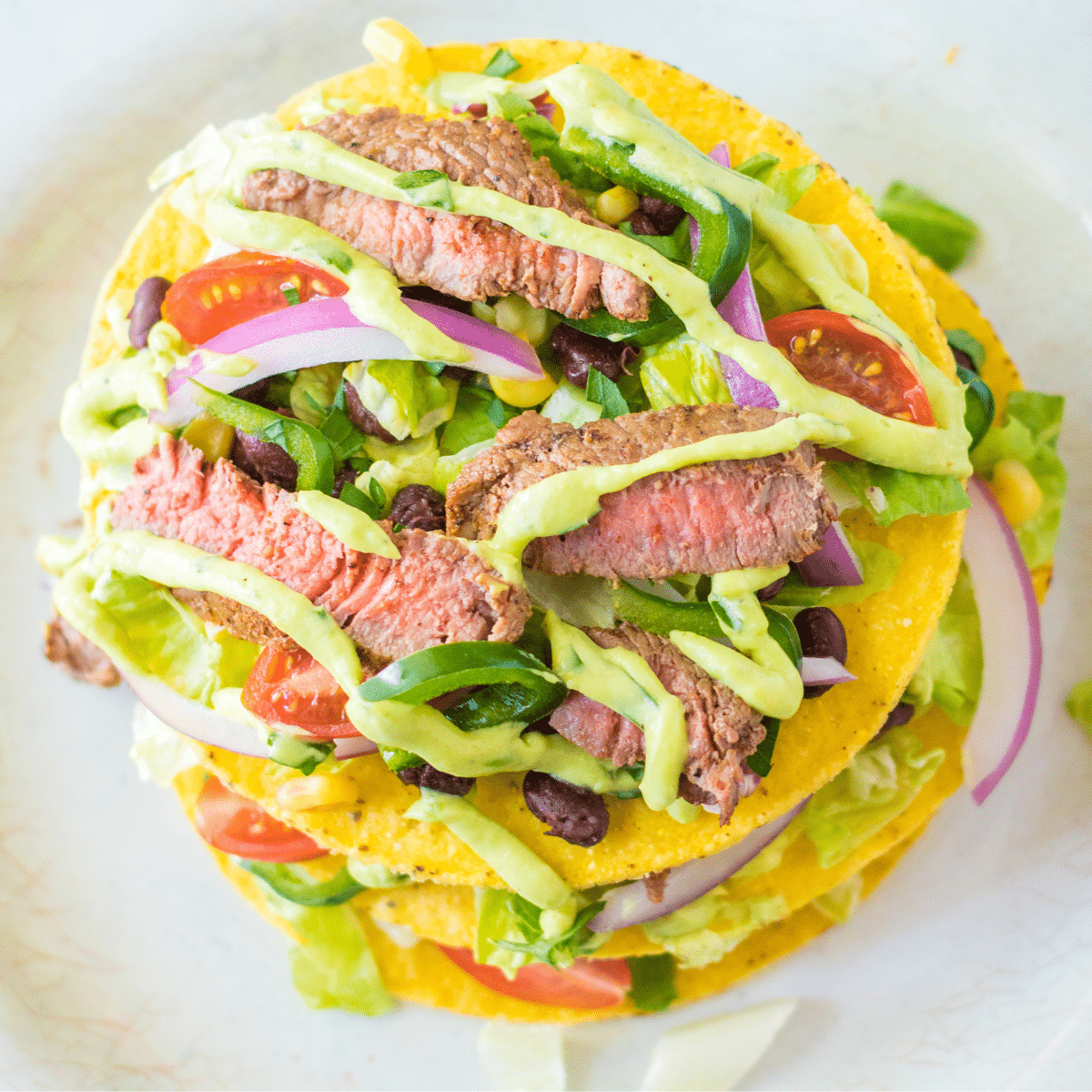 Are they steak tostadas or steak tostada salads?
I don't really know. Some people call these little piles of deliciousness steak tostadas. But I stacked them up and added a bunch of lettuce, so I thought about calling them steak taco salad, but they're made with tostada shells so I thought steak tostada salads. But you don't toss them, so maybe not a salad then? I don't know really what to call them. But they're delicious, so read on!
Why this is the best tostada salad recipe
This recipe uses pre-made tostada shells which makes the prep virtually zero. It's a really simple and easy recipe.
This recipe has lots of veggies which makes it super healthy.
This tostada salad recipe is a complete meal with a protein, lots of vegetables, and a starch all on one plate.
Did I mention that these beef tostadas taste amazing thanks to the dry spice rub you're going to put on the steak? It's true!
What you'll need to make homemade steak tostada salad
EQUIPMENT
Meat thermometer - This is the best way to know that your steak is done but not overcooked. I like my steak medium, which is pink but not red in the center. To achieve that, I remove the steaks from the heat when they are 138º and let them rest until the centers are 145º. Perfection.
INGREDIENTS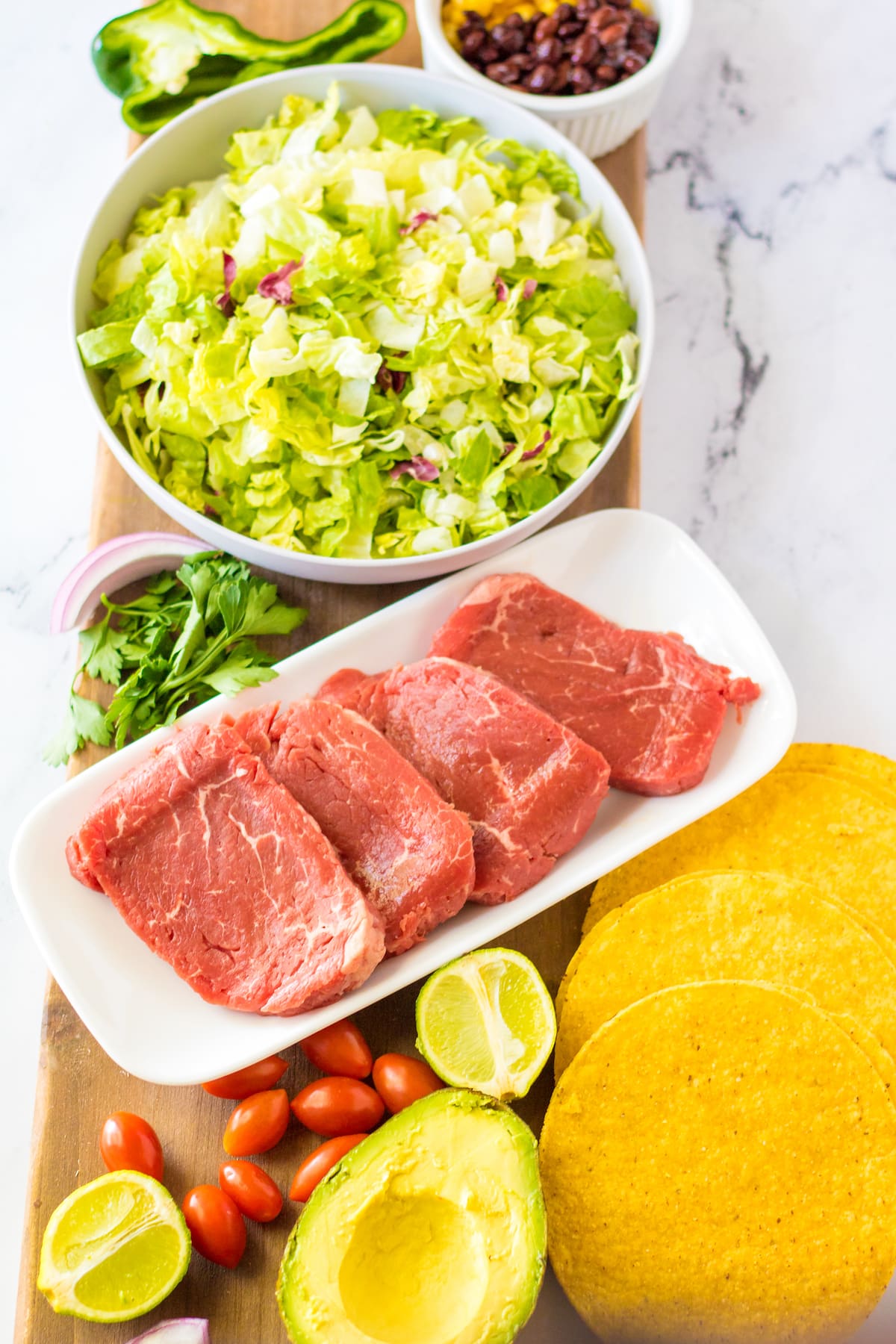 See printable recipe card at the bottom of the page for measurements and nutritional information.
Flank steak or another cut as you prefer - You want the steaks to be tender and juicy, so sirloin steak or skirt steak would also be nice. Look for meat with heavy marbling for the juiciest texture.
Garlic powder - I do not recommend using fresh garlic in this recipe as it will cause the spices to make a cakey mess instead of a nice dry rub.
Cumin - This gives the dry rub a rich umami flavor. You can add an equal amount of chili powder if you feel like it. You can also substitute some homemade taco seasoning or fajita seasoning in place of all the spices.
Paprika - You want the sweet paprika, not the smoked kind. Sweet paprika is typically just labeled as "paprika."
Salt & black pepper - To season the beef.
Iceberg lettuce - I typically hate iceberg lettuce, but it works in this recipe. An alternative is romaine lettuce. Either way, you'll want it to be washed and chopped into small pieces.
Poblano peppers - These are one of the sweetest and mildest of the hot peppers. If you want more heat, use a jalapeno or a different hot pepper. The peppers should be washed, deseeded, and sliced. (Unless you want it to be really hot, and in that case, leave the seeds in.)
Corn kernels - I prefer frozen corn that's been drained and warmed, but you could also use canned corn that has been drained and rinsed.
Black beans - Drained and rinsed. You can substitute refried beans if you'd like.
Red onion - Thinly slice the onion. If you prefer, you can substitute sweet vidalia or yellow onion.
Cherry tomatoes - Slice the tomatoes. If you prefer, you can dice a larger tomato and use that instead.
Tostada shells - I prefer the corn variety but you could use flour instead. Tostada shells are basically crunchy flat tortillas and are found in the tortilla section of the grocery store. If you can't find them, buy a package of taco-sized corn tortillas and bake them on a parchment paper lined baking sheet in the oven at 400º for 10-12 minutes, flipping halfway through. This will toast them and make them crunchy.
Avocado lime salad dressing - This dressing is made with avocado, cilantro, fresh lime juice, sour cream, and a few other pantry staples. If you prefer, you could use cilantro lime ranch or traditional ranch dressing.
Fresh cilantro for garnish
Diced avocado for garnish
Queso fresco for garnish
Lime wedges for garnish
How to make steak tostadas
Mix the garlic powder, salt, cumin, paprika, and pepper together and rub evenly into the steak.

Sear the steak on the grill or in a grill pan over medium high heat until done to your likeness. Medium is about 145º - take the steak off the heat at 138º or so. It will continue cooking while it rests. Let the steak rest while you prepare the tostadas.
Place one tostada shell on each plate. Top each tostada with lettuce. Divide ⅓ of the poblano pepper, corn, black beans, red onion, and tomatoes evenly among the 4 tostadas.
Thinly slice the steaks and place ⅓ of 1 steak on top of each tostada.
Drizzle the tostadas with avocado lime salad dressing.
Repeat the layers twice more, ending with steak and dressing.
Garnish with cilantro, diced avocado, and queso fresco. Serve immediately.
Do you have to use steak in tostada salad?
No. You can substitute ground beef or turkey or sliced chicken in place of the steak. I suggest using 2 pounds of meat for four 3-layer salads.
What else can I add to my tostada salads?
These salads are great just the way they are, but you could also add diced avocado; shredded monterey jack cheese, pepper jack cheese, or cheddar cheese; black olives; fresh pico de gallo or salsa; guacamole; and/or diced or sliced bell pepper. You could also drizzle with homemade enchilada sauce instead of salad dressing.
Are tostadas gluten-free?
Yes, as written, this recipe is gluten-free. However, you should always check your ingredients to be sure.
Can you make steak tostadas ahead?
Not really. You can prep all the ingredients ahead of time (cut the veggies, cook the steak, etc.) but tostada salad is best served immediately after assembly.
How to store leftover steak tostada salad
As I said, these are best eaten right after they've been made. I don't recommend storing the already assembled tostadas because the shells will get soggy and the hot steak will wilt the lettuce and they will be a mess.
However, if you leave the components separate, it's easy to store them and assemble at a later time. Store the tostada shells in a zippered plastic bag on the counter. Store the veggies and the steak in airtight containers in the refrigerator.
To serve, briefly heat the steak in the microwave or on the stove and assemble the tostada salads as directed in the recipe.
Recipe