The perfect healthy, homemade creamy Cilantro Avocado Lime Dressing. This flavorful salad dressing is made at home in 5 minutes with only 6 ingredients and is perfect for salads, tostadas, wraps, or even tacos! Perfect for gluten-free, keto, and paleo diets.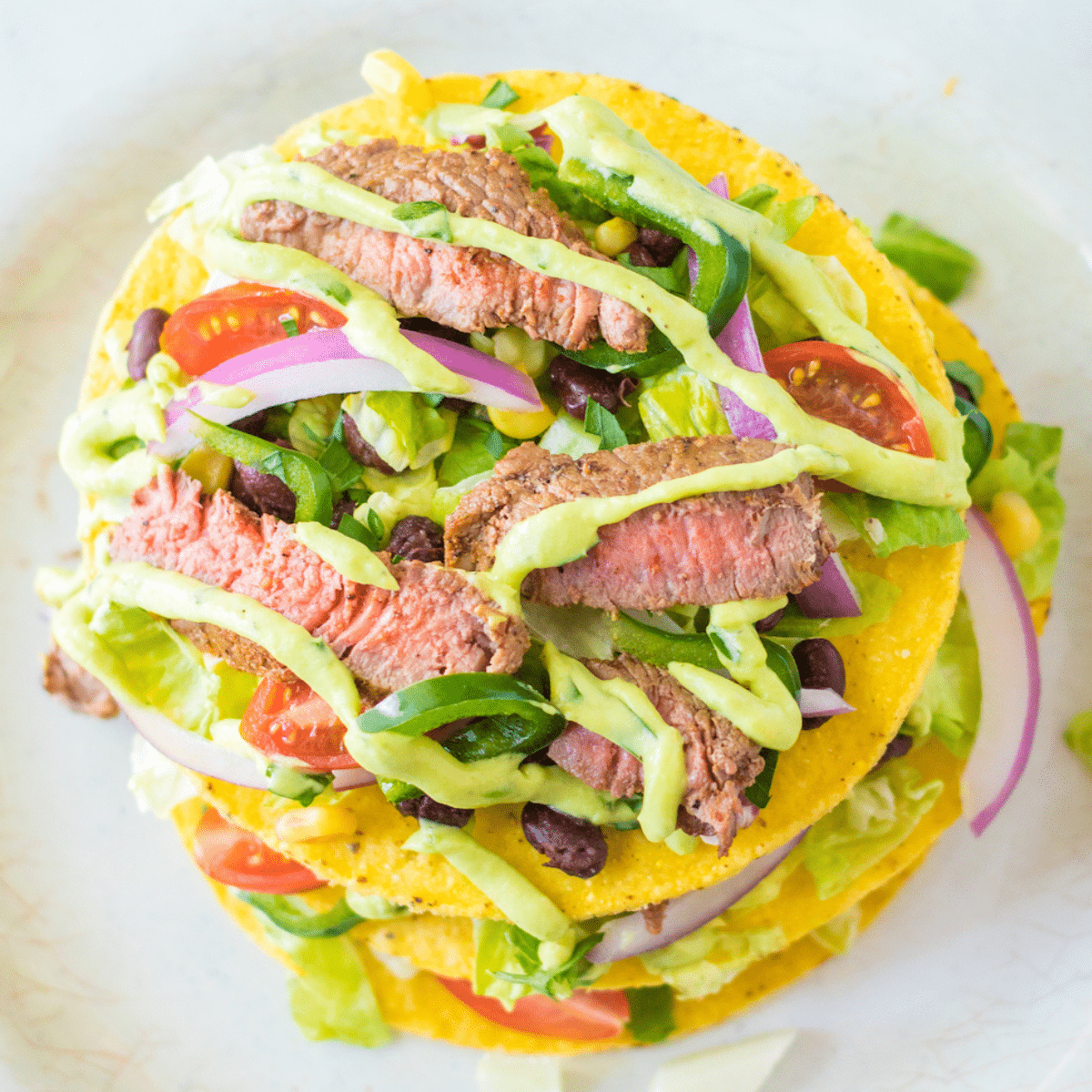 Why this is the best avocado salad dressing
This salad dressing has six simple ingredients, plus salt and pepper. Plus, they're all standard pantry staples!
This ingredient has literally two steps. Throw everything in the food processor and pulse until smooth. That's it!
I created this recipe to top steak tostada salads, but it's so versatile that you're going to find dozens of ways to use it!
What you'll need to make Cilantro Avocado Lime Dressing
EQUIPMENT
Citrus juicer - I love my citrus press and use it often. If you don't have one, you can cut the lime in half and squeeze by hand, but you will get significantly less juice and may want to use one and a half limes.
Garlic press - I use my garlic press every single day. It minces the garlic to such a tiny size that you won't have any chunks of whole garlic in the finished salad dressing. It's not so important in this particular recipe because you're going to pulse the salad dressing in the food processor.
Food processor - This is to thoroughly blend that salad dressing. It makes the process so much easier because the dressing is on the thicker side. If you don't have a food processor, you could use a blender, but you may have to add some additional oil to thin the dressing enough to blend it.
INGREDIENTS
See printable recipe card at the bottom of the page for measurements and nutritional information.
Avocado - The avocado makes the creamy base of the salad dressing.
Fresh garlic - There is no substitute for fresh garlic. If you have to, you could use minced garlic from a jar or garlic powder, but the finished dressing will not taste as good.
Fresh lime - You'll only use the juice, but like the garlic, there is no substitute for fresh lime juice. That abomination that is sold in a bottle does not taste anything like fresh lime juice. Nothing at all.
Fresh cilantro - No need to chop because it's going into the food processor. If you don't have or don't like cilantro, you can substitute fresh parsley.
Sour cream - I often substitute plain Greek yogurt in place of sour cream because the yogurt has more protein and fewer calories. They taste almost the same.
Canola oil - You need a little bit of oil to thin the dressing. If you prefer your dressing to be thinner, you can add a little more oil. You can also substitute olive oil if that's all you have, but it will change the flavor of the dressing slightly.
Salt
Ground black pepper
How to make Creamy Avocado Dressing
Add all the ingredients to in a food processor.

Pulse until smooth. Add additional oil if needed to achieve your desired consistency.

How to use this creamy avocado cilantro salad dressing recipe
This avocado cilantro lime dressing is creamy and thick which makes it a wonderful spread for wraps or sandwiches, in addition to being the perfect sauce to drizzle over tacos, tostadas, burrito bowls, or skewers. And of course, you can use it to top any salad, including my BLT salad and to dip fresh veggies.
Try these other delicious dressing recipes:
Recipe