Isn't this an awesome treat? I'd eat this wormy apple any day.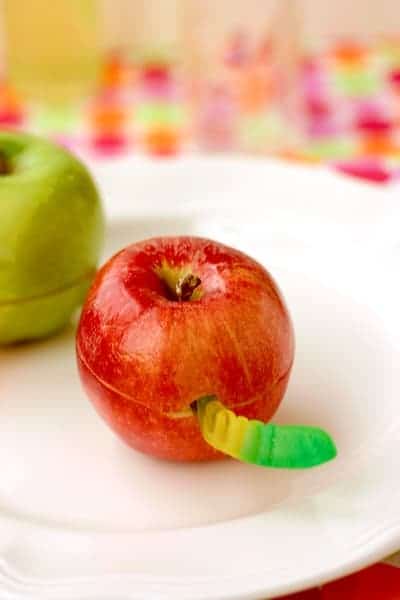 As soon as I saw it, I knew I'd make it for Grace's bedtime snack.
The snack itself is really easy to put together, and it requires minimal ingredients.
The only downside?
When I handed it to 3-year-old Grace, she was – concerned. She didn't know what to think of it. She looked the snack all over, without touching the apple or the worm. I could tell by the look on her face that she was perplexed.
"Is that a silly snack, or what?" I asked, grinning. She looked at me, then back at the apple. "Can you believe I put a gummi worm in your apple? What else is in there?"
With that, she picked it up and opened the two halves, happily telling me that it was filled with peanut butter, marshmallows, and a gummi worm.
In the end, she ate the entire apple, the worm, the marshmallows, and the peanut butter inside.
That's a successful snack in my book.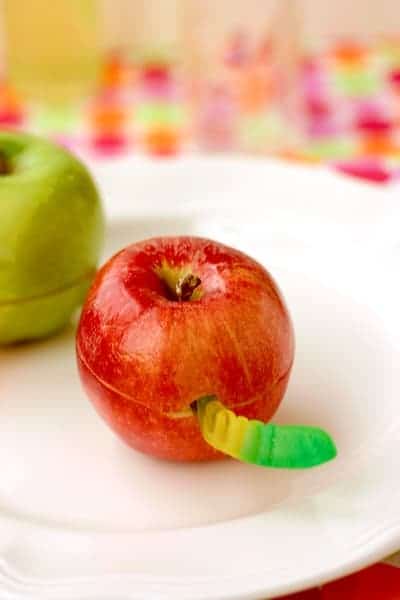 | | |
| --- | --- |
| | |
First, core your apple. The original blog post on Babble kept the apple's core to make the finished snack look more authentic. I would rather sacrifice a little realism for an easier to eat apple, especially for a child as young as mine. Who am I kidding? I'd core the apple if making this snack for myself, too. See the bad spot on the right side? That's where I cut the hole for the worm. Don't be afraid to use a slightly blemished apple.

Cut the cored apple in half.

Cut a large marshmallow in half across the short side. Stuff one half into each cored apple (to keep the peanut butter from coming out the top and bottom).

Use a stiff, heavy duty straw to cut a small hole in the apple. I used the plastic straw from one of Grace's sippy cups.

Poke the worm through the hole. I struggled with this gummi worm for a good three or four minutes before realizing that it had a head and a tail. I have never before seen a gummi worm with a head and a tail, but I suppose I'm not all that up on candy culture these days. It goes into the hole much more easily if you put the tail end in first.

Use a scoop or a spoon to fill up the remaining holes with peanut butter.

Stick the two halves of the apple together and serve!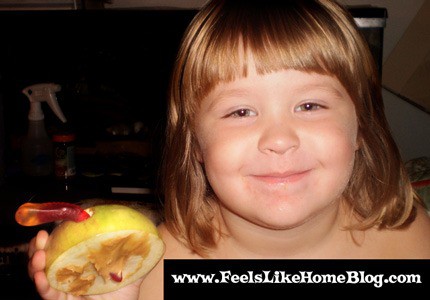 What would your kids think of this wormy apple snack?
I originally saw the wormy apple snack on Babble.
© 2010 – 2019, Tara Ziegmont. All rights reserved.