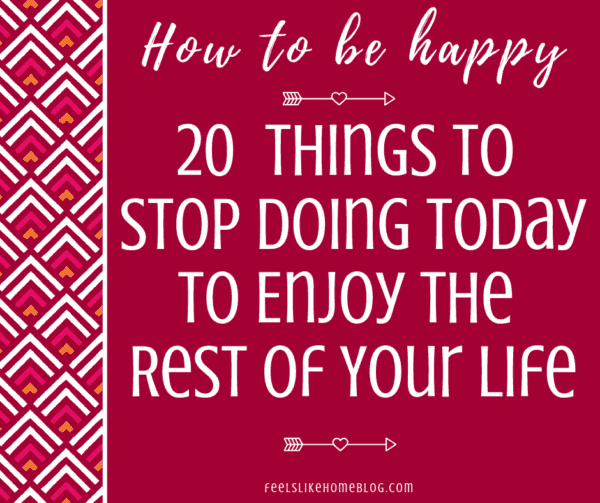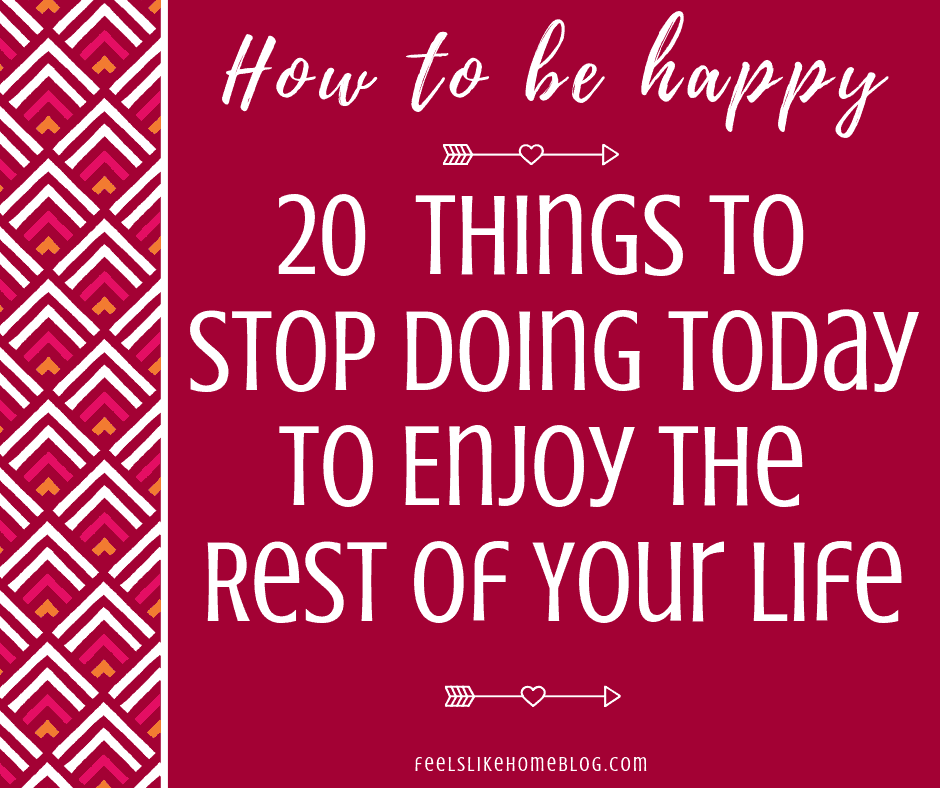 I have written quite a bit about all the healthy, positive habits you could start doing to be more productive! and get more done! and be happier! and be healthier! and all that jazz, and I suspect that at least a few of you think, "Are you kidding me?" when you get one of those emails from me.
I hear you.
If someone told me one more thing that I should accomplish in the day, I might turn into a crazy person. Or eat a whole container of brownies.
Probably the brownies.
My point today is not to tell you all the things you should or could do to improve your life. Your life is already full to the max, and adding another thing to the list just. isn't. going. to. happen.
So today, I'm taking a different angle. I want you to stop doing some things, 20 things to be precise. These are all habits that we do every day, sometimes every hour, that erode our sense of peace and happiness.
Notice I said we and not you? That's because I do most of these things, too, and I am working on quitting them myself.
I had to remove the individual images from this post as they were significantly impacting load times.

If you would like an easy & convenient way to get all 58 of the quote images at once, I created a PDF file that you can purchase in my shop.
20 Things to Stop Doing Today to Enjoy the Rest of Your Life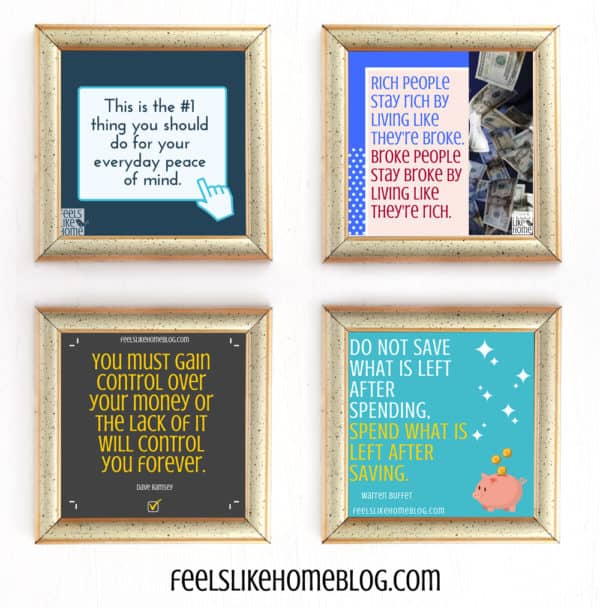 1. Stop living paycheck to paycheck.
I started with a hard one, I know, but setting up automatic savings plans is the #1 thing you can do for your everyday peace of mind.
A couple of years ago, I discovered Capitol One 360 accounts - savings accounts that are 100% free and online. I set up a bunch of those accounts, and they pull money the Monday after Joe and I get paid, every other week forever and ever and always. We have savings accounts for our quarterly bills (sewer & trash), for medical expenses (in addition to what our HSA can cover), car repairs (we have old cars), vacations, educational expenses, gifts/holidays, and more. I transfer over $1,000 every other week, and it all goes into specific accounts based on the purpose of the money. We live on what's left over.
This may seem like a lot to you, and we do make a decent amount of money between the two of us, but for years, we were living paycheck to paycheck without any allowances for unplanned expenses. One time, Joe's car needed a $2,000 repair, and we had to ask the deacons at our church for help.
Now, when a doctor's office calls and says the bill is going to be $600 for the procedure planned for next Tuesday (this happened earlier this week), I can say, "Okay, no problem. I'll have it with me when I come in." because I know I have the money in my medical expenses fund, and it only takes 2 business days to transfer it to my checking account. Cha-ching!
I had to remove the individual images from this post as they were significantly impacting load times.

If you would like an easy & convenient way to get all 58 of the quote images at once, I created a PDF file that you can purchase in my shop.

2. Stop ignoring your needs.
You have needs for love, acceptance, belonging, and quiet time. You have a need for a connection with God and for peace and happiness. You can't fulfill any of these needs without some quality self care.
I've written about self-care extensively, so take a look at that link for hundreds of ideas for how you can better care for yourself, and that will lead to better caring for your family and the people around you.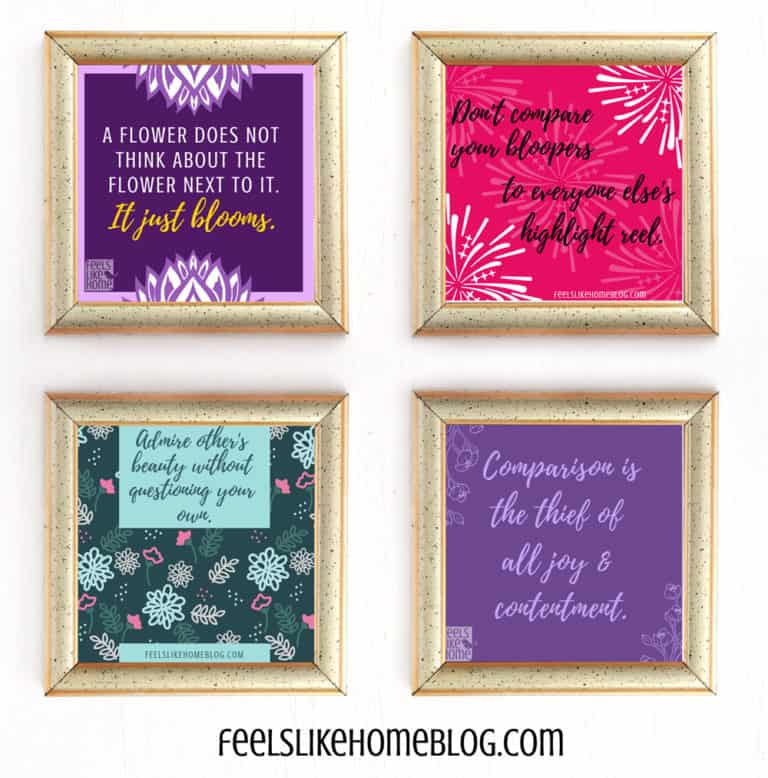 3. Stop comparing yourself to others.
When you compare, you always either come out ahead or behind. When you come out ahead, you feel smug and superior, and you rob yourself of the opportunity to grow. When you come out behind, you feel inferior and worthless, and you rob yourself of the joy of learning and improving.
The bottom line in all cases is the same: don't compare. Look, appreciate, celebrate together. But don't stop to compare what you have to what she has. You'll both come out losers in the end.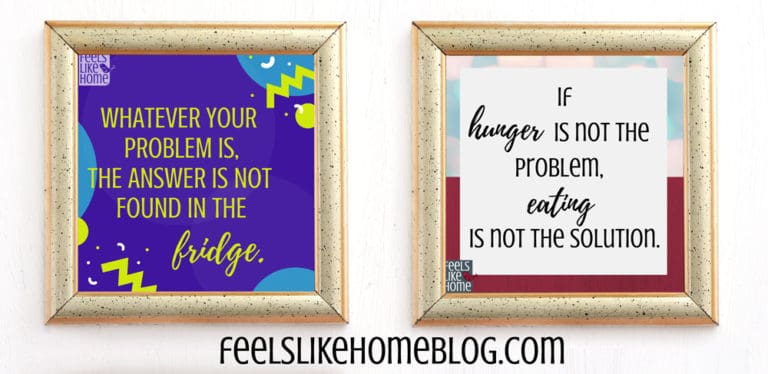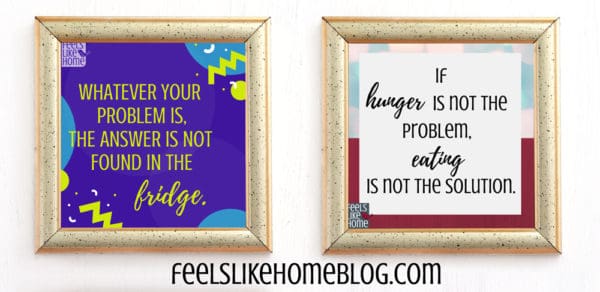 4. Stop emotional eating.
You knew it was coming, and you also know that I'm speaking mostly to myself here. Stop with the mindless snacking and the chocolate to feel better and the brownies because you're sad. Get yourself a therapist, read Rewire and write in a journal, or text your best friend until your fingers get sore.
But stop with the eating.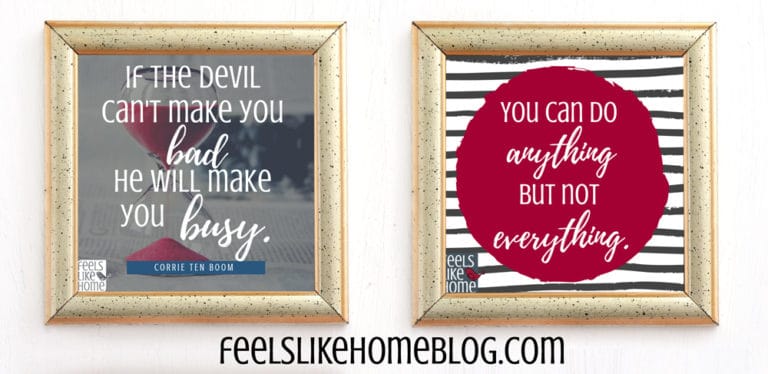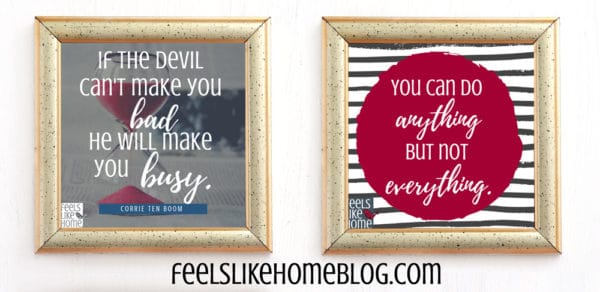 5. Stop being busy.
That Corrie ten Boom quote convicts me every time because I am a compulsively busy person. I like to have five things going all at the same time, and I thrive on being ultra productive.
I don't like to sit around. The only time I watch tv is on the treadmill, and not even always then. I listen to audiobooks in the car and while I walk. I rarely have a minute to just sit and be, unless you count the times when I'm writing in my journal, and even then, I usually have a purpose or a problem I'm trying to solve by tapping into my unconscious brain.
I don't think I'm sharing this to brag (although maybe I am). In any case, you and I should both stop the glorification of busy. We should stop trying to impress each other with how much we neglect ourselves (see #2 above), and we should start embracing peace and sanity and breathing space. Absolutely speaking to myself here.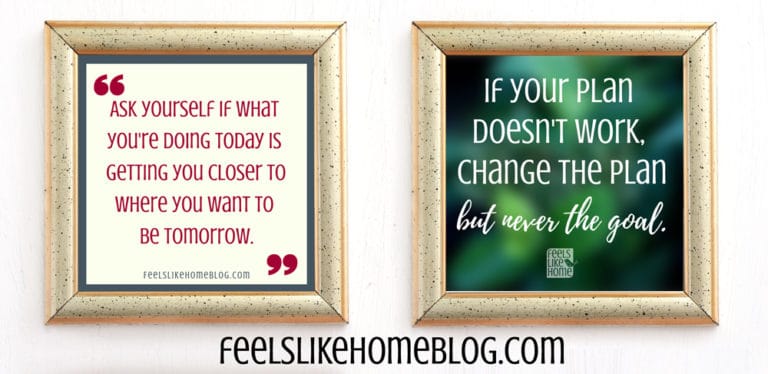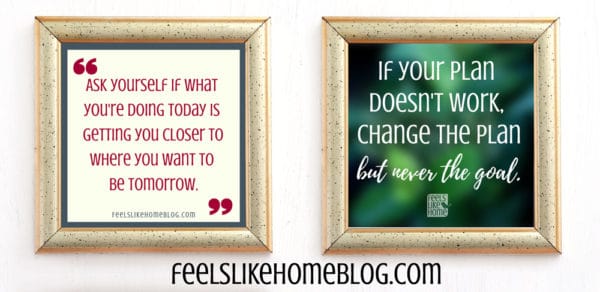 6. Stop floating on the breeze.
I've gone through countless goal setting courses, and I have pretty much stopped signing up for them because they're always the same:
Set 5 year goals, then break them down into 1 year goals and 3 month goals.
Break your 3 month goals down into 1 month goals.
Brainstorm all the things you will have to do in order to achieve your 1 month goals.
Schedule all the things into the weeks of the month.
Do all the things and achieve your goals.
It's never that easy, is it? It's certainly not for me.
However.
This doesn't mean that I don't or shouldn't try to achieve goals. I currently have a 3 year goal: to graduate with a 4.0 in my MBA program at Penn State.
Breaking it down, I have different classes each semester and different workloads at my job and in my personal life and on my blog, and I have to juggle all that.
The key here is that I have a goal. I am working towards something. Maybe I will get a 4.0, and maybe I will get a 3.8, but whatever I end up with, I will work super hard every day to accomplish my goal.
I don't care whether your goal is to clean your house once a year or to make it spotless every week. Maybe it's to read one book a month or to spend 15 minutes a day playing with your kids.
Whatever your goal is, it's super important that you have one and don't simply float on the breeze like the feather in Forrest Gump.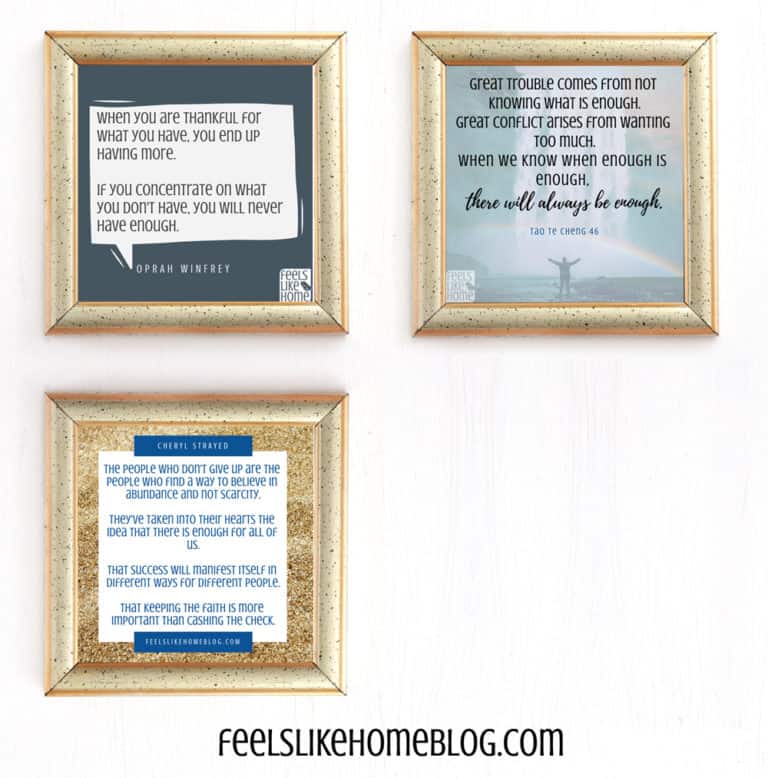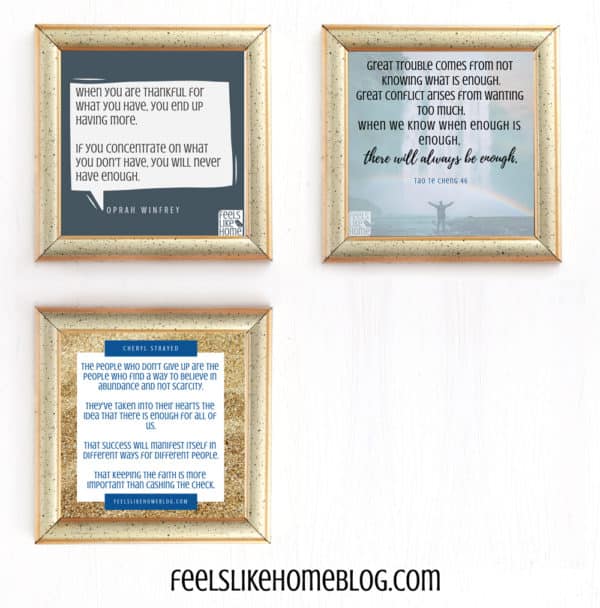 7. Stop focusing on what you don't have.
There is enumerable research on gratitude and satisfaction and contentment, a lot of it done by Brené Brown who is one of my great heroes.
Without exception, her work shows that focusing on scarcity, the idea that there is not enough [time, money, love] to go around and we must compete to get what we need zaps the joy from your life. When you think like that, you hustle and strive and compete instead of resting in God's promise of enough.
The truth is that God is love and He loves us and wants the best for us, and that means that there is always going to be enough.
Period.
There is enough of whatever you need and want in your life.
Whether God will give it to you is another matter. Maybe He will, and maybe He won't, according to His plan, but if you are content and grateful for whatever He gives you, you will always have enough.
Was that circular logic? I hope not. The point is that when you are happy with what you have, it magically becomes enough.
Please convey this to my children.
I had to remove the individual images from this post as they were significantly impacting load times.

If you would like an easy & convenient way to get all 58 of the quote images at once, I created a PDF file that you can purchase in my shop.

8. Stop with the jealousy & envy.
This goes along with several of the above. Stop wanting what your friends and neighbors have.
Maybe they are thinner or prettier than you. Maybe they have fewer wrinkles or perkier boobs or a flatter stomach. Maybe they have more money and drive a nicer car and have a bigger house.
It doesn't matter.
If you are content and satisfied with what God has given to you, it shouldn't matter what anyone else has or is or does.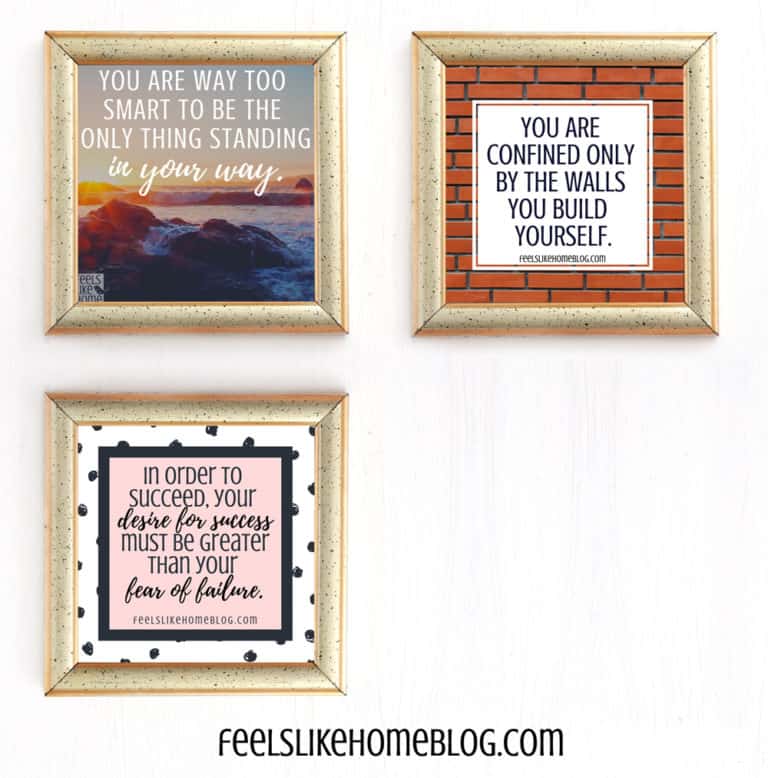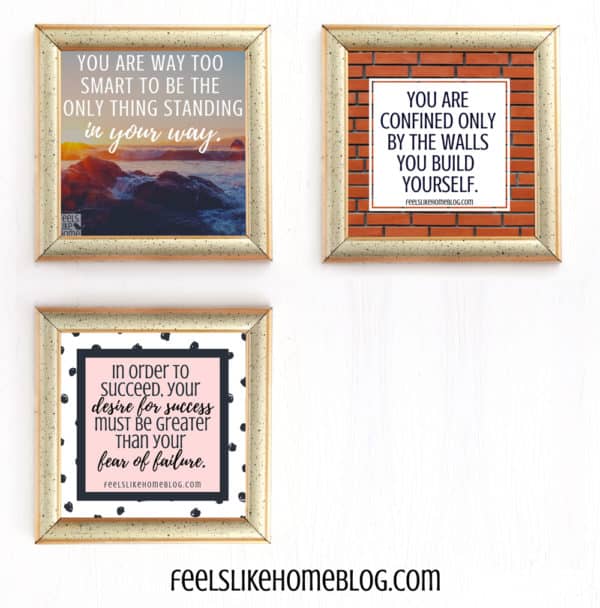 9. Stop standing in your own way.
Sweet sister, the only thing that will get you what you want is hard work. You can only make progress when you stop making excuses, and when you start actually doing the work.
I have been spending a lot of time journaling about this point because I am sabotaging my own efforts to eat healthy and lose weight. It's all me; I have no one to blame but myself. I'm the one who keeps buying the brownies and the sugary cereal and the chocolate bars, and I'm the one who puts them in my mouth.
When I get out of my own way, I make progress. When I allow myself to slide back into old, familiar, enjoyable habits, I don't. It's that simple.
Now, all that said, I will move on to the next point about beating yourself up and having grace.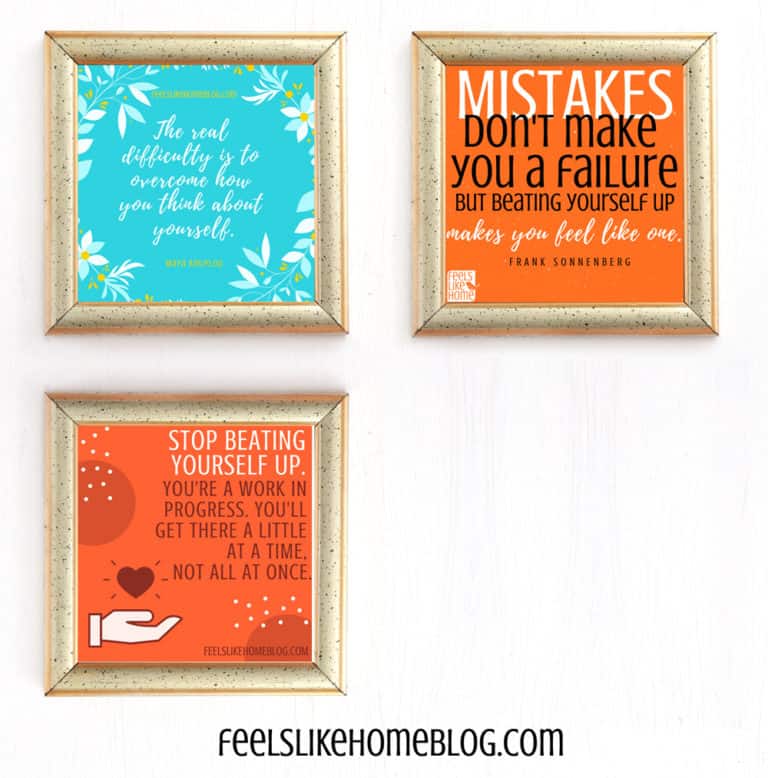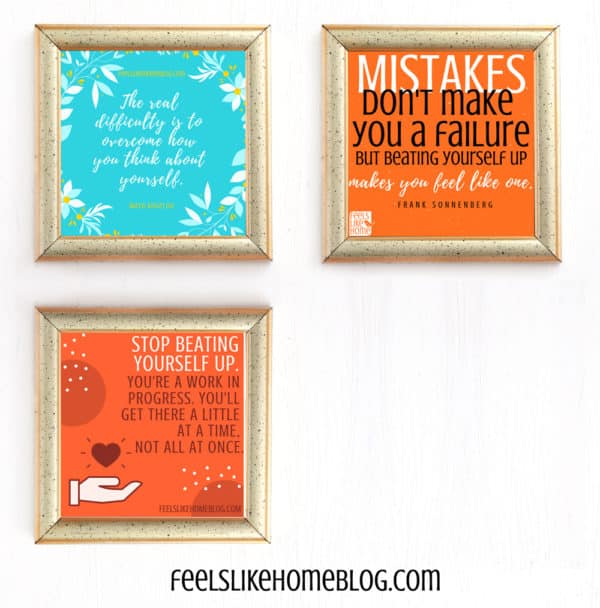 10. Stop beating yourself up.
You can only do what you can do, right?
I experienced a disappointment recently when my grad school group got our first paper back. We earned a 94% even though we had thought our project nearly perfect. We had covered all the required elements and stayed under the very tight page limit.
Alas, the professor didn't see it exactly the way we saw it, and she took points off for three different content areas.
There was nothing we could have done, really. Perhaps we could have followed the rubric more carefully, but in the end, we all agreed that the paper was ready to submit.
It would have been easy to point fingers or to lay blame, but no one did that (at least, not aloud). We regrouped and discussed how to get a better grade next time.
That's all you can do when facing a mistake, whether it's a group mistake or one specific to you. You can look at the situation, you can learn, and you can move on to the next challenge.
Beating yourself up does no good whatsoever. Totally speaking to myself here, yet again. (I am the queen of beating myself up.)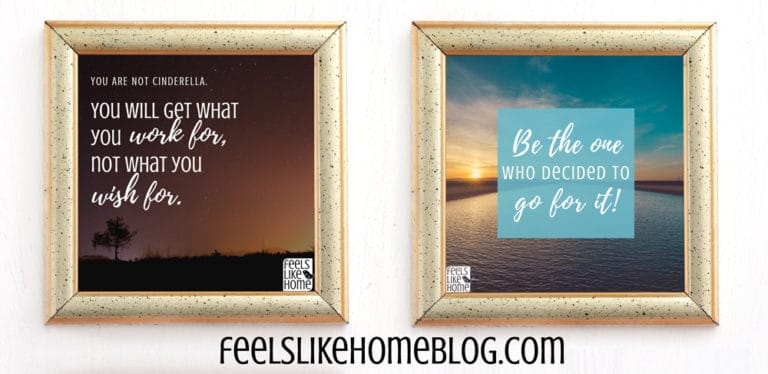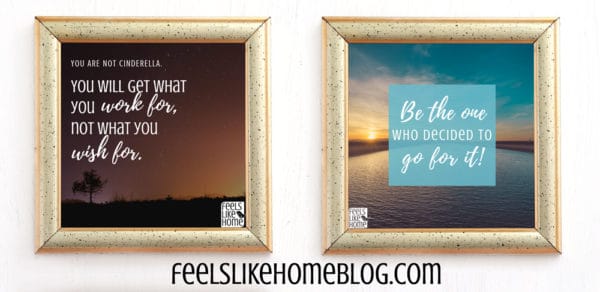 11. Stop wishing things could be different.
I have been fat my entire life, since before my first birthday.
When I was in middle school, I would go to bed dreaming of the day when I would come to the bus stop thin, and no one would recognize me. The cute boy who lived down the street would be impressed, and no one would tease me anymore.
I was young, sure, but all I did was dream. I didn't go outside and walk the streets or ride my bike fast and far (well, sometimes I did that, but not consistently enough to make a difference). I could have asked my parents to take me to a dietician. I could have tracked my food and counted my calories.
I didn't do any of those things. I had spurts through my adult life when I did Weight Watchers or exercised a lot or watched what I ate more or less, but I never lost a significant amount of weight and certainly did not sustain any progress I made.
Not until I had surgery in April 2017 did I get my weight under control (and, the argument could be made that it is not under control even now).
I had to stop wishing and start working. That's the only way anything ever gets done.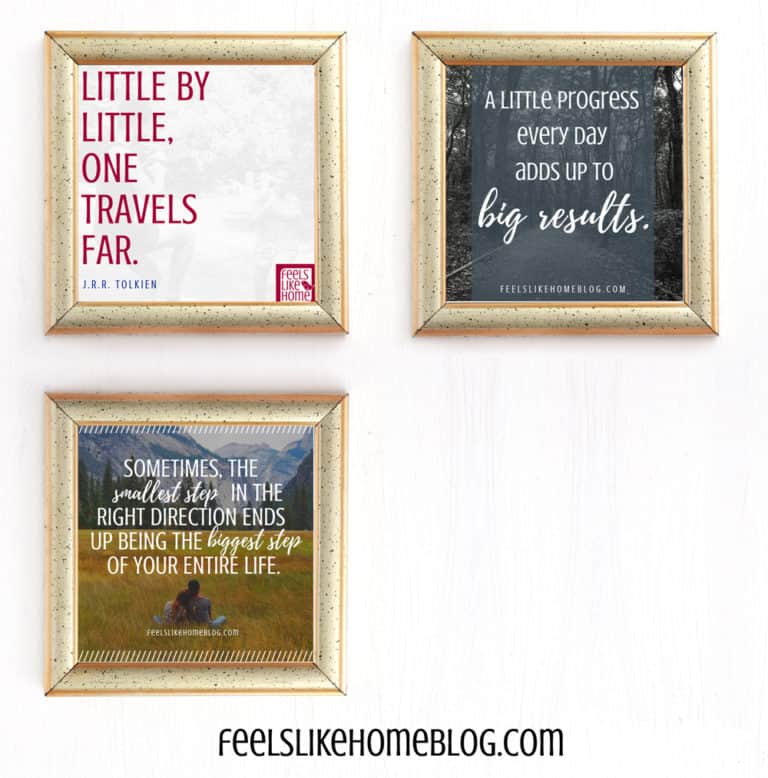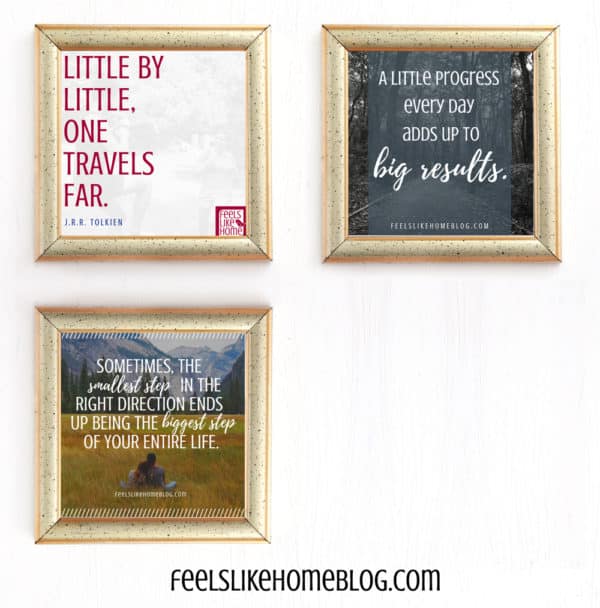 12. Stop believing you have to make big gains to make progress.
I have heard over and over that making small steps is the only way to lasting change. It is said often in weight loss circles; baby steps will get you to your goal.
The baby steps method has good science behind it. When you make a radical change to your life, such as people do for New Year's Resolutions, you eventually get tired of the effort required and go back to your normal.
But when you change one little thing at a time, you get used to the changes without so much effort. You accept the tiny change in your routine, like taking the stairs to go up one or two flights, and you don't even really think about it. Then, when that change becomes habit, you can make another change.
Also, making small changes builds momentum and success. When you accomplish one goal, no matter how small, you feel good about your chances to reach the next goal, and that goal gets a little closer.
If you're having trouble achieving your goals, maybe they are too big. Try to break them down into smaller steps and celebrate the success you find along the way.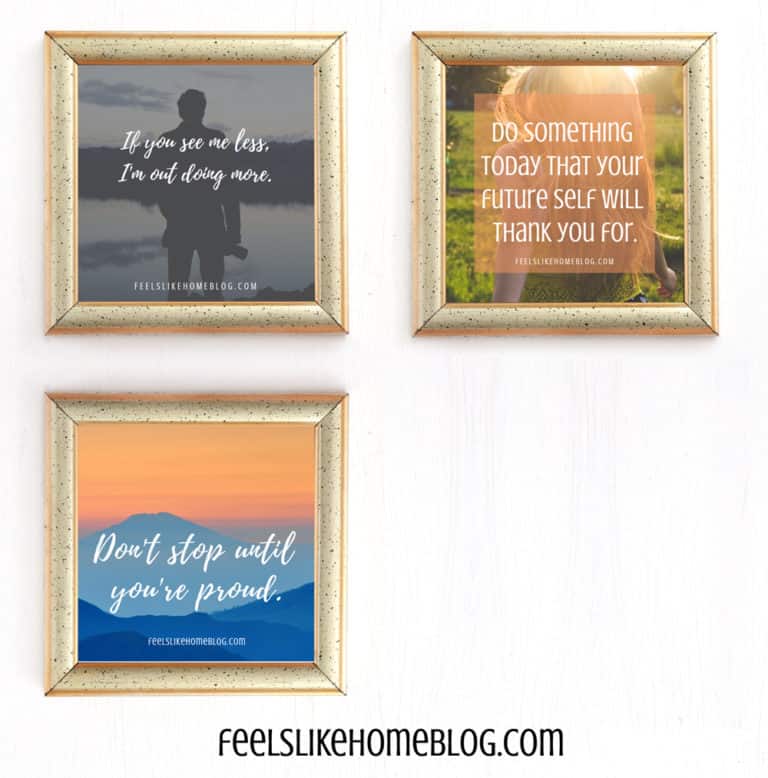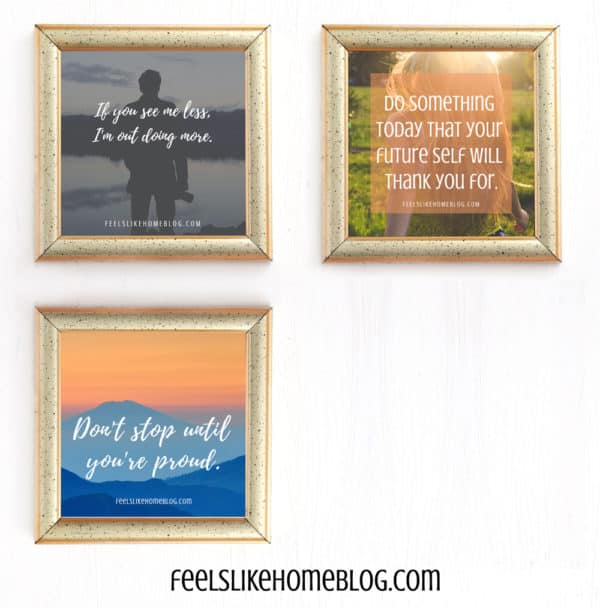 13. Stop sitting around.
I read in Rewire that people who watch a lot of tv ("a lot" was not defined with a number of hours per day or week) consistently:
underestimate their income and overestimate the income of others
feel more dissatisfied with themselves
spend an extra $4 per week per hour of tv watched
overestimate the amount of violence, infidelity, and amoral behavior in society
believe the world to be unsafe
believe that other people are more attractive than they are
have lower self esteem
feel less committed to their partners
feel less connected to their communities
Is that crazy or is that crazy??? I was shocked to read all that, but not totally surprised.
Thinking back to times in my life when I watched a lot of tv, I definitely remember that I felt more anxiety and had a lot more nightmares. I was also much fatter and felt less happy.
TV isn't the only culprit here. You could be sitting around, surfing the internet or scrolling on Facebook or Instagram. The point is, you are sitting around doing nothing that moves you toward your goals.
Please note that I am not discounting the value or play and downtime. Those things are necessary to your mental health and overall well-being. What I am saying is that, if those are the only things in your life, and you're not making progress toward the goals I mentioned above, perhaps you need to reevaluate.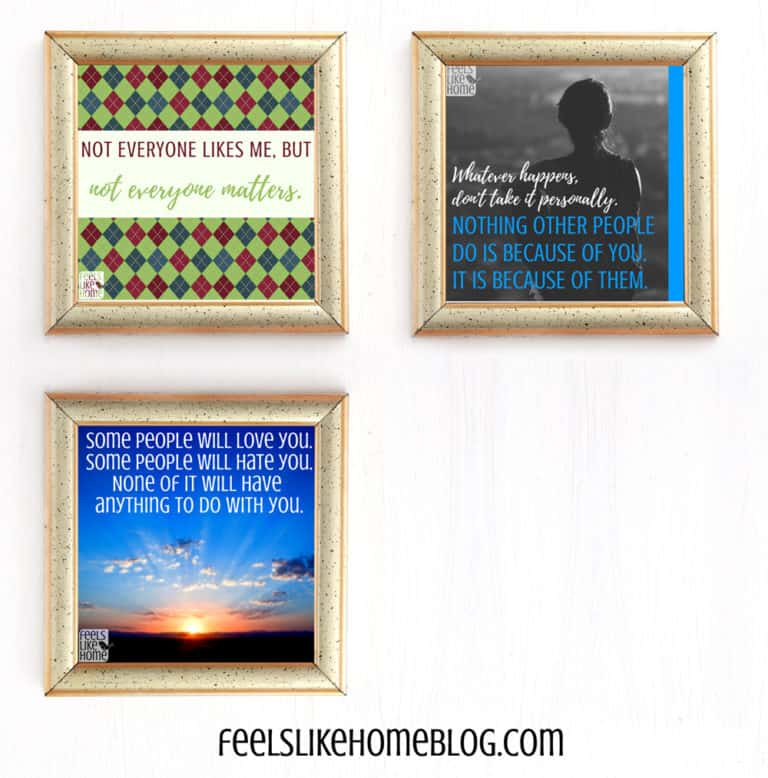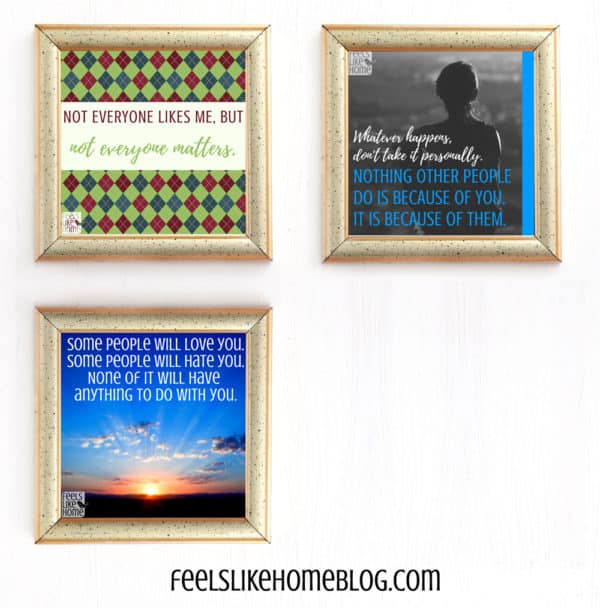 14. Stop taking things personally.
I am the queen of overthinking and taking things personally. I am very sensitive, and I obsess, a lot, about being rejected.
I made a new friend last month. We have a lot in common, and I really like him a lot and hope our friendship will continue for many years. We had texted and called each other daily since we met (Joe knows about this and is totally fine with it, lest you wonder about my fidelity.), but then my new friend went radio silent for a couple of days.
I spent all that time wondering what I had done wrong. I said to Joe, "Maybe his wife said he couldn't talk to me anymore." I obsessed about whether I should text or call and ask him why he didn't want to be my friend anymore. I seriously wasted two days on the fact that I hadn't heard from him. I was a mess!
Finally, I did text him, just to ask if everything was okay. I don't think I made myself sound like a loon (fortunately), but I just reached out. He said that he was fine, thanked me for my concern, and mentioned how busy he had been.
No big deal.
I spent some time the next day journaling about the fact that I am such a demanding friend who needs constant attention to feel loved and accepted. I have ruined friendships with my neediness in the past, because I feel like, if the other person isn't in communication with me nonstop that they must not like me.
This is madness.
I did come up with some very interesting insights into myself and my past and my psyche through the journaling (as suggested in Rewire), and I think I have come to a great place with regard to my friendships - all of them. I will hear from some of my friends more than others. This is totally okay, and it does not mean that anyone is rejecting me or doesn't think I'm worthy of friendship or dislikes me.
I repeat: silence has nothing to do with me.
I'll probably need to go back and reread what I wrote in my journal pretty much every day forever, but hopefully, it will sink in someday.
I had to remove the individual images from this post as they were significantly impacting load times.

If you would like an easy & convenient way to get all 58 of the quote images at once, I created a PDF file that you can purchase in my shop.

15. Stop being a grump.
I hate being around grumpy people. I mean, it really bothers me a lot.
Everyone is entitled to his or her feelings, absolutely. But people who are perennially miserable? I don't want to be around them, and I suspect most other people don't either.
I read in Rewire (that book is seriously amazing) that science has shown people are naturally suspicious and negative. It's part of our evolutionary history; the cautious, suspicious human beings were the ones who survived to procreate.
That's not to say that you have to live in a critical, suspicious, negative state. You don't.
Practice being thankful today. Think about all that is good and right in your world, and ruminate on that as you go through your days.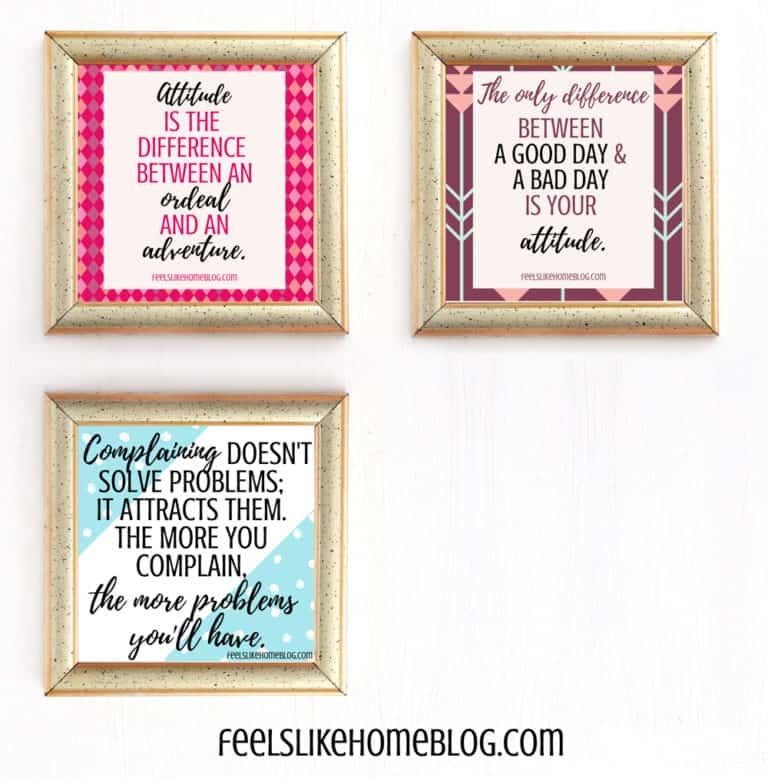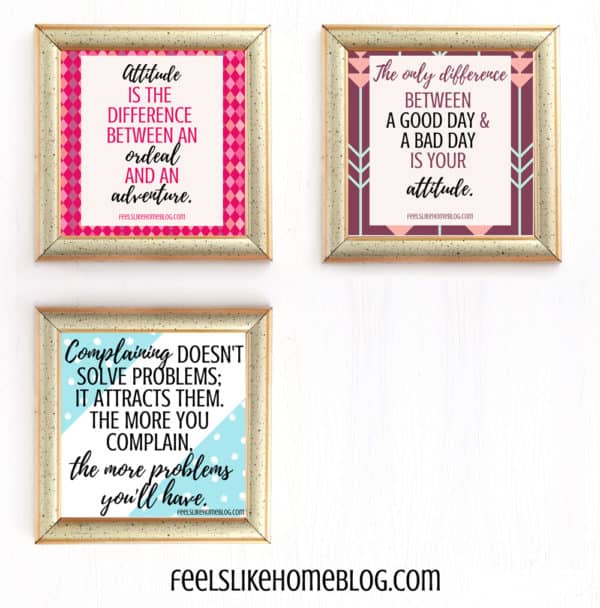 16. Stop complaining.
This goes closely with not being a grump. I'm not a grump (at least, I don't think I'm a grump), but I do complain quite a bit. I like to complain.
The thing is, the more you complain, the more you see wrong in the world.
Ten or fifteen years ago, Oprah popularized a thing called the Law of Attraction. It had been around much longer, but someone wrote a new snazzy book about it, and she had them on her show. They talked about how you get what you project into the world, and change your fortune by changing your attitude.
The whole show was a lot of new age-y mumbo jumbo, I thought, but there is a lot of good sense behind it.
Brené Brown has done research into the same general idea, and come to the same conclusion: you what you find what you look for in the world, be it good or bad.
The last quote speaks to me the most because I am an adventure person.
One time, when I was a sophomore in college, I took the Greyhound bus from Penn State to Harrisburg. My mom had refused to come pick me up at school anymore, and if I wanted to come home for the weekend, I had to ride the bus. I had a job in Harrisburg, so I rode the bus a lot.
The bus station in Harrisburg is right downtown. My mom worked at the time at a bank at the Harrisburg Mall which I estimated to be about 3 miles from the bus station. I was in decent shape at the time, walking all over the very large Penn State campus, and I had zero dollars and zero cents for a taxi (and besides didn't know how to get one) or the city bus, so I decided to hoof it from the Greyhound station to the mall.
Picture this: I was carrying a large duffel bag and purse and wearing high heeled loafers, a shiny metallic silver jacket (it was spring), and dark bootcut jeans. I was carrying a Walkman CD player (it was the nineties, after all) and listening to Boyz II Men so loud I couldn't hear the passing cars. It was an early version of the Walkman, and I had to hold it completely flat or the CD skipped. So, I was walking in my shiny jacket, carrying my CD player flat in front of me and hauling my duffel bag and purse.
I would have done okay if not for the wrong turn I made about ⅓ of the way to the mall. This turn took me into some large, nice-looking brick apartment buildings. It was twilight, but there were relatively few people around, and I was unconcerned.
By the time it was full dark, I noticed there were three or four guys following me about a half block back, and the stores started to have bars on the windows. I wondered if I should be concerned.
I ducked into a convenience store (with bars on the windows) and asked if I could use the phone. (This was way before the age of cell phones.) The cashier didn't want to let me, but once I explained that I was on my way from the bus station to the mall, thought there was a group of men following me (they were now just loitering on the corner outside the store) and needed to call for a ride, he told me I was insane and offered to dial in the number to make sure it wasn't long distance.
My dad drove the fifteen miles from our house to Harrisburg in eleven minutes with a gun in his lap. He was petrified and said I was in one of the most dangerous neighborhoods in the city and that this was the dumbest thing I had ever done in my entire life. (He would say this again a few months later when I got my first tattoo.)
I look back on this adventure and laugh. I was not scared until the very end, and even then, it was not a big deal. I suppose I could have gotten hurt, but I didn't, and I learned some valuable lessons, like the correct route from the bus station to the mall.
Another adventure: driving in snowstorms. Joe thinks this is an ordeal. Perspective.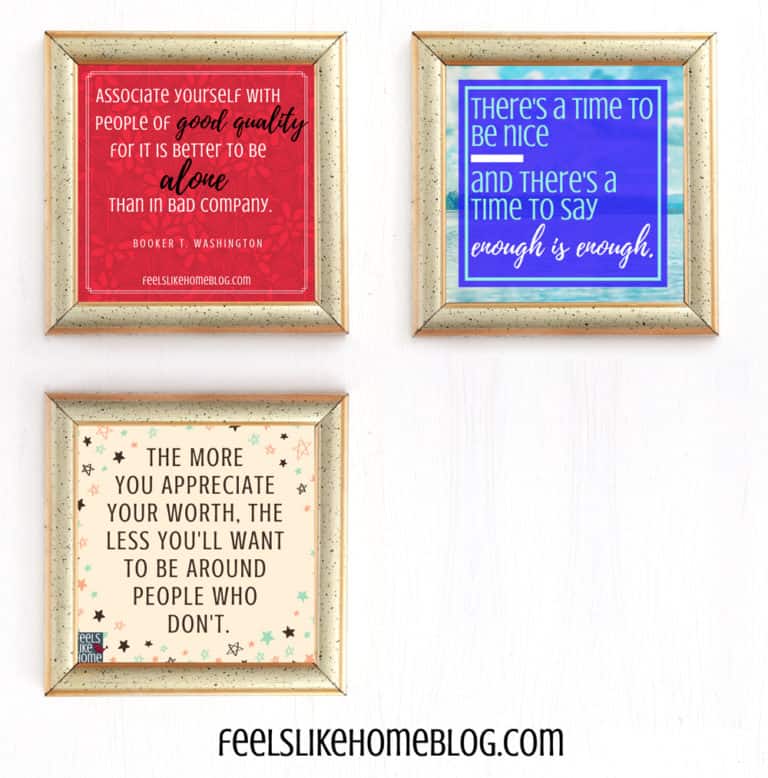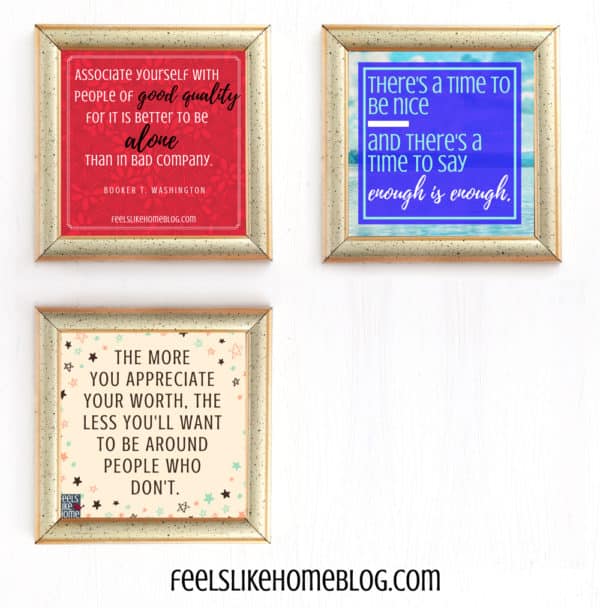 17. Stop spending time with people you don't like.
You know, just like above where I wrote that people don't have to like you, and that's perfectly okay and probably has nothing to do with you, you also don't have to like everybody.
And really, you don't have to even have a good reason to not like someone. Maybe you get a bad vibe from them or something about them just rubs you the wrong way. This is perfectly okay - as long as you don't use it as an excuse to be rude or nasty to them.
We are called to be more like Jesus, and it says in the Bible that Jesus loved everybody and died for all sinners.
Truth.
But if you can show me where in the Bible it says that Jesus liked everybody and hung out with everybody on Sunday afternoons, I will change my opinion.
In fact, it says in the Bible that he tried to escape the crowds sometimes and that he went off totally by himself sometimes.
This is going off in a different direction than I expected. What I meant to be saying here is that you do not have to spend time with people you don't like. You just don't, and you don't have to apologize for it. Don't torture yourself by making plans and hanging out with people whose choices you don't like or whose attitudes get under your skin or whatever.
Don't be rude to those people, but also, think of your own sanity and politely decline their invitations.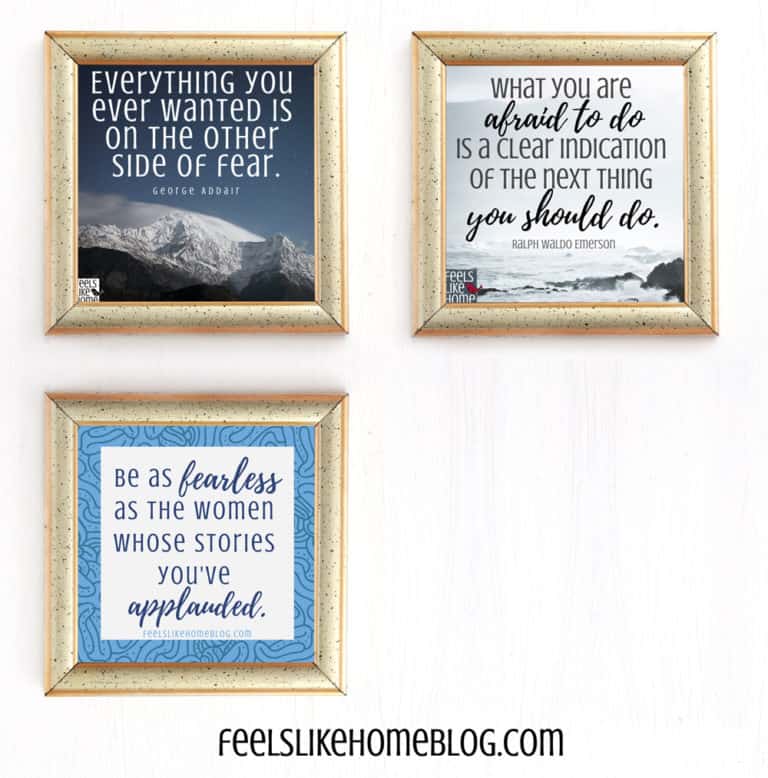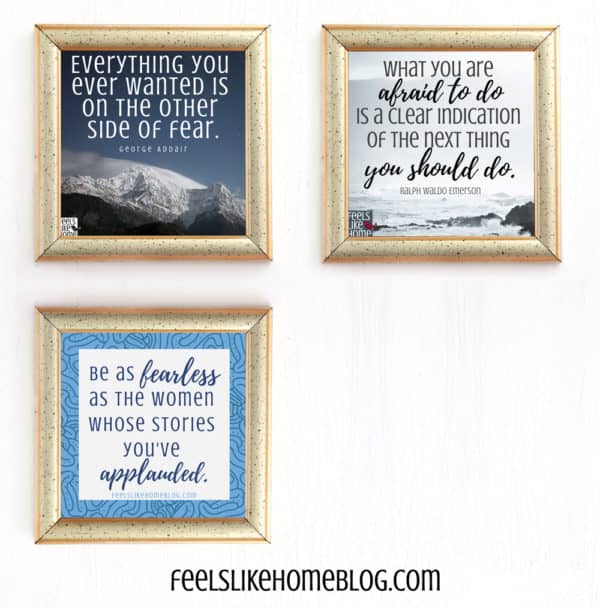 18. Stop being afraid.
Variations of "do not be afraid" are written in the Bible exactly 365 times, once for each day of the year. Do you think this is a coincidence? I don't.
We (me too) let our anxiety and fears control us and hold us hostage in our comfort zones. Your comfort zone is not a good place to be, and here's why: it prevents you from making progress. When you're stuck in your comfort zone, you're not going anywhere. You're just sitting.
So do the things you are afraid to do. Go skydiving. Ask for a raise. Go back to school. Just do something.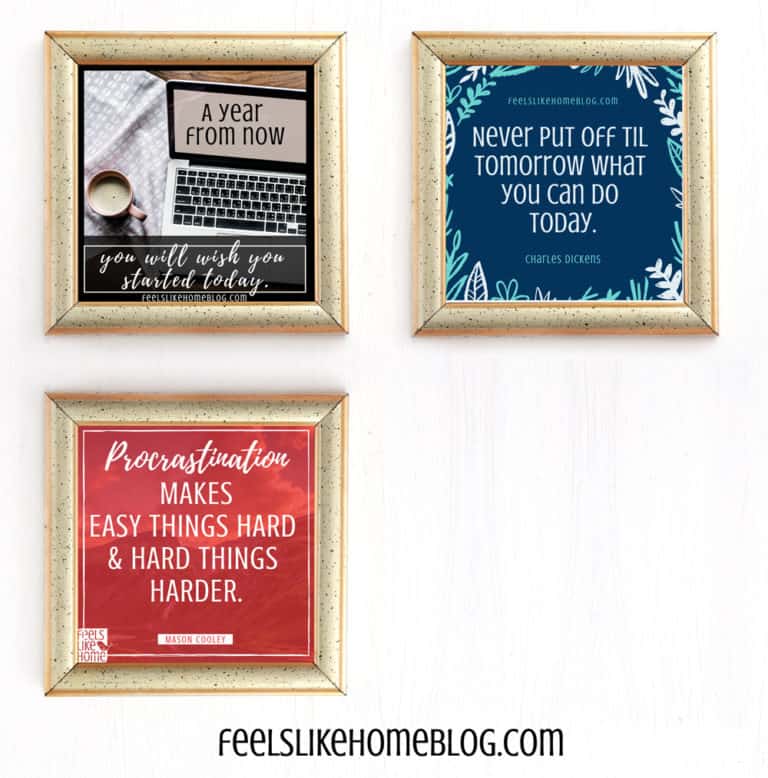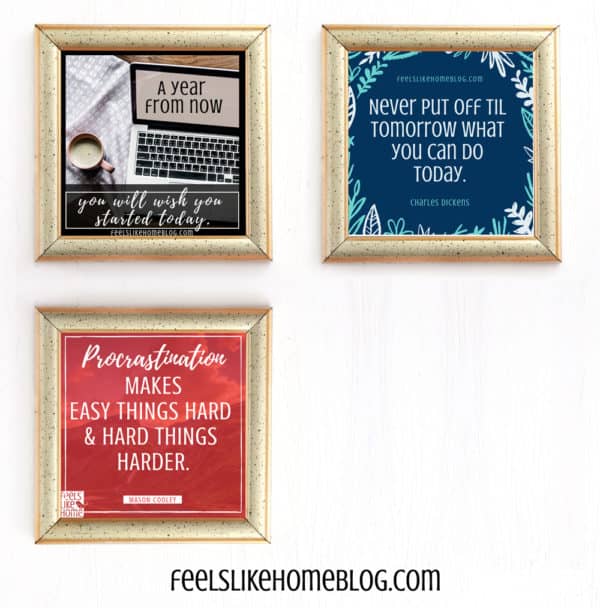 19. Stop procrastinating.
Ah, procrastination. I used to be the world's worst procrastinator. I would wait until the last possible day and last possible minute to start every project. I can't even count the number of times in high school when I was awake until 3 or 4 in the morning, typing a paper in the basement because it was due the next morning.
And in college, it was even worse. I learned early on that I could manipulate the time stamp on my computer to make it look like I'd sent an email hours earlier, so I would wait until my papers were due, then begin, then send it to the professor hours late with an earlier time stamp. I never got caught, and my papers were never late.
Somewhere along the lines, maybe my junior or senior year of college, I discovered that my work was much better if I started earlier and gave myself time to prepare, outline, write, and edit. I started getting better grades. I liked my classes better.
This new habit followed me through graduate school the first time, and I earned a 3.98 GPA for my first master's degree.
Now, for my second master's, I am doing the same thing. I don't procrastinate at all. I do my work at the earliest possible opportunity so that I'm never scrambling. I treat this blog the same way. If I have a post with a deadline (as sponsored posts always do), I write it well in advance and edit heavily before I post. It's just how I work.
I can tell you from my personal experience that not procrastinating has freed up my mental energy tremendously.
Do I still procrastinate some things? Absolutely. I am currently sitting in an office that is so messy, I can't see the carpet. The kids' clothes are kept in here, and they always take things out of their dressers and throw them on the floor where they stay.
I procrastinate cleaning my office for several reasons:
Cleaning is a drag.
It feels like it will never get clean because it is such a big job.
I do not have time to spend three hours cleaning in here.
The kids will just mess it up again.
I feel like the kids should actually do the cleaning since they made the mess, and I don't want to rob them of the opportunity to learn.
I could go on and on, and many of the reasons are actually excuses disguised as reasons. The simple fact is that procrastinating is holding me hostage to the job that needs to be done but is not getting done. It's zapping my mental energy, and I should just suck it up and get the job done.
Unfortunately, none among us has unlimited time, so we have to make choices and procrastinate the things that don't matter as much. Only you can decide what those things are.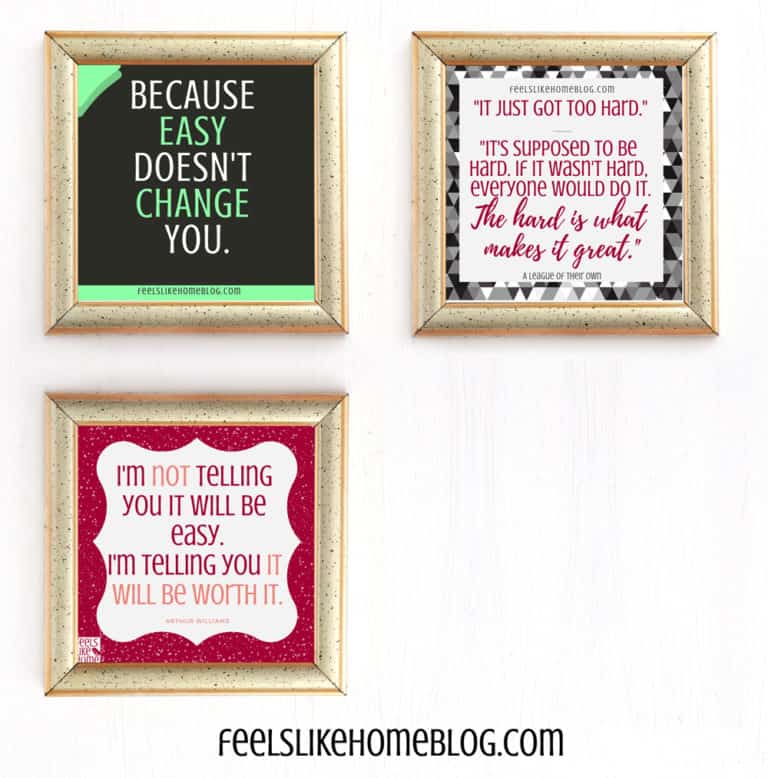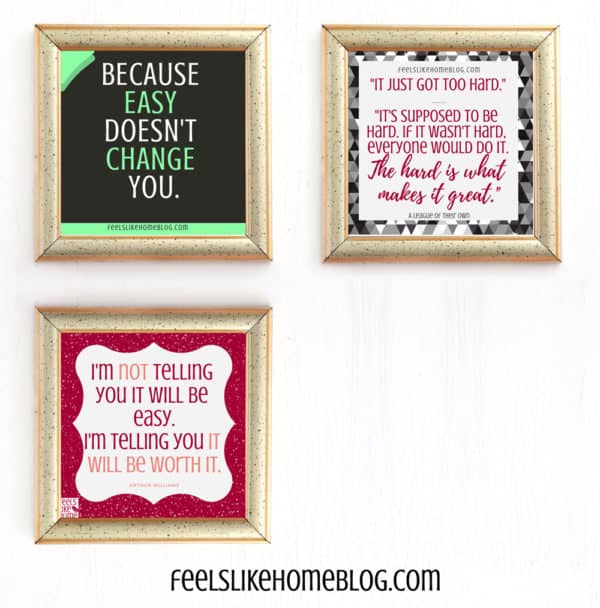 20. Stop looking for the easy way out.
I watched A League of Their Own a couple of times recently for one of my graduate classes. One quote, delivered by Tom Hanks near the end, struck me the first time I watched it and got more prominent the longer I ruminated on it.
Dottie, the main character, is quitting the team and the league to go home to Oregon with her husband who has just returned from World War II. Her team manager, played by Hanks, tells her that she'll miss it too much, that she'll get home and wish she could come back to play baseball again.
"It just got too hard," she says, meaning the relationship conflict and stress of the game. (I don't believe she meant the game itself because she was a gifted player for whom the actual game came easy.)
That's when Hanks delivers what I think is the best line of the entire movie (and there are quite a few good ones): "It's supposed to be hard. If it wasn't hard, everyone would do it. It's the hard that makes it great."
Isn't that just like life? It made me instantly think of my extreme weight loss, of college and graduate school, of blogging, of being a mom. It's the hard that makes it great.
I had to remove the individual images from this post as they were significantly impacting load times.

If you would like an easy & convenient way to get all 58 of the quote images at once, I created a PDF file that you can purchase in my shop.
Do you feel like you do many of the things above? I am convinced that if we (you and me again) can quit all 20 of these things, we will be healthier and happier, but I'm also convinced that it's not quite possible to do it all. What do you think?
So there you have it. If you actually made it to the end of this epically long 5,000 word blog post, comment below and let me know.
For more self care recommendations (including book reviews), check out the Self Care Index.