Did you know that going outside has huge health benefits? It does! There are lots of reasons that you want to get your kids outdoors. Here are 50 ideas for fun things to do outside for kids and families even you don't feel like going out!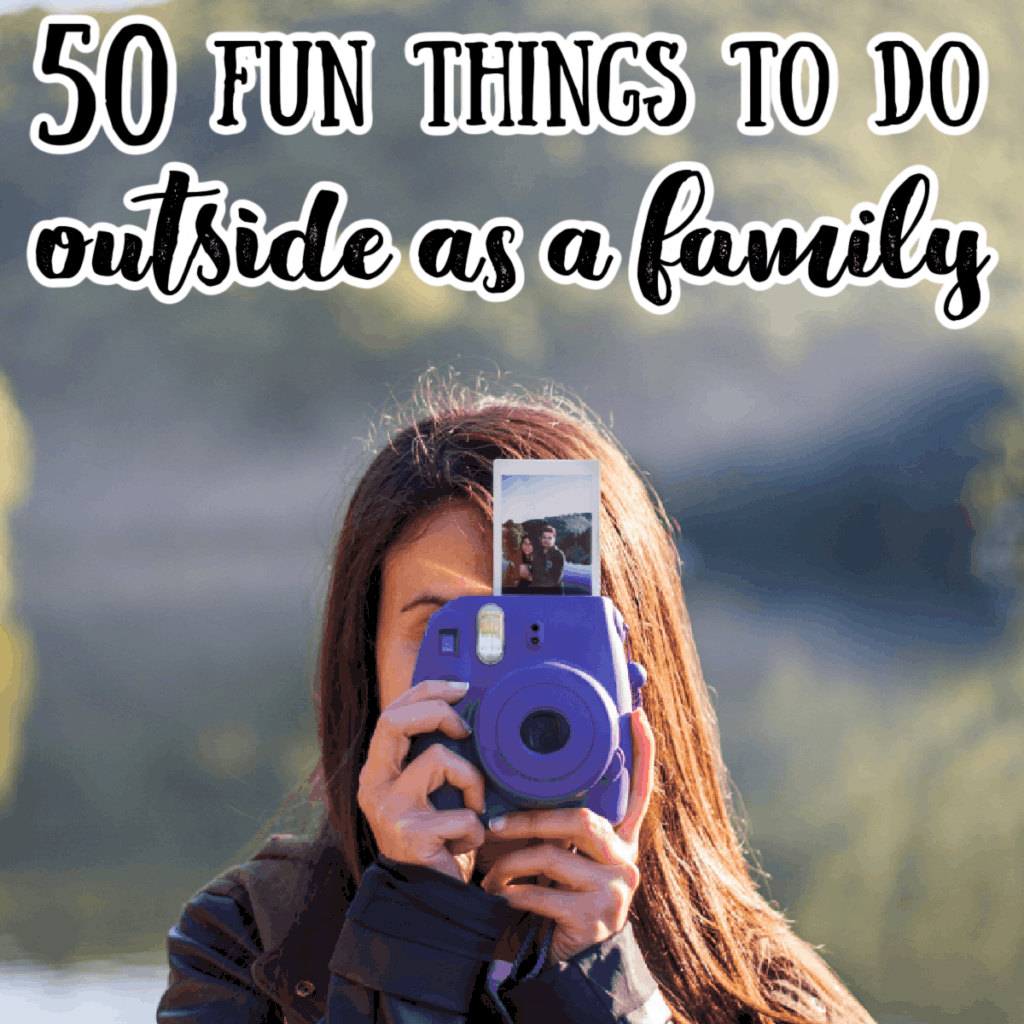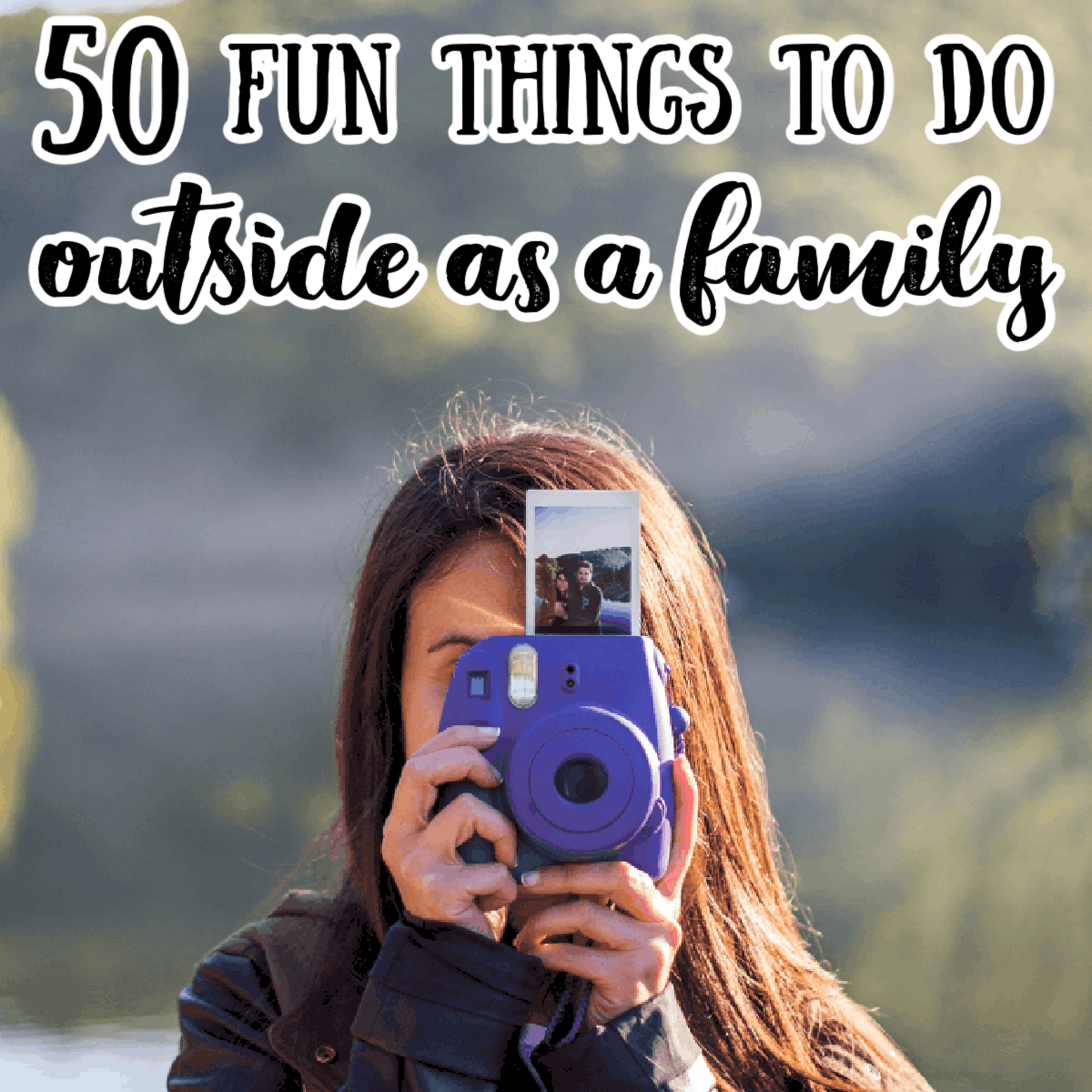 Going outside is fun, is it not? I mean, if you exclude the bugs, being outside makes you feel alive and fresh. At least, it does that for me.
There is a lot of scientific research on the benefits of being outside. Time outdoors has been linked to better health, including improvements in heart disease, hypertension, high cholesterol, and diabetes, to chronic stress, depression and anxiety, insomnia and even PTSD (Taken from this article from Forbes magazine.) That same article talks about how just 20 minutes a day outside can improve stress hormones and improve your mood. Who doesn't want that?
Beyond the benefits of being outside for adults, there are even more benefits for kids, including fostering resilience and mitigating the effects of trauma and everyday life stress - benefits that appear to linger for a lifetime. And here's a startling statistic: kids who spend most of their time indoors have a significantly higher chance of needing glasses! The hypothesis is that the cause is screen time specifically, but still, a causal relationship has been firmly established by scientists in 2007, 2012, and 2013.
It makes complete sense that being in nature is good for our overall wellbeing. Human beings were outside for thousands of years before we started building houses and sequestering ourselves indoors.
Today, it's possible to never go outside except to walk from the house to the car, and that is a real detriment to our health and welfare.
The reasons to go outside don't end there:
Indoor air pollution is worse than outdoor air pollution in almost every situation.
Vitamin D deficiency is considered a worldwide pandemic (as many as ¾ of Americans are deficient), and one of the best and most efficient ways to get vitamin D is through unfiltered sunlight.
30 to 60 minutes of unfiltered sunlight per day resets the circadian rhythm which makes is easier to fall asleep quickly and sleep through the whole night.
Exercising outdoors burns more calories than doing the same things inside. The reason for this is not well understood, but the results have been seen consistently in studies over the last 10 years.
20 minutes in "green spaces" has been shown in two separate studies to improve focus, attention, and memory in both kids and adults.
A 2010 study found that participants who went for a 20 minute walk outside reported more energy than those who drank a cup of coffee.
A 2002 study found that being outside boosts serotonin, the "feel good" hormone which improves mood and decreases symptoms of depression.
People who spend time in a forest have been shown to have stronger immune systems for as long as 30 days afterward.
I hope I've convinced you that being outside is good for you and good for your kids and your whole family.
The benefits of being outside have been on my radar for years. In 2017, when I got my current work from home job, I told my kids that they had to go outside for an hour a day.
They went, but they sat on the back porch and yelled in my window every 5 minutes: "Can we come in yet? How much longer do we have to stay out here?" and sometimes "Mom! It's hot out here! Can we please come in?"
I made them go out for a couple of weeks, but eventually I gave up.
So what outdoor activities can you do with your kids?
50 fun things to do outside as a family
Visit a Local Park
Consider visiting a park in your area. Check out reviews for different places to see which ones are spacious enough for you to have fun with the children, whether you're having a picnic or throwing a ball back and forth. Some parks even have grills and playground equipment that extend the fun.
Go on a Hiking Trail
Look for different hiking trails in and around your area and head out for a hike. I like the AllTrails app to find nice places. The trails are all rated and reviewed by other hikers, and the app tells you how long the trail is and what kind of terrain you'll find.
Take a Walk Through the Neighborhood
Consider taking the kids for a walk through the neighborhood. You probably already know that I walk almost every day. I go between two and three miles when I'm alone, but when the kids come, I try to limit myself to about one. It's a great way to enjoy the fresh air and see some of your neighbors while you're at it.
Blow Bubbles
Pull out the bubbles and go to town! If you have a bubble machine hiding out in the garage, it's your time to shine. Most young children (and even a lot of older ones) love bubbles and have a good time playing with them outside. My teen still loves our bubble machine.
Go Skateboarding
Pick up some skateboards and start riding together. If you have a local skate park that offers plenty of space to move around together, it's a great idea to visit the skate park and test your skills together.
Ride Bikes Together
Enjoy riding bikes as a family. You can pick the area that you'll visit when riding, talking, enjoying the scenery, and exploring.
If you haven't ridden a bike in a long time, make sure you give yourself plenty of practice time to get the hang of it again. Whoever said you never forget how to ride a bike was only partially right. It takes awhile to relearn. I speak from experience.
Have a Picnic
Get everyone together to have a picnic in your favorite spot. Put a blanket on the ground and enjoy homemade sandwiches and bottled beverages to keep you full and satisfied.
Or, grab a pizza or some fast food and enjoy that on your picnic. There is no shame in not making your own picnic food. The kids will remember the picnic, and they may even like it better that you served fast food.
Play Frisbee
Enjoy a classic game of frisbee with the kids. You can separate into teams or do the parents vs. the children, whichever you prefer. Be prepared to lose.
Camp in a Tent
Set up a tent in your own backyard or go to a local campground to enjoy quality time together. It's a great way to get in tune with nature and its natural beauty if you're into that sort of thing (which I am not, but if you are, more power to you).
Watch a Movie
Set up a projector and watch a good movie while you're out in the backyard. You can let the kids pick which movie to watch or they can pick one and you can pick one.
Fly a Kite
Grab some kites and fly them together in the backyard or in the local park or school. It's the perfect activity on a windy day when you can really get the kites moving.
Paint a Picture
Bring the canvases, bottles of paint, and paintbrushes with you to paint pictures of nature outdoors. It's a fun and therapeutic activity everyone can enjoy.
Use Chalk
Let your children get creative by using sidewalk chalk on the driveway. Draw fun images and color them in to make your home's exterior look even prettier or make a four square board and play.
Plant Something
Get your children into gardening with you. Plant something in the backyard, such as flowers, fruits, or vegetables or plant the same things in pots to put on your deck or even inside in a sunny window.
Visit a Local Farm
Consider taking a trip to a local farm or farmers market. They often have fresh fruit, baked goods, and other fun things for you to buy and see while you're there.
Some farms even have pick your own seasons for cherries, raspberries, blueberries, apples, peaches, and pumpkins. These are all super fun experiences that your kids will remember for years.
Take Pictures
Pull the camera out and start snapping. You'll be glad to have these moments to look back on later. It's perfectly okay to use the camera on your phone. Let your kids add some Snapchat filters. Be silly and have fun.
Play with a Hula Hoop
Pick up some hula hoops and test your skills. See who can hold the hoop around their body the longest to win a prize.
Play Hopscotch
Create a hopscotch in your driveway using sidewalk chalk and then have fun hopping around while showing your kids how to use it.
Go On a Photo Scavenger Hunt
Plan a silly photo scavenger hunt to go on as a family. You can print one out to get some fresh and fun ideas for everyone.
Play Kickball
Grab a playground ball and get ready to play a good old-fashioned game of kickball. It's sure to bring out your competitive side.
Play Basketball
Bring a basketball to the courts and challenge your partner and children to a competitive game of basketball! Or try one of these 6 other basketball games.
Jump in Puddles
Have fun on a rainy day by putting on those rain boots and jumping in puddles. Walk around the neighborhood to see how many large puddles you can find. When they were little, this was one of my kids' most favorite things to do.
Do Yoga
Promote relaxation while doing some yoga with the kids. You can do it in the backyard, front lawn, or anywhere else. Check YouTube for some easy and fun yoga routines for kids and families.
Play Soccer
Set up a pop-up goal and get ready to play some soccer. You can expect the kids to run around while chasing and kicking the soccer ball.
Create an Obstacle Course
Set up a fun obstacle course using ropes, ladders, and other materials. You can create a ninja-style course in your backyard!
Climb a Rock Wall
Visit a local rock climbing spot to climb walls of different sizes. You can find spots that have kid-friendly walls available for children of all ages. Allie climbed a huge outdoor wall when she was 8, and she still talks about how proud she was when she got to the top.
Rollerskate
Rent or buy some roller skates and go on an adventure. You can skate through the neighborhood or visit a local skate park. Or, if you are really rusty, you might try to skate in an unused tennis court. They are smooth and flat which makes skating a lot easier. Just be sure to check for rules to make sure it's not prohibited.
Visit an Outdoor Ice Skating Rink
Enjoy sliding around on an outdoor ice rink. Whether you have experience or not, you can rent skates and glide around on the ice while attempting new tricks.
Go to a Local Festival
Look for places in your area that are hosting fun festivals to participate in with your family. You may be able to try new foods, play games, get on rides, and have all kinds of fun with your partner and kids.
I found a website that lets you search for festivals by city. It's not perfect and doesn't search surrounding areas (just the city you specifically put in the search), but it's a great start to find local events to attend.
Ride Horses
Look for places to ride horses. Most horse farms offer riding lessons, and often you can choose a one-off lesson if that's all you want. Horseback riding a therapeutic and relaxing way to spend time bonding with animals and your loved ones.
Go Fishing
Head out on a fishing trip. You can visit a local lake or even head out on a boat to go deep sea fishing, depending on where you live and what you prefer. Even if you don't want to catch fish, it can still be a relaxing experience.
Ride on a Boat
See if you can rent a canoe or other boat to paddle around a lake nearby. (You can also rent canoes, kayaks, and row boats on the river, but learn from my mistake - that is HARD WORK! Stay on the lake if you can.)
Or, if paddling isn't your thing, get tickets on a larger boat. In Harrisburg, we have a large steamboat that takes rides up and down the river, and I love it. You can enjoy good food with family and friends, have great conversations, listen to music, and just enjoy the time riding on the water.
Visit the Beach
Choose a beach to visit for fun with the family. There's nothing quite as enjoyable as resting on the sand, swimming in the ocean (or in a big lake), and having fun in the sun. The most obvious beaches are ocean beaches, but many state parks and large lakes have beaches as well. Look around, and you'll probably find one.
Go Snorkeling
If you're already at the beach, consider going snorkeling. It's an exhilarating opportunity to see incredible marine animals, including sea turtles and tropical fish. If you're really adventurous, take scuba lessons and give that a try.
Fly a Drone
Buy a drone and fly it around your neighborhood or in the local park. You can capture some great footage and let the children take turns capturing footage.
Visit Historical Places in Your Area
Every locale has historical sites to visit. Depending on where you live, many of these places may include National Parks with lots to see and plenty of activities to participate in for fun. Don't forget the Junior Ranger program which is free. All you have to do is ask a ranger, and they will give you a booklet that your kids complete to earn a badge and certificate. Every National Park, National Monument, and National Historic Site has them.
Visit Local Gardens
Find a beautiful local garden. They exist everywhere and are often part of historical sites. You can check out flowers, shrubs, and assorted plants while teaching your children about these incredible living things.
Go to a Lake
If you have any lakes near you, be sure to check them out. They're great to visit for an outdoor adventure, when you want to go for a quick swim or boat ride. If you don't live near a beach, a lake is a great alternative.
Ride in a Go-Kart
Consider riding in outdoor go-karts with the kids. You can compete with one another while testing your high speed skills as a motorist.
Jump on a Trampoline
Put a trampoline in the backyard and have fun jumping on it with your children (if you're under the weight limit which is often pretty low). It's great exercise!
Ride Scooters
Did you know you can rent scooters and ride them throughout your neighborhood or city? Do it as an entire family to make memories and explore new places for fun.
Play Softball
Grab a ball and a bat and play a traditional game of softball. (Softballs are still hard, just like baseballs. The only difference is that softballs are larger and slightly easier to hit.)You can play in the park or at an elementary school if you don't have enough space to do it in your backyard.
Visit a Water Park
Go to a water park! You can get on lots of water rides to stay entertained for hours on end during the hot summer months.
Go to a Playground
Check out some of the best playgrounds near you! Have fun with your children while going down the slides, hanging on the monkey bars, and swinging on the swings.
Explore the City Downtown
You may want to tour the nearest city in the busy downtown area. You can act like you're tourists while you go sightseeing. In my area, we have the state capitol building, a science center, a nice riverfront park, and more all in a square mile or so.
Swim in a Pool
Go swimming at a local pool. If you don't have one in your neighborhood, you can visit the YMCA, a community pool, or another recreational center to go swimming with your family. Don't forget your towel. (We have done that so many times!)
Ride on a Jet Ski
Rent jet skis and head out on the water. I've never actually done this, but I've always wanted to. It seems like such an adventure that is sure to get your heartbeat racing!
Swim with Dolphins
If you're near a warm ocean and have the opportunity, go swimming with dolphins. These adorable creatures are some of the friendliest animals you'll ever meet. This is exactly the kind of memory you want to make with your family.
Play Touch Football
Get a junior-size football and play a game of touch football with your family. Set the rules for the game and have fun!
Tell Silly Stories by a Campfire
No list of fun family activities would be complete without a campfire in the backyard. Cook hot dogs or sausages and s'mores over the fire pit. (You'll need fire sticks like these.) Instead of telling scary stories, each person can tell a silly story that will have everyone laughing.
Rake Leaves – and then jump in them!
Is there anyone on earth who doesn't love the sound of crunching leaves under their shoe? It's so satisfying! So grab a rake and make a big pile and enjoy jumping into it with your kids.
Play Photographer
It's fun to take pictures outside, so pack everyone up and go to a park or another beautiful location and take some photos. You could take turns photographing each other or you could take turns finding beautiful scenery or bugs or flowers to take pictures of. When you're all done, come home and make a photo book on Shutterfly or Snapfish (or another similar service).
Play Hide and Seek
This is a classic for a reason, right? Kids love it! If your backyard doesn't have places to hide, head out to a neighborhood park or even a county or state park. You're bound to find lots of places there where you can hide from each other.
I hope I've convinced you that outside time is crucial to your well-being and the well-being of your whole family. There are so many different things to do outside, even more than I've included in the list above, so you really have no excuse to stay in! Put your sneakers on and head out this afternoon. Have fun!