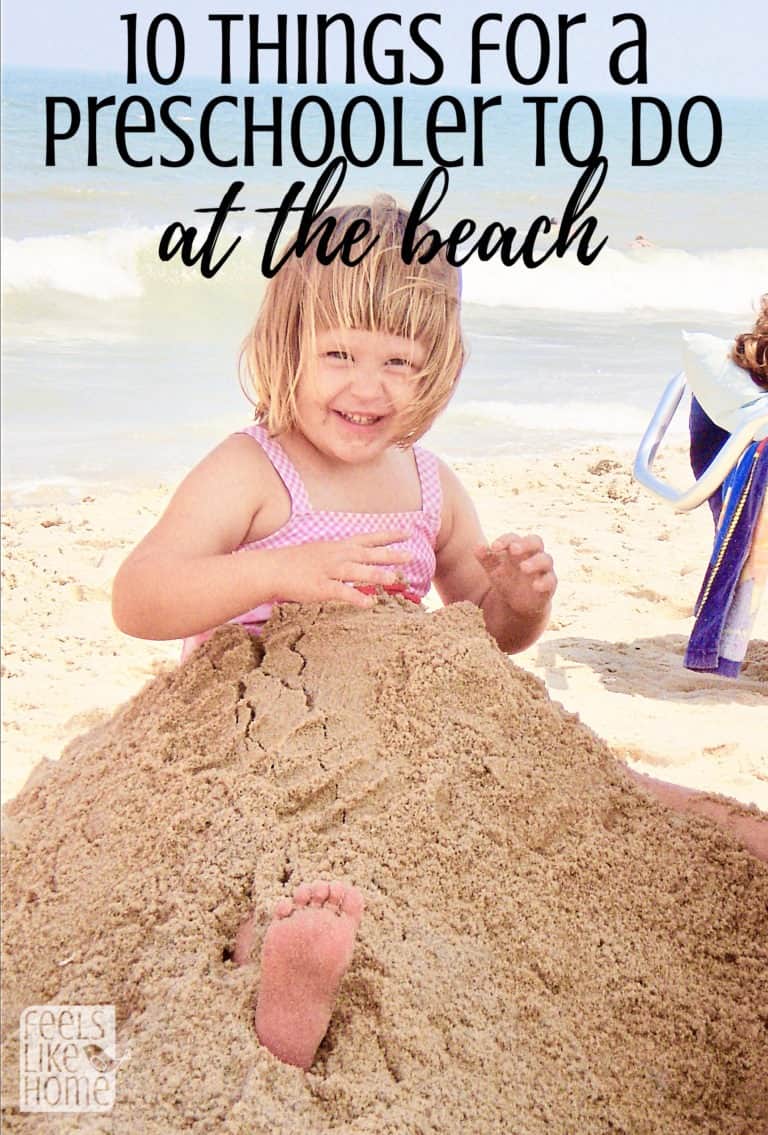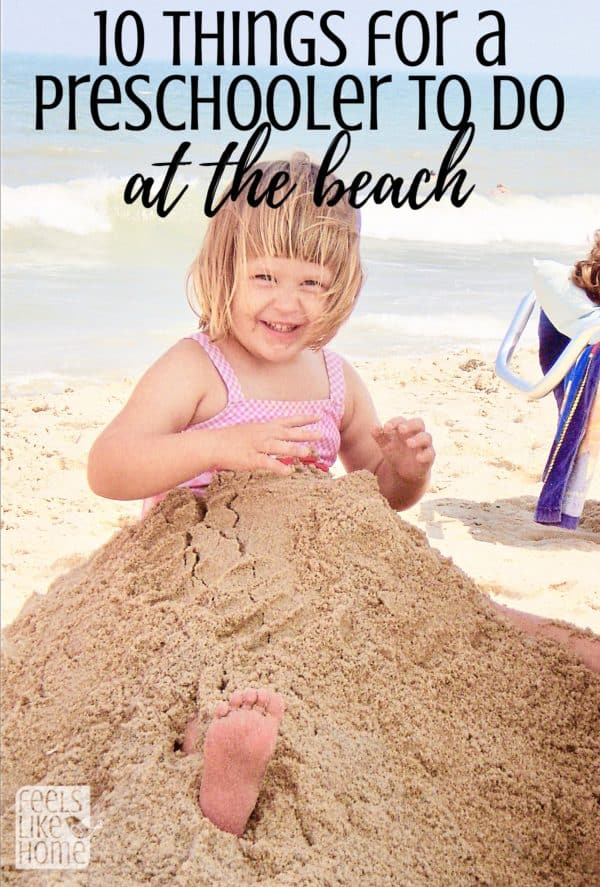 Pin
We're going to the beach for a week this summer.
I like the beach, and Grace liked it the last time we went, too. I think Grace will have fun, but I'm a little afraid of a bored tantrum where she whines, "I want to go-o-o-o!"
To keep her from getting bored, I have assembled a list of 10 things we can do together in the days leading up to and at the beach.
Ahead of time
Make a flower visor to keep little faces shaded. I'm thinking that we can make a couple of these in different colors, and they will be novel enough to interest her.
Print some coloring and activity books with beach themes. I'm going to bring a box of crayons along in our beach bag.
At the Beach
Let them play! Don't have too much structured time. If there's one thing I've learned from No Time for Flash Cards, it's that kids need lots of time for unstructured free play.
Let them explore, dig, pour, pile, and enjoy themselves. Having said that, you can work in some of the following if they get bored or if you're at the beach for an extended period of time.
Use a magnifying glass to look at the sand. Sand is made from tiny pieces of hundreds of different rocks. You never know what you'll see among the particles. (It will be easier to look at if you sprinkle some sand on something dark, like a piece of dark paper.)
Beach in a Bottle - Go treasure hunting! Collect shells, driftwood, sea glass, and other finds. Fill a clean, clear plastic jar halfway with sand and place the treasures on top. Seal the lid tightly and take home for a permanent beach reminder.
Make sand art - Draw a simple outline on heavy card stock or cardboard. Smear it with glue, turn it upside down in the sand, and press the sand into the glue. Let it dry.
Make sand castles or sculptures - we have some cool molds, as well as a Sand Cookie Set from Melissa & Doug that is really fun.
Make Paper Plate Boats and sail them on the water
Have a treasure hunt - We did this at Grace's birthday party, and the kids liked it more than anything else we did. All you have to do is hide something in the sand. You could use natural items like shells or rocks or things you brought along, like the 10-for-a-dollar plastic rings we hid at the party.
Draw in the sand - Use a stick or a finger to draw, practice writing, create a maze, or make a target. One of Grace's favorite games is to make a target (at home we use a hula hoop) and try to throw things into it. Rocks, sea shells, a ball, or any hard object would work. As their aim gets better, make the target smaller and further away.
Of course, I'll show you pictures of our fun once we've actually gone to the beach.