The best creamy no crunch macaroni salad recipe is simple and easy! This sweet homemade salad is made with Miracle Whip, mayo, and deviled egg flavors and like the classic is served cold. You will learn how to make the perfect summer side dish with elbow macaroni or any pasta shape.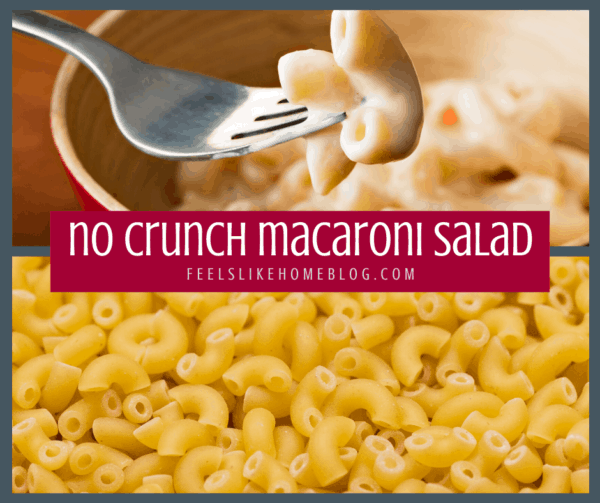 My friend, Joanne, has a sister who is the ultimate homemaker. Except that she works a full time job, but we'll ignore that, m'kay? Joanne's sister, Mil, makes all sorts of wonderful foods to bring to every picnic and party she attends. Almost every time I see her, I say, "Mil, can I have the recipe for this?" Mil is very generous with her recipes. I have dozens of recipes from her. Cucumber pasta salad. Popeye chicken salad. And this wonderful macaroni salad.
Can I also say that I HATE CRUNCHY BITS in my macaroni salad? Onions, celery, peppers, I hate them all. It's not that I object to them in theory, but I hate the smooth creaminess of my macaroni salad being interrupted by those little bursts of flavor. NO THANK YOU. So this recipe doesn't have any. You're welcome.
How to make the best no crunch macaroni salad
Prepare the macaroni according to package instructions, except drain it a bit early so that the pasta is a little more firm than al dente. Drain and rinse in cold water until the pasta is cool.
Whisk all other ingredients except the egg in a small bowl until well mixed. When I make this recipe, I measure the Miracle Whip, mayonnaise, sugar and Splena, and vinegar, but I eyeball everything else.
Pour the sauce over the pasta, add the chopped egg, and toss to coat.
Cover and refrigerate at least an hour to overnight. Serve cold.