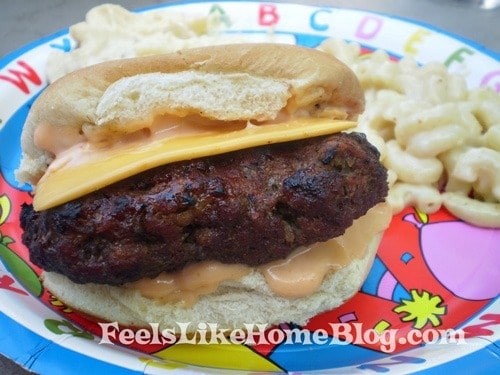 Last year, on Memorial Day, I posted my then favorite hamburger recipe.
I have a new favorite, so I thought this would be a good time to share it.
Joe found this recipe on AllRecipes.com; just like the reviewers say, the burgers fall apart when you cook them.
After some experimenting (and advice from our Facebook community), we made some adjustments to the recipe that kept it together.
This recipe was worth the work. The burgers are spicy - full of garlic, full of grilled onions, full of BBQ sauce - and oh so good.
I wanted to eat two burgers, just for the sake of it, but I didn't have enough calories left in my day. Gah.
Joe put the rest of the burgers in the freezer so I wouldn't eat them all we'll have a quick supper another time we stay outside too late in the evening.
Recipe