This simple and easy dinner recipe is rich and decadent. Healthy baked casserole makes a creamy sauce with mushrooms. This gluten-free meal is the ultimate comfort food with juicy oven baked chicken. Low carb & keto recipe.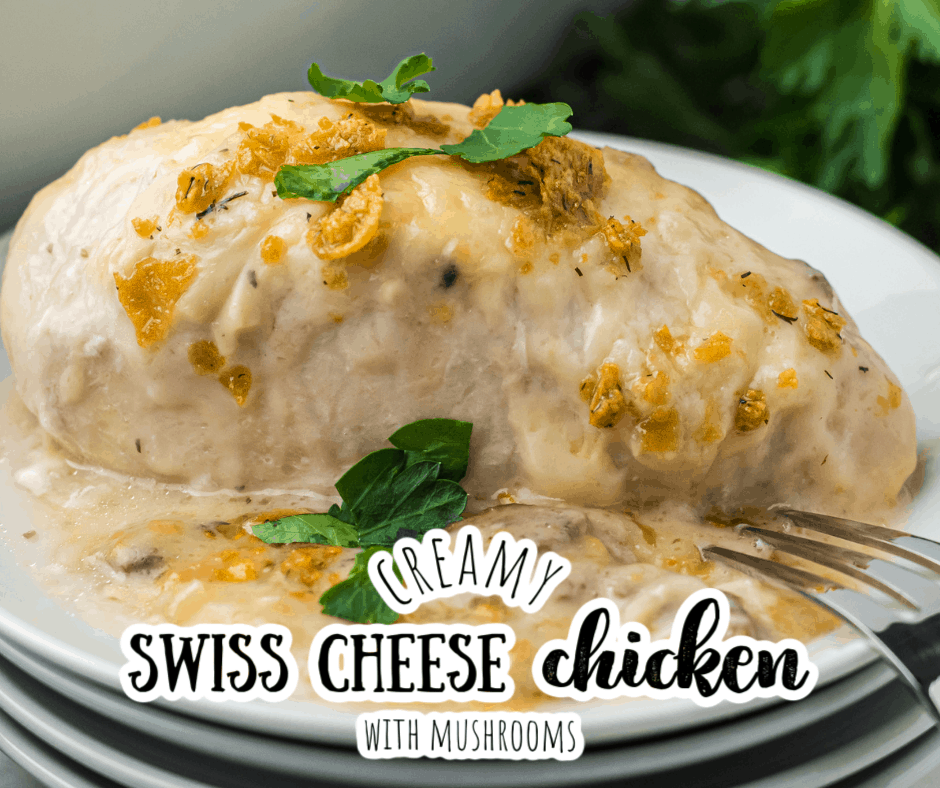 I first shared this recipe back in 2013, when I had a first grader and a 3-year-old. A friend gave me the recipe, and Joe made it regularly as it quickly became a favorite. I updated it a wee bit in 2021, although why mess with perfection? I didn't change the recipe at all, just updated some of the instructions to make them more clear.
I have thought for my entire life that I didn't like Swiss cheese, but it turns out that I didn't like it plain. I love this Swiss cheese chicken, so even if you think you don't like Swiss, give it a try. You might find that you love it just like I did. The Swiss cheese makes the finished chicken a tiny bit tangy and that, combined with the sweet richness of the sauce, makes a winning combination.
Serving Creamy Swiss Chicken
Part of the allure of this dish is that it makes a decadent cream sauce that is loaded with mushrooms, so if you want to maximize the sauce value, you will probably want to serve it over rice, pasta, or even a baked potato.
If, like me, you eat a low carb diet, you could easily serve this over cauliflower rice or zucchini noodles. Either would be delicious, and you won't miss the starch.
How do you keep the chicken moist?
You don't overcook it! The most common culprit of dry chicken is overcooking. That's also why it gets dry when you reheat it, even if it was perfectly cooked the first time.
I highly recommend using a meat thermometer. Remove the chicken from the oven when the temperature is about 160º and then let it sit on the counter for 5-10 minutes. When the temperature in the thickest part of the meat reaches 165º, it is ready to eat. If you leave the chicken in the oven until it is 165º, it will be overcooked because it always continues cooking for a few minutes after it is removed from the oven.
Reheating Swiss Cheese Chicken
This is one of those recipes that is even better the second day, so you will be glad that it makes a lot.
There's not much to the preparation, and that makes this a great weeknight recipe.
Joe throws it together when he gets home from work, lets it bake while he plays with the girls or waters the garden, and then we eat.
It's easy but tastes like it took all day.
Ingredients for creamy Swiss cheese chicken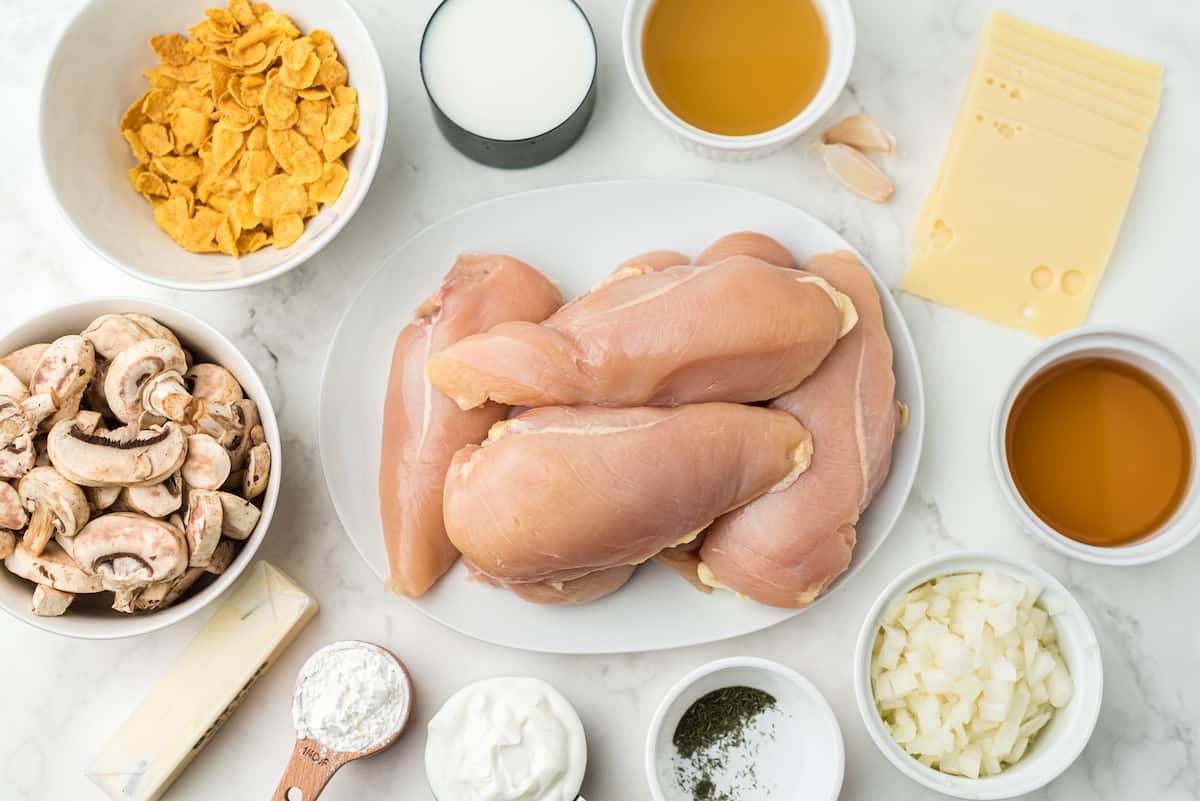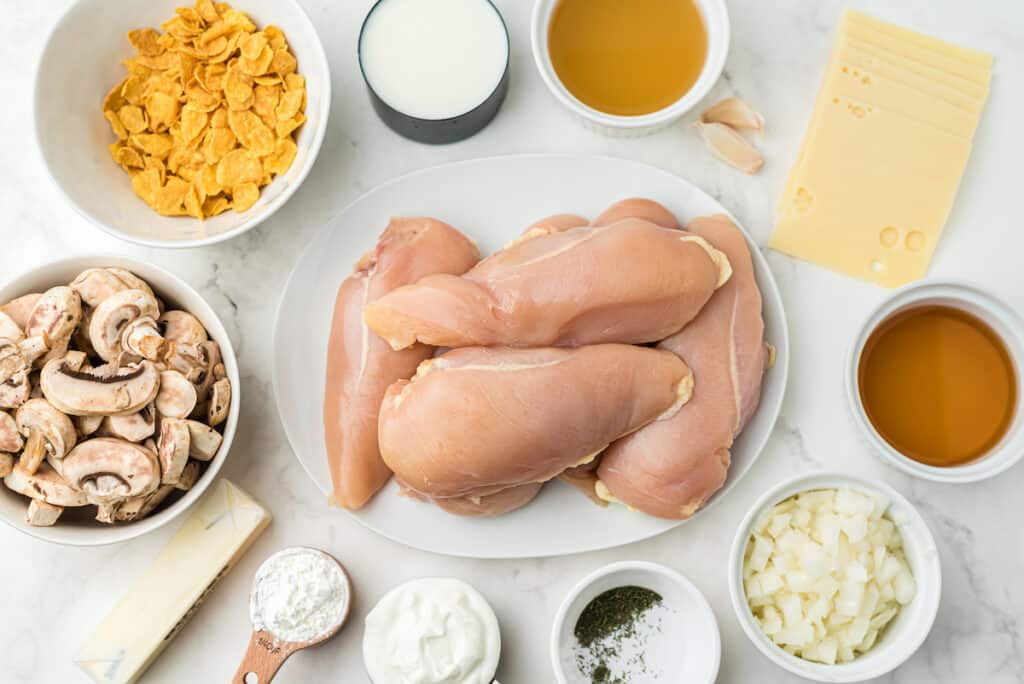 Garlic - Freshly pressed always tastes the best. It is really easy to burn garlic, so don't add it at the same time as the mushrooms and onions. Add it at the very end, after the onions have become soft and translucent, and then only cook for 1-2 minutes, just until it starts to turn golden.
Onion - This becomes sweet when cooked at a low temperature in butter.
Mushrooms - I love mushrooms and always add extra.
Butter - It doesn't matter if you use salted or unsalted butter. If you use unsalted, you may have to salt the sauce later on, but this is totally okay.
Cornstarch - This is for thickening the sauce.
Milk - This is for adding creaminess to the sauce.
Chicken broth - This is the base of the sauce.
Boneless skinless chicken breasts - If these are super thick, you may want to cut them in half to make thinner filets.
Swiss cheese - The tangy creaminess of the Swiss cheese makes this chicken out of this world good.
Sherry - This deepens the flavor of the sauce. If you don't have any, you could substitute any white wine.
Plain Greek yogurt - This thickens the sauce and makes it creamier. You can substitute sour cream, but it will add calories and fat to the dish.
Crushed corn flakes - This is my gluten-free alternative to breadcrumbs. I like the crunch of the corn flakes personally, but if you aren't gluten-free, you could just as easily use plain breadcrumbs or Panko.
Dried dill - Who doesn't love dill?
How to make creamy Swiss cheese chicken with mushrooms
Preheat oven to 325ºF.
Sauté onions and mushrooms in a medium skillet until soft. Add the garlic and cook for another 1-2 minutes, then remove from the skillet and set aside.

In the same skillet, melt ¼ cup of butter over medium heat.

Whisk in the cornstarch and cook 1-2 minutes. Add milk and broth and whisk.

Add vegetables back to the pan and bring to a boil. Turn the heat down a little and simmer the mixture (that means cook it just below boiling) until it is thickened. Remove from the heat and set aside.

Place the chicken breasts in a 9x13 baking dish in a single layer. Cover each breast with a slice of Swiss cheese.

In a medium bowl, mix the cooling mushroom mixture with the sherry and yogurt.

Carefully spread over top of the chicken breasts without displacing the cheese slices.

Melt remaining ¼ cup of butter in a clean skillet. Add in the dill and crushed corn flakes. Lightly toast the corn flakes, then sprinkle the mixture onto the chicken breasts in the casserole dish.

Bake for 45 minutes or until the chicken is cooked through.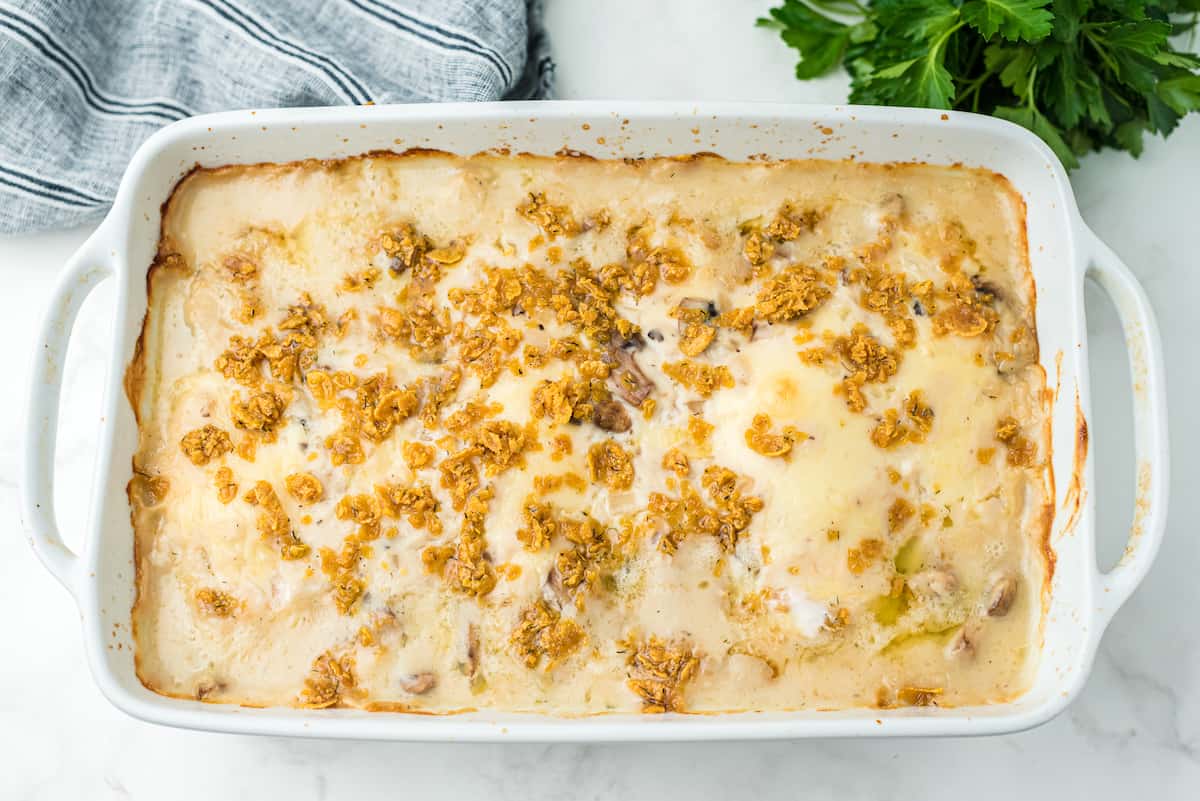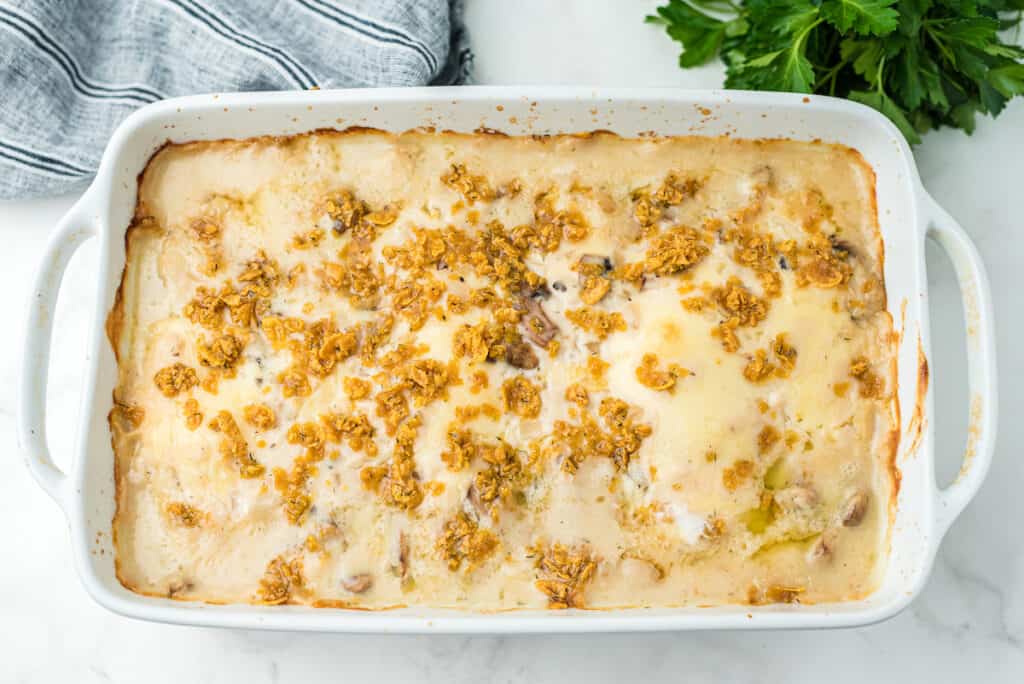 Try out these other delicious chicken meals:
Recipe