How to make the best cranberry and apricot stuffed pork tenderloin - This recipe is baked in the oven and easy to prepare. Simple roast dinner.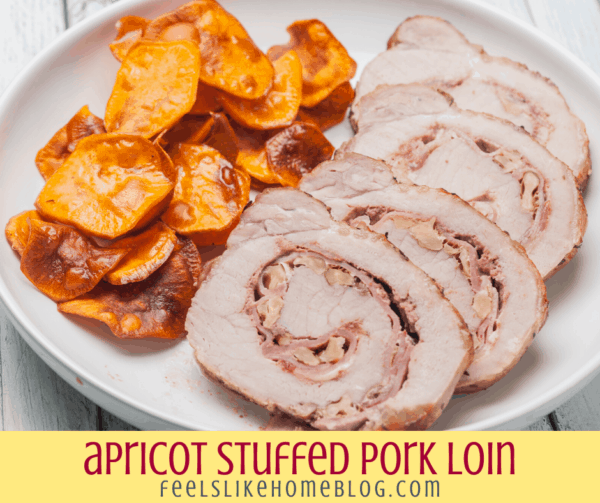 We used to have big Christmas dinners at Old Grandma's house. The whole family would gather there and spread out a huge buffet on Grandma's old chest freezer, and the kitchen table even with all of its leaves added wasn't big enough to hold all of us. She set up the card table as a kids' table in the living room.
The last couple of times that we had a big Christmas feast, my older sister made this stuffed pork roast for Christmas dinner. I didn't know if I would like it since I don't love dried fruit, but I thought it was splendid.
Let me be honest for a second. This is not an easy meal to prepare. Well, I guess it is easy enough but it has a lot of steps. This isn't really an every day after work kind of meal. It's more of a special occasions only kind of meal.
But that's what makes it so good - you won't have it often but everyone will look forward to it.
How to make apricot stuffed pork loin
Adjust oven rack to upper middle position and preheat to 250º.
Heat oil in a small skillet over medium-low heat. Add 12 whole garlic cloves and cook, stirring occasionally, until soft and golden, about 5 minutes. Remove with a slotted spoon; reserve oil.
Turn pork loin fat side down. Slit lengthwise, almost but not quite all the way through, to form a long pocket, leaving a ½-inch unslit edge at each end. Brush meat cavity with some of the reserved garlic oil and sprinkle generously with salt, pepper, and 1 tablespoon of rosemary. Line cavity with sautéed garlic and apricots, sprinkle with cranberries. Tie loin back together at 1-½-inch intervals.
Brush meat with remaining garlic oil and sprinkle generously with salt and pepper. Set roast, fat side up, diagonally across a sheet pan.
Warm ¼ cup apple jelly along with pressed garlic and remaining rosemary. Brush mixture onto meat.
Roast pork for approximately 1-½ hours, until a meat thermometer stuck in the center reads 125º to 130º.
Remove roast from the oven; raise temperature to 400. Brush loin with pan drippings, return to oven, and continue to cook until a meat thermometer in the center reads 155º to 160º, approximately 20 minutes more. For even more attractive coloring, broil until spotty brown, 3 to 5 minutes.
Let roast rest 15 to 20 minutes before transferring to a carving board. Stir juices in pan to loosen brown bits. Mix chicken broth with cornstarch in a small bowl. Pour drippings through a strainer into a small pan, and stir in alcohol, chicken broth with cornstarch, and remaining 2 tablespoons of apple jelly. Whisk into sauce and simmer until slightly thickened.
Slice pork. Serve each slice with sauce poured over the top.
Recipe