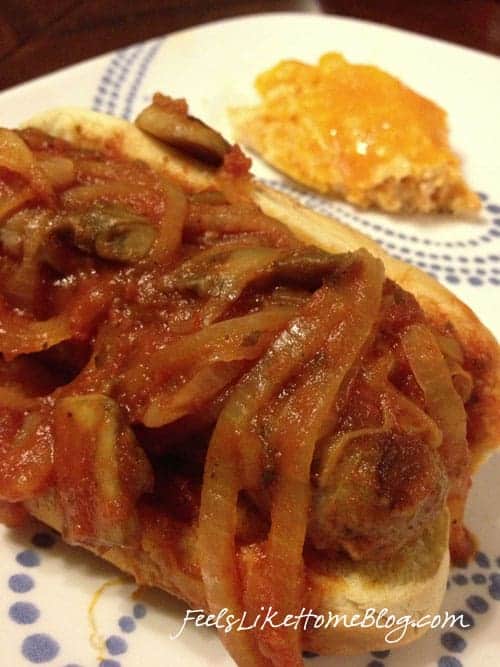 Doesn't that photo make your mouth water? It does mine.
We made our sausage sandwiches healthier than most, but you'll never notice.
Is there a single person in America who is unaffected by heart disease?
I can't imagine that there is.
My friend, Sara, lost her mother a few years ago to a heart attack. It was a complete shock; her mom was just in her fifties. I remember the disbelief so clearly. She was so young and so healthy.
I was less shocked by my mom's cancer diagnosis than by Sara's mom's heart attack.
My experience with heart disease doesn't end there. My mother-in-law has had a heart bypass. Both my father and father-in-law have had serious heart attacks.
Both Joe and I have high blood pressure. I was diagnosed when I was just fifteen. My blood pressure put me on strict bedrest when I was pregnant.
Heart health is a constant concern.
I know that I have a strong family history of heart disease.
I know that obesity increases the chances of heart disease. I know that a sedentary lifestyle makes it worse still.
My health is one of my biggest motivators in my weight loss efforts.
To say we've made changes to our lifestyle to be more heart healthy would be inaccurate; this is just how we live.
We eat a low sodium diet, made mostly of whole, fresh foods. We don't have a salt shaker on the table, preferring to use other herbs and flavorings in cooking and serving.
When we do use convenience foods, we always choose the low sodium version, like Prego Heart Smart Italian Sauces.
Recipe
Campbell's Address Your Heart
Campbell Soup Company is committed to raising awareness about the importance of heart health and providing people with choices that balance great taste and nutrition.
The American Heart Association's Go Red For Women® movement launched in 2004 to increase awareness of heart disease among women and to create a call-to-action for heart-healthy lifestyle changes.
Since 2006, Campbell has supported the Go Red For Women movement through its annual Address Your Heart campaign.
This year marks Campbell's seventh supporting the American Heart Association's Go Red For Women movement and has Campbell has pledged over $5.4 million through 2015.
Campbell's Address Your Heart campaign is also giving away a $50,000 kitchen makeover.
Here's how you enter:
Click on the contest widget below to share a photo of how you care for your heart. Make sure you include a story or tip explaining how you care for your heart in the kitchen.
Here's an example: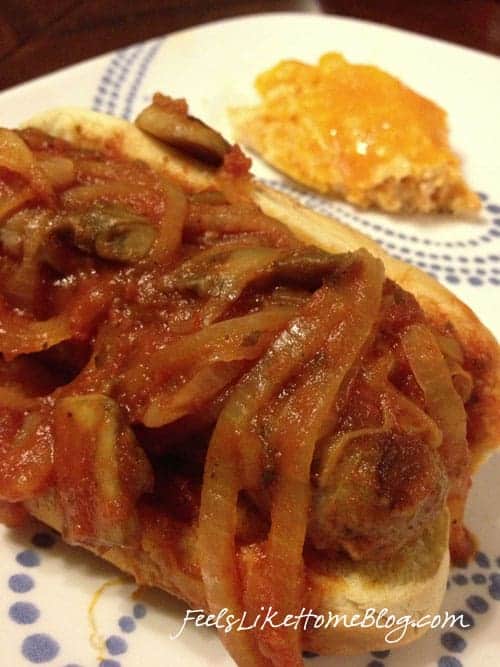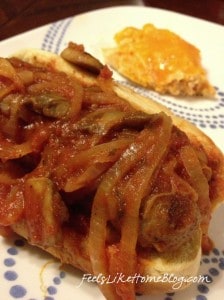 Tip: I read labels faithfully to make sure I'm choosing the lowest sodium version of products. The mild Italian sausages in these sandwiches had almost half the sodium of the others in the grocery store.
That's it!
You can read the Contest Rules & Prize Page for more information, but here's what you have to do to enter:
Step 1: Submit a photo below that shows how you care for your heart.
Step 2: Fill out the information required including your name, email address and zip code.
Step 3: Write a short contest entry (up to 200 words) that corresponds with the photo and share how you care for your heart. Please be honest and sincere with all your thoughts and remember to tell us in 200 words or less.
Step 4: Confirm you've read the Official Rules.
Step 5: Log in through your Facebook account.
Step 6: Submit your contest entry. You can share your contest entry on Facebook, Twitter, Pinterest and visit AddressYourHeart.com for recipes, tips, and coupons for heart-healthy products from Campbell.
This is a sponsored conversation written by me on behalf of the Campbell Soup Company's Address Your Heart initiative. The opinions, text, recipe, and images are all mine.