Traditional pierogies are pasta pouches filled with mashed potatoes and swimming in butter and caramelized onions. You can make them from scratch, but it is not necessary thanks to pre-made, frozen varieties available in the grocery store.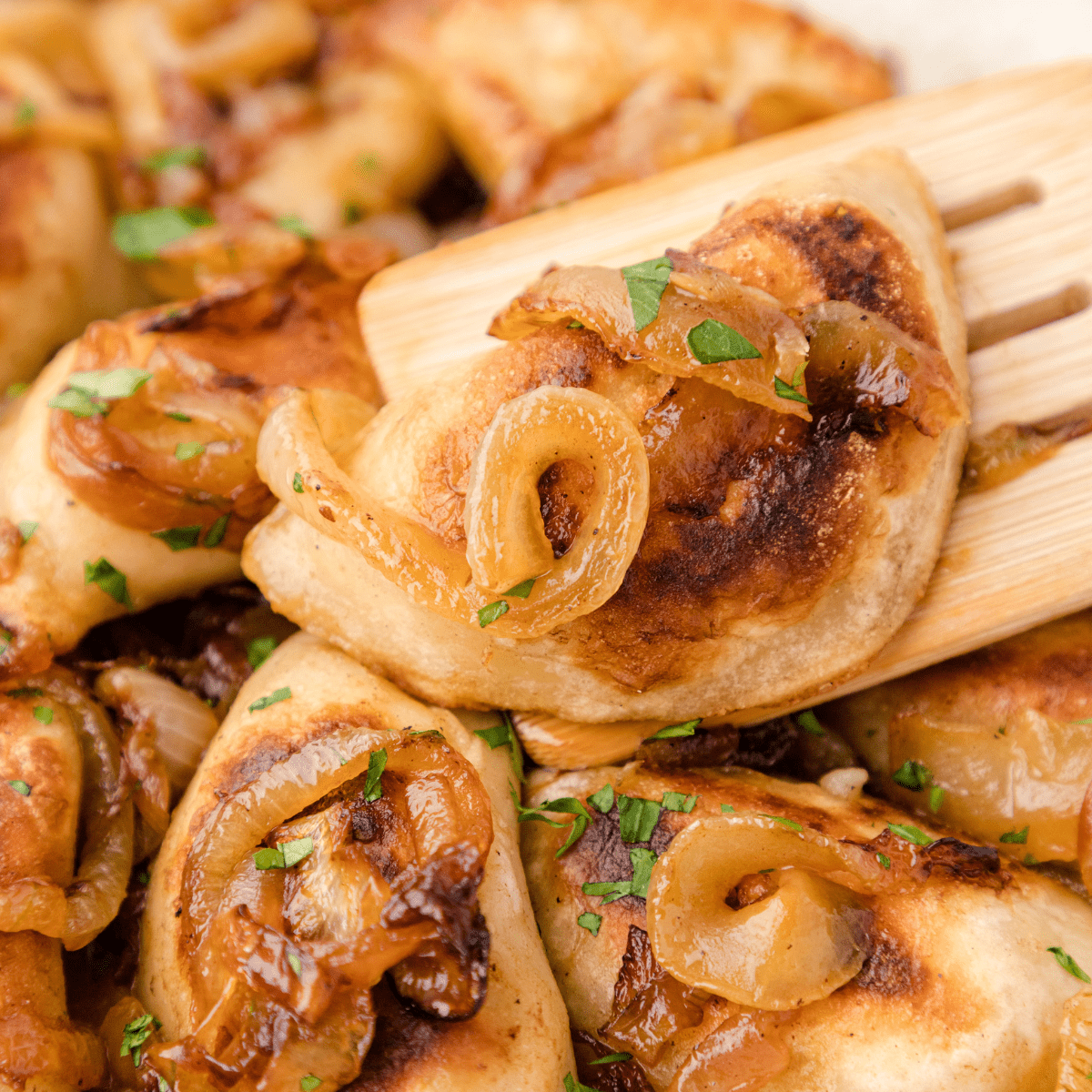 I don't think pierogies are common across the whole US, but in my part of the country, they are ubiquitous. Almost all Ziegmont family gatherings have a CrockPot full of them with butter and onions (and also kielbasa, but that's a food for another blog post).
Our favorite brand of pre-made pierogies is Mrs. T's, and they are made right around the corner from where my ex-husband grew up. We have driven by their factory tons of times. Mrs. T's come in sour cream & onion, cheddar cheese, sweet potato, jalapeño, and many other flavors. My favorite was always the cheddar cheese or the sour cream & onion, and the following is my favorite way to prepare them.
My kids will eat pierogies prepared this way, although they skip the onions. But they don't seem to mind the onions touching their pierogies which is a testament to the power of the pasta. My kids won't normally eat anything that even comes near to an onion, but pierogies are such a familiar and comforting food that they overlook the onion cooties!
I mentioned in the recipe notes below that some people prefer to sauté their pierogies from frozen. I have burned too many of them over the years this way and much prefer to boil them first. When you cook them in a skillet from the beginning, you have to keep the heat very low so that the centers heat up before the outside gets too brown. It's a delicate balance. When you boil them first, they are already heated through, and you can just brown them. They still soak up all the buttery goodness.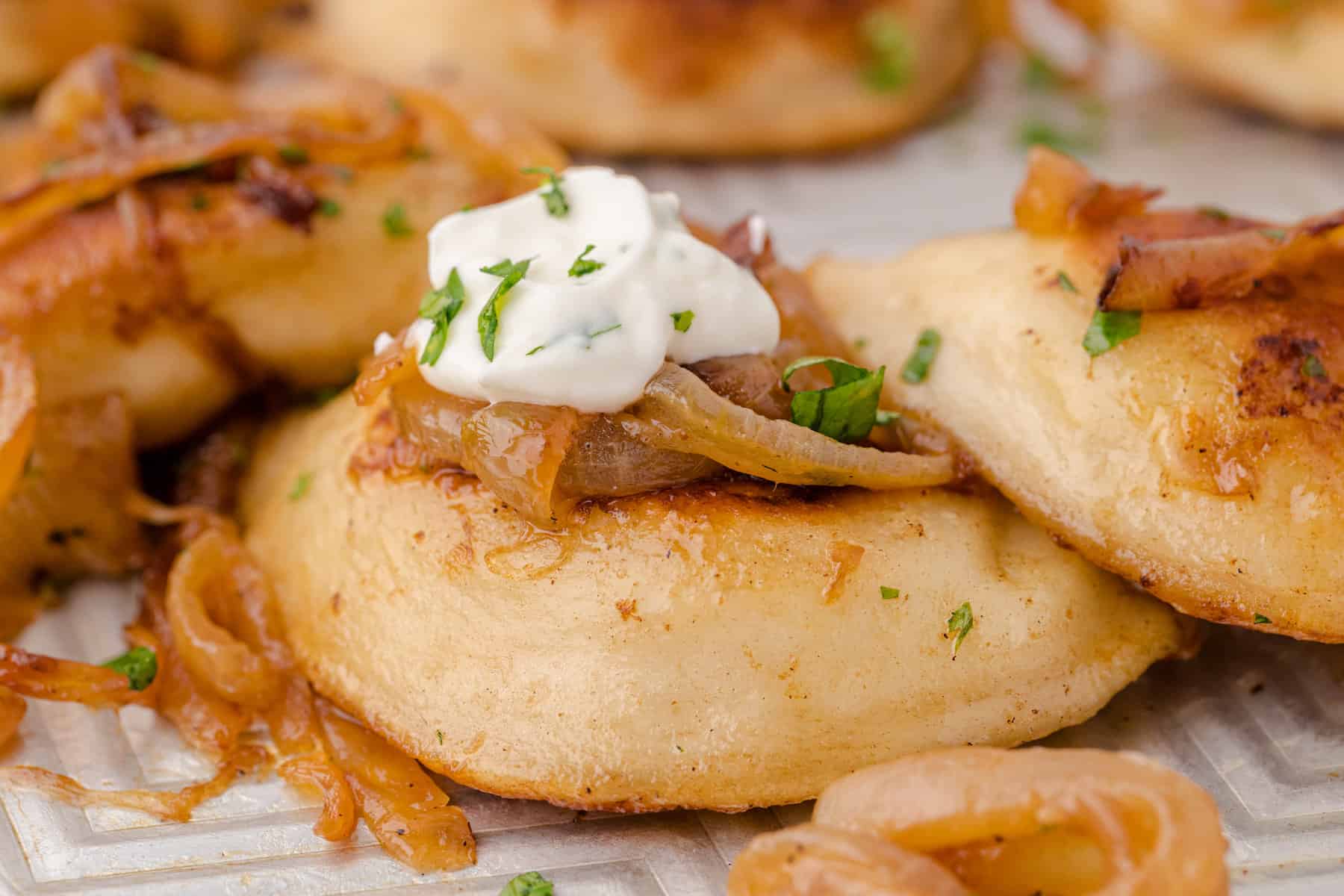 What you'll need to make frozen pierogies with butter and onions
EQUIPMENT
Colander - Alternately, you can use a large slotted spoon to dip the pierogies out of the boiling water. Be careful not to overcook them as they will explode.
Mandoline - This is a tool that cuts very even slices. I prefer to use it to cut the onions, although you could do it with a sharp knife too. Just try to get the slices as evenly cut as possible.
INGREDIENTS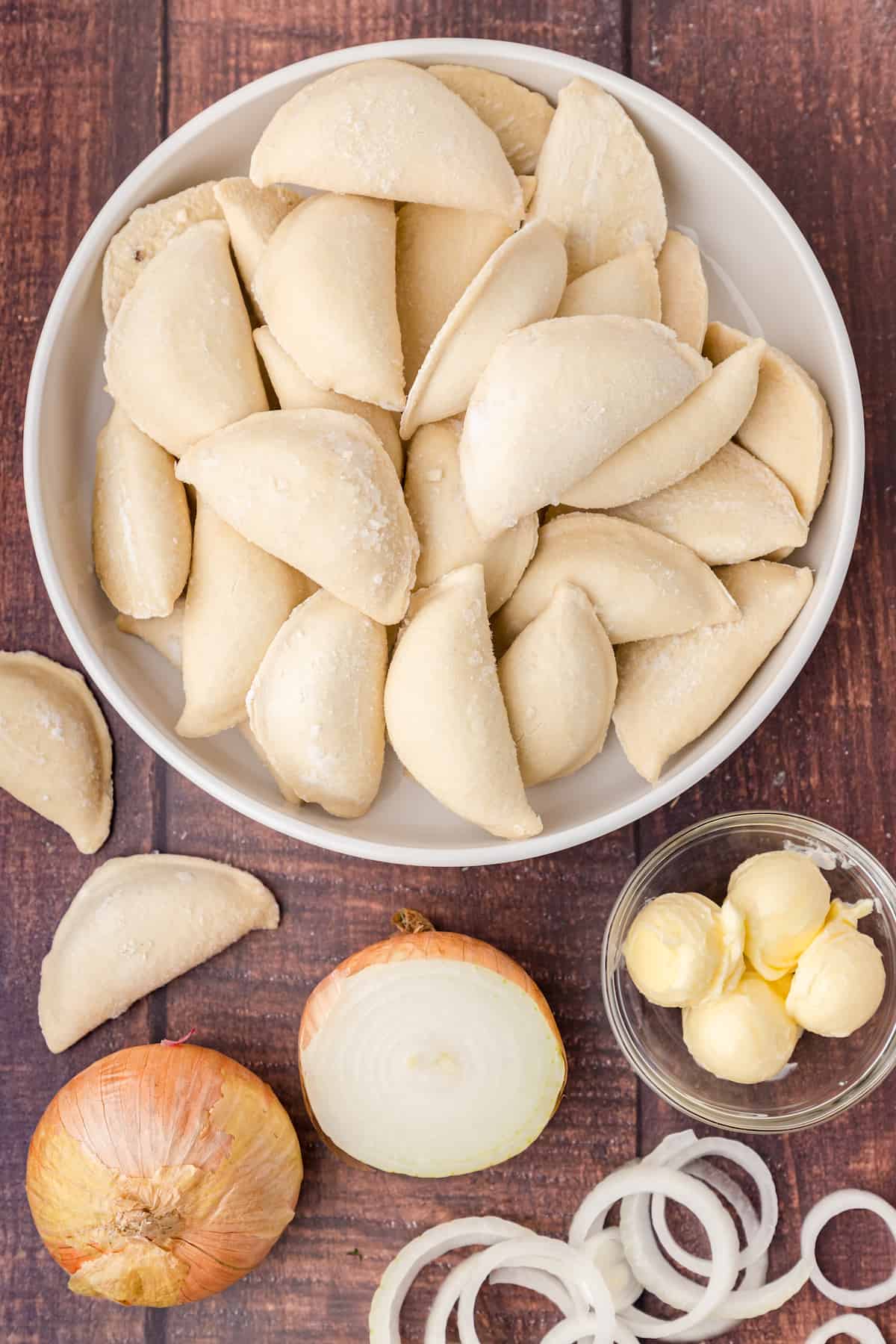 See printable recipe card at the bottom of the page for measurements.
Frozen pierogies - You can use any flavor. My favorites are the classic cheddar cheese and the sour cream and onion.
Large sweet onions - You will want to use the mandoline to slice these into even rings. It's important that the rings are all the same size so that they'll cook evenly. If they're not all the same size, some will get too brown while others are not yet fully cooked.
Butter - You can use salted or unsalted butter. It doesn't matter.
Salt & pepper - I don't typically season my pierogies, but you can add a little salt and freshly ground black pepper if you want to.
How to make frozen perogies with butter and onions
Boil the pierogies in salted water in a large pot as directed on the package.

Meanwhile, melt the butter in a large skillet then saute the onions in the melted butter over medium heat until they are fragrant and soft.

If you have time, you can even cook them until they've started to brown. That gives them a very nice, sweet flavor.

Drain and place pierogies in a single layer in the pan. Sauté until the pierogies are browned.

How to store leftover pierogies
You can put any leftover pierogies into an airtight container or freezer bag and store them in the fridge for up to 3-5 days. To reheat, add a tablespoon or two of butter to a skillet and sauté them gently until they're warmed through.
Here are a couple more recipes that you might like:
My favorite way to eat traditional pierogies is with butter and onions. It's what everyone in my part of the country is used to, and it is so rich and decadent and delicious.
Recipe