Traditional pierogies are pasta pouches filled with mashed potatoes and swimming in butter and caramelized onions. You can make them from scratch, but it is not necessary thanks to pre-made, frozen varieties available in the grocery store.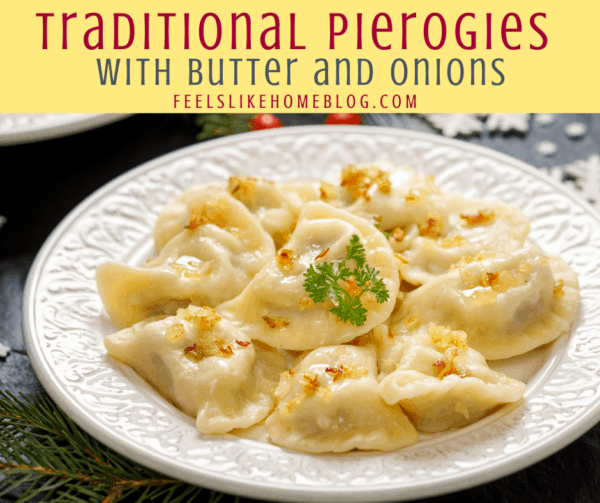 I don't think pierogies are common across the whole US, but in my part of the country, they are ubiquitous. Almost all Ziegmont family gatherings have a CrockPot full of them with butter and onions (and also kielbasa, but that's a food for another blog post).
Our favorite brand of pre-made pierogies is Mrs. T's, and they are made right around the corner from where Joe grew up. We have driven by their factor tons of times. Mrs. T's come in sour cream & onion, cheddar cheese, sweet potato, jalepeño, and many other flavors. My favorite was always the cheddar cheese or the sour cream & onion, and the following is my favorite way to prepare them.
My kids will eat pierogies prepared this way, although they skip the onions. But they don't seem to mind the onions touching them which is a testament to the power of the pasta. My kids won't normally eat anything that even comes near to an onion.
I mentioned in the recipe notes below that Joe prefers to sauté his pierogies from frozen. I have burned too many of them over the years this way and much prefer to boil them first. When you cook them in a skillet from the beginning, you have to keep the heat very low so that the centers heat up before the outside gets too brown. It's a delicate balance. When you boil them first, they are already heated through, and you can just brown them. They still soak up all the buttery goodness.
Here are a couple more recipes that you might like:
My favorite way to eat traditional pierogies is with butter and onions. It's what everyone in my part of the country is used to, and it is so rich and decadent and delicious.